10:10am Rachel goes and lies down in the bedroom where Kristen and Hayden are still trying to sleep. Rachel apologizes at how drunk she was last night. Hayden and Kristen tell her not to worry about it. They talk about how drunk she was. Rachel asks what she was saying and doing, besides talking about how much she loves Brendon. Hayden tells her that she talked about Brendon's penis size, and how many kids they are going to have, what the kids names are going to be, and in what order.. Rachel awkwardly laughs and denies it and says that Hayden is making it up. Hayden laughs and says that he is making parts of it up. Rachel says that she wishes she could remember last night or that she could rewind the tape to watch what she was doing.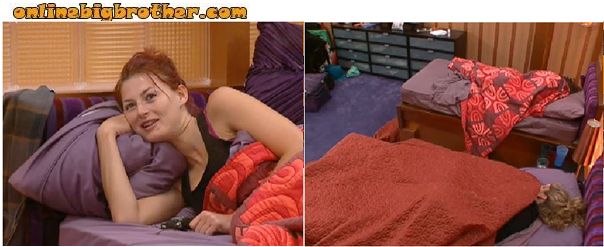 SEE what they CAN'T show you on TV! 3 Day FREE Trial
10:30am Brendon is in the kitchen and Andrew asks if they (Rachel & Brendon) are okay. Brendon says yeah, why? Andrew says because he thought he heard Rachel crying last night and again this morning. Brendon says what, really?! Andrew says I don't know … maybe I didn't hear her cry. Brendon then goes into the bedroom where Rachel is laying in her bad and asks her if shes okay. She says she's fine. Rachel explains that she got up early to and tried to think of any exercise she could to "un-hang over her self" Rachel tells him that she just feels worse now. Brendon tells her that she should get something to eat. Brendon leaves and goes back to the kitchen to eat.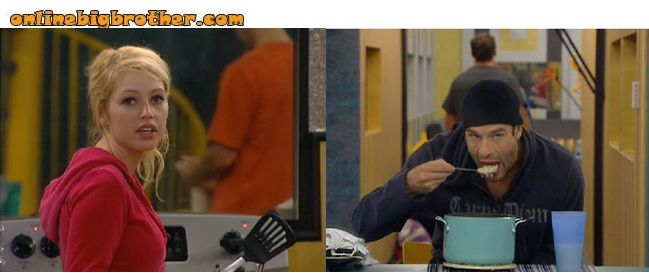 10:50am Rachel asks Brendon if they can talk over on the other side of the yard. Rachel says that she is sorry she got drunk, and that she kept him up. Brendon says no stop saying your sorry. Brendon says that he thought they were going to spend some time together and all she wanted to do was get drunk. Brendon then quizzes Rachel on what information she told Matt last night when she was drunk. Rachel says I'm not stupid I wouldn't say anything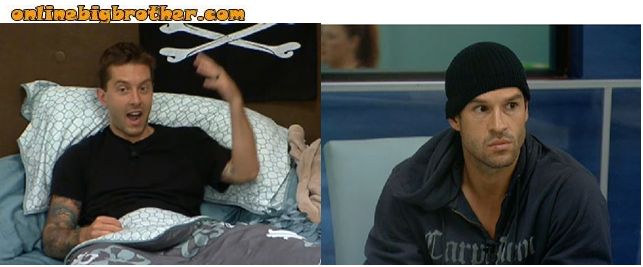 11am Rachel and Brendon ask to talk to Matt up in the HOH.  The go into the HOH room and Matt says I have good news and bad news for you guys. Matt says that he talked to a lot of people last night and that he will look so suspect if he doesn't put them up on the block. Matt says that because they put him in a bad position with the house meeting, he wants to offer a deal. Matt says that he can either put both of them up or neither of them up. Matt says if neither of you are put up then he wants a real deal this time and that he wants to be safe next week. Matt says that if they don't go up then the people he is thinking of putting up he thinks will definitely not have a chance of winning the POV. Matt says if someone wins the POV he says that he will have to put one of them up but that he will not push for anyone to use the POV. Matt tells them that they can petition for who ever wins the POV to not use the POV but that if someone comes up and asks him if they should use it or not he will tell them to go talk to other people in the house. Rachel denies that her and Brendon have an alliance with Kathy. Matt says that no one would believe that considering Kathy's actions last week, and how Kathy was running your HOH last week.

SEE what they CAN'T show you on TV! 3 Day FREE Trial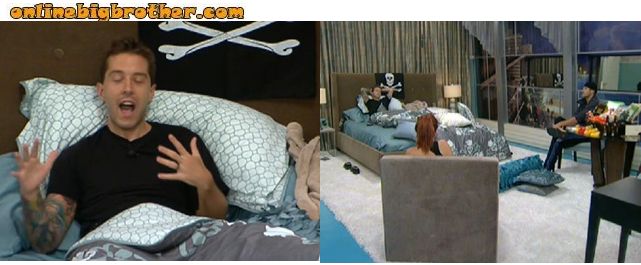 Rachel says that Matt was never their target until the house meeting. Matt says exactly that why I have to do this. Matt says that this time he wants to make a real deal where both sides follow the terms. Rachel says that she really wants to make the deal. Rachel asks what if you win POV. Matt says that is where it is tricky …but that he doesn't even want to win it …he wants to remain neutral. Matt says you have the piece of mind that he won't tell them to use it. Matt says then you can talk to people, get them to use it … they can even use the HOH room and tell him to leave. Rachel offers what if you nominate me and then at least I would have a chance to play for the POV. Brendon says no I don't like that. Matt says that would make him look better in the eyes of the house but that he doesn't think she should do that. Matt says that the days in the big brother house are long and if you start second guessing our deal again then come and talk to me first, don't turn on me again. Rachel says that its huge that he even came to talk to them and that she appreciates it. Brendon says that it really pisses him off, all the people that dove off that competition. Matt says that the five people that gave him the votes to stay are the five that have been cool with him at his lowest and now at his highest. Brendon says yeah and those are the people that threw the competition. Matt agrees. They talk about how everyone is playing for themselves and that it makes it a dangerous game because everyone can flip. Matt then recaps his deal and Rachel asks if someone wins the POV and they tell him he will use it that she wants Matt to tell Rachel and Brendon before it happens. Brendon says that his targets are now all the people that threw the competition. Brendon asks Matt for him to really try for the POV …and Matt says he may try and throw it but …that his competitive nature will kick in and he doesn't think he can throw the competition. They thank Matt, Brendon shakes his hand and Rachel hugs him. They leave the HOH.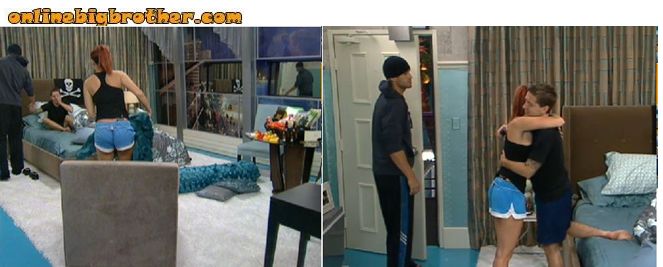 11:30am Andrew comes up to the HOH to talk to Matt next. Andrew asks whats going on and asks what cry baby (Rachel) had to say. Matt says so here is what is going on this week you are not my target but this is what is going on. Matt says that Kathy was really suspect last week and that she is going up. Matt says that he may have to put Andrew up as the pawn. Matt says that in the beginning everyone wanted Andrew out, now everyone likes him. Kathy is doing the opposite, so he really believes that she will be out. Matt praises Andrew for integrating more into the house. Andrew asks why not put up one of the top two competitors up on the block and that if he won HOH next week he would take out the other top two competitors. Matt says that he can't put up the POV because it is a huge chance to for them to back door Brendon or Rachel. Matt tells Andrew what he will say in the nomination ceremony speech that he will say that he heard Andrew was targeting him early in the game. Matt says that he thinks at the end of the week, one of the top two will definitely be out this week. Matt says that if Andrew gets worried about any ones vote, to come and talk to him and that he will sway them to keep Andrew. Matt says he likes Andrew and thinks it's good that he has been getting more involved in chilling out with people. Matt says that Andrew is cool now he is talking about finger banging girls up in an airplane and stuff. Andrew laughs.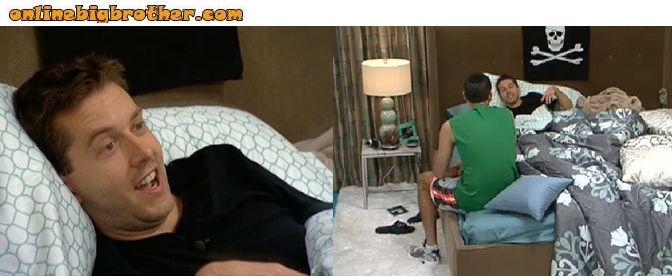 11:40am Britney comes up and says that she has figured out the pair in the house. Britney says that it has to be Hayden and Kristen. Britney explains that their faces are so similar; their eyes are close together … their mouths are the same. Britney says that they both have the same birthmarks. Matt asks well how do you explain them having different accents. Britney says he lives in Tempe, Arizona and she lives in Philadelphia. Matt then gets called to the diary room.

12pm Ragan is talking to Matt in the backyard. Matt says that he has an open door policy …that anyone can talk to him if they want but that he has already talked to everyone he needs too. Matt says that he talked with Brendon, Rachel and Andrew they are the only ones he really need to talk to …

Onlinebigbrother.com is around because of your donations Every year the site costs us to host the images and run the 3 servers needed to handle the traffic. If you like the site then please consider donating to keep the madness going. Thanks!