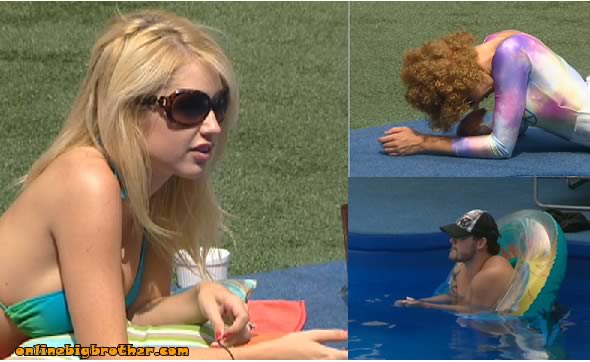 3:00pm Pool Lane, Matt, brit, Kristen Talking about how big a douche Brendon is. They tease about Brendon making a dvd body by Brendon, and having a section about being a lawyer. Matt asks them what the deal with Rachel earlier. Brit explains that Rachel started crying because she felt that Brendon was saying that her test scores are not important. Matt "you guys aren't serious are you" Brit "yes she was in hysterics". Brit: "did you see how mad she was getting when I was saying that there has never been a reality TV showmance that lasted. They mention that the other houseguests are watching the movie right now. Matt says R/B doesn't deserve to be up there they win everything and work for CBD (he's joking). They're glad Hayden gets to watch the movie after being in the cage for so long. Kristen brings up that enzo was lucky during the POV he got the movie and the TV. Kristen whispers to Britney about their conversation last night Brit says she has been thinking about it a lot.
They start trying to predict this weeks HOH competition. they all have a theory what it'll be like. Brit says "Rachel sat out here and forced Brendon to practice for 7 hours and look at how good he did" Matt: "i actually felt bad for him".. They start on a Rachel bashing spree. Apparently Rachel was "OVER ACTING" during the POV, Brit impersonates Rachel when she was shooting the cannon in the POV. Matt says they have the 6 people competing against B/R next week they are going to get one of them out next week. Kristen rehashes what happened after the HOH when Rachel screamed "Floaters grab your life vest…KRSITEN" Lane says that Janelle came up with that saying not Rachel. Matt: "oh thats pathetic she didn't even think of that herself" Brit tells them about the other night when she was in the HOH and wearing Rachel's hair extension. She was completely making fun of Rachel wasn't catching on Rachel was laughing the whole time. Lane brings up last night when Matt was running around in the hippietard humping peoples legs. Brit says it was like a jack rabbit, Matt says that is what gremlins do.
FREE Live Feeds! Superpass 3 Day FREE Trial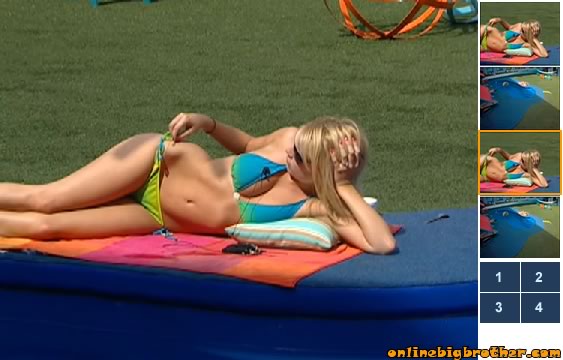 Rachel smashing continues.. Lane says he thought Kristen was going to hit rachel in the face. Kristen says she almost did she had her hands clinched. Matt: "I thought people were going to start coming through the walls to break that shit up. Matt adds that it looked like Rachel was pretty scared when Kristen started to defend herself. They start talking about past seasons and the 4 horse men…
They start discussing that theres no way America likes Brendon and Rachel. Matt thought at first America loved them but nows he's convinced America HATES them. Brit says she can't stand them ramming their tongues down each others throats and saying I love you all the time. Matt: "I just don't like the over drama". They all agree as BB fans they never really like the showmances and they think this is the worse one.
lane keeps bringing up secret alliances asks them "wouldn't it be better to keep a big alliance known right off the bat" Brit says that there no way they're could be a secret alliance containing 4 players to stay a secret, "It's never been done" (brigade 4 deep yo)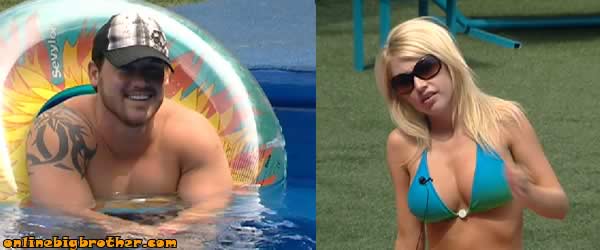 3:51pm cabana Room Kristen and Brit Brit is saying the only ways she'll use the POV is if she has a guarantee who the replacement nomination is going to be (wanting Kathy up) Brit instructs her to go to B/R and cut a deal you have no intentions to keep.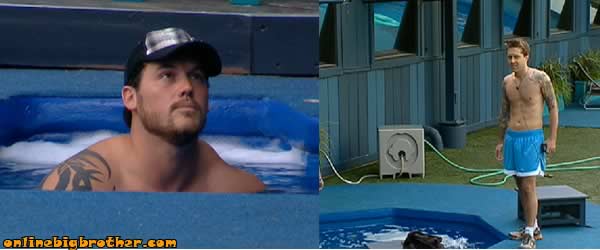 3:55pm hottub We need all of us playing in the double eviction week 6 so we don't want to win this week if we don't have to. Matt instructs that once Brendon is out of the HOH competition they should throw it to Brit, ragan, kathy. Matt thinks it's critical they all play in the double eviction. Lane is worried about ragan, Matt assures he's going to get B/R out. Lane says that enzo is freaking out about ragan thinking he's in with Brendon and rachel. Matt tells him ragan hates brendon and is always ripping on him. Lane tells him that Hayden is going to try and befriend B/R, Matt "Perfect thats keeps a brigade member off the block"
Lane agrees that it's best to have them not win the HOH this week but he would love to be the guy that takes Brendon out. Lane the day when we get B/R up on the block will be the greatest day. Matt says once Brendon is gone Hayden needs to attach to rachel and use her as a side alliance.
Lane starts telling him everything Kristen is saying to brit to get her to use the POV. Matt says of course she's going to say shit she's fighting. Matt: "you think kathy would take Rachel's 5 grand and not put b/r up if for some reason she won HOH. Lane "probably" Matt" Mind you Kathy is so weak minded we could probably talk her into anything as long as they don't get to her first"..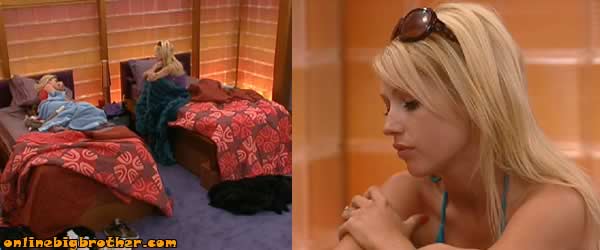 4:42pm taj Kathy and Brit Feeds are back and Brit is telling her she's not going to use the veto because she's not really close to Hayden and Kristen and she's not going to risk having someone she is close to up on the block. She tells Kathy that it was hard for her when she lost Monet but after a day Kathy will be in the fight. Kathy asks if she'll have Brit after KRisten goes, Brit says yes of course. rachel walks in "HEEEEEEEEY WUD UP!" Kathy "Brit is giving me a pep talk" Rachel "who why what is wrong"…… barf