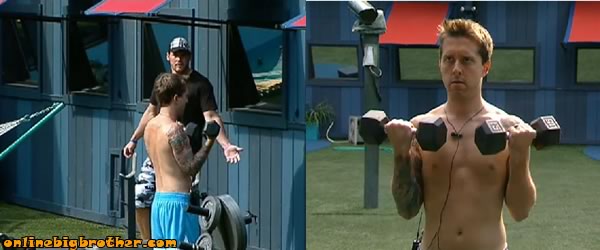 4:48pm Backyard Their talking about how Kristen is fighting to stay and basically giving brit everything under the sun. Lane "rachel doesn't even want her to use it" Matt is worried that brit might fall victim to rachels 5grand if brit won HOH. Lane tells him not to worry he's going to talk to brit, he reassures him that if Brit wins HOH he's going to be up there with her working her. Lane says that Kristen is being fake when she goes to talk to B/R and they know it she should just give up the act. Lane: "at least when I go up to talk to needledick i'm normal" MAtt tells him about him last DR session when production told him to stop calling brendon needle dick becuase they can't use any of those conversations in the show. feeds cut ..
FREE Live Feeds! Superpass 3 Day FREE Trial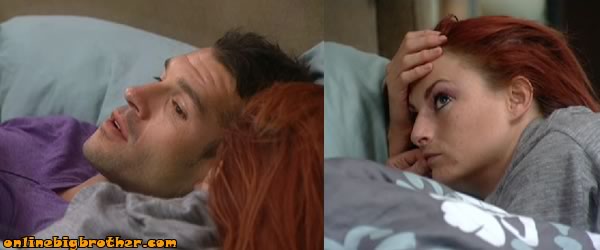 5:00pm HOH room B/R They are convinced that Brit is scared to make a commitment with them. Brendon wonders if maybe they could get Enzo and Brit in a 4 way alliance. Rachel thinks maybe MAtt instead of enzo. They think if they get a 4 way alliance going then they can distribute the heat onto Brit and Enzo/Matt. Brendon says if he wins HOH this week he's bringing enzo up here and offering him an alliance to the end. rachel says Matt is playing both sides he won't stop so a deal with him is worthless. Brendon asks rachel who she thinks won't put them up. rachel is sure Hayden, Kathy and Matt won't. They're targets stay the same, Hayden, Matt and Kathy but there also worried about ragan he seems to be very close to Matt. Brendon says they should take Matt out first cause he's the most dangerous…
5:22pm cabana Room Lane and Hayden Lane tells him to go talk to brit asap cause KRsiten is offering mad shit to her. Brit had come up to Lane and said that she wasn't going to use POV but she was tempted but what Kristen offered her. Lane tells him all of kristen's deals she's trying to make and how stupid it is to even consider them useful this early in the game. Hayden agrees he's going to talk to Brit tonight. HE tells Lane the plan for the brigade if there is two in the final 2, the other two in the jury will split up the vote to make it fair. He thinks that they should trick the other jury member to vote for one brigade member and tell them you'll vote for the other but really you'll vote for the same one giving me or you 2 votes. Lane is keen on the idea.. he says he'll do it. Ragan walks in and starts lecturering them about how to play big brother.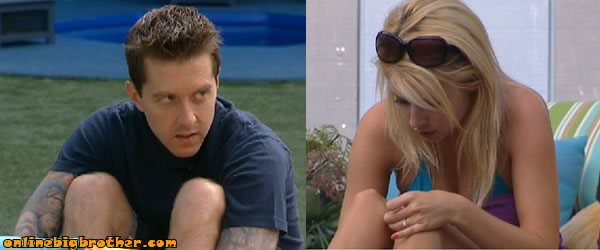 5:47pm Matt and Brit Brit is telling Matt that she told Kahty that she's not going to use the POV it's just not a good idea for her game. Matt is glad, they start talkign about how much pain it is to be in the house with rachel and Brendon they can't wait to put them up on the block next week. Matt says it's going to be Hell but it'll be funny. Brit thinks even ragan will put B/R up. Matt agrees he knows for a fact Ragan will, more so to get out Brendon then Rachel.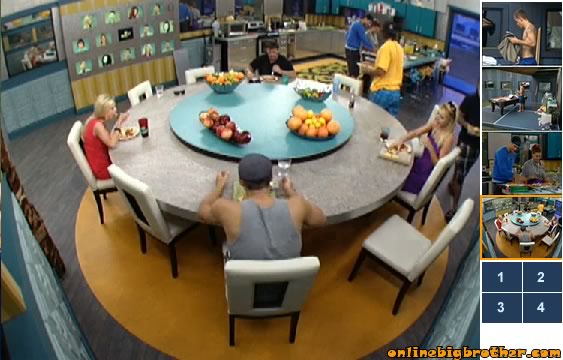 6:25pm Most the houseguests eating dinner, talk about the movie this afternoon dominates the conversation.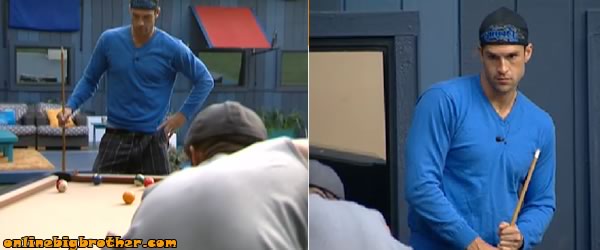 7:09pm Enzo and NeedleD playing pool chit chatting