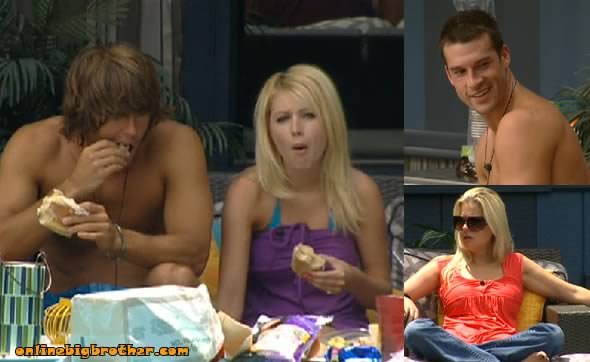 1:25pm Backyard everyone outside having a picnic, for some reason Hayden is out not sure why it hasn't been 24hours. Just random conversations.. they're ripping on Pig Pen from last season how she was trying to get CBS to do a Big Brother wedding with her and her man. Brit explains to them that CBS told her no because she was so unpopular on the show…feeds cut.
We come back to a sat conversation, how there was 2 sections etc etc, Brendon chimes in that there was this girl in his class that did ridiculously good but no one believed her… feeds cut. We come back with Brendon talking about when he was in high school he had taken 3 university courses. He says he's totally anti testing to get into schools, "theres a lot of people that are good at testing but not good at the job". He starts arguing with Ragan, Brit and Rachel about having to take the Lstat and Mstat to get into a professional school. He thinks they're should be different criteria not only tests, "The Whole system needs a shake up". ragan says there is, explains to them all about the interview processes to get into medical school. Brendon brings up that there is alot of people out there that cannot afford the prep material and Prep Classes for the tests so it's very hard for them to pass. Brit mentions that you can just go to barns and nobles and get a book that should be good enough. Brendon says no it isn't he tried using the books for the LSTAT and didn't make it. (ahh now we know why he's so against testing in the LSTAT) Lane and Enzo avoided the conversation and are sunning them-selfs on the lawn chairs.
FREE Live Feeds! Superpass 3 Day FREE Trial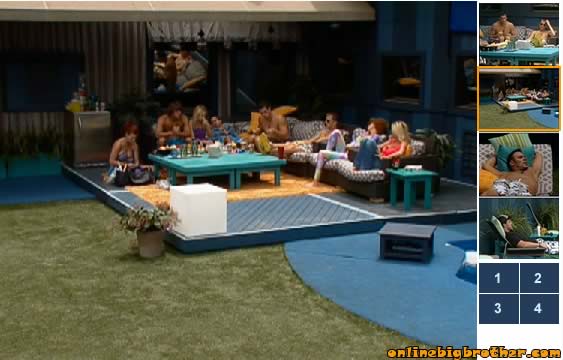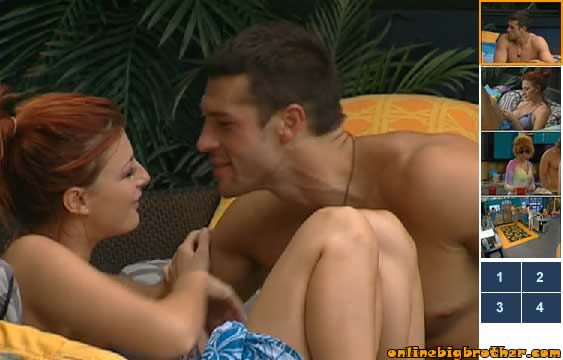 1:56pm Backyard Feeds come back everyone gone from the couch except for Brendon and Rachel. She just told them that she has a kind of dyslexia and she's had to fight all her life to complete school. She needed special testing. Now brendon starts sharing a sob story about how he had to spend 2 extra years in the master program to make up for his deficiencies as a undergraduate. Eventually they start arguing again specialized testing and LSTAT testing etc etc.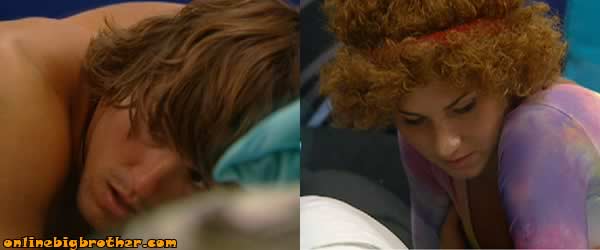 2:00pm cabana Hayden and Kristen Kristen goes over the conversation she had with brit last night. Kristen tells him Brit is scared to use the POV because she thinks Enzo or Lane will go up. She thinks the only way for her to survive this week is for her to get off the block. Hayden thinks theres a better chance to get him off and then they can get Kathy up against Kristen. Kristen doesn't think they'll do it they really want one of us to go home. Hayden: "If she's more likely to pull me off then we should go with that" He tells her he really wants her to stay in the house but he doubts she'll do it. kathy walks in and they start ti filter their conversation.
2:13pm Feeds Cut
2:38pm No Feeds