Second half of Big Brother 12 Rachel Reilly interview with OK Magazine reporter Jenn Hoffman
TV GUIDE ARTICLE:
Big Brother's Rachel Reilly Talks Scandal and Soaps
Dec 13, 2010 08:57 AM ET
by Michael Logan

She's not just living a soap opera these days, she's also appearing on one. Big Brother 12 vixen Rachel Reilly just shot her fourth episode of The Bold and the Beautiful — airing January 24 — and it's proving to be a much-needed distraction from real-life events. Reilly recently became the innocent third party in a sex-Skyping scandal in which her man, Brendon Villegas, whom she met and fell in love with on Big Brother, sent photos of his naked genitals to a woman he met online. (In an apology video, Villegas claims he was being blackmailed).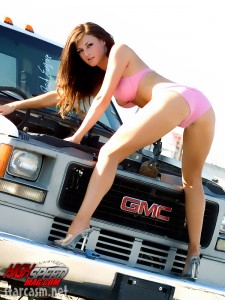 The incident abruptly ended Reilly's relationship with Villegas. It may also have ended his gig on The Bold and the Beautiful. Reilly plays a waitress at the show's Bikini Beach restaurant. Villegas had been playing a bartender there, at least until the scandal broke. She was invited back for the January episode. He wasn't. Meanwhile, Reilly's keeping a stiff upper lip.

"I'm dealing with the cards I've been dealt and moving forward," Reilly tells TV Guide Magazine. "I'm so excited to be back on the soap, and this time my character finally has a name! It's Julie, after [Big Brother host] Julie Chen. How cool is that?" This is Reilly's first acting role — she's a Las Vegas cocktail waitress in real life — and though she only gets a few lines per episode, she witnesses some hot stuff. "On my last appearance in November I was in that great slapping scene with Brooke and Taylor," she says. "This time I get to witness something really important between Justin and Donna — I can't talk about it but it's sooo good!"

Despite Reilly's breakup with Villegas, she still holds good thoughts for him. "Brendon is an amazing person and he will remain my best friend — I wish him all the luck in the world," she says. "We shared an amazing experience on Big Brother, and we shared something very special on The Bold and the Beautiful. It felt different — a little odd — filming the show without him. But I'm excited to see what the future holds."

Is there any hope for reconciliation? "I'm not really comfortable discussing that right now," Reilly states. "I honestly don't know. It's so soon. There are so many mixed emotions." But she wouldn't mind if Villegas did return to the soap. "I'd be okay with it," Reilly admits. "Hopefully, we will get to work together again. It'd be kind of cool to see him on the set."

In the meantime, Reilly is downright giddy about her recurring suds gig, especially the pampering. "It's like a little fairy tale," she says. "I have my own dressing room. I get my hair and makeup done. It's what every girl dreams of. I've always wanted my life to go in this direction, so this is all so surreal and exhilarating."

Now if only her character had a last name. "I'm keep hoping I turn out to be the long-lost niece of Sally Spectra," Reilly says with her exuberant trademark cackle. "Hey, I've got the red hair!"

Source:
TVGuide
Share it YO!!
Tweet