8:00pm Backyard Enzo, Brendon and Rachel Enzo is really playing up the fact that he had no idea about Hayden and Kristen. He's going on about how he really liked Andrew and how him and Andrew had a good relationship. Brendon saw that he points out that when Andrew left he said enzo was a good man. Rachel starts talking about Kristen saying that she is declining her apology for the blow up. Rachel tells enzo that during week 2 kristen told her that she controls haydens vote and that she plans on riding the guys success to the end. Enzo says he thought he heard thems 2 making out one night but he wasn't sure.. Rachel points out that Kristen just wants to start fights with the girls she was to take us all out.

SEE what they CAN'T show you on TV! 3 Day FREE Trial

Rachel goes on and on and on about getting out floaters and kristen is the ultimate floater in the house, "Kristen hasn't won any competitions and she hasn't been a have nots". Rachel now says that Kristen is the most dangerous player int he house right now (thought she was just a floater) Enzo tells them how shocked he is and how he's happy he's not a have nots because now he can drink his plan is to drink a little of wine then move to beer (good plan yo) Enzo wants to play flip cup tonight but this time he gets to play with real alcohol. Brendon wants to play to everyone is really pumped from the days events. More people join them in the backyard. Brit there now they start talking about how many comps Rachel has won and how awesome she is. Enzo asks them whats the BB record. Brit says 3 HOHS it was janele. Enzo :" ohhhhh yo your going to smash that shit yo" Brendon asks her if janelle was her mentor and Rachel says yes i'm playing this game just like janelle. They go over everyone shocked faces when ANdrew was doing all his speeches. Enzo telling them that he now feels like he's in the BB house.. all the crazy shit going on in here , "He got secret alliances yo.. we got shomances.. we got fights to this shit getting crazy up in here yo". Rachel continues about Kristen says that last week KRisten wouldn't even look at her and she was going to put B/R up. Brendon butts in says that they now know that Hayden has been lying the entire time to everyone int he house. Enzo "ohh kristen is really showing her true colours yo" Brendon says he was talking to Andrew before the show and he told him that Kristen said that he had dug his own grave because of the freak outs he caused. Brendon thinks that Kriste has dug her own grave.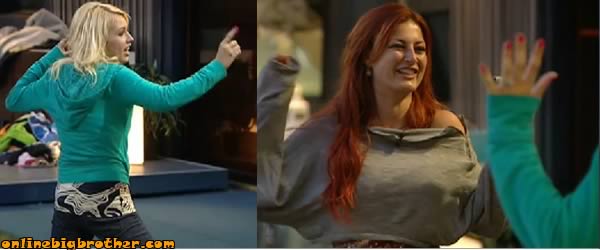 8:20pm Lane and Enzo Jumanji Room
Enzo is telling him to not cause any drama this week.. kiss up to R/B and don't hang out too much with the other brigade members. Enzo gives Lane a wuick rundown of his backyard conversation and pool game with B/R.. Tells Lane he's not going up it'll be Hayden and Kristen yo. Enzo "This is getting crazy in here man" Kane isn't worried their still here and they'll survive. Enzo agrees… theres both ecstatic that nobody knows about there secret alliance yo. He tells lane he's going to go get some intell from B/R and "Start playing the game to"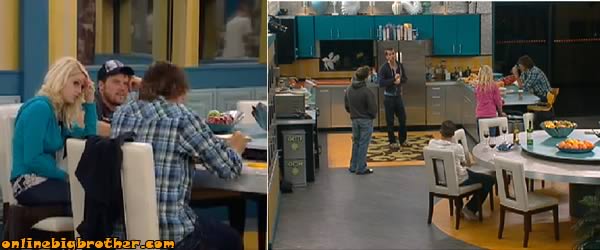 8:40pm Waiting around for food the have nots have to wait until 9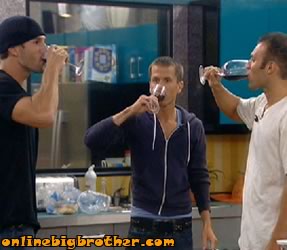 9:03pm Have nots can now drink and eat. Enzo:"I can now eat ketchup on things"

Onlinebigbrother.com is around because of your donation every year the site costs us to host the images and run the servers needed to handle the traffic. If you like the site then please consider donating to keep the madness going. Thanks!
Share it YO!!
Tweet