SEE what they CAN'T show you on TV! 3 Day FREE Trial

9:36pm Cabana Room Kahty and Kristen Kristen saying she was so close to winning that comp her hand was right near the buzzer she was so close. Kathy telling her that Rachel's been saying you want the girls out so they have to get you out first. Kristen doesn't want to go up to Rachel's HOH room. Kathy tells her she has to, Kristen is better than Rachel, "don't stoop to her level" Kathy tells her theres going to be 3 targets for Rachel it'll be me you or hayden. One of us wins POV the other goes up and one goes home.. it's pretty easy this week. you can hear brit screaming in the background (acting out) Kathy says that brit is sucking up big time with b/r, "her key will be the second pulled". Kathy tells her b/r should of gone out last week, Why didn't Matt put them up. Kristen get called into the DR "FINALLY!" Kathy "Let it all out"!
Big Brother 12 Spoilers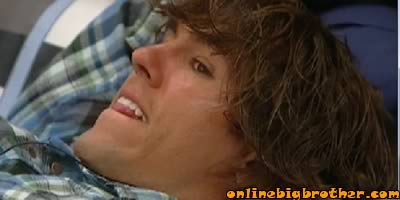 Hayden walks in says whats up Kath. Kathy is worried that her and Kristen are going up. Hayden tells her not to worry it'll be Kristen and Hayden. Kathy tells him the target will be one of us three and thats the bottom line. Kathy "i refuse to make a deal with her period" Hayden agree on the targets this week. Lane now joins them.. Hayden "what up big dude". Lane asks kathy hows she's doing.. She's alright a little stressed about this weeks nominations. Hayden says they should go play some pool or sit in the hottub. Lane "I could pass out right now" There all guessing that tomorrow will be luxury.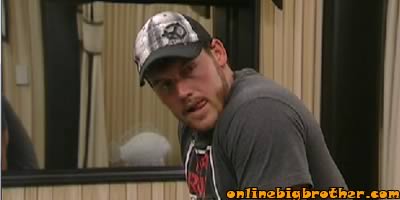 Matt walks in tells them he's hearing pounding outside so he doubts they'll be aloud out tonight.. he leaves. They start to briefly go over the POV possibilities.. Enzo now joins them eating some pop rocks.. "yo we don't have these in jersey yo".. Enz brings up that it's tough in this house when people start fighting yo and both sides are your friends, Hayden and Enzo start to laugh saying "shits getting crazy up in here yo degrees are getting thrown in that argument". Kathy brings up how light headed she got after going so long without a cigerette. Enzo thought lane was going to win HOH, "at first how she reacted i thought she lost yo i'm not any good at those questions I didn't even have a chance yo".. the four of them go over the order that people went out during the hOH… feeds cut when we come back they are talking about Andrew's speech how he said hayden is going to dump enzo in final 4 and how they think enzo is stupid.
Kristen and MAtt come in she tells them her DR went great.. Matt tells Kristen what Andrew did was bullshit he shouldn't of gone out like that. Hayden says he feels like a have nots right now so maybe he'll sleep in there. Enzo "well he knew he was going home thats one thing he was right about.. he's eating a kaiser, got a big bag of weed he's rolled up a giant blunt and he's jerking off watching ESPN.. but it's kosher weed has pickles in it" …"he's going to finger blast someone in the airport cause now he's got notoriety.. they'll want to see if his pickle is kosher" .. Mat, Enzo leave.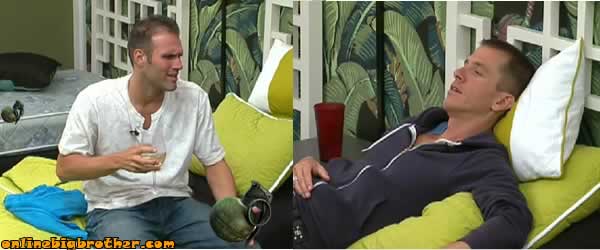 10:12 Jumanji Lane, Matt and Enzo Talking about how awesome it is that the brigade is still a secret yo. Enzo is having trouble trying to find a place to sleep. ragan comes in. Enzo "I'm the founder of the jumanji jam session and the jumanji name I should pick a spot to sleep" Enzo's telling them he thinks that Annie and Andrew were the friends in the house because they were both loose cannons and from Florida.

Onlinebigbrother.com is around because of your donation every year the site costs us to host the images and run the servers needed to handle the traffic. If you like the site then please consider donating to keep the madness going. Thanks!
Share it YO!!
Tweet