7:20pm Jumanji Room Matt and Lane Lane saying that They are going to put up Hayden and Kristen. They are sure that kristen is gone this week unless she wins POV. Matt says if the pov is used him and Lane are in trouble. Lane thinks they might put Kathy up. Matt thinks that would be wicked, Rachels going off about this stupid floaters being removed from the game maybe she'll take out kathy. Matt says "WE NEED TO GET FUCKING RACHEL OUT NEXT WEEK MAN….YOUR REAL… THIS SHIT HAS GOT TO END" Lane agreess.
Matt whats the fucks rachels problem she's saying she's putting up floaters and she's putting up a HOH winner and a strong competitor. He thinks she should at least change her tune and say she's putting up strong player. Lane wonders if hayden wins POV he could use it and another pawn goes up and Kristen goes home. Matt knows hayden is cool and knows what to do.. Kristen is screwed. Lane is sure they have the votes as long as 2 brigades don't go up. Matt says he's not sure if he can get ragans vote but as long as they have brit and the brigade they're safe. Lane is sure he can get brit's vote. Matt says ragan, brendon and Kathy will vote kristen the rest will keep hayden so their good. Matt tells him they need to win HOH next week or it's over for the brigade.. he's positive that it will be physical and Brendon will be playing which sucks. Lane "Needledick can't do anything". Lane bring sup how nervous Kathy was in the comp she was shaking. Lane and MAtt think Kristen is gone this week unless she wins POV then they will need to talk B/R into putting up Kathy..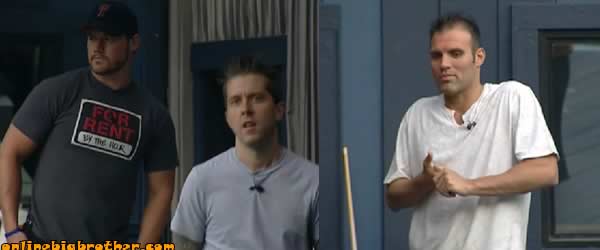 7:35pm Pool table Brigade Putting out fires, tossing grenades playing some pool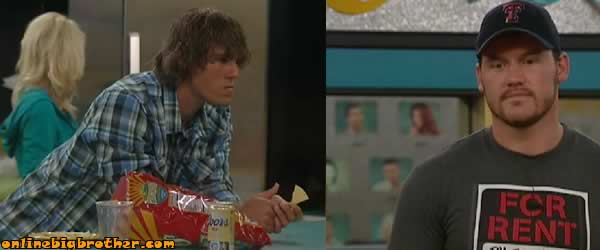 7:50pm Kitchen Hayden, Lane, Matt, Brit Matt is amazed that this is happening, "how can amercia like these 2.. they have to hate them they just have to" Brit agrees she doesn't think america likes them at all. Hayden is worried that he's being made out to look like a fool. Matt doesn't think so at all he thinks Hayden will look the opposite. They start going through what Andrew said in his speech and laughing at it. Andrew speech doesn't seem to make any difference between this groups relationship. Brit laughs who knows the inner working of Andrew's mind goes… he's lost his mind. Matt is shocked he wasn't blasted in Andrew's speech.. he put andrew up and everything. Matt points out that the only 3 people that say hayden and kristen make out was Andrew/B/R. They start jokeing about these alliances that andrew thought existed, Hayden jokes about Andrew, Kristen and himself having an alliance called the triple threat. Lane no call your self the tripod. Hayden mentions that he was one of the biggest supporters of Andrew early in the week and then andrew went crazy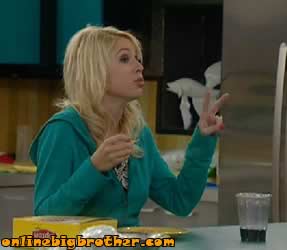 and started flipping out. Hayden wants to go into the DR, "right now the emotions are riding high and the MGD are setting in". Brit says you guys realize what this really means.. we have to listen to Brendon's voice for 2 more weeks minimum… Matt "PLEASE GOD NO" Matt now begging america to give him the wizard power so he can get brendon out. LAne tells them that America is tired of B/R they're going to throw us the power. Matt that will be so fucking awesome if they give it to hayden and he stand up during the eviction speech and biam slaps b/r up..

Onlinebigbrother.com is around because of your donation every year the site costs us to host the images and run the servers needed to handle the traffic. If you like the site then please consider donating to keep the madness going. Thanks!