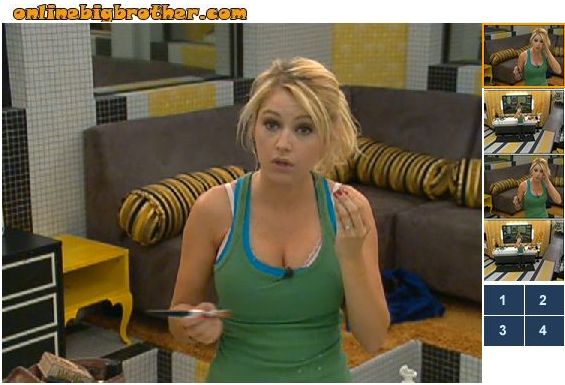 9:30am Britney is awake and in the bathroom putting on her makeup. Big Brother cuts the feeds and when they come back up Enzo goes to the washroom and then heads back to bed. When he climbs back in to bed he complains about his knee hurting. Enzo goes back to sleep. Hayden gets up and comes through the bedroom. Hayden asks him what he is doing sleeping in the jumunji? Enzo says that he cam in there at 5am in the morning. Hayden says I don't care I don't want to hear it. The camera then switches to Britney in the kitchen. Britney goes back to the bedroom and climbs into bed. Britney tells Enzo that there are no have nots this week. The house guests get back into bed and talk about random stuff and try to go back to sleep. Hayden says that Lane avoided it. Enzo says that is shit under tunnel. Britney says bridge. Lane says that water don't go under tunnels. Britney gets up to change clothes. Lane says that he has a headache, we did drink a little last night. They notice all the ants in the kitchen and say that the infestation has arrived.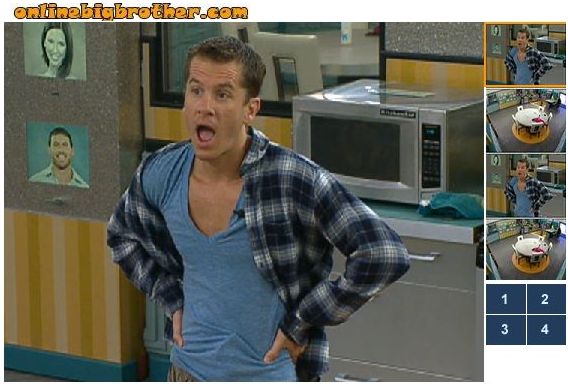 11:20am Big Brother cuts the feeds to the TRIVIA screen. Lane is talking about how he opened Pandora's Box and had got to choose an envelope and that 3 punishments would get released into the house. When the feeds come back Lane is telling Ragan that he got three punishments for the house. Lane says that something is going to happen today. Lane says that all he got $91.17 in the envelope that he opened. Lane asks would you go after the front two envelops right there in front of you. Ragan says probably not. Lane says that there were like 25 envelopes. Lane says okay pandoras box I don't like you I don't trust you but okay! Lane says that the punishments are for the whole house and that they include him too so he doesn't feel too bad. Big Brother calls for an out door lock down.  Britney and Lane are up in the HOH room.  Britney thanks Lane for winning the HOH.  The head down stairs and start to head out side.

FREE Live Feeds!!
Superpass – 3 Day Trial!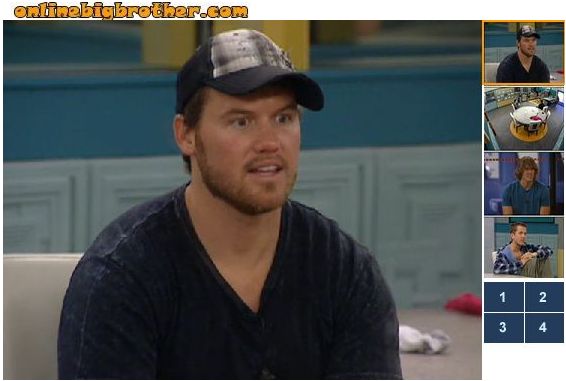 12:10pm They are trying to figure out if it will be a long lock down or not.  Britney says its probably just going to be a short one … that they just want to mess with us or something …like put midgets in the house or something.  Enzo says that he doesn't care he'll hit a midget …after how the competition went yesterday ..he doesn't care.  All the house guests head out into the back yard and talk about what if previous house guests came into the house to mess with them as a punishment.   They each talk about who would be the most annoying ….like Lydia..  They hear rustling coming from inside the house like opening of doors and stuff…. Then Big Brother cuts the feeds…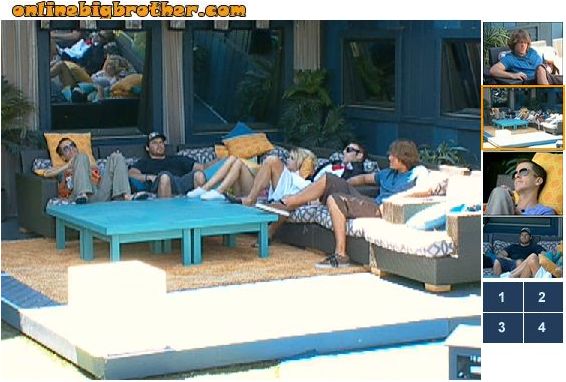 $5 off Discount – LIMITED Time OFFER! ONLY $9.99!
PLUS try it FREE for 3 Days!