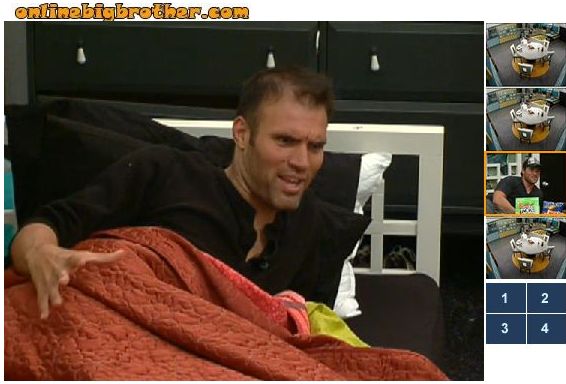 These Big Brother Spoilers talk about Britney trying to make sure she is not nominate this week while Lane is the head of house hold. Lane tells her not to worry Ragan is the target this week. Britney isn't feeling so confident that if she gets nominated she'll be safe.
6:40pm Ragan is Enzo is laying in the bed in the jumanji room. Enzo tells Lane that he cant wait till they open up the backyard so that he can get out there and get some sun. Lane puts on his bandana. Enzo tells him he looks like the grim reaper.



Enzo and Lane talk about the POV competition and how well Enzo did. Enzo got hit in the head with a cd. He says that he know it was an accident and that he didn't mean to hit him in the head. Enzo says that he knows what its like to lose so he isn't mad. Enoz says that he wants to get blasted…then listen to the cd some more …and then says that he may cry a bit up there. Lane says yeah yeah. Lane leaves the bedroom.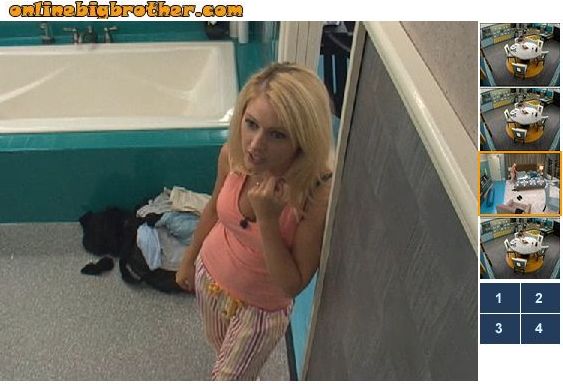 6:55pm – 7:15pm Britney heads up to the HOH room and asks Lane what he's doing. Lane says that he is about to jump in the shower. Britney says you know what is worse than Ragan being in hiding …..its Ragan not being in hiding. They both laugh at what Britney said. Britney mentions that she talked to Hayden and he said that he doesn't mind going up on the block (Being a Nomination). Lane asks Britney if she has her nomination speech ready? Britney asks Lane if that's him being nice and telling her she's going up? Britney says that she doesn't want to go up and she is going tell him no if he tries to put her up. Lane says that he wants to put up her just to hear her speech and to hear her tell Nick that she loves him. Britney says that she told Hayden that she would go up but that she doesn't want too. Lane tells her that it's a sure thing …100% Ragan is going home. Britney smiles says she doesn't think there is any sure bets in the Big Brother game. She's seen house guests who were suppose to be evicted end up staying safe. Notes what happened with Rachel in the first 4 weeks.
Britney tells him she doesn't want to be nominates. Lane jokes around with her and tells her that she's going up. Britney tells him no! Britney goes into the bedroom and gets into bed to listen to the Eminem CD. Lane stands at the door and tells her that he will leave the bathroom door closed just in case she wants to come in while he's in the shower. Britney says that she doesn't care. Lane tells her that he showers naked. Britney says yeah I heard. Lane says oh yeah who told you. Lane then tells her that he will leave the door half open just in case.. Lane goes and gets into the shower. Britney puts on the head phones and paints her nails.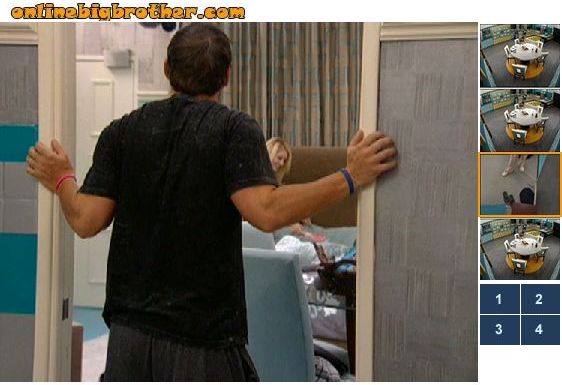 7:45pm Lane comes out of the bathroom, Britney says that she has been watching Ragan play dominos for the whole time… Lane asks really …the whole time. Britney says yeah and even before you went in there. Big Brother tells the house guests that they are on an out door lock down. Britney says that she thinks they are kicking them out into the backyard to give them another punishment. Britney and Lane head down stairs to go out into the backyard. Enzo says that he is going to get into the hot tub. They all head outside. Lane, Britney and Hayden play catch. Enzo jumps in the hot tub. Ragan climbs into the hammock and covers up to take a nap. They all comment how its different out in the backyard. They figure out that Big Brother hasn't turned on the lights yet. Lane notices that they got a new workout bench. Britney looks at it and says that its even more bootleg than the last one. Lane says that he thought they didn't even have those any more and that they were extinct. Lane asks whos running this place this is shit. Britney yells to Enzo in the hot tub that he got a new space ship. They talk about how good the backyard looks and that they think it might be different lighting. Lane and Hayden decide to play a game of pool.