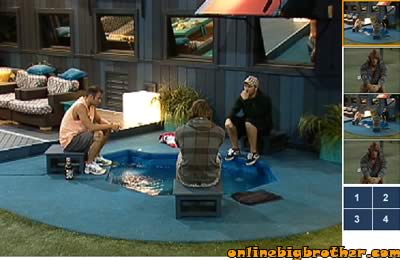 8:25 Lane, Hayden and Enzo. Lane is telling them how stupid brit is being with her plans for the money.. she wants to invest in a bank and in 40 years she'll see a return. All three explain what they are going to do with their winnings. Pretty much they are "saying" they will give all their money to their family's and they all share a sob sad story why they need the money more than brit. They bring up that Brit has traveled all over the world already she's experienced a lot already. Hayden says she'll use the money to go travelling.
Enzo mentions that Jeff Schroeder is doing pretty good he's doing that little job he must be getting paid for it. Feeds cut.. When we're back lane is talking about Brit saying that her mother will be mad at her if she doesn't win. LAne: "I was like holy shit your mom will bitch slap your around for not winning this game your mom's hardcore.. my mom was just proud of me to go to the open casting call by myself.. enzo says he parents were pissed that he was doing this, Enzo: "They said I made you I know your not going"
Enzo saying that Ragan was telling him that Brit, Hayden and Lane were together. Enzo says it comes down to Ragan is going home Thursday and they are the brigade and they are against Brit"
Lane: "I think she's mentally checked out.. she's gone"
They guys all agree they are at the point were they need to win competitions to advance and if they don't win at least they had a good time. Enzo says if he doesn't win the HOH or the POV next week he might go home but then he'll see his family after and its all good. Lane mentions all the exposure they are getting, he rattles off the number of hours on showtime and prime time. Hayden says the only reason why Brit is so down is becuase she's not getting her way and she's a spoiled Brat. Enzo adds: "She's a spoiled brat with 2 fathers one buys her presents then the other buys her presents" (Actually these three guys have a pretty good outlook on the rest of the game… ITS BORING THOUGH)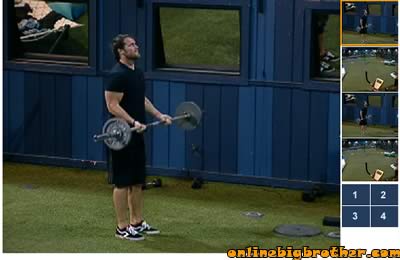 8:45pm the guys are working out
$5 off Discount – LIMITED Time OFFER! ONLY $9.99!
FREE for 3 Days!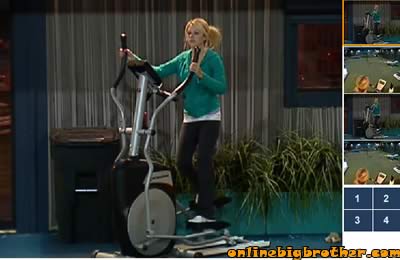 9:00pm Taking Lane's advice Brit does something with her life and starts to work out.

9:20pm Ragan: "you realize with those three your last rung on the ladder". Brit knows. Ragan adds that Enzo is the third rung. She's very surprised she didn't go up today. Ragan says theres no way we can convince Lane.. Ragan says out of this house of boys Brit is the only one we has a chance to beat in final 2. He tells her she's in a tough spot because she will not beat any of the boys. Ragan thinks Brit played a much better game then the boys but he thinks in final 2 a girl can do exactly the same as a guy but will be judged differently. Brit brings up that MAtt was saying Ragan was targeting Hayden and Enzo. Ragan says he was his first priority was to get rid of one of those boys but he never won HOH. Brit: "I feel like it's 3 vs 1 and I feel defeated I really do". Ragan says they need to explain to Lane that he will not beat Hayden or Enzo in the final 2. Ragan: "The first thing the Jury is going to ask him what did you do". Brit: "Were both really lucky I didn't go up on the block.. Thats why I think theres a chance". Ragan: "I can't do anything right now.." Brit: "Go talk to Lane tell him 500K or a friendship that might be there or not". ragan really doesn't know how to talk to Lane. Brit thinks he should just go up there talk to Lane he doesn't like to talk game with anybody. Brit says she told Lane that she's pissed that he's with the boys and not her. Ragan says they have to tell him he goes to the final 3 with us he can win 500k if he goes with enzo and hayden he will get 50K.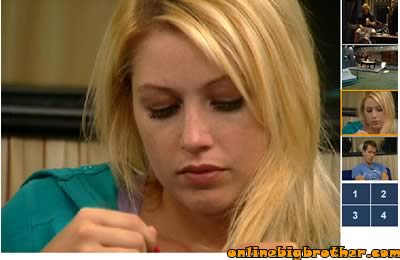 Ragan as a friend if you were on the outside looking in do you think I should try and convince Lane. Brit says yes of course but I really don't think we can crack that group of boys. Ragan thinks it might be a futile effort t talk to Lane. Brit thinks he should but don't expect much back. Brit says she's accomplished so much more than Lane and he's her only chance out of the boys to win. Brit says that she really is feeling singled out in the house because she the only girl. She points out a time when she cracked a joke and Lane told her she was being dumb but later Enzo cracked a similar joke and LAne and AHyden were all laughing. She wants Ragan to know she's not a dummy she knows whats going on in the house with the boys.