12:25am Brendon and Rachel are in the bedroom under the covers making out . Rachel says that she is in love with him. Brendon says that he is definitely going to need her after this experience, like for 70 years. Rachel says done. Brendon tells her that she is amazing and that he loves her. They continue to make out all hot and heavy under the covers. Brendon tell Rachel that no matter what happens he is proud of her.  Brendon says that he wants her to be feisty in all the competitions and that he knows she can do it.  Brendon says that there is a reason why they all think she is a strong competitor.  Brendon says that he is lucky to have her as his girlfriend.  Rachel tells him that she is luck to have him as her boyfriend.  (They really believe that she is staying and Brendon is the one going home.)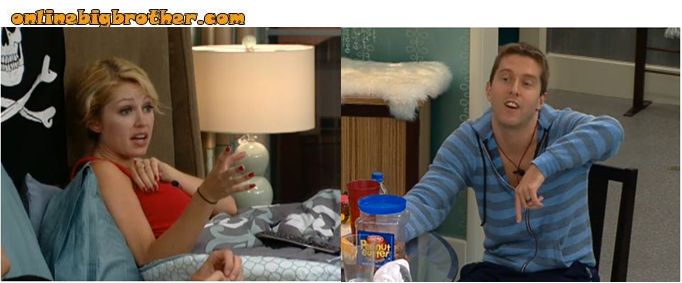 Up in the HOH room Matt, Lane, Enzo, Britney, Hayden and Ragan in the HOH talking about who they all agree should be voted out this week. They all agree that the plan is still to vote out Rachel. Ragan is runs the Big Brother time line for everyone. Ragan starts with the first HOH competition, listing the order the house guests that made it over on the wiener competition. Ragan goes through and lists every event in chronological order that happened the first week of the game. Britney starts going through what happened week two. Hayden starts going over at week three, he starts with the surfboard HOH competition. Hayden tells them all the order the house guests fell, then they go over the have-nots which were the first four off the boards, the nominations, the POV competition and the vote count for the eviction. Enzo then starts going over for Week four. Enzo says that Rachel wins HOH and recites what Rachel had said …get your life vests floaters! They all laugh. Enzo says that friday night the nominations happened where Kristen and Hayden were put up on the block, saturday the POV happened, the wizards of pinball competitions. Enzo says that Kristen got killed in that competition. Lane starts going over week five leaves out a bunch of important events. Enzo and Matt tell Lane that he has missed a bunch of stuff. Ragan starts going through week five.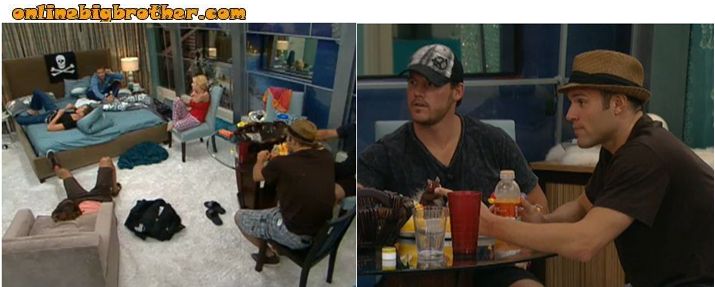 SEE what they CAN'T show you on TV! 3 Day FREE Trial

1:30am Ragan says that he wonders who Kathy would put up if she won HOH. Matt says that he has been running all the scenarios but he's never even entertained the idea that Kathy could win HOH. Each time Matt played out all the scenarios of what could happen he would always say that Kathy won't win anything, she wasn't even a consideration. They start making fun of Kathy and how she has played the game. Ragan says that he loves her, and that he is just poking fun at someone he loves. They talk about who they think Kathy might put up on the block if she wins HOH. They says that they could see her putting up Matt, Enzo. Hayden says that it doesn't really matter; she isn't going to win anything. Enzo says that if Kathy wins tomorrow he will circumcise himself. Everyone asks Lane why he doesn't want to be a pawn up against Brendon. Ragan says that they should do something funny with the nominations next week when Brendon is up. Ragan says that they should go off on Matt at nomination ceremony, nominate Matt and Brendon. Ragan says that they should then tell Brendon that he is the pawn and then vote out Brendon. Hayden goes downstairs to get some pizza to eat, when he returns he Enzo and Lane really want some too. Hayden gives Enzo one of his slises. Ragan and the others want some too so Ragan decides to just go down and bring up the box of pizza. Hayden starts talking about back dooring Brendon. They are all worried that if they put Brendon up on the block he will win the POV and take himself off. Hayden and Britney says that they think regardless of him being on the block, Brendon will get picked to play in the POV. Britney says that she thinks Rachel will end up staying tomorrow because of a coup d'etat or some other twist that Big Brother will throw at them. Hayden talks about the first week when he put Brendon and Rachel up on the block. Ragan says looking back now he thinks it would have been better to kept Annie over Rachel even knowing she was the saboteur. Britney says no offense Matt but that his key mistake while he was HOH the first time was him not putting up Brendon and Rachel up on the block. They start making fun of Lane for not remembering the events of week five because they are in week five right now. Hayden tell Ragan about a farting game called doorbell. Britney puts her hairpin in Hayden's hair and Enzo says yo!! ..take that off bro!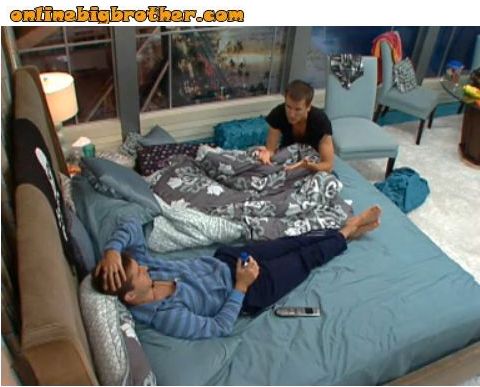 2:10am Up in the HOH Matt, Ragan, Lane, Hayden, Enzo and Britney all start making fun of Kathy again. Ragan says that Kathy trying in competition is like watching the Saturday Night Live – Jeopardy parody. They start talking about other TV show like Man vs. Wild and SurvivorMan. Lane starts talking about the guy Bear Grylls on Man vs. Wild and goes into detail about an episode that involved wild Mustangs (horses). Lane says that he is a buffoon. Britney says that Man vs. Wild is fake and SurvivorMan is legit. Most everyone gets up and leave the HOH room for bed. Ragan stays in bed with Matt and they start talking game. Enzo, Britney and Lane are in the bathroom getting ready for bed. Lane asks Britney if she smashed the other day, because it smelled like shit. Britney tells Lane not to do that when there are people around. Enzo says having people around when he shits screws him up too, it gives him hemroids. Enzo says that he is always worried he is going to be interrupted. Lane says that's why he talks to people when he shits, so he won't be interrupted. Hayden comes out from going to the bathroom and Enzo asks him if he smashed? Hayden says yeah, ..just a little one. Britney says she has to pee but is worried about the smell in the bathroom. Britney decides to just go in and then she comes out really quickly after and the guys are amazed at how fast she peed. Hayden, Enzo, Lane and Britney all agree that the best speech so far this season was Matts. They start wondering and quizzing each other on what they think will happen in the next couple weeks.

FLASHBACK – Don't miss a minute of all the action
Superpass – 3 Day FREE Trial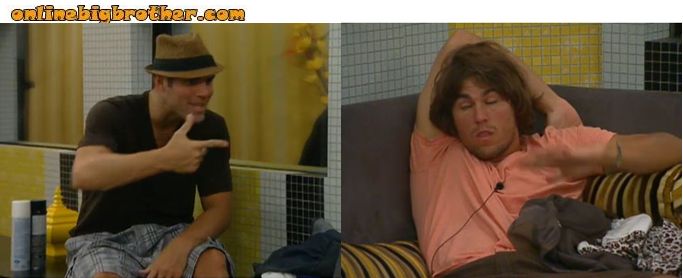 2:30am Matt and Ragan come downstairs and talk with Hayden, Enzo, and Lane in the bathroom. They talk about what would happen if Brendon wins HOH this week. They say that they aren't going to worry because they'll just send Ragan or Britney home. They say that then the next week Brendon won't be able to play for the HOH and then they can send him home. They talk again about whether or not to put Brendon up on the block or if its better to back door him. Britney comes back into the bathroom and the guys change the subject. Matt is tells them that Big Brother told him he couldn't write on the dishes… and the feeds cut out. When they come back Matt leaves the bathroom and heads up to the HOH room. Hayden says that he hopes tomorrow isn't a double eviction. Britney says goodnight. Enzo, Hayden and Lane continue to talk in bathroom. Enzo thinks that this HOH is going to be physical one and not a quiz. Lane asks Enzo if he would put up Kathy. Enzo says yeah he would. Hayden is worried that after they get rid of Brendon and Kathy, then Ragan or Britney could get HOH and the only people left to nominate would be the Brigade. They talk about how they are worried about getting caught with two Brigade members against each other. Hayden says that they have to put up Brendon and Matt and if Brendon wins POV then they'll replace him with Kathy. Hayden says that they will be cutting all their ties with Brendon then. Enzo says they could also put up Ragan and Kathy and back door Brendon. Hayden says that the worst case scenario is that Matt is up against Kathy or Brendon and then they still have the votes to keep them. Enzo says the only people you can trust is the Brigade. Lane tells them that Britney would put up Matt before she would ever put up Hayden or Enzo. Lane says that Britney really doesn't want him (Lane) to go home so she runs everything past him.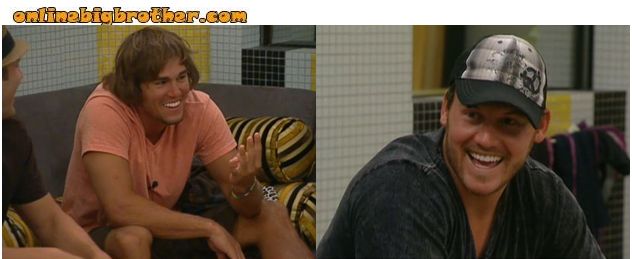 2:50am Lane says that if he leaves the house then he wants the Brigade to be known. Enzo says they can reveal the Brigade after next week. Hayden says that after Rachel and Brendon are gone and they will vote out one more person, then they can come out wearing the Brigade t-shirts. Hayden says that he wants Big Brother to make them T-shirts to wear. Enzo says that when they make it to the final six they can expose the Brigade. Lane and Hayden say final seven we can let it be known. They talk about what the sickest way to expose the Brigade would be in the next couple of weeks, if one of them is the HOH winner, they want Big Brother to supply them with four Brigade t-shirts in their HOH basket. Then they want their nicknames printed on the back of the t-shirts …Beast …Meow-Meow …Animal … Brains. They talk about how they have played a great game getting to this point and no one knows about the brigade. Hayden says that the best case scenario is that Brendon would win HOH tomorrow. They think they can get rid of Ragan or Britney this week and get Brendon out the next week. Hayden asks Enzo what he thinks would happen if you or I put up Ragan vs. Britney. Lane says that he would have to give his vote to Britney. Hayden says that Ragan would go home.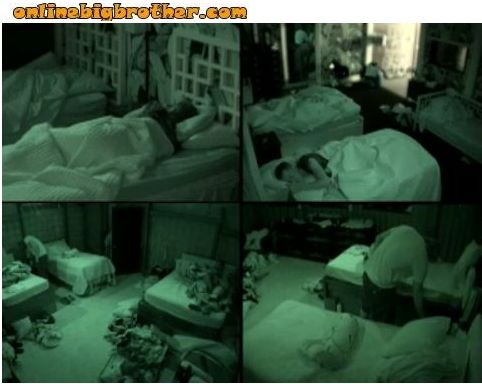 Hayden says that Britney could win HOH the next week and he thinks he would be a target but he would probably be up against Brendon. They wonder if the POV was used, who would Britney put in place of Hayden? They are a worried that she could put up Matt and not Kathy. Lane says that he can control Britney better than Matt can control Ragan. Enzo says from here on out they need to get out the strongest players and save Kathy for the end. Hayden brings up how big of a threat Britney is and says that she knows everything. They laugh about the four of the Brigade members being the dumbest people in this house and that Britney is the brains in the house. Enzo says that Brendon thinks that Lane is in an alliance with Britney, Matt and Ragan. Enzo says that he thinks they should tell Brendon tomorrow that he is staying before it all goes down. Enzo says that Brendon thinks Lane is the saboteur. Enzo and Hayden say that they don't want to go into the Taj room. Enzo says that they (Rachel and Brendon) probably have some voodoo trap in there. Hayden says that Rachel is a crazy ass chick!. Enzo and Lane say that she is creepy. Enzo says that he thinks a war could start tomorrow after Brendon realizes what has happened and Rachel leaves instead of him.

FREE TRIAL Live Feeds! Try it free for 3 Days!

3:05am All the house guests are asleep.