SEE what they CAN'T show you on TV! 3 Day FREE Trial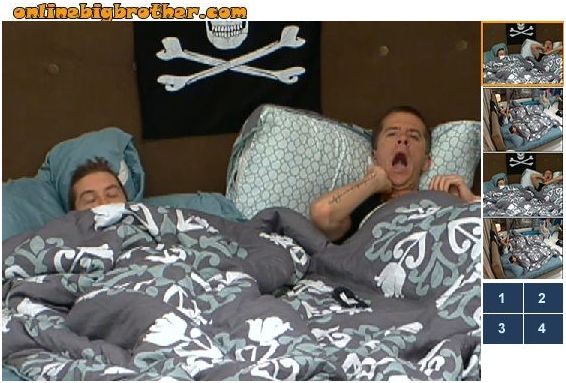 9am Big Brother wakes up the house guests. Up in the HOH room Matt and Ragan are talking game. Matt says that Hayden and Enzo won't care if Brendon wins HOH because Brendon wont put them up. Matt says for Ragan to be safe he or Britney need to win this HOH competition. Ragan says that he wonders what would happen if Kathy wins HOH. Matt says that would be crazy and he would deserve to go home for not even entertaining that possibility of her winning even just a little bit. Both Matt and Ragan think that Enzo and Matt would be put up if Kathy won HOH. Ragan makes fun of Kathy saying that she took one for the team when she was the first one to jump off in the HOH competition and got to be a have not. Ragan says that he thinks Matt would have votes from him (Ragan), Britney, and maybe Hayden and Lane, but that he's not sure. Matt doesn't really say much. Ragan says that he is nervous about having to win HOH.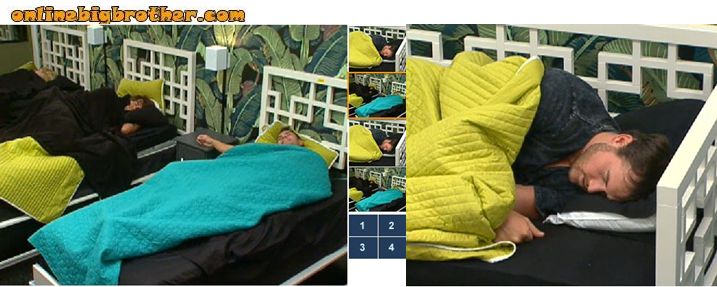 9:30am In the bedroom Enzo, Lane, Hayden and Britney are talking. Enzo says that his bed smells like a nut musk with a side a BLANK curry. Lane asks him why his bed smells like BLANK …did you BLANK in it. Enzo says yeah I think I did. They start talking about what the HOH competition will be like. Enzo says that it will definitely be a little brutality and genitalia. Britney asks him what if it isn't? Enzo says that it would then be some nationality and personality. Then Enzo starts rapping. Hayden, Britney, Lane are all trying to take a nap now. All four cameras are on them sleeping.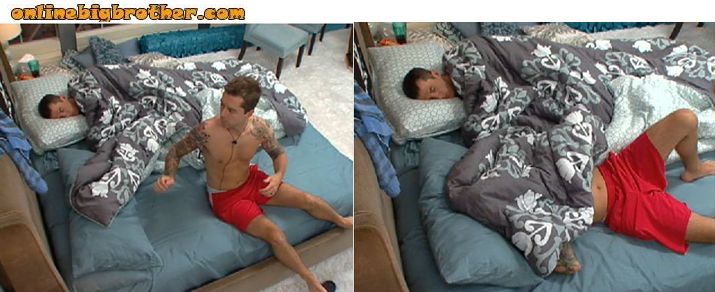 10am – 10:25am Matt moves some of his stuff out of the HOH room. Then he comes back up and climbs into bed with Ragan. All four cameras are now on Matt and Ragan in the HOH room.
FREE TRIAL Live Feeds! Try it free for 3 Days!