10:30pm Taj, Enzo, rachel, Brendon They start talking about past HOH comps and are trying to predict what tomorrow will be. Brendon tells enzo if it's the one with the cans the trick is to hold the can in the centre. They go over some of the nicknames the houseguests had during a POV Comp
Matt the magnificent
Andrew the great
Rachel the wonderful
Enzo: "what was Kathy's name..oh ya … Kathy the sabetour"
SEE what they CAN'T show you on TV! 3 Days FREE No Commitments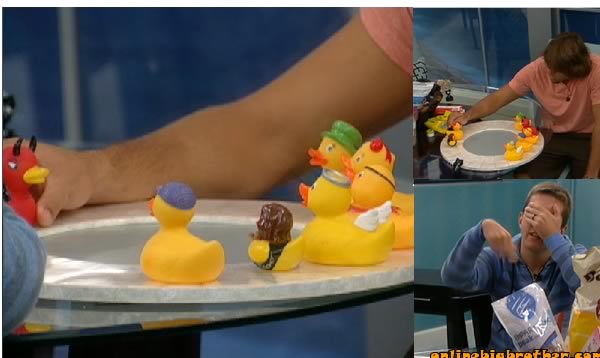 10:38pmHOH Hayden and MAtt Going through scenarios trying to figure out what to do If ragan wins HOH and the POV is played. They are using the rubber duckies as models for the houseguests funny enough the demon duck is Brit. Hayden is thinking it may be a good idea to keep Brendon longer because it will occupy brit and ragan. MAtt isn't sure he thinks it's too risky.
Hayden: "if Brendon wins HOH puts Matt and ragan up and if POV is played they will put up Bri"
Hayden: "Brit and Ragan will put Brendon up with a pawn but if he wins POV then they'll need to play Kathy"
Both are thinking it may be tough to convince them or worse it could out the brigade. Hayden doesn't think so, Matt argues that BRit and Ragan are not dumb players they will figure BLANK out. Matt says that after double eviciton the house will know about the brigade but we'lll control the votes.
Hayden: "if i win HOH it can be Ragan and brit and we'll back door brendon". Matt says we can conince them that the only way to get out Brendon is to back door him. Matt think they'll be pissed Hayden agrees. Matt doesn't know if screwing around keeping brendon around is a good idea he can win pov's and that is what the brigade needs.
Matt says they will have no problem putting a pawn up against brendon next week the house knows the pawn is safe i'll just pick Kathy.
Matt: "If ragan wins HOH I'll tell him the best way to not make any enemies is to put Brendon up against him" Matt would tell him that he trusts the house that Brendon would go home. Hayden thinks it's brilliant. Matt adds that they can get Lane to do the same with Brit. Hayden: "the beauty is if Brendon gets POV and gets off the block Ragan won't want to risk you going home so he'll put up Kahty.. dude this is brilliant" Hayden brings up that they need to win a HOH during double eviction. Matt says the Brigade needs to win POV's every week theres no more screwing around they really need to bust this out. Lane, Britney, Kathy and ragan join them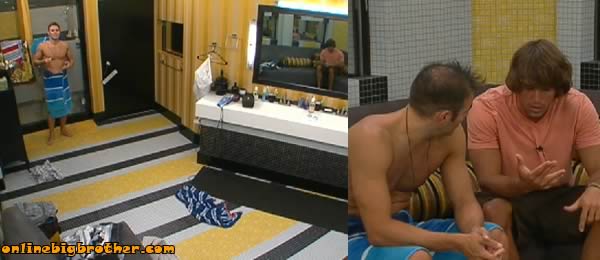 11:15pm Bathroom Enzo and Hayden They are both worried that Brendon will be pissed at them if they vote out Rachel. Enzo doesn't give a BLANK about Brendon he has nobody in the house after Rachel leaves. Enzo will tell him they were pressured to vote out Rachel by the house. Enzo says that he's playing it up real nice with B/R right now because he's not sure what will happen and they need to cover themselves incase the house flips. Enzo says that Brendon thinks they are in an alliance the two of them they should be safe for awhile.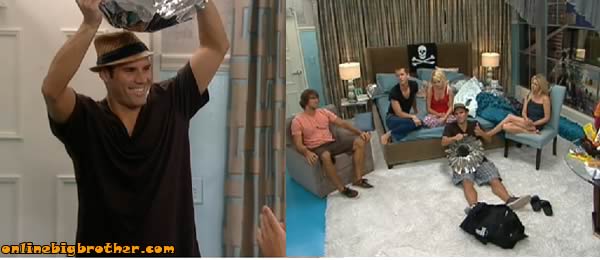 11:38pm Just the tip Funny as usually This time around Enzo is the guest being the current pool champion. They also have a live studio audience where they are asked questions. Lane to Ragan: "If you were rachel what would be your mating call and what would be your stance"
Ragan gets down on his back lifts his legs up and does the Cockaroachel Tripod and the MAtting call is "VEGAS"
12:00am – 12:17 HOH Brit, Enzo, Hayden, Matt, and Ragan Discussing what will happen after they get rachel out tomorrow. Hayden tells them if they get HOH they can try to backdoor Brendon then theirs the chance HE won't play in the POV. Ragan argues that the problem with that is if BRendon does play the POV and wins it he'll take the weaker of the 2 pawns down (Kahty) and the HOH will be forced to put up a strong player. Matt agrees thinks it's best for them to put Brendon straight up. they start studying for HOH tomorrow. Brit summarizes the entire season for them (its freaking insane yo she's got everything memorized) During the studying Matt asks them what would they rather get a kick in the balls or a flick on the dick. ever one says the flick. Enzo: "I'm not circumcised theres more cushion" matt says he was playing with his water battle and accidentally and it smacked into hi balls and it hurts.