$5 off Discount – LIMITED Time OFFER! ONLY $9.99!
FREE for 3 Days!

8:29pm Hot Tub Lane, HAyden, Enzo and Ragan. Ragan is talking about the reality tv awards and how people from big brother will be nominated. They all think Rachel will be nominated for best villain but she won't win. Ragan: "Ohhh Can we just kill something… a bird perhaps". Lane: "See your going back to your roots texas rootss.. we got the texas chainsaw mascare he'll fuyck you up in new York…". Enzo: "We got the sopranos". Lane: "Can they take out Leather Face". Ragan leaves. They start talkign about how annoying Ragan was always talking about how he knows Matt. Enzo: "You don't know shit DUCKHEAD". Enzo thinks they should tell him about the Brigade to shut him up. Lane: "We're going to get the best alliance award" HAyden: "He'll YA" Enzo: "The girl who announces it will be so hot and so happy". Lane: "I'm going to kiss her" Enzo I'm going to hug her". HAyden: "You guys remember the first day when her boob poped out.. when she was on the wiener". Enzo: "I've seen some shit but I ain't tell you guys". LAne: "who Brit?" Enzo nods. They all agree that they would never want their wifes to be on a reality TV show. Enzo and Lane talk about their DR sessions how they were best friends with everyone outside but inside they would rip them apart.

Enzo says he really wants to win HOH and finally get the letter from his family. Hayden says it's going to be a quiz tomorrow he's certain. HAyden: "I'm going to destroy it". Enzo jokes around that if Hayden is good at quizzes he's taking him out. They talk about Ragan calling Hayden out saying that HAyden is only talking to him to get votes. Enzo says this is why I don't go talk to Ragan I let him talk to me. Hayden leaves to make some muscle milk. Lane and Enzo start laughing about the DR and how the DR is always telling them that "Someone has to eventually breakup the 3 of them". Lane says that they were telling him that now is the time to make a big move, Lane: "Ohhhh Shiit yo"

Enzo brings up that Ragan is pissed that they don't play more Hole…. Enzo: "Nobody Likes HOLE ragan!" Enzo: "Courtenay Love is a hot mess I wouldn't F*** her with your dick Ragan..She all pail with big lips and banged up… She's filled with STDS you F*** her you get something" Hayden walks out "Who Rachel"… (LOL F*** thats funny) Enzo: "No Courtenay Love" Hayden: "Ohh she's a train wreck"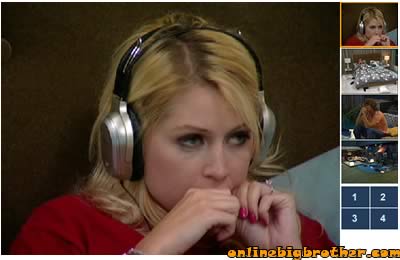 8:50pm Brit eating her hand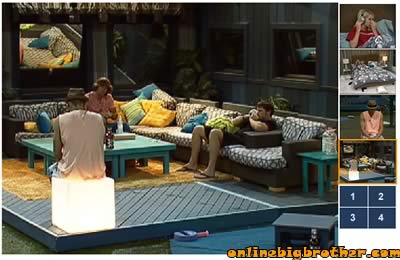 9:00pm Backyard Enzo, HAyden and LAne Enzo telling them he wants Brit out next week and then the three of them can bang it out.
9:13pm Backyard Hayden, Enzo and Lane. Hayden saying that he's never been a have nots, Enzo amd Ragan say they are 3 times have notes. Ragan leaves. Hayden points out the 2 people that swear the most in the house are Brendon and Ragan. Lane and Hayden go on and on about how they never swear. Hayden claims to have never used a curse word in the house yet.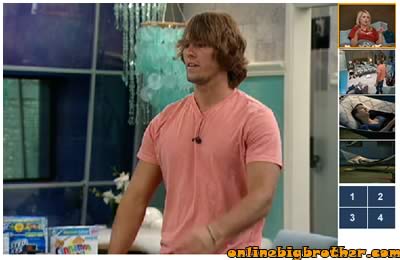 9:42pm HOH, Hayden, Brit and Enzo. Brit is telling them the worst thing she ever did was kill a turtle. She was 8 years old when she found a bleeding turtle so she killed it. HAyden and her talk about there dogs while Enzo listens to music…. (they've had a lot of special breed dogs)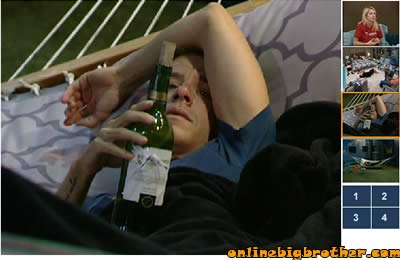 10:00pm Ragan crying about his dad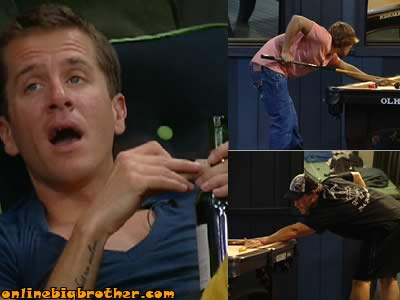 11:02pm Ragan is drunk off wine talking to the "Live Feeders" He's been talking to us for the last hour.. Says shit like right after he got the tattoo on his arm people all over the place started getting the same tattoo and even the same script… "I'm a F*** trendsetter" .. Enzo joins hayden and lane outside tells them it's a quiz tomorrow for sure. Hayden thinks it'll questions about the house and he thinks everyone will get a chance to answer. Hayden hopes it would be a buzzer type quiz but he doesn't think so.

11:09pm Lane comes back outside. Enzo: "Whats Ragan doing.. he's playing with himself.. he's sticking a bottle up his ass?… What the F*** is his speech going to be like.

$5 off Discount – LIMITED Time OFFER! ONLY $9.99!
FREE for 3 Days!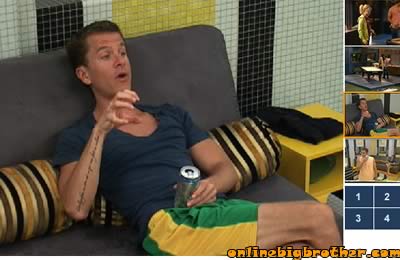 11:30pm Ragan is drilling more alcohol into him while talking to Enzo (he's really drunk)




Vote Dawg!

Big BRother 12 Poll Whose the hottest BB chick