$5 off Discount – LIMITED Time OFFER! ONLY $9.99!
FREE for 3 Days!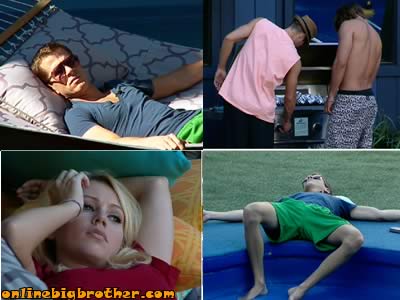 4:45pm Backyard Everyone but Lane laying around. Enzo and Hayden have just figured out how to use the BBQ and are cooking their Potatoes. Brit says in 20 minutes she's going to go cook up some bacon and they can crumple up some cheese and bacon in the potatoes. Everyone gets excited about Brits suggestion. Brit and Hayden on the couch talking about Lane getting them hooked up with some appearances in ft Worth. Hayden really wants to do it but he'll have to make money first so he can fly in. Brit says Lane's really close to were she lives she can drive for the weekend. Brit brings up how awesome it is that they are in people magazine, Hayden can't wait to see it. Enzo joins them, Brit wonders what picture they will use in peoples magazine, theres one by the pool and one by the chairs. She adds that in one of the pictures she's laying across Brendon and Enzo.

Brit: "What was day 2.. we didn't even know each other back then". HAyden "Day 61… almost out of here 2 more weeks". Enzo starts asking them what the final 3 is like. Brit rattles off everything that happens. Brit tells him there will be a question from each jury member. Enzo: "oohhhhhh Shit 7 questions". They are all surprised how much goes on the in the finale night. Brit explains that after this week they have a HOH comp on Thursday and the person who wins that plays in the second final HOH and the two that lose play for the second HOH. Enzo complains at the time in the house dragging on he wants it to be over yo.
Ragan and Enzo leave. Hayden asks Brit if he has her vote tomorrow. Brit tells him of course she will. Enzo joins them says he wants a Playstation 3, Brit laughs she wishes there was a video game they could play that they didn't know about before coming into the house. Enzo thinks they should make a big brother video game, Enzo: "You could play as evil Dick use Pots and Pans as weapons… I would use my face and horns.. hayden would have his hair .. that shit would sell at least 15 million copies yo". Brit jokes that Hayden would hide cats in his hair and fling them at people… Hayden tells brit that Enzo is messed up.
5:05pm Lockdown in 15minutes, Hayden starts jogging, Enzo laying on the couch.
5:41pm Keeping it real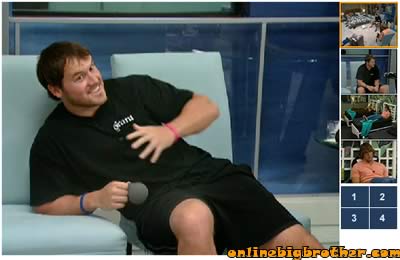 6:20pm HOH BRit, Enzo and LAne Lane wants to dye his beard.. he's being hesitate to take the final plunge and do it. Brit gives him a hard time because LAne would only talk getting some just for men and when he finally gets it he doesn't use it.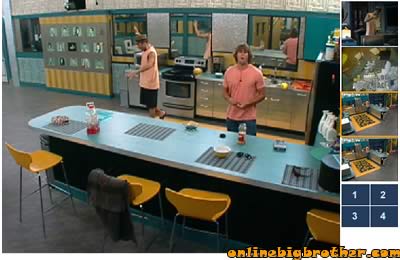 6:40pm Kitchen Hayden and Enzo with Lane up on the HOH balcony. Lane mentions that in his HOH blog he told all the haters to suck it because the brigade made it to final 4.. "The 3 dodos". Enzo: "Theres 4 people left and 3 of them are dodos and their heading to final 3" Hayden laughs.


7:10pm Everyone getting ready to eat





Vote Dawg!

Big BRother 12 Poll Whose the hottest BB chick