12am All of the house guests are sitting around the pool. Britney asks Ragan …so how long after when we get out ..say we get out on a Wednesday …what will be the next day you have sex? Ragan says …Ahhh..SEX?!?! Britney says yeah if we leave on a Wednesday how long would you wait before having sex. Ragan says Uhhh…I dunno. Britney says what like 2 days? Ragan says I don't know.. ..I haven't had sex since February. Britney says I know and you complain often. Ragan says that he is not the type to just go have sex…. He is not a Rachel… he laughs. Britney says oh you're not?! Ragan says that he is not a BLANK like Rachel. Britney says so what you would wait like a month. Ragan says I dunno. Britney says that she thinks he will get belligerent and drunk and just let it go …that's what she thinks. Ragan says that he thinks he will be less likely to do that now….and that one of the things he will take away from this experience is not judging a book by its cover. Ragan says you know like day two or whatever and he was sitting in jumanji saying that he is so superficial… and says that he thinks he needs to give guys that he normally wouldn't find physically attractive…. Britney says yeah a chance… Ragan says because some times you will find someone very attractive and then get to know them and UGGHHhh… and then some times you get to know someone not very attractive and then you get to know them and you're like yeah I see that. Britney says yeah. Ragan says its not going to be about sex when I leave maybe …its going to be about me getting ready to… Britney asks get serious?! Ragan says yeah.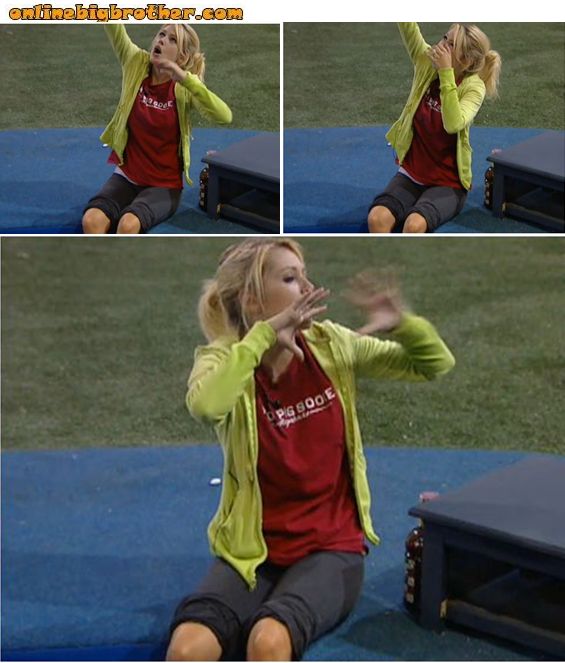 Britney over hears Hayden, Enzos and Lanes conversation about being recognized when they get out of the house.and says when you hear a helicopter in the sky when you're out …you're going to be like paparazzi get away ….STOP!! I just want to live my life… she laughs… Ragan says that's like Ashley Simpson at your hotel …No pictures please!! …BITCH I don't even know who you are! Britney says to Enzo …you'll see paparazzi are the airport and you'll be like YO! You're in my grill …get out of my face… and they run right past you because Lindsey Lohan's like six steps back. Enzo says its gonna happen. Ezno says that at the finale when they are having their backyard interviews he is going to BLANK up all their interviews … like walk up and be say Evel Dick don't believe a word she's saying… I am gonna have so much fun back here. Lane asks we can't drink back here at the wrap party can we? Enzo says yeah we can I am going to do whatever the BLANK I want ….I will curse… I will do whatever the BLANK I want I don't care!! What the BLANK do I care. Its over at that point, its done! Ragan gets up and heads inside and says goodnight guys. Enzo says going to sleep eh?! Ragan says yeah I am going to try. Ragan goes inside.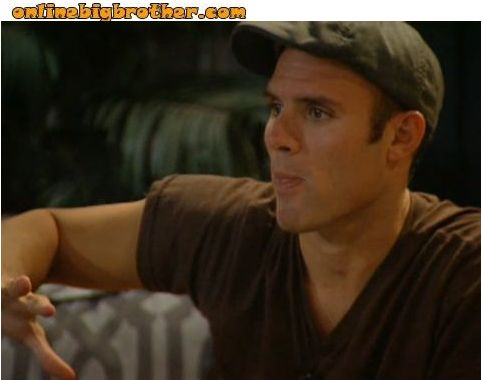 TRY the Live Feeds for FREE!!
Superpass – 3 Day Trial!
Enzo says that there will be like 10 reporters …like 10 little people with mics out here. Lane says yeah and our family will be out here too. Enzo asks do we want them out here or should we just tell them to wait at the hotel?! Britney says what are you too famous now!? Lane says that if his brother is here which he thinks he will be ….he will BLANK you up! Enzo says oh he will BLANK me up?!! Lane says like on camera. Enzo says OH alright! Britney says this guy …come on YO! Enzo looks at the backyard and says this is all going to be empty. Britney says empty yeah! Hayden asks …they're going to set up desks down here or what?! Enzo says no. Britney says no, they had it inside the house. Hayden asks desks were!? Britney says no ….I am talking about the final HOH. They tell Britney that they are talking about the finale at the wrap party. Lane tells Hayden that they are all standing around waiting for interviews. They talk about how Britney, Hayden, Enoz and Lane are the whole house after tomorrow. Enzo says this is it YO! Hayden questions how they made it to the end?! Lane says no one knows.. Britney says I don't know. Enoz says play with your heart. Hayden says that he didn't know anything about Big Brother. Lane says me too …I didn't know BLANK. Britney says that it didn't benefit you to know anything about Big Brother. Lane says because you thought too much. Britney says look at Matt…. Apparently he was some kind of super freak expert. Enzo says yeah. Hayden says yeah Ragan too. Britney says and Rachel. Lane says Rachel was trying to give people powers and like trying to tell you how to study and what to do. Lane says that he maybe studied three times. …and came in second. Britney says that she is going to go up stairs… then asks him he wants to wrestle first. Lane says yeah yeah when I get up there. Britney heads inside. The guys are playing jenga with the dominos. Enzo asks why would Ragan go to bed when its his last night in here… like just hang out and get trashed! Lane says I think he is already trashed …he's been getting trashed by himself all day to day. Enzo says now he is going to be in a room all by himself all trashed. Lane says same thing as what he's been doing. They talk about how three of them from the Brigade are in the final 4. They talk about having someone manage them after the show is over … someone to set up all their appointments and events.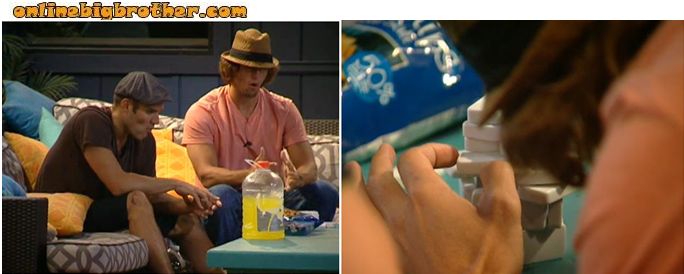 12:35am Enzo talks about how if he wins …he is going to get his wife to take some time of so that he can come out with him to LA so that he can do his thing… he says we got money now…we can do these sorts of things. Enoz says that he has always wanted to do it but that he just didn't have the balls… Enzo pauses and says well not that I didn't have the balls …I just never did it you know what I mean. Lane and Hayden talk about how they can take off after the show and travel or do stuff. Hayden says that he is almost done school so he can go travel like up to Canada! Lane says that he works for his dad so he can too. Enzo says that he wishes he was young like them ..he is hungry for it a 32 … but wishes he was 24 like them ….he would be so hungry for it and not have a care in the world. Lane says that Enzo is going to be with them so it doesn't matter if he is 24 or 35 …he is going to be with them so it doesn't matter.
$5 off the BB12 Live Feeds – LIMITED Time OFFER! ONLY $9.99! PLUS try it FREE for 3 Days!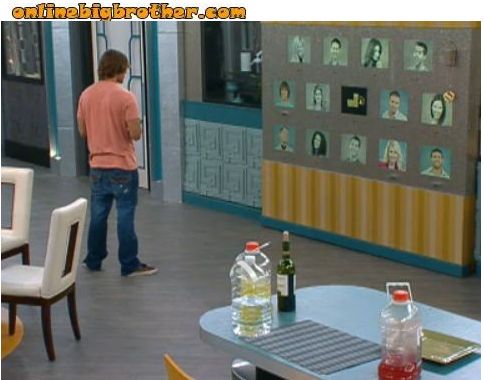 1:50am Enzo and Hayden are in the bathroom. Lane is in HOH shower. Hayden heads out of the bathroom and takes a look at the memory wall. Hayden and Enzo, get into bed in the jumanji room.  Hayden asks Enzo if he is nervous.  Enzo says that he is excited and nervous about tomorrow. Enzo says that he is excited to win and nervous to lose. Hayden says he is excited too, the stakes are high tomorrow.. Hayden tells Enzo if you win the jobs not done and if you lose you can't dwell on it because you still have the POV. Enzo says you got to fight.. its gonna be crazy …tomorrow is the day!  Enzo says that tomorrow is the day final three.  Hayden says you, me, and Britney are guaranteed final 3.   Hayden says that he can't wait to get their brigade t-shirts! Enzo says that he thinks BT (Britney) will run out of there crying. Enzo says that he doesn't want to make her cry. Hayden says that he thinks Britney is definitely going to cry. Hayden says there goes our trip to Steamboat trip if she wins. (Britney had told them that if she wins Big Brother she would pay for their trip.) They are laying in their bed and then Enzo says that its crazy man. Hayden says its insane! Enzo says that because it is a three person HOH maybe it will be the faces and they'll do it one at a time, or its going to be a quiz, or a long physical skill like last year's chocolate milk.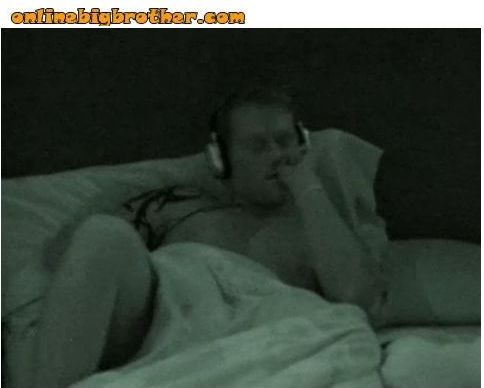 Hayden says that he thinks it will probably be matching the faces or a long physical skill competition tomorrow. Enzo says he's got a lot of respect for people who have won this thing.
2:30am Up in the HOH room Lane is in bed listening to music and watching the spy screen while he picks his nose. Down in the bedroom Enzo and Hayden lay in silence.  Enzo asks Hayden what he's been thinking about… Enzo says he's been thinking about if he wins he's going to go crazy! Enzo says that Britney didn't even want to talk to us tonight.  Hayden says goodnight bro. Enzo says that if one of us goes home, I'll see you after this is all over…. They turn over and decide to go to sleep.
SEE what they CAN'T show you on TV! 3 Day FREE Trial
7:30am All the house guests are still asleep..