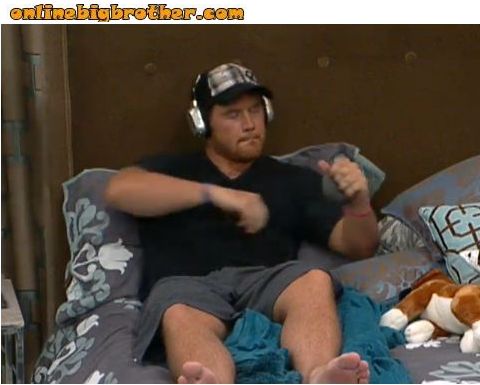 $5 off Discount – LIMITED Time OFFER! ONLY $9.99!
PLUS try it FREE for 3 Days!

12am Up in the HOH room Lane is listening to his Eminem CD. Britney, Enzo, and Hayden are hanging out in and around the hot tub talking about random things. Britney talks about the how she meet her boyfriend Nick for the first time. Britney says that she was impress because she was at the bar and wasn't looking very hot …she says she was wearing a turtle neck sweater and that Nick could have hit on any number of hot girls at the bar but that he hit on her.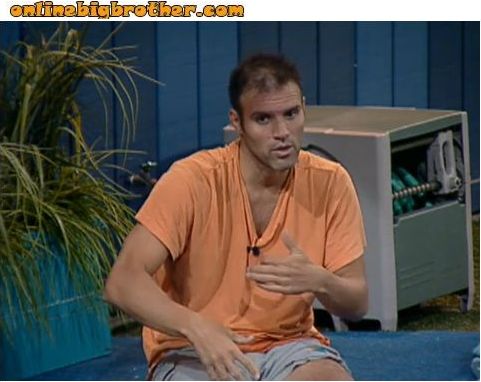 Enzo then tells the story of how he met his wife. Enzo says that she was really feeling him and he asked her for her number and that he would have called her that night but just waited till the next day …and it was done after that… After Lane is finished listening to his CD he comes down and out to the backyard to join the others at the hot tub. Britney asks Hayden if he has ever dated any crazy girls. Hayden says yeah and that he dated a crazy girl right before he came into the house that wouldn't leave him alone. Hayden says that in high school he dated another one that wouldn't leave him alone and says that his mom had to talk to her mom to get him to leave him alone. Britney says that some girl in her high school was dating someone and they broke up and the girl ripped her own bangs out. Hayden asks so she ripped her own bangs out or someone else did? Britney says yeah she ripped her own bangs out …( Big Brother cuts the feeds.) Meanwhile Ragan is already in bed trying to go to sleep. The house guests all head inside. Lane heads back up to the HOH room.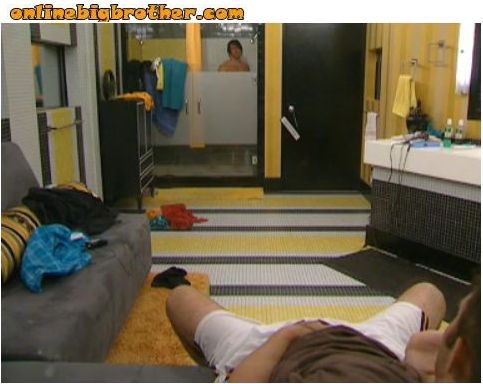 FREE TRIAL Live Feeds! Try it free for 3 Days!

Hayden heads inside to take a shower. Enzo sits in the bathroom and watches Hayden shower. They talk about other Eminem songs. Enzo sings one and big brother cuts the feeds. Hayden and Enzo talk about how their dads were both pretty young when they had them.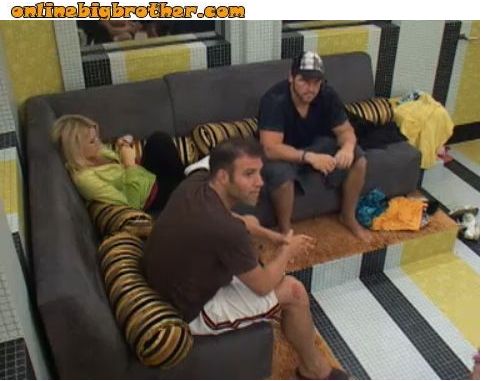 12:45am Britney, Lane, Hayden, and Enzo all gather in the bathroom and talk about how paranoid Matt was. Britney tells Enzo that there was even a time that Matt questioned how long Enzo was in the washroom. Enzo says oh what?! Britney brings up how Matt was trying to get her to be with him and Ragan to knock out the other guys. The conversation changes to talking about Ragan and how he is using chocolates and studying. Britney wonders why he is even studying any more the before and after competition is over. Lane says goodnight and says that he is going to take a shower up in the HOH room and then go to sleep. Enzo, Britney and Hayden talk about the noises they are hearing in the house. They all head to the jumanji room and get into their beds. They are laughing and talking about previous competitions they have had. Lane is back up in his HOH room reading his letter. After awhile he turns off the lights and continues to listen to his CD.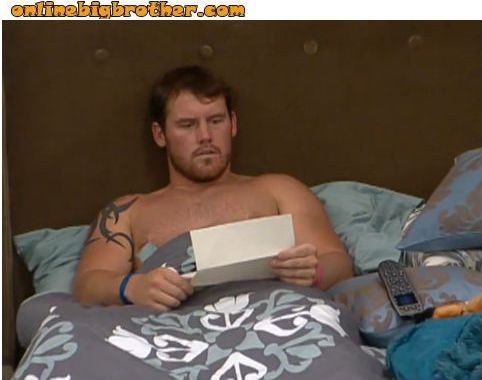 1:30am In the jumanji room Britney Hayden and Enzo are all up still talking and joking around. They all talk about how after the show is over they don't want to go back to work right away. Enzo says that he cant wait to spend time with his daughter. Britney says that for the rest of her life until she is like 70 when ever some asks her to do something she is going to use the line "No, I am a reality tv star you do it." Britney says that when she is over at her parents and when they tell her to take the dog for a walk she is gonna say no I am a reality tv star, you take the dog for a walk. Britney tells Hayden that he should do the same think with his name Hollywood Hayden by telling people to go get him a beer he's Hollywood Hayden. They start talking and laughing about past competitions.




Enoz says that his wife probably has to apologize every day she goes into work and say that she is sorry and says that he is not a real rapper. Enzo says that he thinks people parents and grandparents are going to ask about him saying whos Meow Meow? Britney asks Hayden and Enzo what would have happened if Matt had pulled out another Diamond Power of Veto. Hayden says that Brendon would have gone home. Hayden pauses and then says that Brendon had the power of veto, so he says that him or Ragan probably would have gone home. The house guests keep hearing a creaking noise coming for inside the walls of the house. Enzo says that he wonders if the people who were evicted first are still watching the show. Britney says that she thinks they are for sure. Britney says that because Hayden back doored Annie, she probably hates him. The house guests reminisce about the first week in the house. Hayden says that he told Annie there was a chance she was going up. Enzo says that Kathy beat out the saboteur. They're impressed that Kathy made it to the jury house. They talk about how they think she would have made it farther if Matt hadn't used the Diamond Power of Veto. Britney says that she thinks Kathy was the worst crap talker in the house. Britney talks about how Kathy used to tell all these stories that involved her underage son coming home wasted and how funny it was. Britney says that she doesn't get that and says that Kathy is a cop and she thinks its funny that her son was coming home wasted at nineteen years old. Enzo says that he dropped so many grenades on Kathy. Enzo says that he wants to re-watch an old Big Brother season. Britney tells him that he should watch season 7, and then he should watch their season. Enzo says that he wants to put their diary room sessions up against another season's diary room sessions. Enoz says that he thinks their diary room sessions are the best! Britney agrees. Hayden says that he is way too loud in his diary room sessions.

LIMITED Time Offer 33% OFF – Plus try it free for 3 days!
Superpass – 3 Day Trial!

2am All the house guests decide to go to sleep early…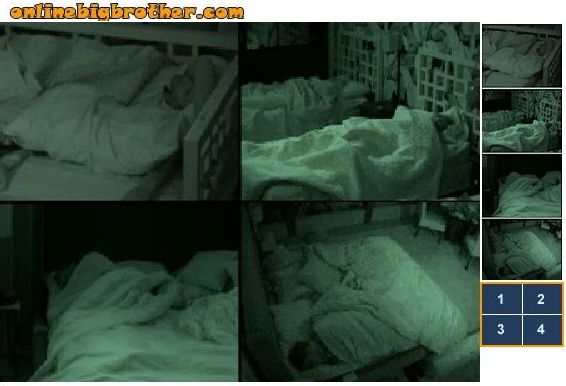 6:20am All the house guests are sleeping..
8:14am All the house guests are sleeping..
9:27am Wake up call