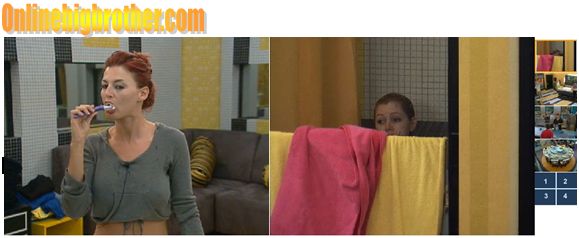 8:40am Big Brother wakes up the houseguests…

SEE what they CAN'T show you on TV! Superpass 3 Day FREE Trial
OnlineBigBrother.com 9am Matt, Ragan, and Brendon are on the backyard couches talking about Annie and the votes. Brendon says that she should just leave with some dignity. Ragan says that he appreciates her fighting though. They start talking about the saboteur. Matt says that someone said that he (saboteur) comes every episode so there should be one today. Ragan asks who are the only people in the house who haven't had any alcohol… they start listing names.. Britney, Kathy… Matt says HMMMmm.. and Britney always talks about getting drunk at home.. (just then the feeds cut to we will be right back) When they come back .. Ragan is saying maybe they would make a special exception to the age rule. Matt says MMmHHmm. Brendon says he has a pretty good lie-o-meter. Brendon says what we should do is ask her more questions about her fiance. Ragan says I don't think that's really a big deal… but that the age thing would be something bigger. (They are thinking that Britney could be underage because she doesn't drink in the house. OnlineBigBrother.com) Matt says so we don't definitively know that the saboteur isn't one of the life long friends do we? Ragan says I think its 3 different people. They are joking around and laughing about the saboteur. They talk about what they need to do today… they figure they will be doing their diary room goodbye messages.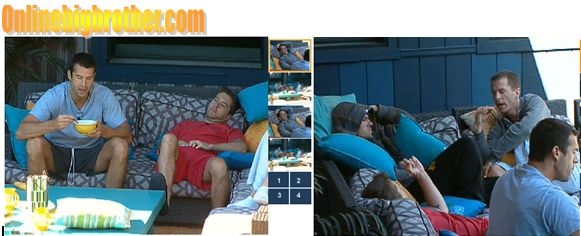 OnlineBigBrother.com  9:15am – 930am Kristen, Ragan, Brendon, Lane, Matt, Enzo are all on the backyard couch now.  Rachel is exercising on the elliptical.  Enzo trying to make people laugh he says don't hate masturbate!  Then he says I see myself napping three times today.  They continue to talk about random stuff… The feeds cut out cuz they start to sing.  When they come back …Brendon is saying JONNY why are we not allowed to sing??

Try the Live Feeds 3 Day FREE Trial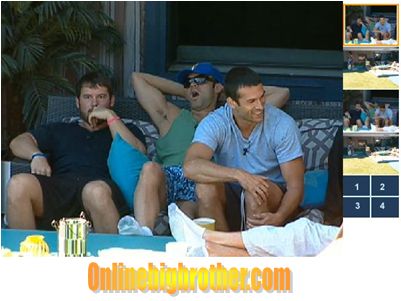 Share it YO!!
Tweet