Head of Household: Beth
Nominations: (Ro, Tera)
The Power of Veto Players are: Rohan, Tera, Tina, Tychon, Breydon
POwer of Veto Winner: Rohan
Power of Veto Ceremony: ????
Have nots: ?????
*** Rohan won the Power of Veto Competition. He plans to use it on himself and as HOH Beth plans to nominate Victoria as the target.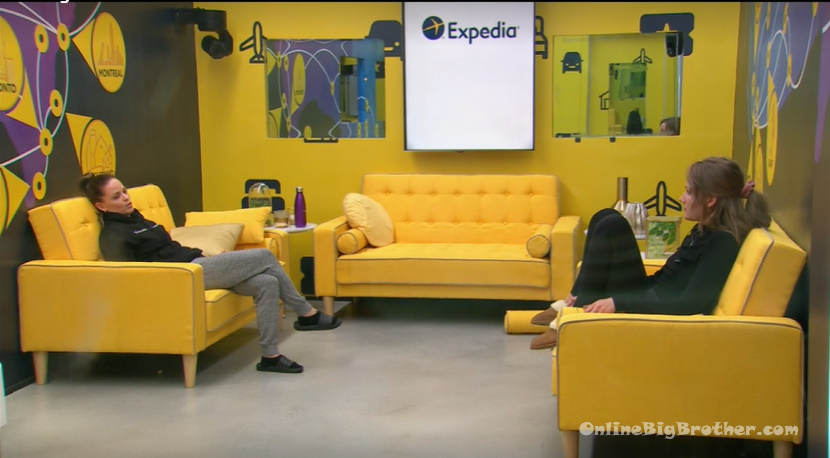 10pm Sponsor room. Beth and Tera.
Tera – it just embarrassing. Its just embarrassing ..like I don't think I could have physically done it. Beth – you just need the holding on one. Tera – even then I will probably fart and let go or do something stupid. Beth leaves.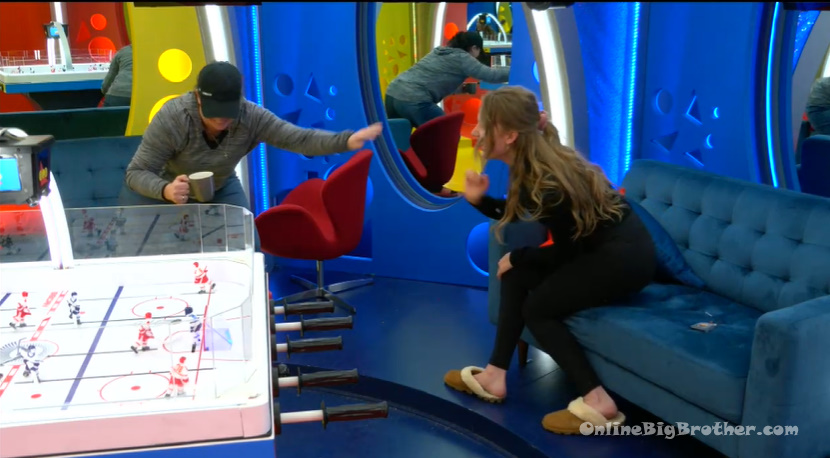 Games room. Tina and Beth.
Beth – were you in a room with you, Tera, Roh, V and Austin? And V said Jed and Beth? Did that happen? And she was threatening to throw my bag and stuff down the stairs? Tina – oh yeah! Beth – that happened? Tina – yeah, I think you came in to get something out of your bag. Beth – I am going to tell her (Vic) that I am going to put up Tina. Tina – I will play it like I'm spooked. Beth – I have wanted to play clean this whole game. This is going to be the dirtiest thing of all time.. but if we stick together. Tina – You came here to play but at the same time you came here to play your game. Beth – I am going to say that I'm putting up Tina and that I'm going to break up the duo (Tina and Tera). Beth says that she can't wait to see Vic's face when she puts her up. Beth – I did tell Tera that if she stays we have to collectively get Roh out next week. Tina – oh we will.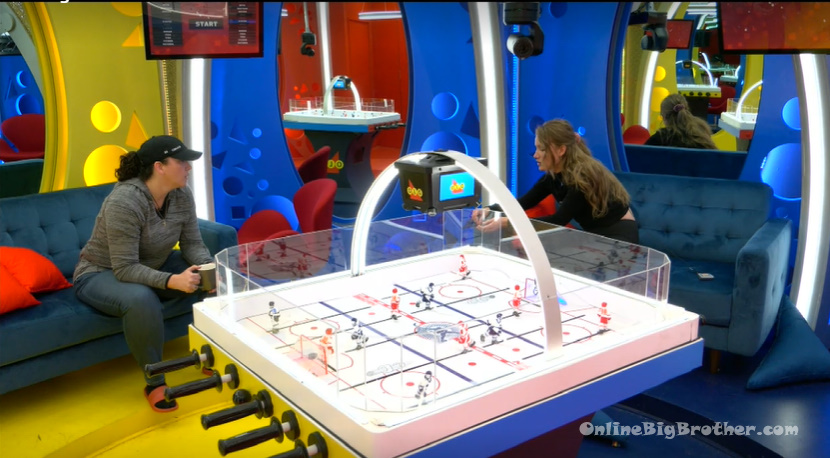 10:50pm HOH bathroom. Jed, Ty and Beth.
Beth – its good, people owe us now. Jed – yeah no one owed us sh*t before. We were influencing moves but didn't make any ourselves. Beth – people are like no I owe you Ty and Jed. Ty – they owe us now. Beth – you guys this is going to be so f**ked! Tera was like is it okay if I acted surprised when you put Vic up? I was like literally do whatever the f**k you want. If you want to act cowardly like that .. sure. Jed – yeah that's cowardly. Beth – she was like she is going to say the worst things about me sitting next to me on the block. Jed – oh she will. Beth – but at the same time it will be so obvious that Tera is staying. Tina was like just know whatever Vic says it will be in one ear out the other. Jed – it has to be for everyone in the house. She is going to say some crazy sh*t. If Vic says we were in a final four should we deny it? Beth – that was back before Latoya. Ty – we should just deny it. Beth – oh this is so scary. Jed – this is going to be sketch but whatever! ITs going to blow up ..like it is going to get crazy! Beth – it is going to be PERSONAL! Jed – and you're not taking the heat for all of it. Beth – Breydon was like get ready to see the real Breydon because the second anyone says anything personal he is like pack your bags bit*h! Get out! Man gut feelings were real! We knew Vic was dangerous! Jed – lets just run with it. Ty – you guys are savage! Beth – you are. Jed – this is a huge move. Beth – I said to Tina .. the second this gets out you're going up with Tera. She was like oh sh*t. Jed – I just had a full conversation with Vic about moving forward without Tera… like this is dark! Ty – I don't care she is dirty. This is frailty. Take our shot! She did us dirty! We don't know who she is. All she wanted to do was go to jury. Beth – that's what she was saying all she wanted to do was go to jury and we're cutting her short. This is going to be so awesome! Jed – she is going to completely isolate herself when she freaks out. Ty – this move has zero repercussions. Jed – if there is a secret veto … we're done! They all agree that this is a move that has to be made. This is our only opportunity.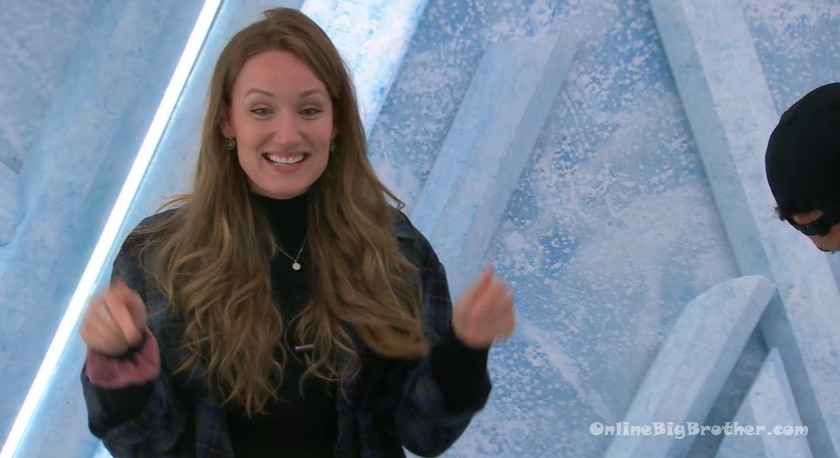 Tina and Tera.
Tera – we can't be messing with her right now. Whatever she says she wants we have to do. Tina – yes. I told her we had her back because she said if she keeps us safe we have to get Roh out next week. They agree they're fine with that telling Beth they're good with that if they're safe.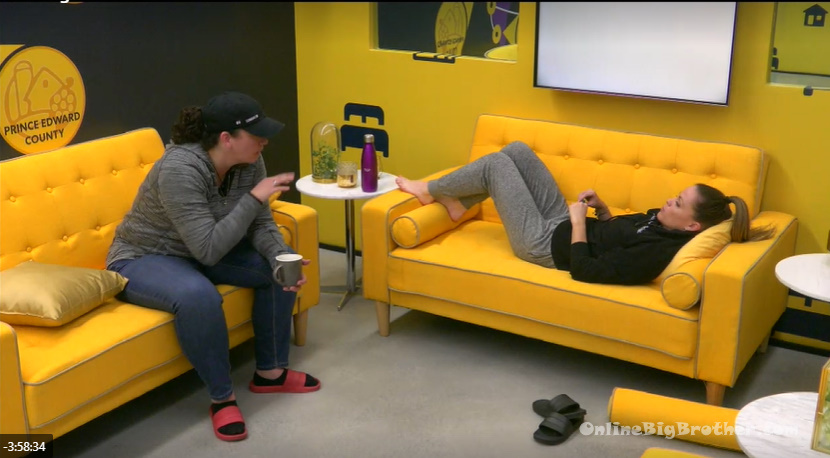 12:20am Chess time..

12:55am Sponsor room. Jed and Ty.
Jed – We all knew that Roh was an easy way out. I think deep down we all wanted it to happen like this. Ty – I know, I know! But the fact that it did. Jed – we all just wanted it like we kind of wanted our hand to be forced a little bit. Because if you had won we still have had a choice to make. And its like ahh.. should we do it.. but now its like.. Ty – I don't think we would do it if I won. Jed – me either. I think we go back on it. Ty – and then we f**k ourselves down that road. Jed – because it would literally be like week two. I bet she would hear about it but it wouldn't happen and we would get the repercussions. 100%! Ty – oh yeah they would spit that to her next week. Jed – imagine Roh stays and Vic stays .. Roh would tell her everything we were going to do. Ty – and then she would believe them. Jed – that would be terrible. And she's already been saying our names. Ty – yeah she has to go. There is no doubt in my mind. Jed – I don't know if it makes me a weak person but its hard to look someone in the face knowing what's going to happen. Ty – its going to be bad! Jed – she is going to be furious! I think she will get over it eventually but.. Big Brother blocks the feeds.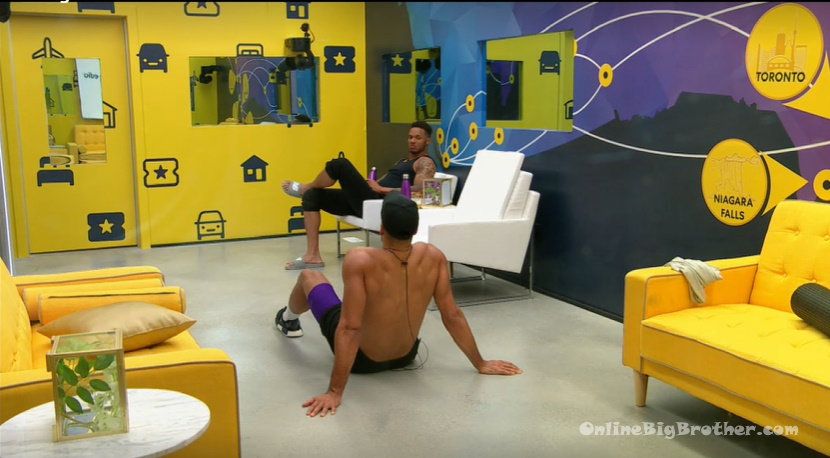 1:05am The house guests are chatting about the veto competition in the dark..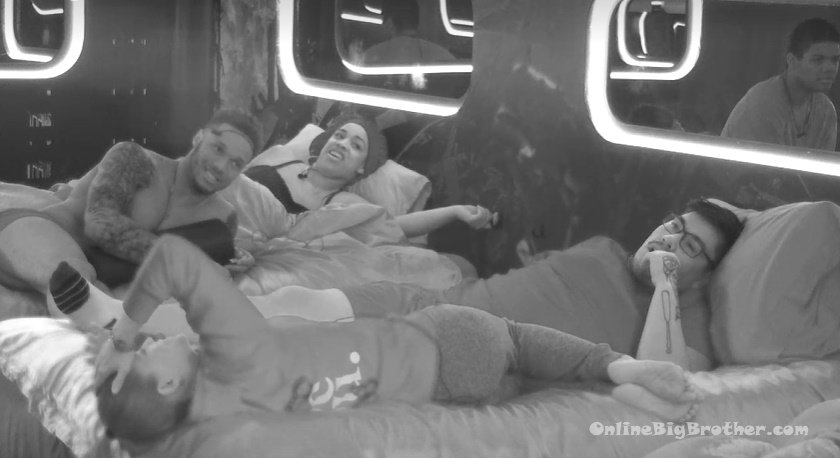 Easter Sunday at 2:40 pm just turned the Feeds on and they appear to be down for a bit. Possible Power of Veto Ceremony?