Head of Household Winner – Cody
Have nots – Kevin and Enzo
Nominations – Kevin & David
Power of Veto Players are – Cody, Kevin, David, Tyler, Enzo, Nicole
POV Host: – Memphis
Power of Veto holder – Cody
Power of Veto Ceremony – Veto was not used. Noms stay the same.
Live feeds —-> Grab your Live feeds here. Try it free.
Rank the houseguests —-> Big Brother 22 Ranking
Veto was not used YO noms stay the same.

3:37pm Bedroom. Christmas and Memphis.
Christmas – have you checked in with Enzo lately? Memphis – I think he is just stoked to be a part of it. Which is awesome. Christmas – I think we should definitely touch base with him and kind of prepare for a double. Just like get his input and how he feels about everything. You know?! I don't want him to feel like we're telling him. Memphis – yeah. If its a double.. then obviously we need to keep the committee the committee. Christmas – Well I know that Dani is going to take a shot at me and she will put me up next to you or Tyler. Memphis – but we have the same mentality. As far as our communication with everyone .. its David is going home, David is going home, David is going home. That is what it needs to be. And then as far as our communication we need to take a shot. Christmas – Literally the only person that cannot win (Dani) and the second person is Nicole. Memphis – yeah. Okay Cool! Christmas – Okay thanks! Memphis leaves.

4:48pm Hammock. Dani and Kevin.
Dani – because of what happened yesterday.. Kevin – what? Dani – what David did yesterday.. its a huge strike. Kevin – I know. Dani – HUGE! It made people really mad! Kevin – I think its a $10,000 mistake. Dani – why would you do that?! I don't understand. What was he thinking? Kevin – Like I want to be here. Dani – but what was he thinking?! Kevin – like he doesn't care. Dani – can you even imagine.. him going to jury with the DVD and Day watching it and like I would love to see her reaction. Wouldn't you?! It would be priceless. PRICELESS!! What was he doing!? Kevin – I hope other people will see that I fought for it. I didn't give up. Dani – everyone knows that. Everyone is real mad about it. I was flabbergasted. Kevin – that is my only .. Day would be so!! Dani – wouldn't it be priceless?! Kevin – I think America is too. But she would be so.. YEAH! Dani – after everything and stuff ..it would be so funny. Kevin – like why would he?! Like he has told me so many times that he is fine going to jury. Dani – you know I would tell you .. and I want you to stay. Kevin – I know you do. Dani – you know I do. Kevin – I need to work on Memphis, Christmas and Enzo. Dani – I would even try and patch things up with Cody. Kevin – would he believe it though? Dani – think about it .. he is really close to Memphis, Christmas, Tyler.. Just say really nice things even if you don't mean it. Kevin – you're right. Dani – I know it sucks and its really hard. Sometimes its not who you are its what you need to do to get past the next couple days. Just because you go up to someone and kiss their butt in this house it doesn't necessarily mean that you're a weak human being and that people are going to take it that way. You're doing what you need to do to get farther in this game. Kevin – yeah. Dani – and we just said there are four weeks left.. you don't want to go home. You can't go down without a fight. Its hard sometimes you have to put your pride aside. Kevin – I know.. I've learned so much about myself.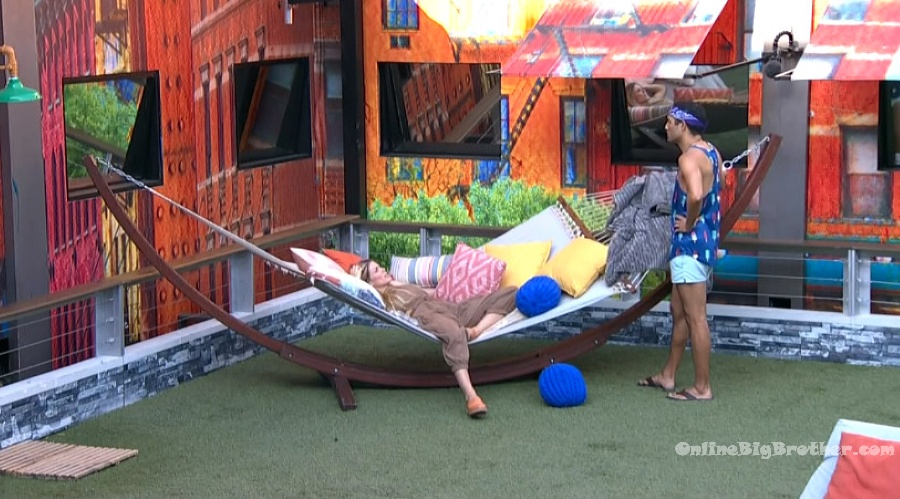 5:05pm – 5:42pm HOH room. Cody and Kevin.
Kevin – thank you for connecting. I can feel it coming to an end and I just want to enjoy myself. I don't want to have icky feelings. That was such an awkward conversation. Cody – I know. We've never had conversations like that. Kevin – quite frankly that is not me and I am embarrassed about my actions. I was thinking about it in my head and you were making valid points and that kind of bothered me. I just thought about it and that is not how I want to go out. I want to apologize. Cody – I wasn't helping you come to a middle ground at all. Kevin – some of the points you were making were totally valid. Week one I genuinely felt like you were looking out for me. I didn't nurture my relationships in the beginning. Cody – I was at fault too. I talked to you more than Day. Kevin – I don't feel like you have a vendetta against me. And I don't have a vendetta out for you. Don't feel weird about me too over the next couple days. Cody – no I don't feel weird. Kevin – I am going out so let me know if there is anything I can do to help you. Cody – This helps .. and no if something comes out I will come talk to you. Kevin – I am just going to campaign. Kevin – I do think that if the miracle of the big brother gods happens and I do stay .. umm.. then that means that I really need to reconcile something with you. I really need to feel like we are fine. I will do everything for you to know that I am not a direct threat to your game. The reality is .. you are a significantly better competitor than I am. Cody – I did slightly better than you did in that (Veto comp). Kevin – in comparison to you.. am I really a threat to you?! I can't even win an HOH!? I just want to make my time here more clear and I am getting lost in the sauce! I am genuinely not coming after you. Cody – I am so glad that we had this conversation.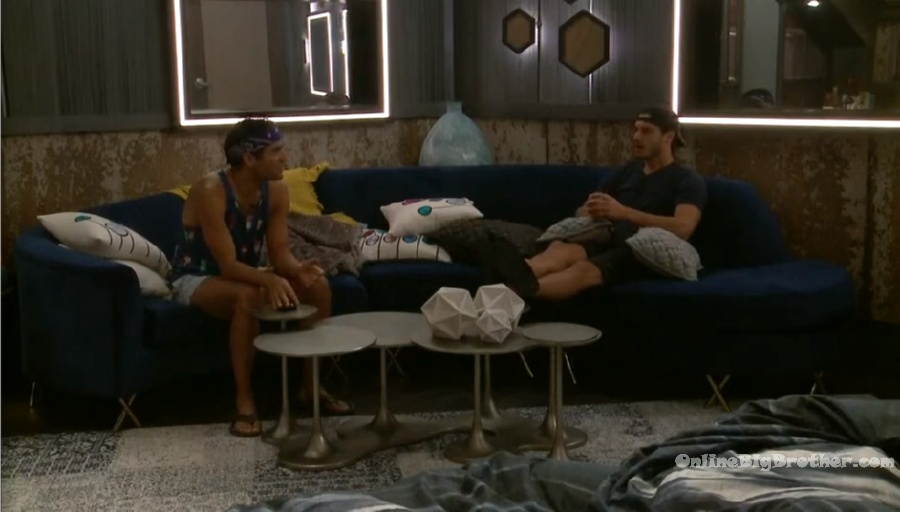 Backyard pool games..

6:40pm Big Brother blocks the feeds.
6:42pm The live feeds switch to kitties..
7:22pm Still nothing but puppies and kitties..
9:14pm No feeds for you ..
10:01pm Kitties & Puppies all day all night..
11:07pm The live feeds return.. Cody is changing sheets in the back bedroom. Meanwhile Enzo is cooking in the kitchen. Dani and Nicole have some cereal. Its a quiet evening..
11:26pm Kevin looks through the HOH camera photos.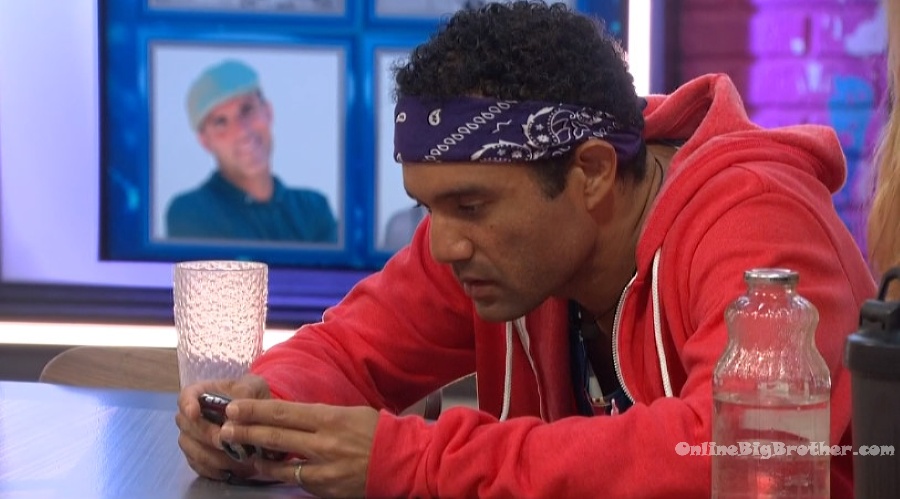 2:30am All the house guests are sleeping..
Show your support by making a donation.
If you're enjoying our live feed updates this season, please consider donating.
Any amount is greatly appreciated! Your donations go directly to paying the fees required to run this site.