11:28pm Kitchen Frankie and Christine
Of course they are talking hate about Nicole, Christine say every time she talks to Nicole she's tight lipped. Mentions that all week Nicole is going to be talking to them all (See image). Frankie is pissed Nicole came back into the house not mad at what she didn last week.
Christine really wants Nicole gone. Frankie is sure Nicole is going to be nominated.
Frankie – the only other person that would have been less compassionate (To Nicole) would be me
Frankie – her social game is on point.. she went from not talking to anyone to being best friends to Victoria Friends with you she hangs out with Cody all the time..she's done a decent job reacclimating to the house"
Frankie and CHristine are both happy Donny is gone, Christine says she's usually the second one up after DOnny and it was always awkward having to deal with. Frankie cannot believe there is nothing more to DOnny otherwise he wouldn't be so popular.
Christine is happy they are too far into the season for Donny to come back.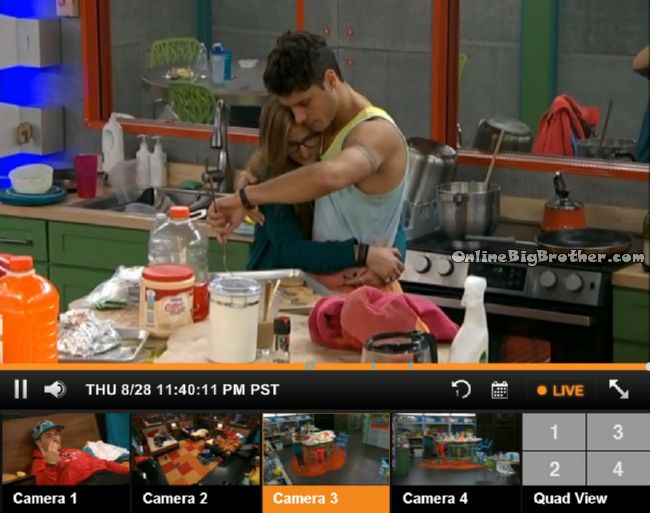 11:42pm Christine and Cody
Talking about Frankie and how they cannot stand him
Cody says to avoid the girls cause frankie is starting to say there is a guys alliance 'He'll use anything at this point"
Cody mentions the Frankie is on a power trip "He's over the top
Christine – I cannot stand him
Cody – Frankie is going to be up his a$$hole
Christine – Yup
12:07AM Kitchen Nicole and Frankie
Nicole tells Frankie he doesn't have to be scared of her, he shouldn't assume she's after them they cleaned the slate.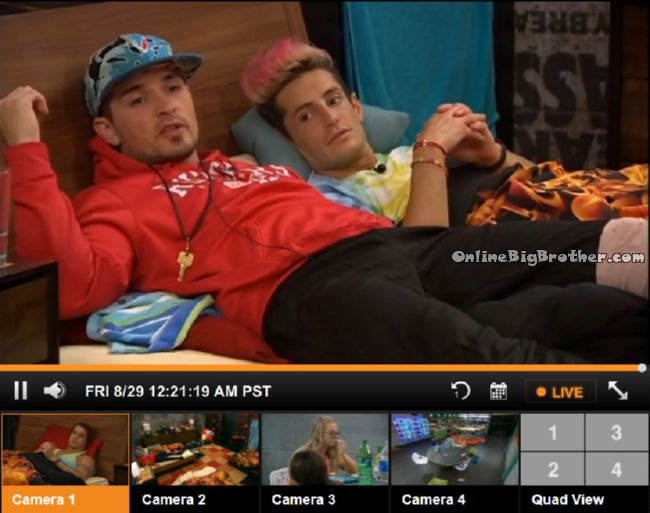 12:07am Christine, Frankie, Caleb and Cody
Caleb says his knee is too jacked up if the POV competition is really physical he may not do it. He doesn't want to hurt it more than he has to. Caleb wishes they would had addressed him as BEast mode after he won the competition instead of Caleb.
Caleb says the DR called him Beast mode now, His brother calls him Beast mode, he doesn't go by Caleb anymore it's beastmode.
Caleb – "Sean (Production) was saying that's the kinda beast mode I'm talking about.. BMC.."
Frankie wonders if they showed the play because they never asked about it on the live show, "You know they can't show everything"
Frankie saying he doesn't give a f** that Donny is so popular Cody – I'm so over it
Caleb – Donny was by himself because he chose to be
Frankie – how does that make you a good player.. .. I understand people root for the underdog.. I never rooted for the underdog.
Christine – I started rooting for Aaryn
Frankie he did to near the end.
Caleb says Donny was backed into the corner so many times and he saved himself all by himself..
Frankie – God Nicole she's working already..
THey go back to talking about Donny, Frankie says the reason Donny was so popular was because he was the only one up for 7 hours during the day. Caleb says Donny played a horrible game he just won competitions he didn't play the game.
Caleb and Cody leave
Frankie says Nicole told him he's not her target, Christine giggles says that's a lie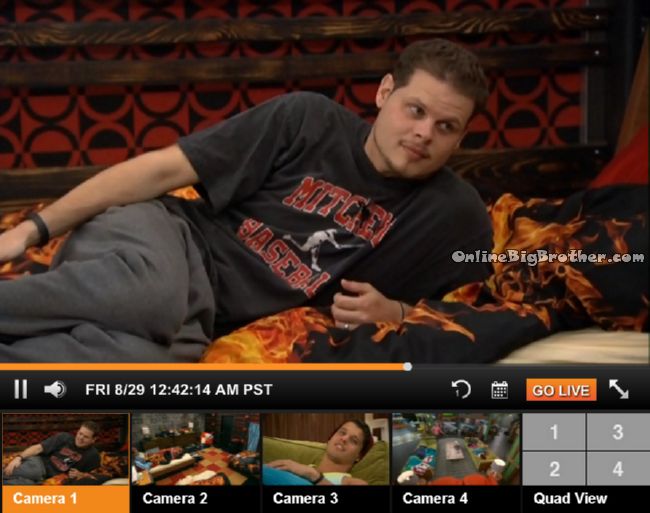 12:44AM FIREROOM Christine, Frankie and Derrick
Frankie again talking about Donny being popular and how he doesn't give two f*** that he has hatters. Christine says it would have been great if she won HOH and send Nicole home twice, "That would have made for such good TV"
"Hola.. D-BOMB"
Cody comes in they wonder if the D-Comb is because they were the bomb squad. Cody asks if Derrick has to HOLLA back, says that would have made it much worse
12:49am FIREROOM Derrick and Frankie
Frankie tells him the entire TEam America task was about Donny he's sure they edited them to show they didn't want to save Donny.
They go through their Team America wins.. Frankie thinks they have completed 4 of them. (they've only done 3)
Frankie – we can look at it as constructive feedback.. I thought it was the best idea for the situation..
Derick – I thought it was pretty funny
Frankie – A man in drag is not a popular concept to the rest of the world.. a lot of America is not ready to see a Man in drag.. This is an American FAmily show.. there's a lot of american families that do not understand drag"
Derrick – and the fact we were bashing other houseguests didn't help
Frankie – we took a shot we thought this is want to see… she said overwhelming no
Frankie – I thought this was a gift because how well we've been doing, i'm building schools in Africa with the money.. how creative can you be and it wasn't' creative enough..
Derrick – you need to be up Caleb's a$$.. if she wins POV she can make a move. (Christine)
Derrick starts to explains if they kept Donny it would have caused a rift with Cody and hurt their personal games.
Frankie – I realize now people hate me
Derrick – People hate me to
Frankie – It's OK… I'm more than ever playing to win.. I use to play to please people.
Derrick – I feel bad for donny
Frankie isn't going to play to please the fan's anymore.
Cody joins them Frankie brings up everyone loving Donny and he's over it.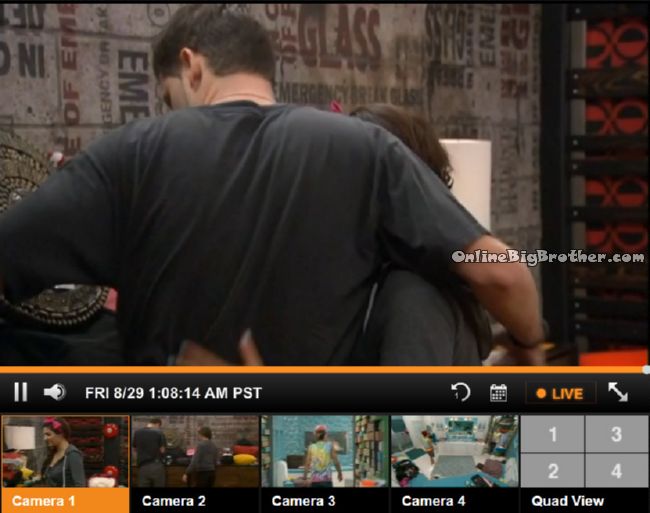 1:09am Rock Room Derrick and Victoria
Victoria asks if she is going up.
Derrick – not if I have something to say about it
He doesn't know for sure who Caleb will put up but they are wanting Christine and Nicole nominated.
Victoria – Love you
Derrick – Love you to, doing my best we had no chance to win against him
One way to support this site that doesn't cost you anything extra is making your
Amazon purchases through the links Below
For in Canada use the following link:
Amazon.ca
[polldaddy poll=8274218]
Share it YO!
Tweet