HOH: Tiffany
HAVENOTS: BIGD, Alyssa and Claire
Nominations: Alyssa and Xavier
Power of Veto Players:
Power of Veto:
Power of Veto Ceremony:
Big Brother 23 Houseguest Rankings – – RANK THE HOUSEGUESTS –
View the previous day ranks on the – Ranking Grid
Big Brother Spoilers – Alyssa and X are nominated. Alyssa is the target. Alyssa winning Veto could bring some drama. Otherwise, it's zzzzzz for the most part.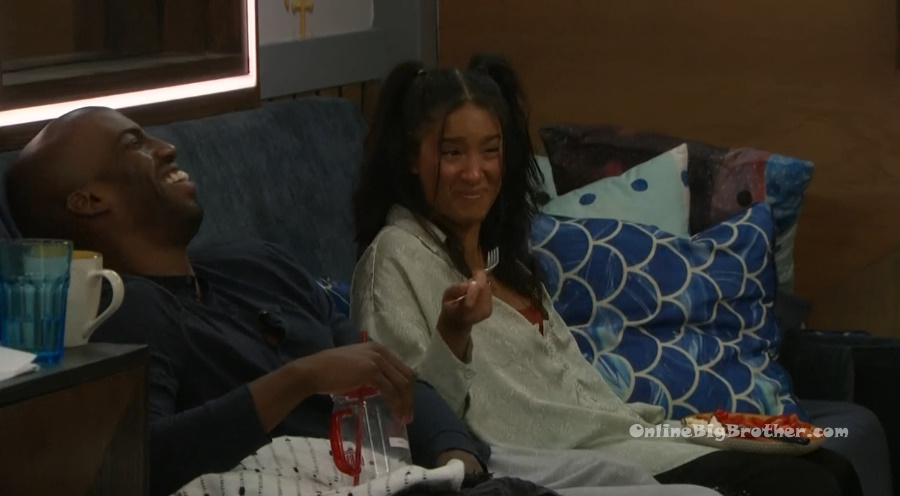 Bedroom – Azah, Alyssa, Xavier, Big D and Hannah.
Big D – I am just the pawn this season. That is what I said to Sarah Beth and Tiff .. same thing. You know I am trying my best to win and I feel like I can't f**king win. On top of that you know what I feel like I am going to be the pawn and I don't know where is your head at?! I stand on my own. I am on a lonely island. You know!? I haven't made any deals. I haven't even made deal with this .. Azah. That is the honest truth. Love her but I am on my own island. Azah – But I am on the island too. Big D – You're on a different island. I'm on my own island! I have made it clear. I have no ties!! So that is how I go into these speeches with these HOHs and they look at me like… Azah – you're the one that wanted the power to switch teams mother-trucker. I'm a joker till I die! Xavier – you wanted Tiffany's power then? Azah, Alyssa and Big D leave. Hannah to Xavier – how are you feeling? Xavier – I'm good. It is what it is. Hannah – but you obviously have to play up sadness or the defeat. Xavier – Mmmmhmmmm.. it is what it is.

Living room. Big D and Tiffany.
Big D – She (Alyssa) asked me to play for her. I said yeah of course. Tiff – yeah. Big D – we're almost there. I just want to get there. Tiff – we're almost there. We just have to make sure this week goes through. Big D – Mmmmmhmmmm.. But it will probably be ZING-BOT tomorrow. I can feel it. I feel it. I feel the jokes coming!
5:39pm Big Brother opens up the backyard. Hannah – that means its going to be ZING-BOT tomorrow and we're going to be one at a time in the basement. They wonder if it could be the dark room comp. Ky – I am just going to assume that I am one of the two people not competing just because that would make me sad. Hannah – watch its going to be Azah, Big D and Claire that are picked so it will just be me and Ky chilling. Azah gets called out to fix her mic. Ky tells her to wear it like the guys around her neck. She does it and it tightens up. Azah – I like to be choked.
Kitchen Table – Tiffany and Alyssa. Tiff to Alyssa – do you think he missed SB? Alyssa nods yes. Alyssa – ZING-BOT zing.. 100%%%%! Guaranteed! Tiff – That is his fault! He is going to blame it on me. If they say anything me roasting her .. I am going to be in trouble. It would be like KYLAND I would roast you on Sarah Beth but Tiffany… They both laugh.

6pm – 6:20pm Backyard. Azah and Tiffany.
Tiff – is everything okay out here? Azah – its all good. I am worried about HOH next week if Kyland wins. I want him to win and on the other hand I don't want him to win. I want him to win so that he can't play in the six. On the other hand, I don't want him to win because.. Tiff – For the double? What do you think he would do? He would take out Claire. He couldn't.. AZAH! Azah – I would trust you to put two Cookout members up. But I wouldn't trust him to put two Cookout members up. Tiff – because you think he would put up the wrong two? Azah – he might put up me and you. Tiff – it doesn't matter if he does. If someone wins the power of veto ..even if its .. no f**k that.. it can't be Claire. Whoever wins it, they're going to use it and then he's going to put her up. Even if it is me and you, it doesn't matter as long as she doesn't win it. Even if Hannah wins it and pulls you down .. Claire is going up next to me. I think X will win this one and I don't think he will throw any more competitions. Azah – I don't think he will throw anymore competitions. Tiff – I think X will win it. He doesn't need Ky to take out Claire. I think X will win it and he will put up two members of the cookout .. it will probably be me because I haven't been up. As long as someone wins it and pulls us down .. then she goes up.
6:30pm – 6:45pm Backyard – Block mates – Xavier and Alyssa.
Xavier – do you think it would be face swap? Alyssa – Ummm. I don't even know. I can't even think straight being on slop. Honestly. If its anything memory, I am losing! Xavier – confidence is running high. Alyssa – I just don't have the energy for this game anymore honestly. I have no energy. Talking about it, I am just not in it anymore. For how good everyone competes here its not going to be an easy win for us. There are a lot of good competitors here. We could always not win things and stay safe. If you get house guest choice who are you going to pick. I am going to pick Big D. Xavier – that's a good question, I don't know. Alyssa – I think you should pick Azah. If Azah wins it and you come down, Big D would go up but I don't think he would go home. Xavier – I am thinking that Hannah might be the best option. Truthfully, I would want to pick someone that I could beat so I would pick Big D. I don't think anyone would use it on us so I would pick someone that I could beat like Big D or Azah. Alyssa – I just don't care anymore. Xavier – I can see it on your face. Alyssa – I don't see who keeping Ky helps her game. Xavier – easy, anyone sitting next to Ky, Ky goes home. Alyssa – I don't think so.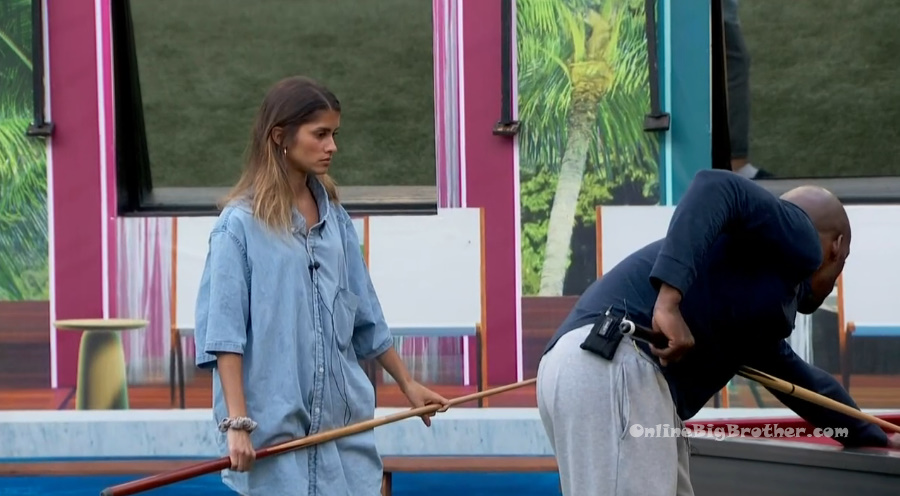 Backyard – Alyssa and Big D
Big D – Since he lost to Sarah Beth he's been quite. Alyssa – he's quite? He's been kissing a$$ since day 1! He is having a conversation with AZAH! He is (kissing noise) his way to final two. Big D – well you know what, he don't get my vote! No f**k that! Alyssa – would you really use the veto on me? I don't think that would be smart if you did. I don't think you would use the veto on me. Big D – why? Alyssa – think about it.. if you do that Azah could go up instead of me. Big D – I know I just feel bad. Alyssa – Like I will still pick you but I don't think you would use it. Big D – I have to wait till I see how the house feels. You get what I mean? Alyssa – so you would at least consider it? Big D – Yes, absolutely because you took me down .. I only have Azah. Did she (Tiff) say who she wants out? Alyssa – I don't really know .. the plan is me or X. I don't think she really cares who it is. Double homicide. Big D – I think if I did try to use the veto on you she would probably tell me I'm a throw up Azah. Alyssa – well Azah wouldn't go home. You said you're on your own island .. you have to make your own decisions. Azah would not go home.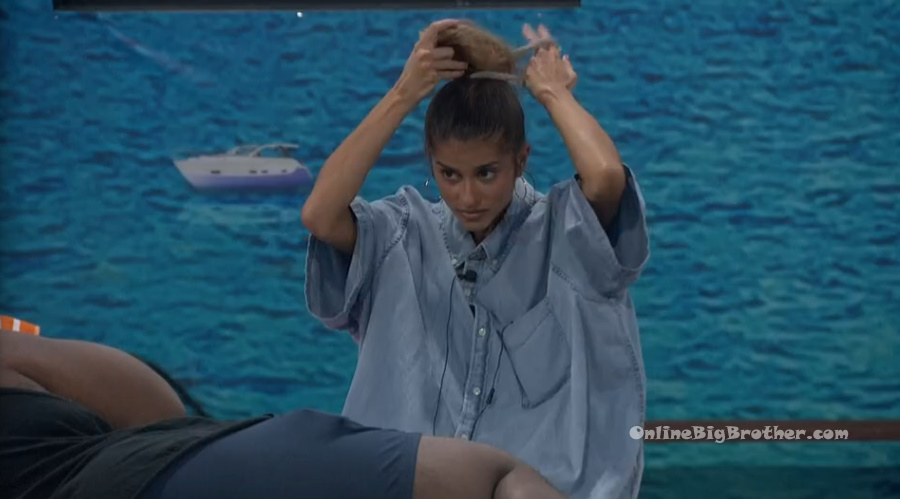 7:43pm – 8pm HOH room – Claire, Tiffany and Hannah.
Hannah – I was kind of thinking if X was going to choose me for House Guest choice, then you can choose her (Claire) and then you have both. Plus if Ky thinks X and I are like this (fingers crossed) and then he doesn't see you (Tiff) as influential as you really are because you've gone from having two people to only having one because I'm with X and Azah. Tiff – yeah, I say if you're chose.. I need you to play. I don't care what he thinks. Hannah – and then I will just keep noms the same. They start studying the days / events of the season.
8:30pm – 8:45pm HOH room. Xavier, Hannah and Tiffany.
Tiff – I was able to have conversation with everyone almost but you (Xavier) today about our plans for the six and I know that you, me and Chaddha have always discussed or since we discussed it we all agreed to work together to get to the end. Do you still feel that way? Xavier – I do. Hannah – me too. Tiff – okay me too. Especially after the conversations that I had today. Xavier – what was the vibe that you got from everyone today? Tiff – Big D said that he pretty much only thought about getting to the six and is not thinking about making any moves or deals .. which I don't know if they were all lies but that is what he is telling me he is giving me nothing and that lets me know that he has no intention of working with me and he has no intention of telling me he has plans to work with .. but I do know that he is working with people and is definitely not offering me anything. So that makes me feel like I am really low if not first on his list of the six.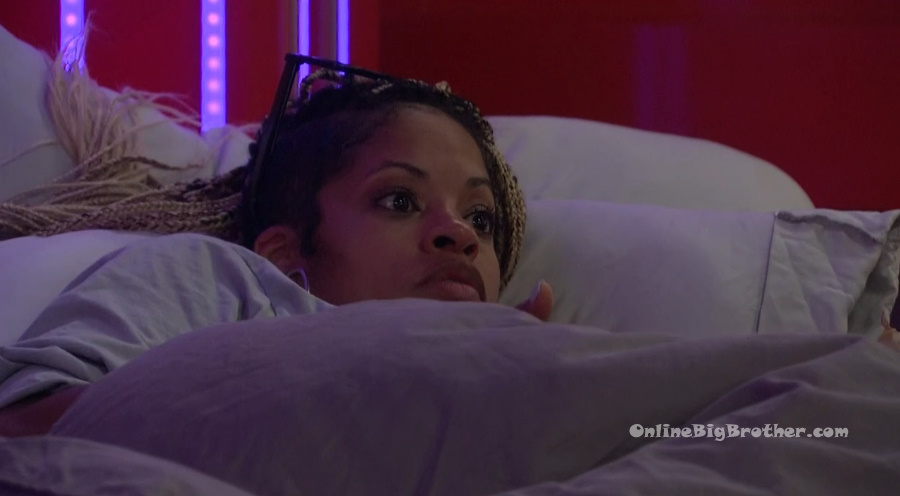 9pm Dinner time..
10pm Alyssa and Big D playing chess..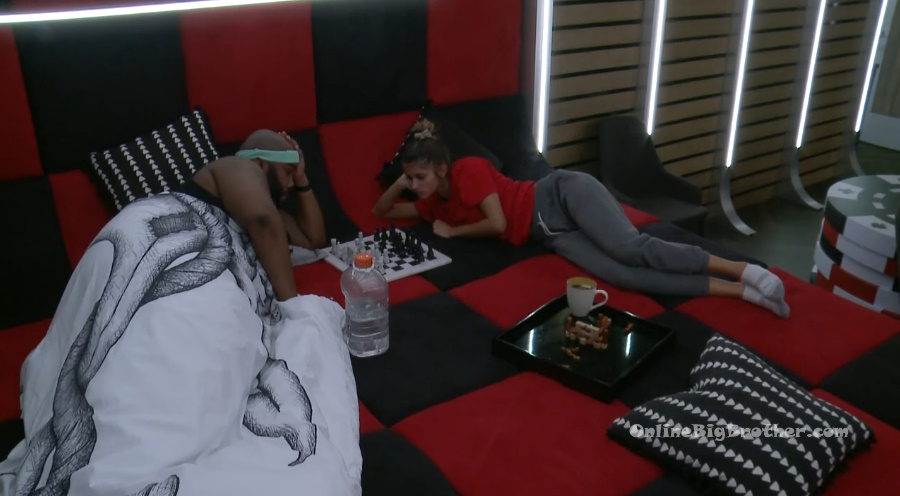 10:35pm Living room. Claire and Azah.
Claire tells Azah – all my things are together.. just in case its a double and I go out. Azah – oh my god! What is wrong with me? I haven't even .. I've thought about that but I didn't think about the fact that we have to pack. Claire – well you don't really have to fully pack because they won't give us our suit cases. You just have to have .. all my things together and then you tell someone where all my stuff is. Then it comes, it goes and then you're out the door. Azah – so I haven't felt this way since and SB sat me down and shared your conspiracy theories but that scares the shiitake mushrooms out of me. Claire – I know.. and the thing is this is most likely going to happen .. the double is coming!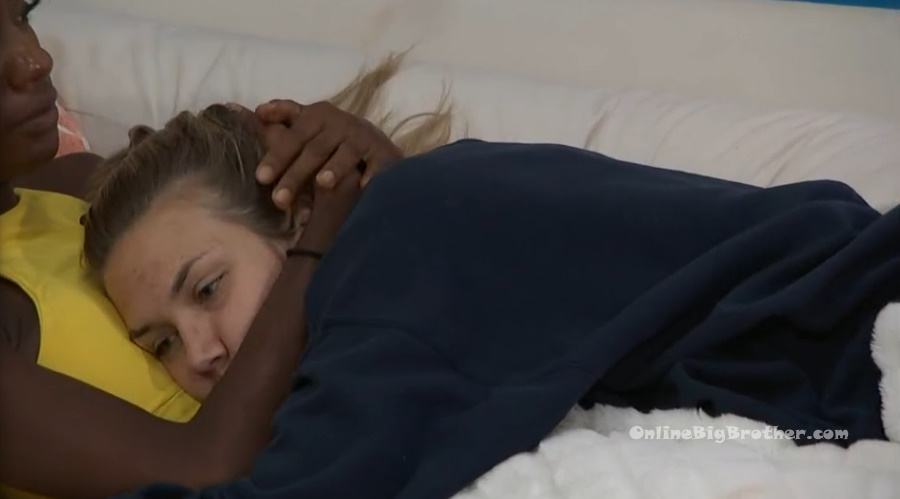 11:40pm – 12am Backyard – Hannah, Claire and Azah chatting about random things. Hannah brings up how Tiffany told her that Frenchie told Tiff to watch out for Hannah. I was like that's nice he told someone that was older to look out for me but no he told her to look out for me because I was dangerous.
Show your support :) Without your support this site and these spoilers wouldn't be possible.
Please consider a donation to keep the madness going.