HOH: Tiffany
HAVENOTS: BIGD, Alyssa and Claire
Nominations: Alyssa and Xavier
Power of Veto Players: Xavier, Alyssa, Tiffany, Hannah, Azah, BIGD | Host : Claire
Power of Veto:
Power of Veto Ceremony:
Big Brother 23 Houseguest Rankings – – RANK THE HOUSEGUESTS –
View the previous day ranks on the – Ranking Grid
Big Brother Spoilers – Claire going up and is the target. The maneuvering within the 6 is in full force.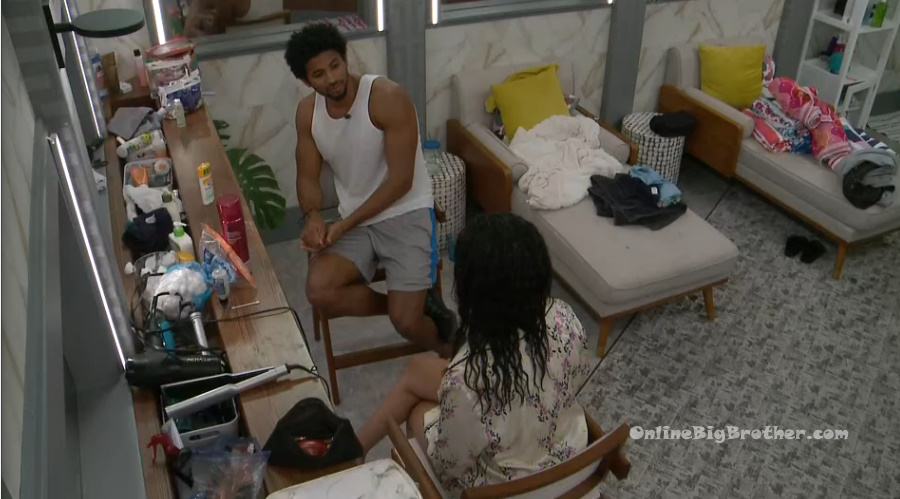 12:13pm Bathroom – Kyland and Hannah.
Kyland – In that scenario we just can't let Alyssa win. Hannah – so you're saying that X and Big D vote to keep you? Ky – I think at least Big D. I think X, probably because he has more distrust with Tiffany than me. Hannah – okay, I don't know if I trust that. Ky – it doesn't matter because I can't do anything about it. Hannah – and Azah should probably not win. Ky – that's alright, that's always been the case. Hannah – okay Big D win, what happens? Ky – Tiff and Alyssa probably. Unless X asks him to put up Tiff and X. Then he would do that. Hannah – so lets say that happens. If Alyssa wins and pulls X down, who goes up? Ky – probably you. Hannah – what happens in that case? I think Alyssa would vote to keep me. Azah would vote to keep me. Ky – and I think X would vote to keep you. Hannah – I don't know.. probably but if its a tie.. does Big D break it in my favour? Ky – oh yeah! Big D breaks in your favour 100% 1000%! Azah joins them. Azah – I have floated this idea with Hannah already but I wonder if we could maybe consider again possibly telling the truth.. telling a truth. Letting Claire know that if Tiff can let Claire know I have an agreement and I can't put anyone else up and I have to put you up and have her understand that. And if that gets to Alyssa .. this is what I am proposing maybe something that you guys do. Tiff joins them. Ky – tell her that she can't put up the six? Azah – the way that she told the truth.. I can't copy it word for word. I think Claire would respect and appreciate it more us telling her. Telling her that she is the only option to go up, Claire is definitely going to ask all types of questions as to why.. and maybe everyone will be able to keep up with it but I think it will be a difficult story to keep up with for 3 or 4 days before she might start to get suspicious. The other thing is the possibility of Claire getting upset and telling Alyssa. At the end of the day I want to make sure a black person wins. That's what I want most of all. Before HOH I approach Alyssa and tell her we are working together if you win this HOH the double eviction we can promise you safety for another week and you're guaranteed final five. If someone needs to go .. I personally don't have a problem it being me. I would rather it be someone that can stay in the game who can win competitions and get her out after five .. but if she has that hope.. that understanding she will respect us a lot more coming to jury. Claire will respect everyone a lot more going into jury as well .. but Claire going to jury 4 -1 and being like what the f**k!? Telling Derek, telling Britini, telling everyone else in there like what the f**k is going on. You guys think Brit would vote for me after Claire coming back angry .. no. She is probably going to flip her vote and vote for anyone else that is not me. And those jury votes are going to be all over the place. Ky – I got to say that I think you're on to something. At face value I am leaning towards that.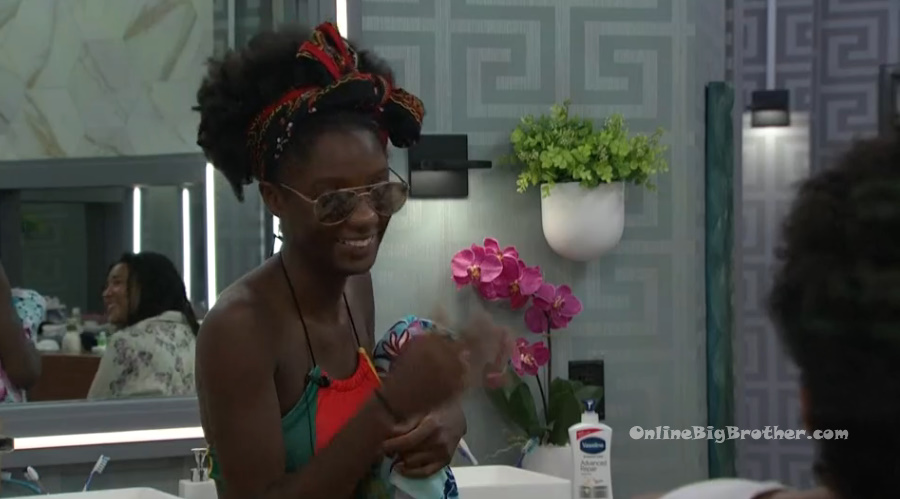 HOH room. Xavier and Tiffany.
Xavier – Alyssa is not really buying .. because I have already set the ground work for her trying to think how Big D and Azah can make a deal with you in order to incentivize someone else going up. She has bought that. She is fully on board with that. For us coming up here to make a deal with you, Tiffany is going to catch on that we're trying to get her to put up someone else. She said its going to be over kill. So she is not buying that sh*t at all. So at this point what I think you could do by not putting them up leaves me the opportunity to make a deal with them for next week. Tiff – I have to be honest with you. I am terrible at lying. Its a whole lot of story that I am having to convince myself of because she is a smart person. When she starts asking me questions I am going to need rebuttals for these and if I am not confident in my answers .. she is not going to be confident in my answers. Xavier – so maybe the simpler the better. Tiff – because I won two weeks in a row I am definitely the target at this point. My target was Alyssa and I have promised that I would not put X, Ky, Azah, Chaddha or Derek F on the block at the same time which is why Alyssa was my target next to Xavier. I am not comfortable going back on my word on that. The only person I have left to go up is you (Claire). I don't want to send you home. You can still fight for your life in this game. You have a better chance of staying over Xavier but I cannot put up two of them together. Xavier – and you don't think that she would piece together that you literally made deals with everyone in the Cookout? Tiff – I am not saying that she won't put it together. At some point she and everyone else is going to figure it out. Xavier – yeah in the jury though. Tiff – all depending on how our conversation goes .. she could figure it out right then and there.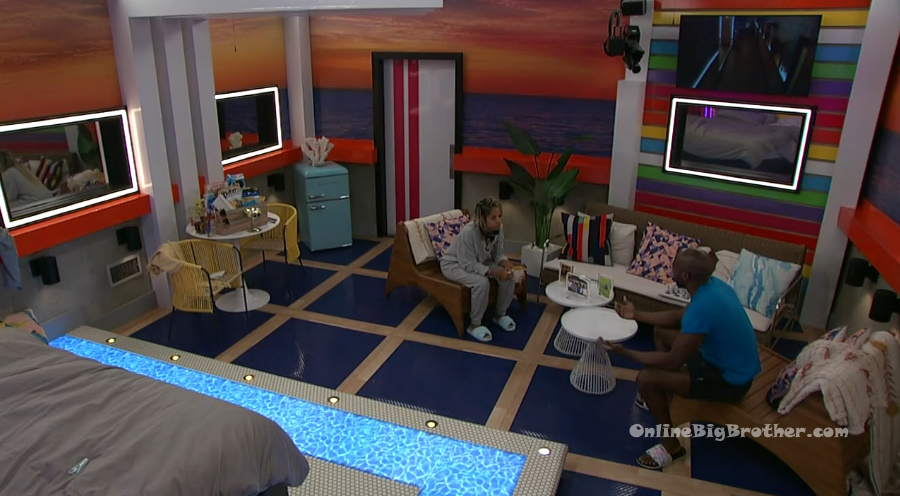 1:20pm -2:27pm HOH room. Hannah and Tiffany.
Tiff – what I want to tell Claire is.. the hardest thing for me is to make up a lie to Claire. First of all it goes against my morals. But we all are lying to some degree. I can yes and no lie to you all day. I am not good at make believe. I do not have an imagination. I am not good at creating a story. Y'all don't ever see me be the narrator for Mafia. I just can't do it. Aside from that I have a terrible memory. When I lie it is very clear and apparent. Taking me out of the equation, I really respect Claire. I think she respects me as well. For me to blatantly lie when I know she is going to find out the truth I will lose the respect from her. With her going to jury, I can lose the respect of everyone in that jury. I don't even care about winning. For me the respect is very personal. After this game I want to still be able to show my face and be comfortable with the way I played this game. I am not against manipulating, deceiving, moving covertly.. even having to tell a lie here and there but to blatantly lie to Claire .. it is something that I am struggling with. Now I don't have to expose anyone else's game. I don't have to tell her about an alliance. I don't have to tell her about the six, the Cookout or any of that.. but I would almost like to say to her that you've been a target. This week you are not on the block and I did not want to put you up… but I am not comfortable putting Chaddha, Azah, X or Big D next to each other. I fought to win this HOH so that you (Claire) would not be the target and now I am in a position where I don't have a choice. You can still fight for you game. Hannah – and rally the votes. Tiff – you can still stay over X. I can tell her this .. I will f**king cry trying to tell her something that is a lie. I will feel guilty. I am not trying to blow up anyone's game. Claire is always going to say you should have just told me. Hannah – instead of being blindsided on a 4 – 1 vote or 3 – 2 vote. Tiff – If I win at 6, she (Alyssa) is going on the block again. Its going to be a repeat. Hannah – so you wouldn't give Claire all of the information but you would give her enough so that.. Tiff – so that she understands why I am doing this. I would love to see a person of colour win.. see that includes Alyssa but I am excluding Alyssa so I don't know how to word that. Hannah – I don't think you have to be that specific. Tiff – I am not comfortable sending one of them home. Hannah – exactly. Tiff – if I say that they I am not comfortable sending Xavier home either.. I don't know how to say that. Hannah – you could say you're not comfortable putting two of them on the block. Ky joins them. Tiff explains what her and Hannah just talked about. Ky – I process things very quickly and I am on board with what you were saying. They continue talking about the same things over and over again. Claire joins them and the conversation ends.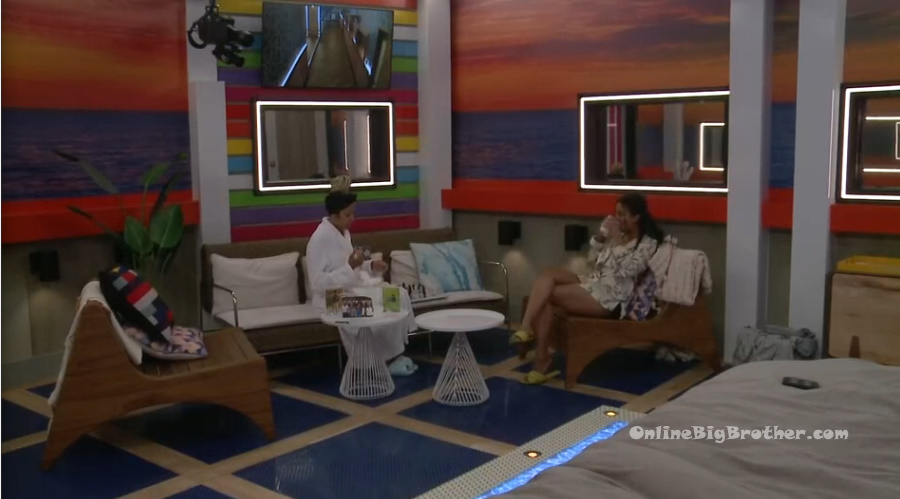 2:15pm Bedroom – Azah and Xavier.
Azah – do you think I have not pulled my weight in the cookout? Don't worry about hurting my feelings. Xavier – I am not, I am just trying to find the best way articulate it.. when Brit was still here your personal relationship with Brit would cause problems for the cookout and then when she left I felt you were much better. It sounds bad but a part of you died where you just didn't give a f**k anymore. I don't know necessarily what you're doing on a social standpoint. I don't know what you've been doing. I wouldn't say that you haven't been pulling your weight. I would just say that I haven't been made aware of it.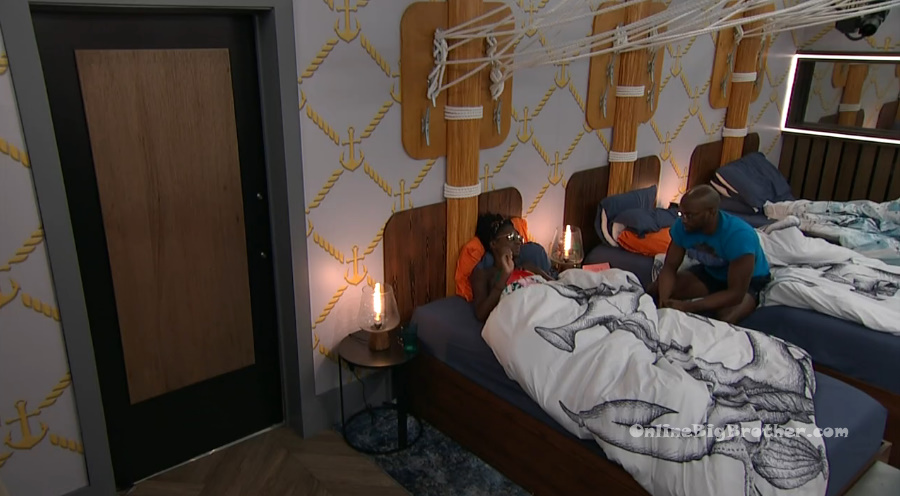 2:45pm HOH room. Tiff, Hannah, Ky and Claire are chatting about random things. Meanwhile, Big D and Alyssa are down in the living room / kitchen chatting. Alyssa – I definitely crop dusted Ky yesterday and I know he smelt it but he was just too nice to say anything. Alyssa brings up Big D's ZING – That Big D left his mark on the season… in the toilet.. ZING!
2:45pm Bedroom – Azah and Big D
Azah – I am honestly over all of y'all. F**k y'all! Big D – okay. Azah – I am over everybody. Just tell me when I need to leave and tell me what I need to do. Big D – what are you talking about? What are you talking about leaving? Azah – I am just over all of it. I am over it. Big D – you have to explain, where is all this coming from? What is making you feel that way? Azah – at the end of the day I thought what I suggested would be a good story for jury and it would put X in a good position and it would allow us to keep up with this elaborate ruse for however long we need to keep it up with. X feels that Alyssa is going to target him if she finds out so he doesn't feel comfortable. I didn't want to put this plan if Tiff or X didn't feel comfortable. If one or the other isn't on board then we shouldn't go through with it. Big D – I don't want you to feel like you're by yourself. Azah – I don't feel like I am by myself. Big D – we don't have to go along with this plan or any of these scenarios. We can tell everyone to leave us out of it. I am willing to be like don't drag us into it. Azah – if you guys feel like I didn't pull my weight I have to figure myself out in terms of that. I asked him (X) and he couldn't come up with 1 example of how I've helped so far. Big D – I don't feel that way. Azah – you said it yesterday. Big D – I said it out of frustration.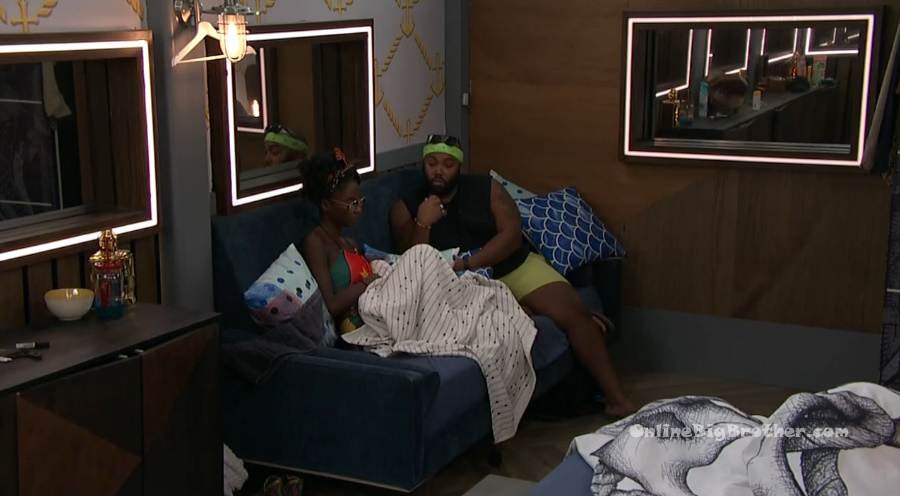 Tip Jar 😉 Without your support this site and these spoilers wouldn't be possible.
Please consider a donation to keep the madness going.