HOH: Kyland
SAFE: Claire and Tiffany
HAVENOTS: Brent, Derek X, Whitney, Hannah
WILDCARD Competition Winner: ?
Nominations: ? and ?
Power of Veto Players: ???????
Power of Veto: ?
Power of Veto Ceremony: WILDCARD Winner: The winner is safe for the week but in order to be safe they must switch teams.
Big Brother 23 Houseguest Rankings – RANK THE HOUSEGUESTS –
View the previous day ranks on the – Ranking Grid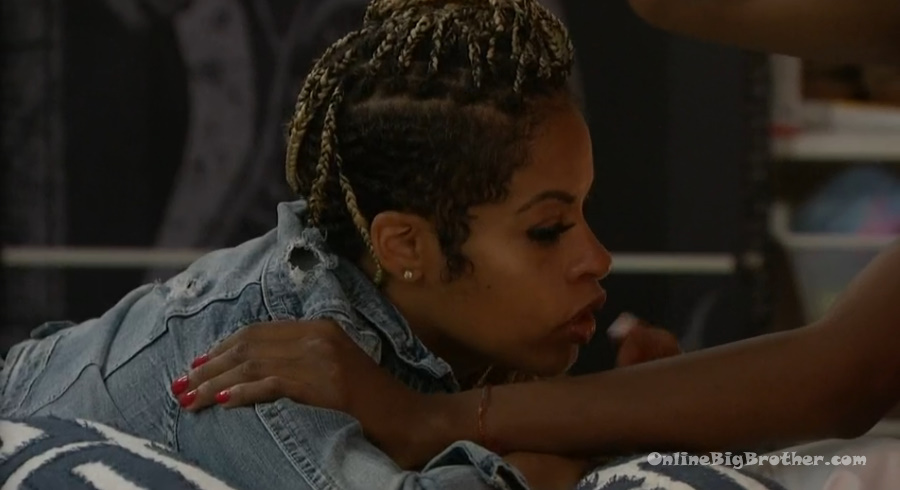 9:08pm The live feeds return.
In the bedroom – Azah is comforting Tiffany. Azah – the fake atmosphere was too much for me. It was too vague. Everyone was too fake. I couldn't do it. I was trying .. I was trying .. I just couldn't do it. Tiffany – that's why I was .. its okay I know you got me. Azah – I was like BRA.. this Brent dude he controlled Frenchie's HOH and got no blood on his hands at all. Frenchie got all the blood. Tiffany – Frenchie talks entirely too much! And if there is one thing that I don't like .. I don't like no talking a$$ man. Azah – yup. Tiffany – Shut up! Women talk! Women talk. Azah – I gave him some info that I found out and he immediately went and asked the person. When he put his nominees up there he came in the room to confront Christian and he tried to throw me and Brit under the bus saying that you start an alliance that person needs to say who he is. I looked right at him and didn't say nothing. He wanted me to say something. If he had asked me I would have said I know nothing. He tried to blow up my game. I never said anything about Frenchie outside of our group. Azah – if Frenchie had just listened to me he wouldn't be in this situation. Tiffany – because he is too busy talking and can't listen to nobody. Tiffany starts crying. Tiffany – At least he got to see on tv today. Azah – I want day one Frenchie back. Tiffany – yeah I miss him.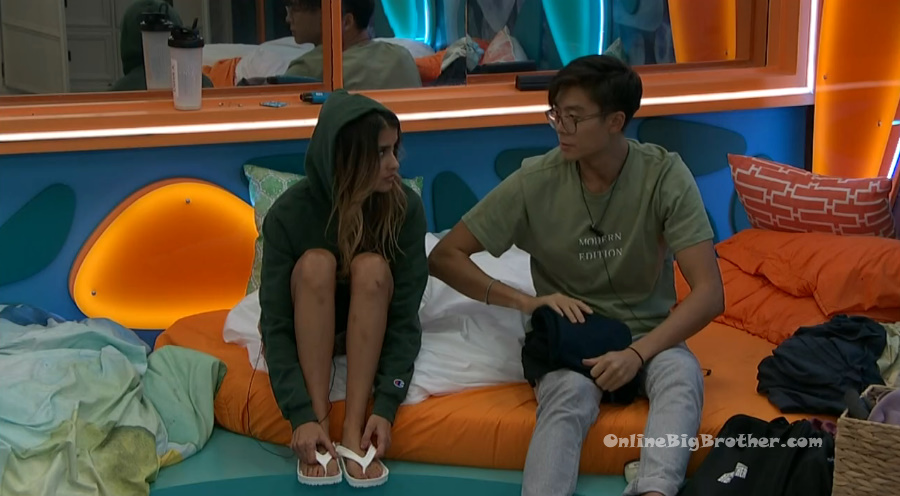 Bedroom. Alyssa and Derek X
Derek – I am really not that nervous but I am nervous for him. I feel like it is going to be a hectic week. Alyssa – I feel like I am okay with him because I feel like he knows that I went through it already so wouldn't make me do it again. Derek – exactly. Yeah, actually. And he is such a nice guy. I haven't talked any game with him. Alyssa – I don't think he wants to. Derek – yeah, I just told him to relax right now. Alyssa – are you okay though? I am making sure you're okay. Derek – oh I appreciate it. Alyssa – because I know he (Travis) was your closest friend and all. Derek – Travis, yeah. Of course I am going to miss the dude but.. Alyssa – its part of it. Derek – yeah. I just feel bad, like I f**ked up his game. That's all. Alyssa – right, you didn't though.. don't think that. Its kind of good that I was on the block because I was like it wasn't me. Me and Frenchie were like it wasn't us. Derek – he is so nice, I don't think he would have the heart to lie about two people. Alyssa – I feel good about Ky. Derek – you did good up there. I liked your speech.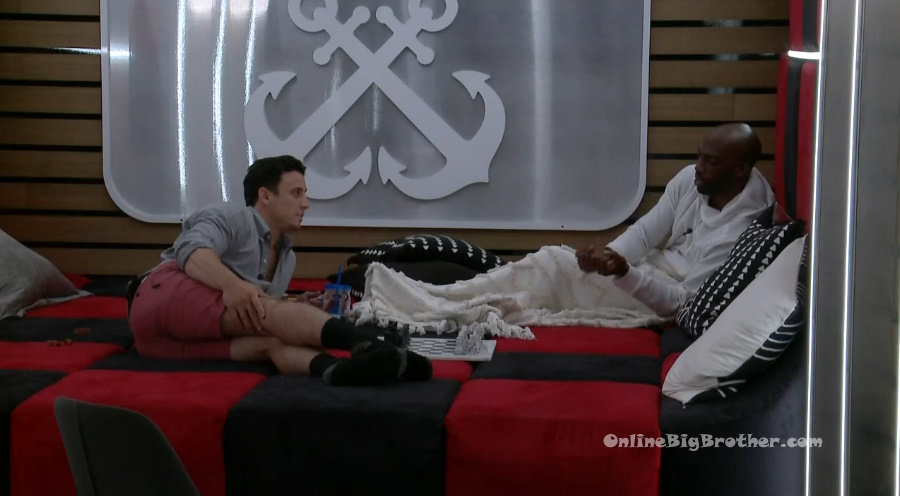 Chess room. Brent and Xavier.
Brent – the whole thing about Tiffany.. you're not going to win this game because you're a mother. You're going to win because you played an amazing game. This whole thing where this person has a cousin, this person has a nephew.. Xavier – that is why I didn't want to tell you about my brother.. because I have a nephew that I am playing for. I kept that a secret because who are you here for? Who are you here for? Who are you here for? It doesn't f**king matter why I am here. Everyone has a reason why they're here. Take me out if you have to. Brent – you know what I found odd too .. Big D wanted to take the blame for the vote even though he didn't do it. This is big brother, why would you say that if you didn't really do it. (It was Derek F and Tiffany that voted for Alyssa) And it doesn't matter to me, the alliance isn't going to get attacked by me until top 8. Xavier – I had a suspicion that there would be one rogue vote, I didn't think there would be two. Brent – this stays between us.. and if it gets out I will know it came from you. Xavier – Yeah absolutely. Brent – Frenchie said to me that the two people that made the votes one of them wanted to stay anonymous. Big D wants to take the fall for a vote that he didn't make so right there he definitely made that vote. Because who would want to do that in big brother?! No, you don't do that. And the other one wanted to stay anonymous .. so what if it was Frenchie? (WTF – Frenchie is HOH he didn't vote) No one would ever find out because he's the one. Those two are the votes and they're the two that are getting the most sketched out. Xavier – Too much scheming .. it was unnecessary. Now we have to have a meeting. Brent – I am just going to stay quite. Xavier – I'm not going to say sh*t. Everyone wants to be like (Dr.) Will, everyone wants to be like Derek (L.), Everyone wants to be this mastermind. I get that. I understand that desire you want to be one of those legendary players but people that try to be legends too quick, their a$$es with Julie right now. Brent – and then Frenchie made the point of saying he volunteered to be a pawn. Ok you're going after Derek X and you want to be a pawn but like why are you trying to do all this? Xavier – its too much. Its too much. I respect the mans heart and his integrity and how he is trying to play an honest game. Brent – but he is too honest. Xavier – he is too transparent. Brent – he is telling everyone everything whos not even in the alliance.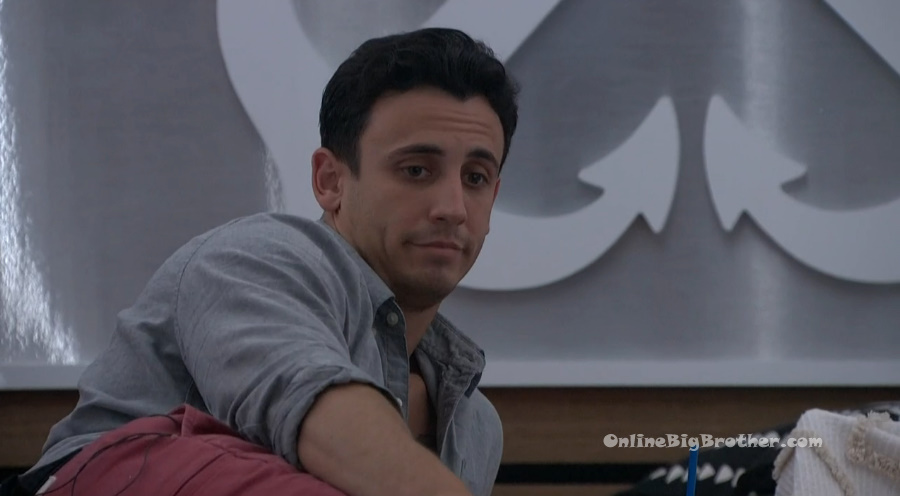 9:57pm Bathroom – Sarah and Kyland.
Sarah – congratulations! I am trying to act pretty bummed that I didn't win but when I saw you up there I was like heck yeah! Kyland – I am not going to tell anyone except for you. You're not going up. You're not going to see the block. Replacement, anything. And I am not going to say that to anyone else because I know Frenchie told that to 20 people including me. I'm going to do one on one's and I want to see who everyone goes to when they're done.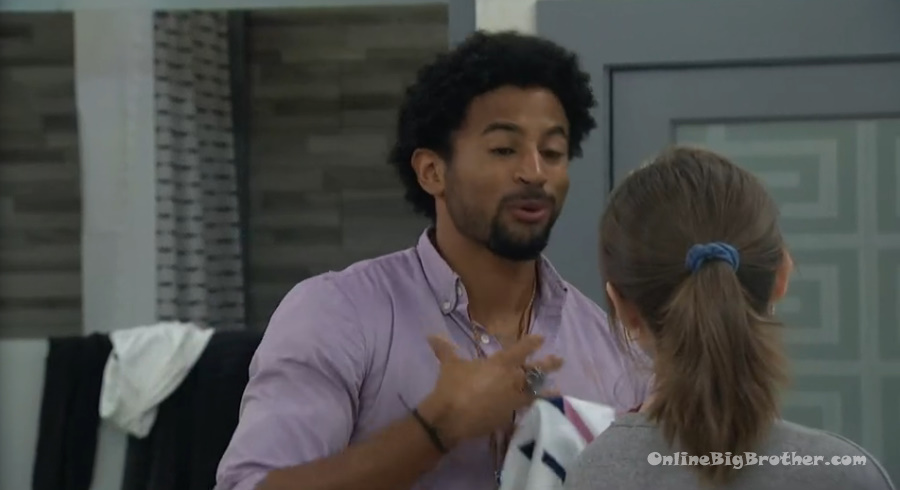 10:05pm – 10:15pm Bedroom. Britini and Azah.
Azah – Tomorrow is the wildcard competition. Keep the high hopes and good vibes tomorrow. Play that and we'll see who wins. Britini – I hope its Frenchie. Azah – if we're able to do that then we can move on to the next thing. Then lets figure out how to make sure this broad and I don't get on the block. We will take each day at a time. I told Frenchie the same thing. Don't make yourself a target. Just chill. Like day one energy. Azah – if people start going on a witch hunt, do you know the first name they're going to scream? Frenchie. That is the first name they're going to say. You ain't heard nothing, you ain't seen nothing. And I am going to say the same old thing because I never attended no meeting. Britini – I didn't either. If I were to ever be put up on the block I would stay because I have the numbers to stay. With Big D, I have 8. But I could see him doing me and Frenchie. Azah – I think we are okay. Lets get the wildcard out of the way.
10:30pm Bathroom – Tiffany talking to the cameras.
Tiffany – Frenchie is dangerous because he doesn't know how to keep his mouth shut. I threw that vote to show Frenchie that I am loyal to him because its better for him to think that I am on his side. I don't want him to think that I am against him. Had I told him no, he would have wondered something. Had I didn't throw it, he would have known something. I would rather keep my enemies close so that he thinks I am working with him. I never wanted Alyssa gone. Frenchie is dangerous for my game if he keeps talking so much. So he is on my radar but as long as he is loyal to me I will work with him. Him and Brent are very dangerous in this house. I would like to see both of them on the block this week.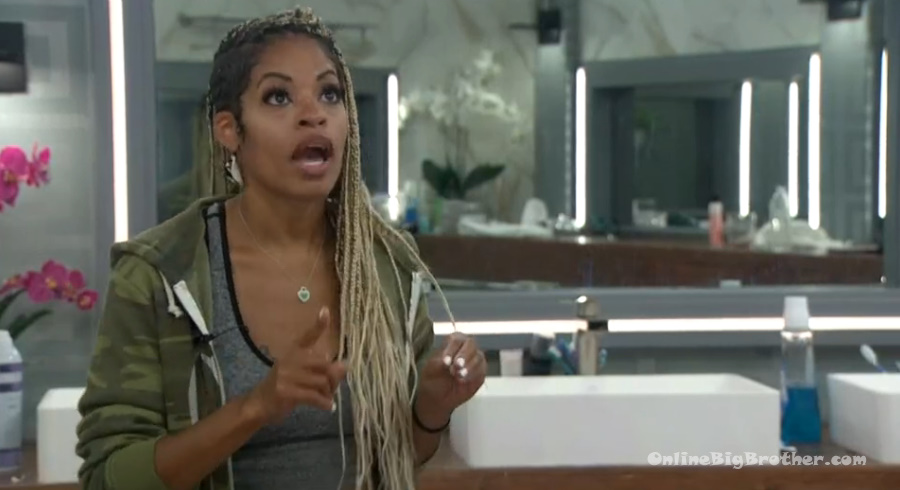 10:48pm – 11:05pm Chess Room – Christian and Alyssa.
Christian – Remember how there was the Detonators? Remember the season with Derek and Cody? Alyssa – yes. Christian – There was the Detonators with Caleb and there was the bomb squad? The detonators controlled the larger group the bomb squad. Okay, you're part of the Slaughter House. There is a smaller group within it. Alyssa – and its not me? Christian – you're not a part of it and we're working to change that. Alyssa – who is it? Christian – so theres the Slaughter House and then there's the Butchers. Alyssa – and who is it? You, Frenchie.. Christian – me, Frenchie… Big Brother cuts the feeds. Alyssa – so you knew and you didn't tell me? You knew I was going on the block? Christian – no, I didn't know. No one knew. Nobody. Frenchie joins them. Christian – we talked to Ky.. we're going to talk later. They agree that it doesn't matter if anyone sees them all go up to the HOH room together as the line has already been drawn.
11:18pm Bedroom – Frenchie and Tiffany.
Tiffany – how are you feeling? Frenchie – I'm nervous. Tiffany – are you? Frenchie – oh yeah. I think unless .. I don't know .. Unless somebody talks some sense into him. I don't know. I am pretty sure I am going up and if I don't I am getting backdoored. Tiffany – I would just hangout and chill. Frenchie – I didn't get the opportunity to just hangout and get to know people so that is what I want to do. Tiffany – yeah you should.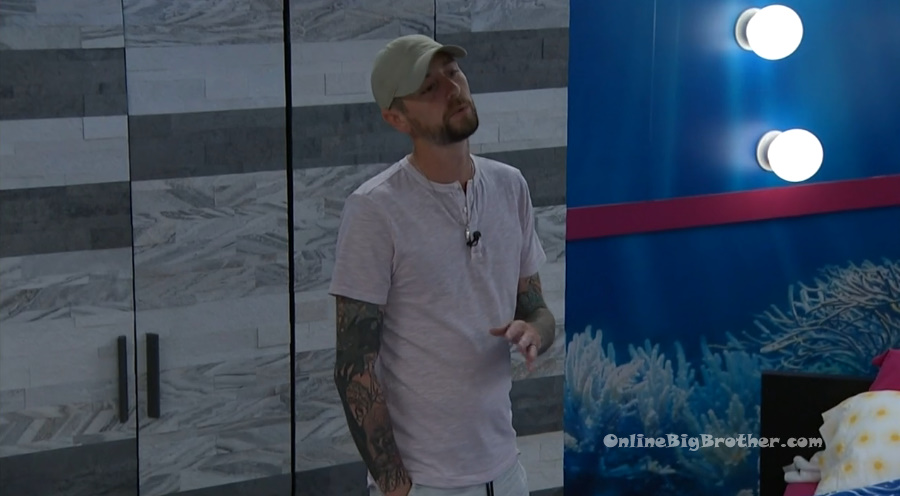 11:42pm Kyland comes out of the diary room – Who wants to see my HOH room!! They all head into his HOH room. Everyone hangs out for a bit and looks at his HOH photos.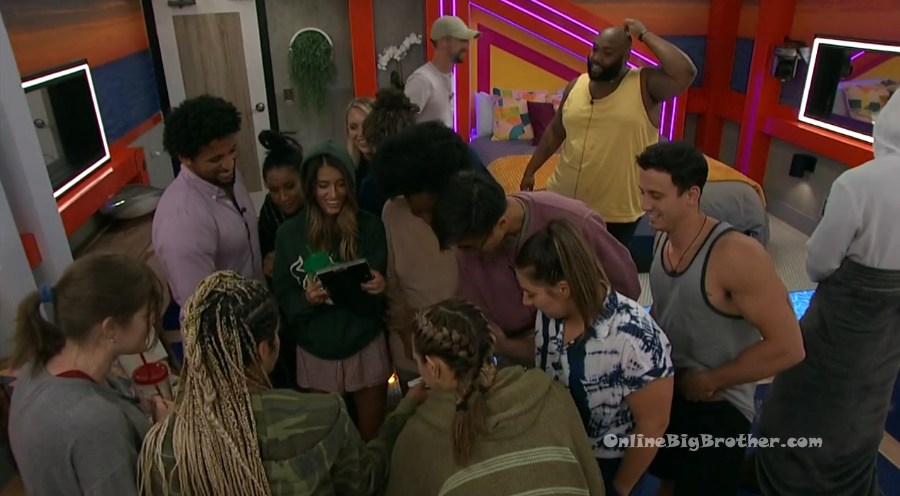 HOH room – Derek X and Kyland
Derek – when I win HOH I am going to have a board of advisors. Kyland – that's not a bad idea. And literally just your team because you can't put them up. Kyland – try and think on anything that you told people .. that you ahhh… basically I am just going to be cross reference information as much as possible. I am not saying anything .. I am going to ask questions and not say anything. Derek – we both got burned the same way.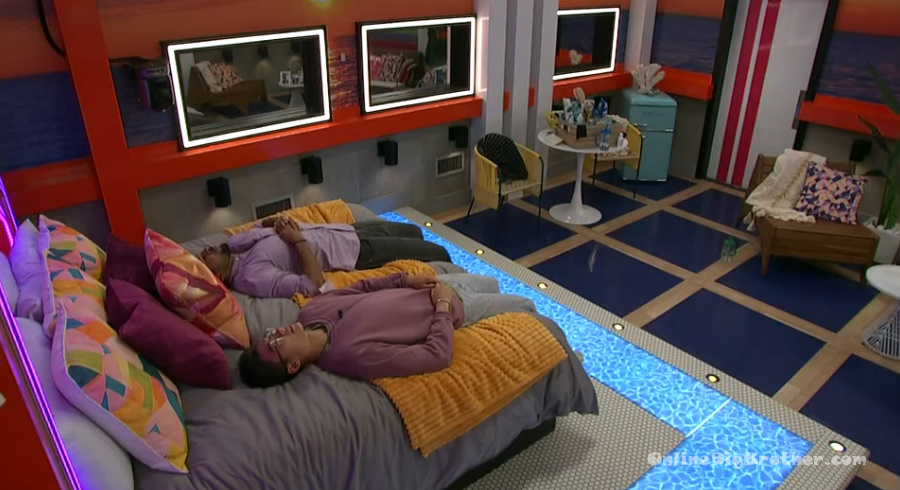 12:30am – 1am to Kyland, Xavier, Christian and Alyssa.
Christian – Its like honestly, don't even pick a target yet because with the wildcard comp. Kyland – I'm not, I won't. I am not going to tell anyone that they're good (other than Sarah) and I am not going to tell anyone who I am thinking about. If anyone sayd that, then let me know. Xavier – because they're lying. The hardest thing was to not tell Derek X that you're safe. Christian – if you see or hear anything weird, then come talk to us. We want no misunderstandings. Xavier, Christian and Alyssa head downstaids.
If you like these spoilers and read this blog regularly please consider a donation to keep the madness going. We accept donations via paypal How to support OBB