HOH: Derek X
HAVENOTS: Christian, Xavier, Alyssa
Nominations: Britini Christian and Sarah
Power of Veto Players: Sarah Beth, Britini, DX, Claire, KY, Alyssa | HOST: Hannah
Power of Veto: Britini
Power of Veto Ceremony: Britini used the power of Veto. DX nominated Chrisitan in her place
Big Brother 23 Houseguest Rankings – – RANK THE HOUSEGUESTS –
View the previous day ranks on the – Ranking Grid
Big Brother Spoilers – Brit used the veto on herself Christian was the replacement nomination and is the target. Christian and Alyssa have started campaigning right away. They don't have the votes to stay and unless TIFF/Claire flip to Vote out SB I don't see this changing. LOTS of Time though so get ready 🙂 🙂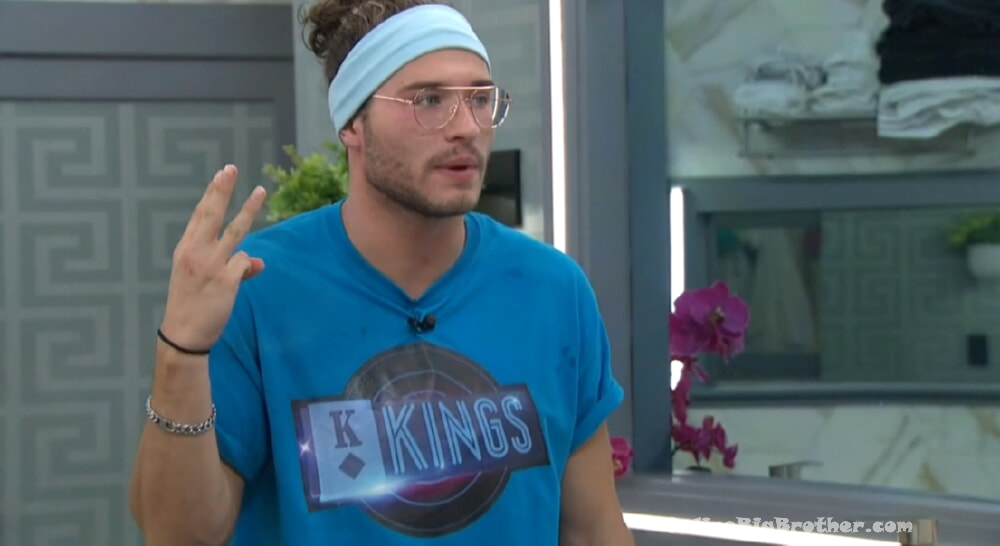 12:37 pm Alyssa, Xavier, and Christian
Alyssa – Tiffany didn't look shocked at all
Alyssa says it was SB that spilled their plans to DX
Christian goes on about not taking DX out last week.
Alyssa telling him to stop looking back and think about what to do now in the present
Christian – starts f**ing crying.. f***ign deal with it (SB)
Christian – you took the f***ing money you're selfish
X leaves to talk to SB.
Christian is pissed yelling he should have taken a shot when he had the chance
BIGD comes in gives him a hug says he's sticking to voting to keep Christian.
Christian thanks him.
Christian – I'm going after Him [DX], Ky and SB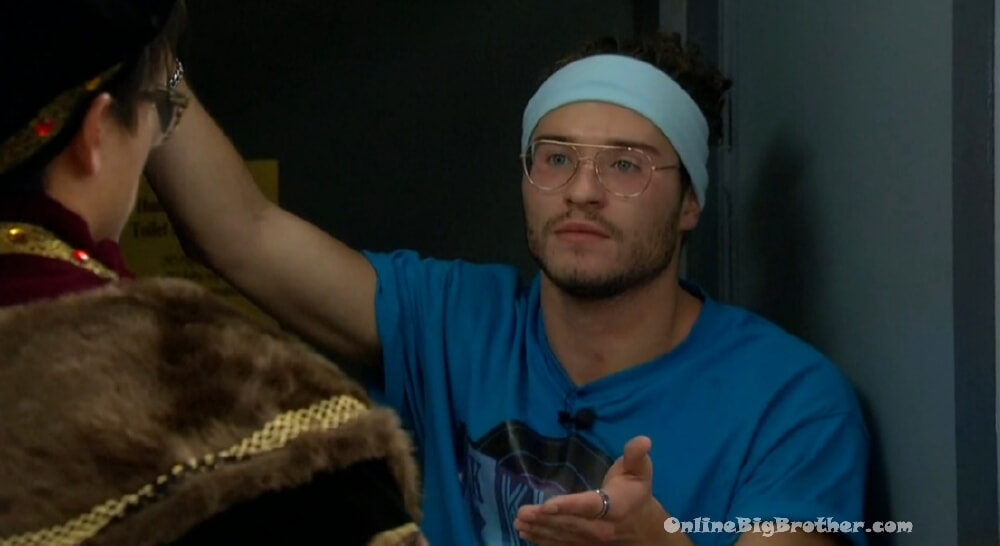 DX comes in to open the toilet
Christian – so everything you heard was SB.. you know that right? Sb told you we were coming after you .. who told you SB told you that was HER plan HER plan.. you knew because SB told you..
X joins them.
Christian – he knows because of SB
DX – I'm not going to confirm or deny
Christian – you don't have to she would have been the only one that would tell you
Christian – she said right after noms .. she only told you because she didn't win the veto.. you are out 5 grand and are on sh1t duty because she's selfish
Christian is blocking the entrance to the bathroom while he rants..
X – realness I gotta pee you gotta pee..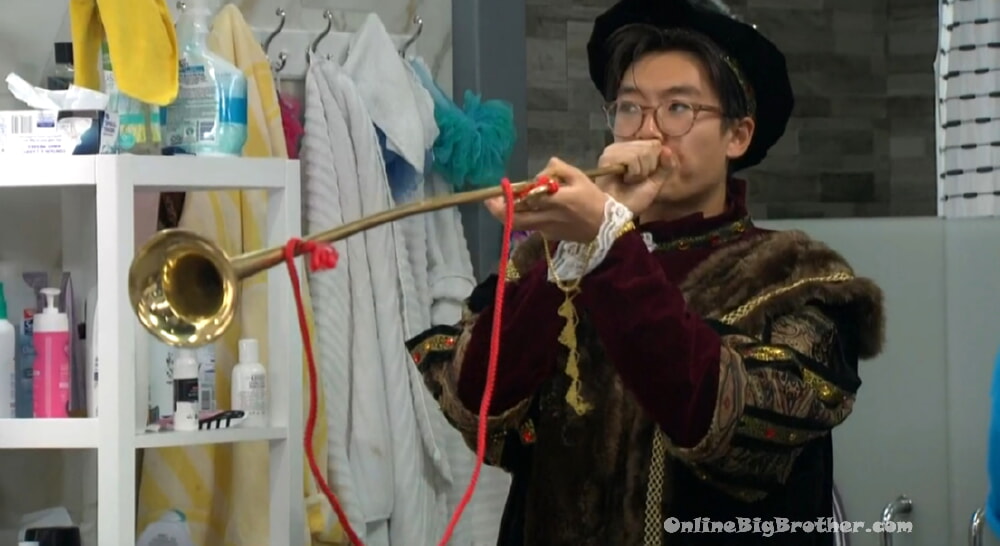 DX opens the toilet
Christian – she's playing both f***ing sides.. we have a lot more to tell you about SB we can't keep her around..
Christian uses the toilet..
when he comes out
Christian – we're each other's shields..
Christian – if I stay what does the entire house think I'm coming after you.. that is not the case.. if you keep me we're taking out everybody.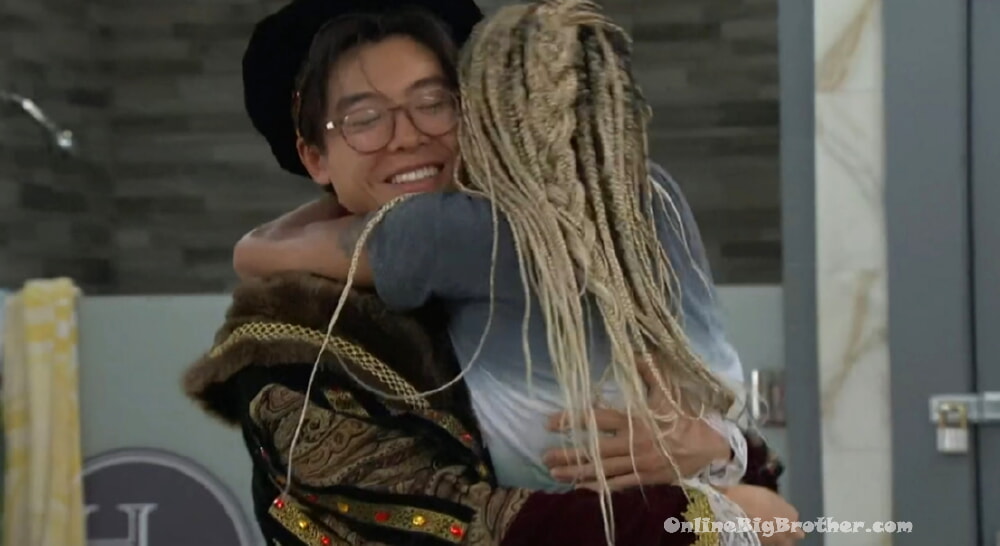 12:46 pm Tiff and DX
Tiff – I f***ing loved your speech.. BOOM BOOM
They go over his Speech.
Tiff – SB's gotta go.. she's sitting there crying with Ky.. they go into the room.. I got kicked out of the room.. I am in my F***ing room..
Tiff – she's there crying what the f** are you crying for? You begged him not to put you next to BIGD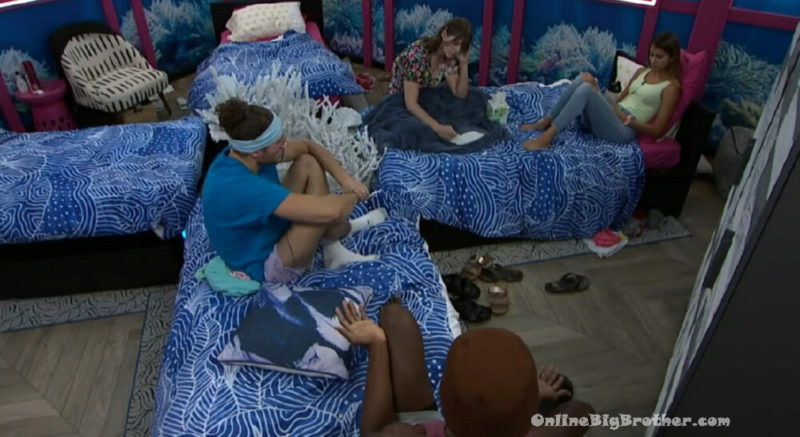 12:47 pm Kings meeting
Alyssa – there's no point in keeping BIGD him gone or him being here is the same thing (LOL)
X – since week one we've been the biggest target collectively
Alyssa – he's on our alliance I don't understand
Alyssa – I don't think Britini was ever the target when I asked him what are you going for veto and prizes .. he said prizes
Alyssa – it looked like he was barely trying (in veto)
X says the reason they put both of them us is for 1) to send Christian out and 2) to split the Kings up
Alyssa says you would have thought X and Christian's HOH would have shown DX trust
X – this game is not always about trust
Alyssa goes on about how this was a dumb move
X says he's not sure how beneficial this was for DX's personal game "They're expecting us to crumble right now"
X – I don't think he would make this move without someone in his ear
Alyssa – I think it's obvious.. SB don't you think it's obvious who it is?
Alyssa – Ky hasn't said anything to you?
SB – he acted like he had no idea
Alyssa – I don't believe that at all
Sb says she believed Ky but then he brought it up to her and it seemed Sketchy to her.
Alyssa – I'm telling you this, He [Ky] knew everything he orchestrated this whole thing, Do you think BABYD had the balls to do this on his own?
X says they are in an impossible position "Who is smart to come up with this I have no f**ing idea"
Alyssa's – Ky are you kidding.
SB thinks DX is smart enough to figure this out but she thinks he had backup for the votes.
X – who are the people we thought we could lean on that we have no f**Ing idea..
X – the first time we're out of power in 2 weeks we're on the block
Christian says DX has the queens whatever he wants the Queens will do. "that means I'm going home"
Alyssa leaves "I don't really want to talk game right now honestly.. I really don't care to"
SB – I'm sorry Christian
Christian – that's okay
X – I'm sorry I couldn't stop this from happening.
Christian leaves..
They try to figure out who was the person that made up this plan.
X – who on the queens .. I don't have a reason to not trust Ky right now
Sb says if it was Ky he would have told her. Sb cries.
X – I think the plan is to break all of us up and whoever is remaining they can pick us apart one at a time. That is something I am trying to make sure doesn't happen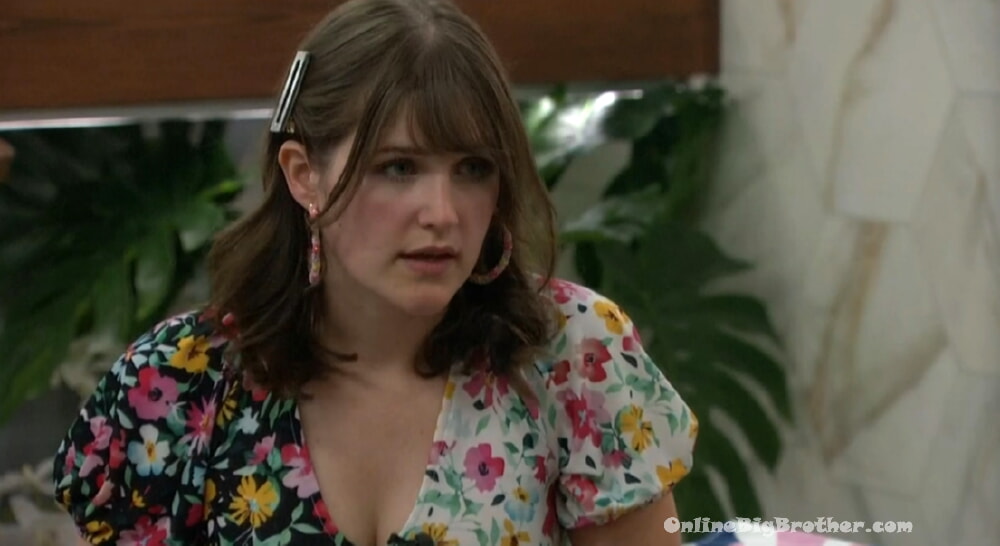 12:55 pm Sb and DX
Sb carrying tissues around now.
DX – Christian is throwing your name around but I'm not believing him
SB – what did he say?
DX – she's campaigning for himself I'm not buying what he's saying. I want to take Christian out this week and that's not changing
Sb says the Kings are assuming the queens have betrayed them.
DX – i have confirmed 100% they were going to flip the vote
SB – they were going to try to or they were going to?
DX – they were already trying to flip the votes
SB – I believe you. the person telling you that was me, Tiffany or Claire and I trust them because I don't think they would be coming after me. (YIKES)
Sb says she feels like she's going to stay
DX – I would be shocked if it was anything other than 7-2
SB – Alyssa is good she's lying her a$$ off to me and she has no tells
DX – she's such a good liar.. oh my god I'm shocked I almost believe her it's crazy.
DX – I want to be able to salvage something.
Sb – I feel like Tiffany is mad at me for some reason
Sb – the kings are super suspicious of Ky they think he knew they think he might have masterminded it.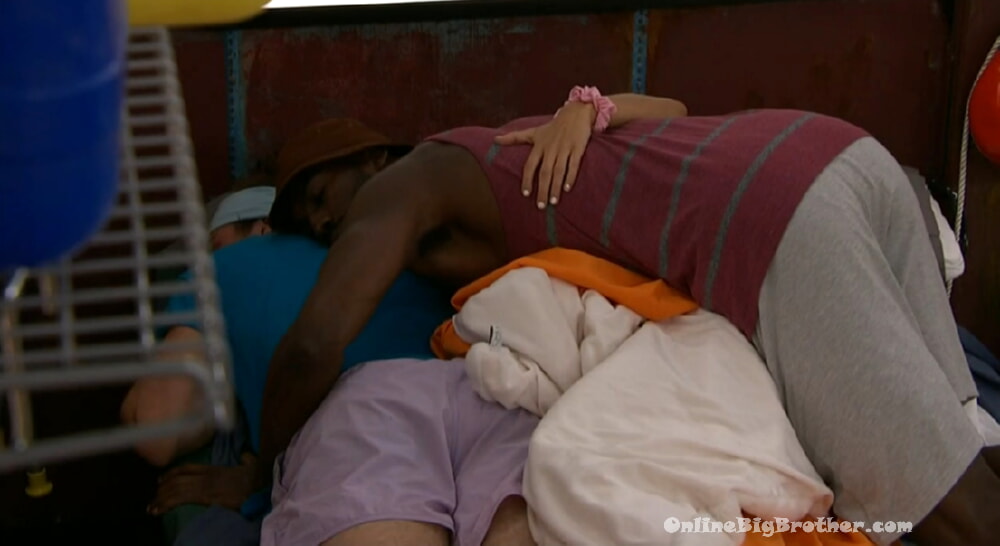 1:00 pm Christian and Alyssa
Christian going on that SB is playing both sides.. "There's no convincing him because I am going home I don't have Claire's vote"
Alyssa – you don't have Tiff's vote?
Christian – No that wasn't we're going to fight for you hug
X joins them.. group hug..
X – I'm going to figure out who got in his ear
Alyssa – SB
Christian – SB said it to Derek
Alyss a- SB told him about our talk and made it sound like it was us.
X – if that's the case they're taking him out this week and we're next week
Christian – we don't have the queens I am going this week
Alyss a- what about the jokers
Christian – ARGH I should have taken him out
Alyssa wants to try and get the Joker's votes. "They put Britini up this week and they said Brit was the target"
Christian says he's got 4 votes the two of them, BIGD and Brit.
Christian – I don't want to wait for the last second I'm campaigning the whole 3 days
X – YES You have my vote
Alyssa – I'm telling you it's Sb.
Christian – I want Britini up here I think Britini can help us convince the rest of the jokers
Christian runs downstairs to grab Britini. She's in the DR so he comes back.
X says SB has people in her back pocket right now
Alyssa – she told me about your guys five
X – our five?
Alyssa – I already know about it
Alyssa – you Frenchie, Christian, BIGD, and Ky (Butchers)
X – one of us is going to have to talk to Tiffany and Claire.. I will talk to Tiffany and Claire this will take more than just the jokers
X leaves to talk to Tiff/Claire.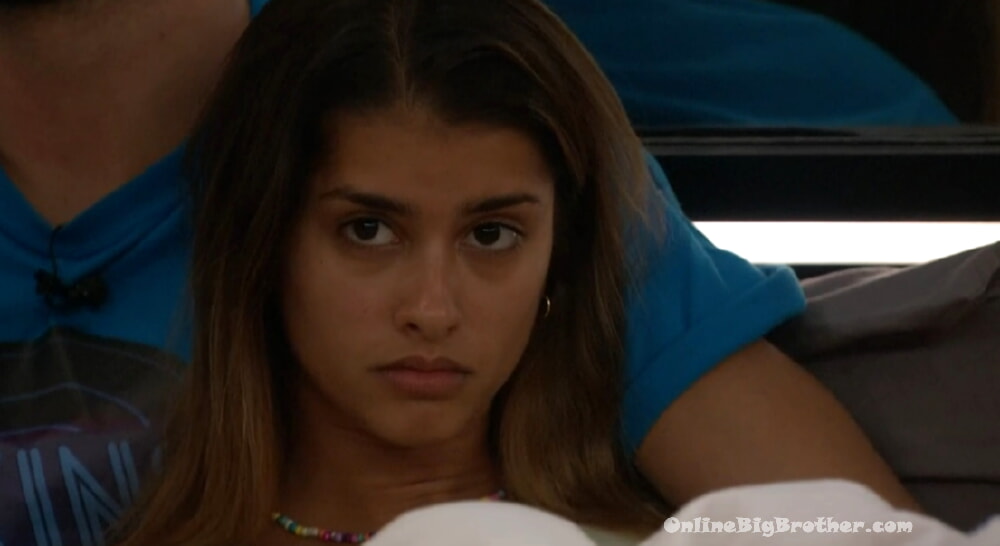 Christian returns says Brit is in the Diary room.
Christian – two votes we don't have BabyD and Ky ..
Christian goes on about not taking DX out last week.
Alyssa tells him to focus on the jokers votes don't waste his time with Tiff and Claire "Go get BIGD"
Christian – you sure? he's got a big mouth.
Alyssa tells him he doesn't have Hannah's vote "She'll do what BabyD wants"
Alyssa – we'll figure it out it's not like you're leaving right now
Christian keeps going on about missing his chance to take out DX last week. Alyssa tells him he has to stop thinking in the past.
Alyssa – this might be really stupid what if we tell the jokers about the Royal FLush .. is we tell them about the royal flush they will realize the queens were working with us.
Christian – the royal flush is gone
Alyssa – not in SB, CLaire, Tiff's eye .. the royal flush isn't gone. unless you blow it up.
Christian – what's the benefit of telling the jokers.. I'm in the alliance
Alyssa says they are all saying f** the alliance except for SB, Tiff, DX, Claire, Ky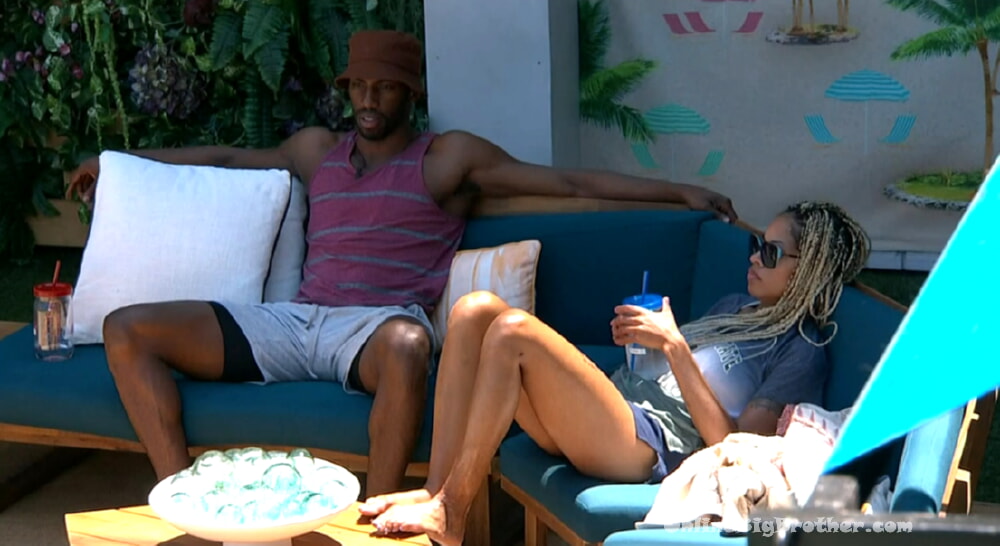 1:15 pm X and Tiff
X – DX is supposed to be Hannahs right?
Tiff – mmmhmmm
X – that's not the case.. why would he talk to me about us working together in the future end of the game scenario and not bring up Hannah at all.
Tiff – he doesn't know you know he's working with Hannah
X – he knows I know he's working with Hannah
Tiff – you think keeping him [DX] around benefits Ky?
Tiff doesn't Think DX and is as close to Ky. Let's say Ky has DX and Sarah Beth. that's all Ky has. you have me, you have Claire, You have Azah, Hannah, you have way more.
X – what I'm saying when it comes down to the 6 he's got the most people which he will.. outta the 6 he's got to go first..
TIff – who Ky? I agree with that
X – he's sitting pretty with everybody.
Tiff – Ky has been sitting pretty since he had HOH he's set himself out
X – I'm in a position .. two of my team members are on the block which means whatever one stays they'll trust me less.
X says Sarah beth was crying in Ky's arms, not his.
Tiff – how do you feel about SB going next week, Me, Claire, and Hannah want to send her out
Tiff – I am down to take her out.
X – two of my team members are on the block. That's frustrating for me. No one else has been in this position
Tiff says it's not true week one Travis and Ky were on the block
Tiff – my team is two.. Ky is with SB.. my team is me and Claire. the jokers stick toegether
Tiff – your team is 4 plus one..
X – who is plus 1?
Tiff – KY
X says Ky is not in his team.
X – I'm losing a member of my team and it feels like someone has a member in their back pocket
Tiff says Sarah Beth is a house target now.
Azah joins them
Azah says A talk with BIGD will help because he lost someone that he was close to. (Frenchie.. lol)
X – it's not that someone has to go home at this point I'm focused on Damage control after someone comes home
Tiff – I will send her home..
1:30 pm Alyssa is working on DF while Christian is working on Claire in the have not. After they're done with Claire and DF they pull Brit up in the have nots. (Not bothering with these as it's a tad bit early to go guns blazing like this)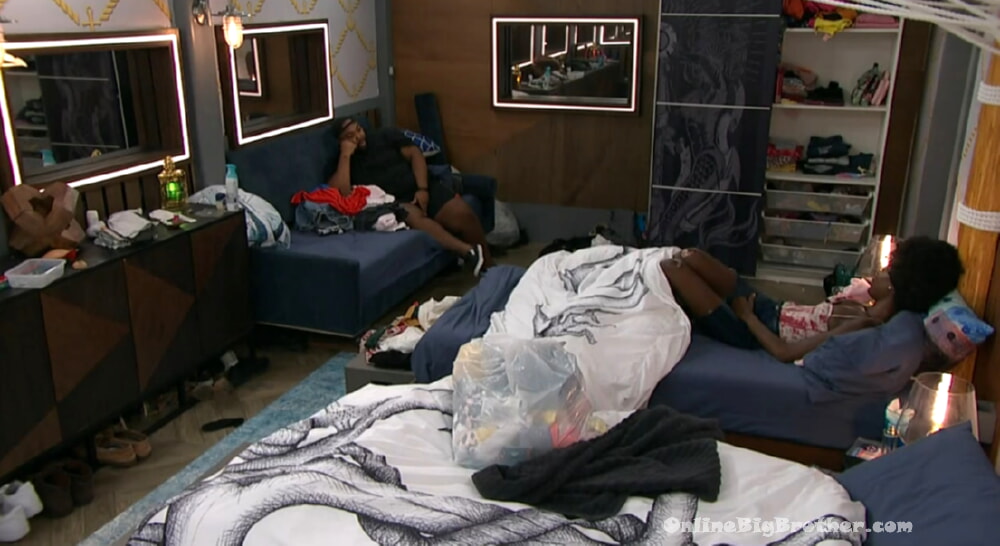 1:38 pm DF and Azah
DF – she's working like a good housewife trying to get these hoes off her man.. She's working overtime
Azah – she's working too early
Df – at the end of the day, I can vote for him to stay or vote for him to go it don't matter He's still going to go
DF – they think if they flip all our votes he'll stay
Azah – no, My vote's not shaken, her vote's not shaken, your vote's not shaken that's three, Kyland's vote's not shaken that's four.
DF says he's thinking SB will be next "SB doesn't trust us"
Azah says he can do that.
Df leaves to go make a sandwich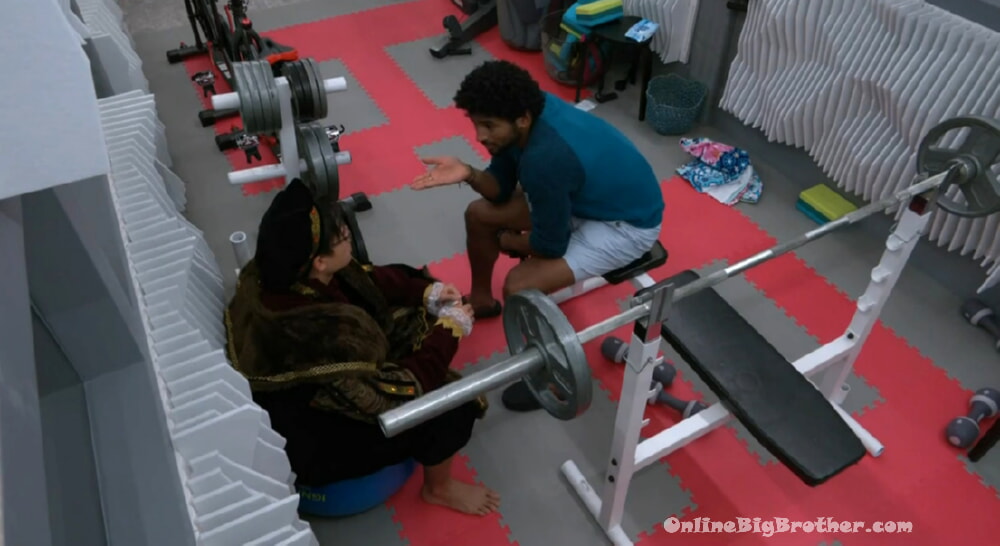 1:40 pm Ky and DX
They're talking about votes.
DX wants to do a one on one with X. Suggests now is a good time for them to make something more serious between them and X. A post-Royal flush alliance with X.
Ky – let me know because I'll be down
Sb joins them.. Alyssa and Christian are campaigning like hell already
Ky/DX – don't worry no one will flip
DX leaves to talk to X in the HOH.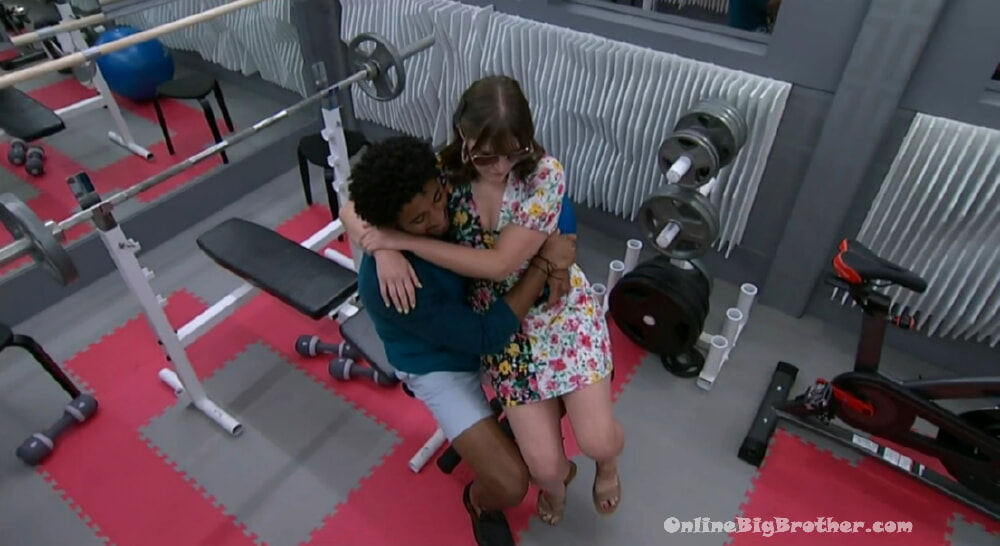 Sb – Azah and Brit just confirmed they're 100% voting for me
Sb says their advice was to let Christian and Alyssa campaign and for her to lay low.
Ky – I agree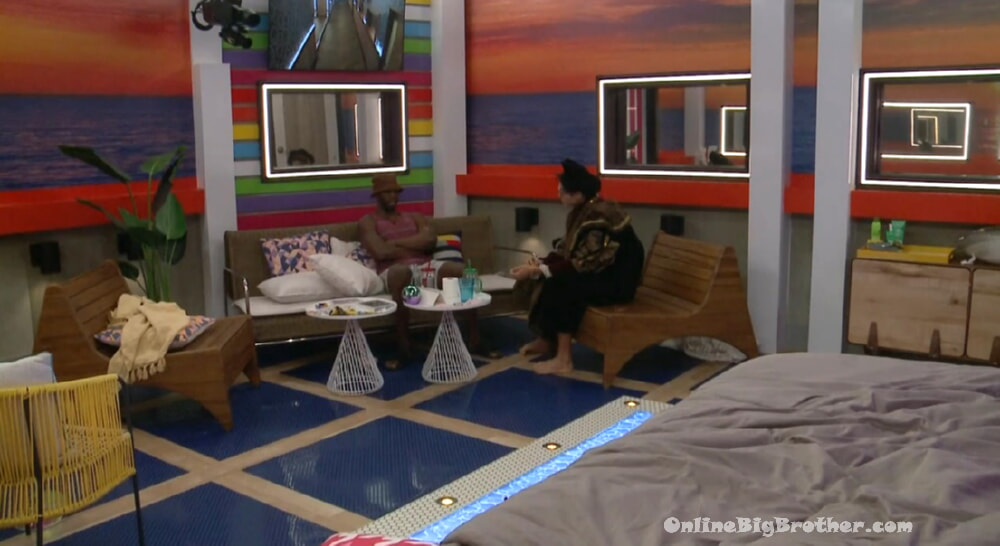 1:43 pm DX and X
X says it's come down to SB/KY vs Christian/Alyssa
Dx – I'm happy I'm not voting
X – yup I am not
X says he was trying to take some heat off DX by saying "I don't think DX will come up with this by himself. Did I say another name? No"
DX – I appreciate that.
X says it's evident that the house wants Christian out. Says Azah/BIGD would want Christian out, Brit is a toss-up.
X – Christian expects my vote he needs something I would do the same for you if the situation was reverse.. he's already asking people to promise him their vote.
X isn't going to campaign for or against Christian/Sb. Adds it makes sense why the house wants Christian out.
DX – four strong guys left.. You in my head. You and Christian will always be tighter than me and you
X – probably
DX says by taking out Christian he wants to now bring X closer to him. "With Christian gone, Me you and Ky could maybe work together or at least acknowledge that we need each other in this game."
X – we become the three biggest targets.
DX – If you weren't on Christian's team this decision would have been a lot easier for me
DX – if Christian stays you have full approval to take a shot at me ..
DX goes on about if Christian stays F** it. he doesn't know this game.
Feeds cut..
2:40 pm Feeds return Ky is Campaigning to Tiffany on all four feeds.
Without your support this site and these spoilers wouldn't be possible.
Please consider a donation to keep the madness going.