POV Holder:
Sarah
Next POV
May 15th
POV Used
?
POV Ceremony
?
HOH Winner
Ashleigh
Next HOH
May 13th
Nominations:
Sarah & Godfrey
Have Nots
Canada gets to vote
POV Players
VETO PLAYERS PICKED: ASH, Sarah, Godfrey, Zach, Brittnee, BRUNO
HOST is PILI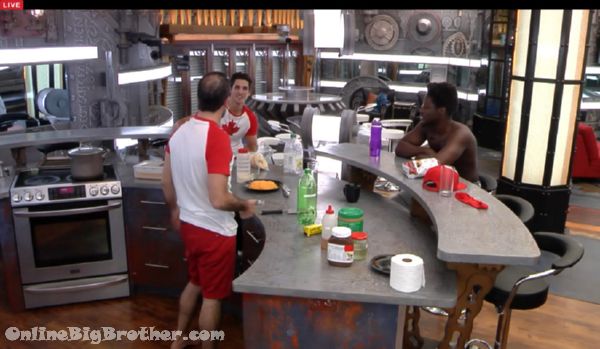 1:48am Bruno, Godfrey and Zach Bro-ing out
Bruno – lets keep the players playing
They agree Sarah doesn't expect Brittnee is going.
Bruno – this is the best I've in 51 days .. people are going to lose their shit
Godfrey – Lose it bro
Ashleigh stumbles in..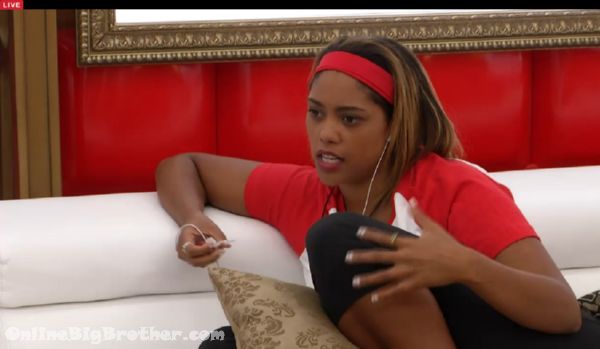 1:52am HOH Pili and Brittnee
Pili says either Bruno or her will go up.
Brittnee – she's nervous of bruno staying eh
Pili – it risks the chance of Godfrey staying
Brittnee doesn't think so. Pili says Godfrey and bruno are the reasons why she was in the house. Points out that in the pantry Sarah was trying to keep Willow. Brittnee says she never wanted Pili to go.

Brittnee says Sarah, godfrey and Ashleigh voted to keep Pili.
Pili asks her why she never put Willow up first over her.
Brittnee "I really didn't know I took a risk"
Brittnee says she wanted Pili to stay for her own game, Points out that Sarah and Willow had their own thing.
Pili says she' not playing the same game as Ashleigh they are supporting each others decisions but they don't want the same people out.
Pili – why didn't you put Godfrey up.. you didn't want three men up
Brittnee – ya… I couldn't trust him or not
Pili – do you trust him
Brittnee – hmmm ummmm not any more .. what do you think of Godfrey
Pili doesn't know calls Godfrey a Comp threat
Brittnee points out how dangerous Godfrey is he's been a target since the beginning.
Pili says Godfrey is going to make it to final two 'the way this kid's been going"
2:13am Pili and Brittnee (We're down to only 2 cams and they are jumping conversations)
pili says she feels like Ginamarie and Nick. Brittnee disagrees tells her those two weren't anything Kevin was really into Peels.
Brittnee – I don't know what argument Godfrey could give to stay
Pili – to the house
Britt – ya
Pili – couldn't tell you
Brittnee highlights how Godfrey sleeps all the time and doesn't win 'Comps' thinks this is the angle Godfrey is going to play, "He's just playing dumb every time he's sleeping he's not sleeping he's listening"
Brittnee says her GUT told her to put Willow up. She never wanted Pili gone on Wednesday tells her if Ash went up Pili and Ash would have gone home.
2:23am ASh comes in Brittnee "She's feeling Saucy"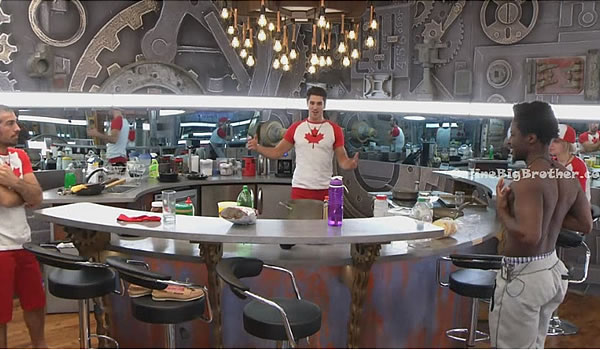 2:05am Zach, Asheligh, Godfrey and bruno Chatting about how awesome Risha was. AShleigh says if she was two years older she could be her mom. Zach thinks she's a cool person to have drinks with, "She has the look no matter what she walks into she captures the room"
Bruno says she's the only one he remembers walking down the stairs out of his group.
Godfrey shows them her walk "B**Bs literally covering the nipple bro"
2:27am HOH Pilli and Zach
Pili give him a debrief of what they were talking about.
Pili – I know for a fact she wanted me out.. If you don't want someone out don't put them up a pawn is a excuse
Pili – She thinks we all want Godfrey out.. she put me up because I put her up as a pawn
Ash – no she put you up because she wanted to split up couples.
Zach – does she know she going up
Pili note quite
Ash – She doesn't know until I tell her
Zach says one of those two girls have got to go.
Pili agrees they have to split them up
Zach mentions how Godfrey is going to keep not winning competitions.
Pili – we're getting rid of B this week and asarah next week
Zach – I think so Sarah is dangerous.. we'll see.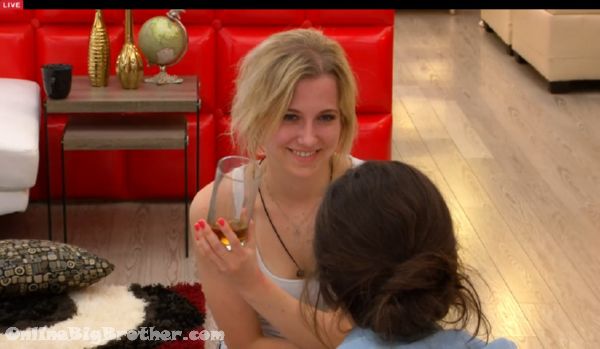 2:38am Ashleigh and pili decide to skip dinner tomorrow night so they can get tipsy with the remainder of her bottle.
Ashleigh – if you have half of that I have half of that we'll feel it.
Pili – Lets not eat anything so we can feel it
Ash – Tomorrow lets not have dinner.. I will be super BUZZZZzzzed .. I'm bot drinking anything after this I feel real good right now.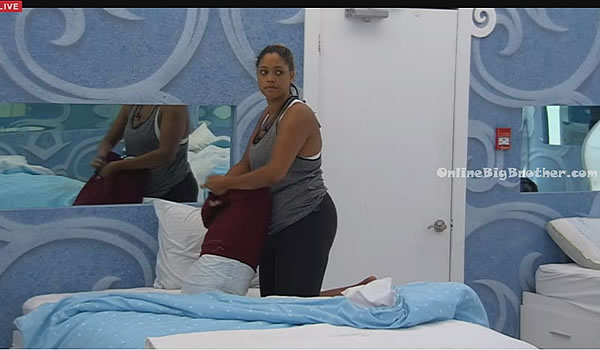 2:44am Brittnee, Bruno and Pili Bedroom
Brittnee tells Bruno she's going to do what she needs to do to stay in the house. She'll say things because she wants to stay in the game not because she wants to see Bruno on the block.
Bruno – it's all good B
Brittnee – If it's more beneficial to keep godfrey in this game than that's what it is.
Brittnee storm out into the kitchen to chat with Sarah.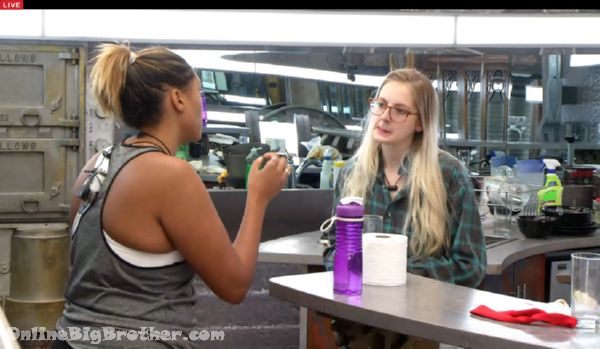 2:48am Sarah and brittnee
talking about focusing on Pili's and Zach's vote.
Brittnee – this will be my fifth time on the block
Sarah says if Ash puts Bruno up they'll lie to "Their" faces and vote bruno up. Sarah mentions how Bruno 'F***cked" them
Sarah thinks Godfrey is gone this week. Says that Ashleigh and Zach want to take each other they want someone to take Bruno out.
If you enjoyed this site's content please consider a donation or checking out our How to support OnlineBigBrother.com page. Any help is appreciated, this site is only here because of your support.
[polldaddy poll=8849979]
[polldaddy poll=8853897]