POV Holder:
Sarah
Next POV
May 15th
POV Used
?
POV Ceremony
?
HOH Winner
Ashleigh
Next HOH
May 13th
Nominations:
Sarah & Godfrey
Have Nots
Canada voted for: Sarah & Brittnee (They will compete for the Secret Power)
POV Players
VETO PLAYERS PICKED: ASH, Sarah, Godfrey, Zach, Brittnee, Bruno
HOST is Pili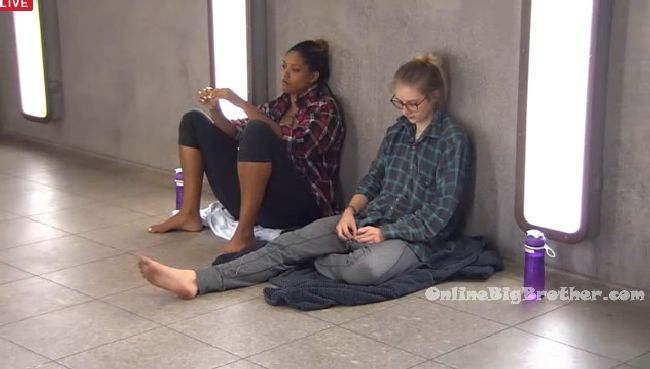 4pm Out in the backyard – Bruno "what a way to break it to them you're havenots for the week go to the room" Bruno and Zach are playing god ball. In the havenot room – Sarah and Britt are sitting on the floor. Britt is still complaining about how she can't do this any more. Britt asks (Big Brother) are you going to explain why we're in here or do we just have to sit here until we have to go pee?? Sarah and Britt lay down on the floor.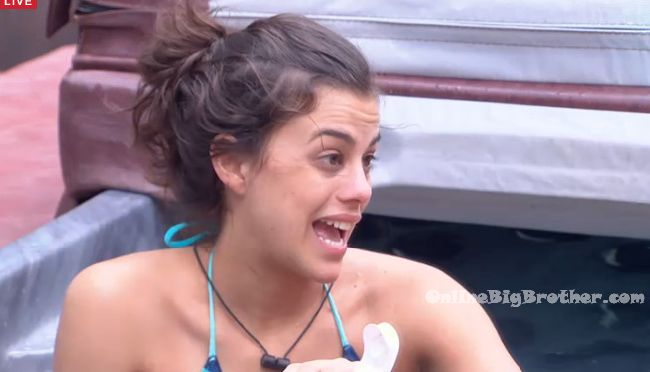 4:15pm Out in the hot tub –
Pili tells Ashleigh that she is scared to be here with 3 guys. Pili says having a weaker player is better for us. Ashleigh and Pili head inside and try to visit Sarah and Brittnee in the havenot room but realize the door is locked. Ashleigh "We can't even visit you guy! What the F!" Sarah "We're in prison"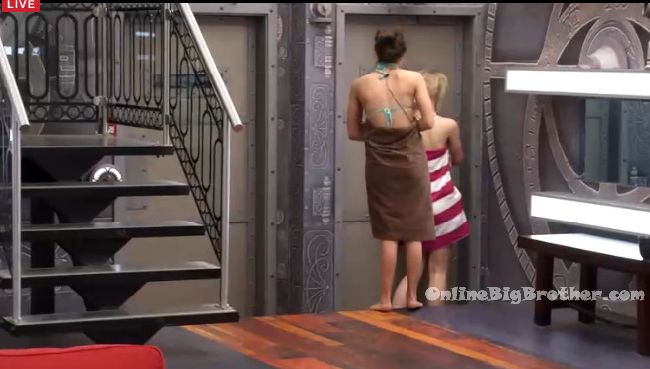 4:17pm The feeds switch back to Britt and Sarah in the havenot room. Britt says at least give us mattresses and slop. Sarah says I think when we're hungry we just have to ask. I'm just trying to not think about how horrible I am. Britt says well when other people were put into solitary confinement they were at least told how long they would be in there so can you tell us. This isn't right! Like legitimately its not right! Sarah & Britt try to sleep.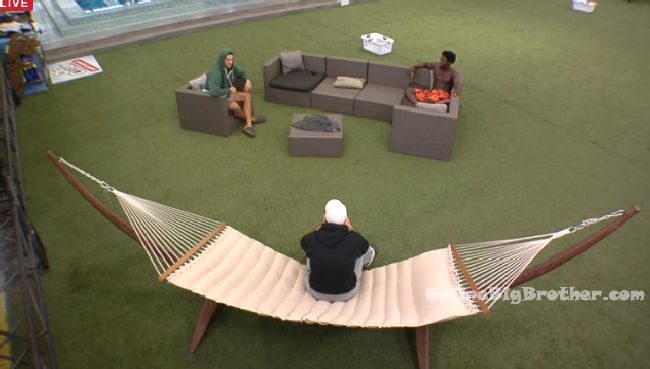 Out in the backyard – Godfrey, Bruno and Zach talk bro power. They agree to convince the girls they're going after each other so they'll want them to stick around to take each other out. They talk about Sarah and Brittnee being locked in the havenot room with out mattresses. Bruno says with Brittnee going up she can't campaign to any of us. It sucks for her but good for us we don't have to hear it. They laugh. Zach says they're stepping it up. They head inside to check on B and Sarah. Zach they realize the door is locked. Zach tells Sarah and Britt to stay strong .. hopefully we can figure out what's going on with this. Zach heads up to the HOH room and talk about what's happening with Sarah and Britt. Ash "They're havenots but maybe they will get something good" Like valuable information or something. Zach disagrees. Ash "Watch it happen and you'll look like an idiot.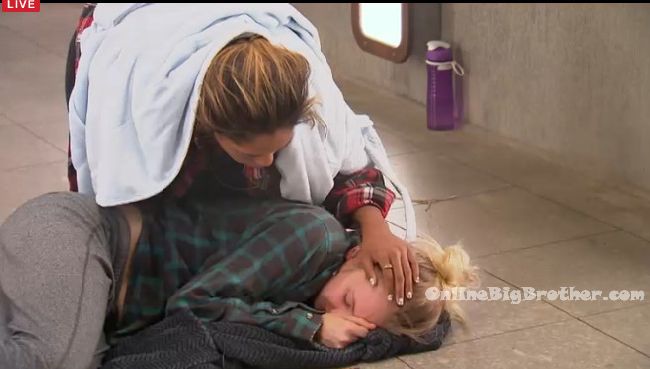 4:40pm – 5pm Havenot room. Brittnee asks "What happens if you evict yourself?" Sarah "Don't talk about that!" Sarah starts crying and asks what she did to deserve this. We were really really careful to be respectful. Even in there they're making me say things!! Sarah starts crying more! I'm disappointed with what I did to make Canada hate me. Britt says when your country votes you into a cellar its not a good sign. But at the end of the day our family and friends will love us. Britt says we have to get out of here tomorrow so I can get nominated and we have to go to the washroom eventually. Britt says this isn't reality. This isn't real life. You have to remember that. Sarah says I am someone that loves and sees the good in everyone. I really truly believe that we weren't bad people. Brittnee holds her mic and says so do havenots not get medical assistance or what?! Because she… Big Brother blocks the feeds. The feeds come back and Ash tells them they're making them cinna-bobs. We love you!! The door unlocks and Bruno comes in with a battery change. You guys doing okay in here? Big Brother blocks the feeds again.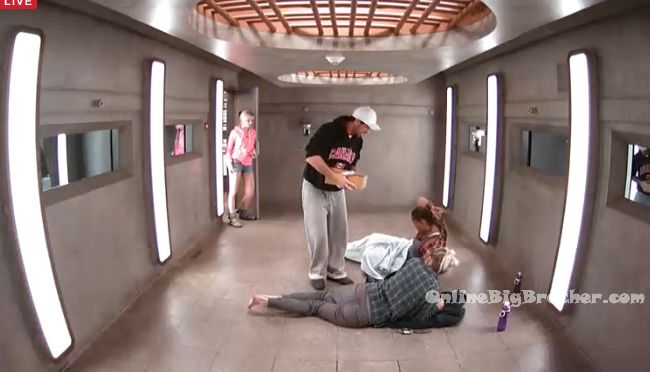 5:15pm – 5:30pm Big Brother gave Sarah an advil in the diary room. Sarah sits up from laying down and throws up a bit in her mouth. Britt comforts her and asks if she's okay. Brittnee asks so did they say this was going to be for the week? "I know you didn't think there were going to be havenots but…" Sarah says I don't know. Coming across as a terrible person was my biggest fear and now I don't know.. I know you're a great person though. Brittnee and Sarah lay down to sleep. Meanwhile – The other house guests are in the kitchen eating and talking about random things.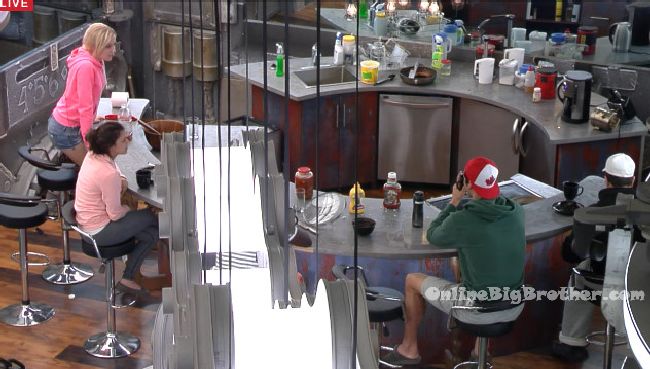 5:40pm Big Brother says house guests please go to… then the feeds are blocked.
6:30pm Feeds down
7:50 No Feeds
If you enjoyed this site's content please consider a donation or checking out our How to support OnlineBigBrother.com page. Any help is appreciated, this site is only here because of your support.
[polldaddy poll=8849979]
[polldaddy poll=8853897]