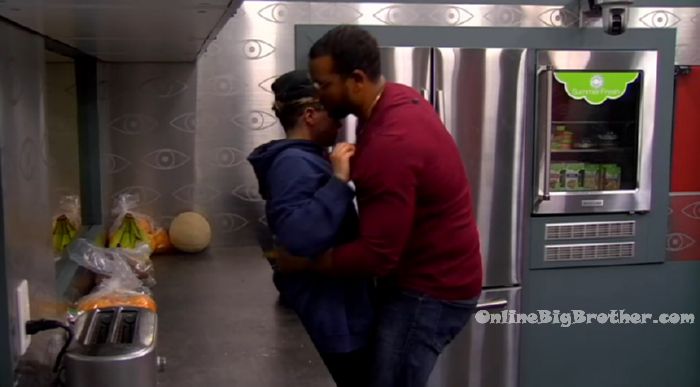 10:04pm Storage room. Anthony and Kyra.
Anthony gives Kyra an emotional hug. Anthony – be strong. Kyra – I knew I felt like an outside for a reason. I'm not.. I knew since week two. Its fine. Anthony – I felt great with them. I was close with them. We talked about everything. One thing we did not talk about was my relationship with you. I never once said to take Kyra out. I have my way with words. I have my way with the truth. I've kept my honesty with every scenario in this game. Truth and honesty .. I started to see things in these guys. They're not truth & honest. Kyra – things change .. you have to adapt. I respect that. I watched and observed. Not just the other people and the house guests but the people that were also on my side. They were not strong, they were not truthful, they were not honest. Kyra – I know! I know they weren't truthful and honest. I saw right through it. We knew early on that this was a thing. I had to play dumb because that's what kept me here. I had to pretend to believe that it didn't actually exist. So if people want to tell me that I got here by luck.. by all means yeah. I got here because I played to my strengths. I wasn't going to win comps. I had to fly as much under the radar and look stupid and weak. As much as I had to even though it bruised my ego. I was never stupid. I saw through it. Why do you think when I heard Dane and Adam talk about Cory .. I jumped at the opportunity to crack a foundation at this huge a$$ alliance. I knew there was an alliance .. and they said her name. You'll watch the tapes. Anthony – I know. Adam came to me … you'll have Anthony closer to you if you get out Cory. You want that. I knew I couldn't trust them. So to call me weak and to say that I got here by luck disgusts me! I was serious when I said I wanted to go final two with you. I feel like you lied to me. Anthony – no I didn't. I never once lied to you. You're going to let that convince you? Kyra – apparently he is going to convince everyone. Anthony – apparently nothing and no he is not. We talked about this .. you are a fighter. Dane joins them. Kyra – was Damien apart of it? Anthony – no. You are a fighter .. it doesn't matter what anyone says. I earned my place here! No one can say it was because of luck! It wasn't a easy decision (nominations). I do love all of you guys.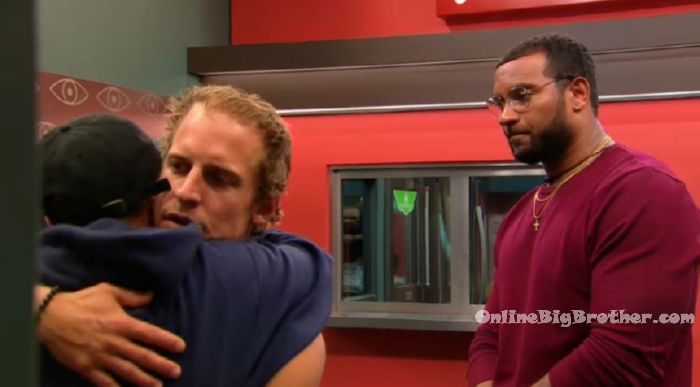 10:10pm Adam joins them in the storage room. Anthony and Dane leave. Adam – come here. I'm sorry. That was really uncalled for. I'm not used to someone barking at me like that. I'm a hot head. Kyra – I'm sorry. Adam – its fine. It was a game move. Best move of the season. It will be a hell of a campaign. There was a big plan to go two four with the boys. It never worked out. Kyra – I knew it since week 3. Adam – I am sorry. I actually am. that's not the person I am. It was a really good game move and I can appreciate that. Kyra – it was the hardest decision for me to make. we're still in this game. Kyra – one of you might be. Adam – two of us might. We're not stupid f**king people .. if I pull myself down .. that's one vote there. Adam – I am really really sorry. You deserve to be here just as much as anybody. I will keep it calm. I will keep it cool. I just wasn't expecting it. Kyra – all season long we haven't had one shocking nomination .. I did it for tv. Adam – its good. Kyra leaves. Adam – f**king kyra. I was not expecting that today.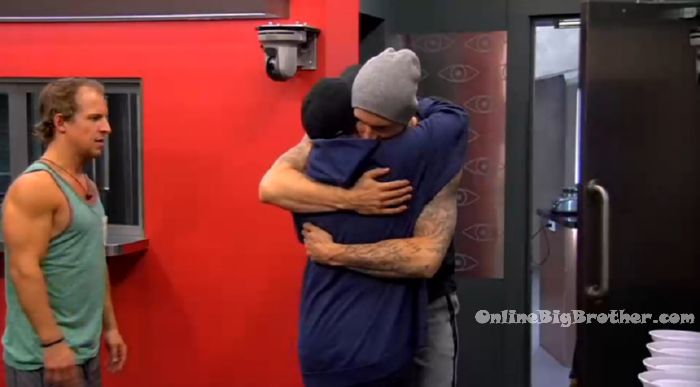 10:33pm Storage room. Mark and Anthony.
Anthony – We're taking Dane out. Mark – I know. Good! Like I've always wanted since week f**king two. Anthony – this is what you're going to do…for me. You're going to go to Adam.. You're going to tell Adam – I am loyal to you. I've seen things happening with Dane. You're going to vote for Adam to stay. I'm going to vote for Dane to stay. Kyra is going to send Dane home. Mark – okay. And what if Dane pulls himself off the block and I go up? Anthony – if Dane pulls himself off the block.. then Adam leaves. Mark – cool. Anthony – you know what time it is. Mark – its time to wake the f**k up!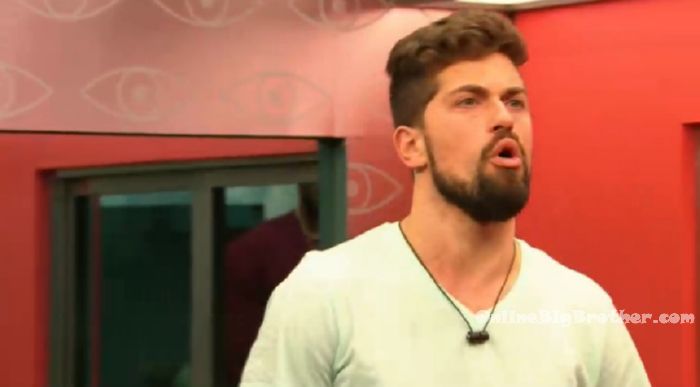 HOH room. Kyra talking to the camera.
Kyra – I believe i just made the biggest move of the season. It was scary and I knew there would be backlash. Whatever maybe I won't win 100,000 but I had to better my odds. Mark joins Kyra. Kyra – I would like to get Dane out and I think there's more of a chance that Adam wins the POV, than Dane.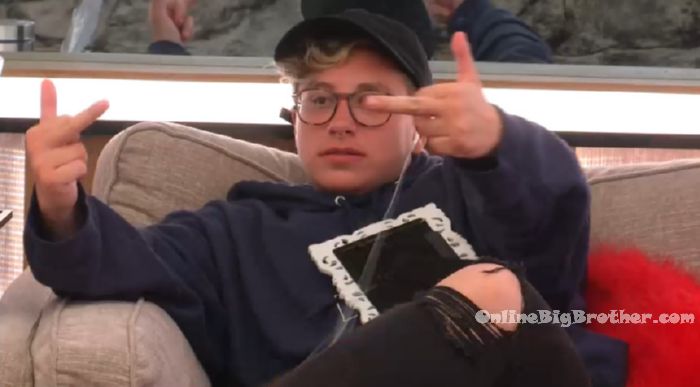 Help support OBB by making your Amazon purchases through our link below. It doesn't cost you anything and we get a percentage of what you buy.
Amazon Canada
Amazon USA
Next and Previous posts
Shortcut to Comments
Share it YO!
Tweet