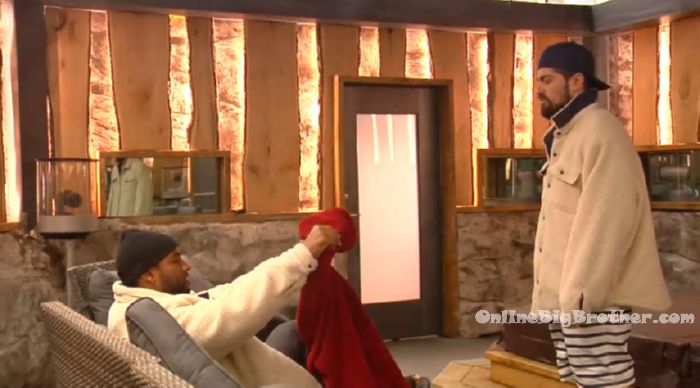 9:22pm Backyard. Mark and Anthony. Mark – you know this is the triple right?! Anthony – yeah. Mark – two people are going home. Anthony – yeah. Come, lets go outside. Mark – I know who it was. Anthony – it was Adam wasn't it. Mark – yup. There is no way Dane would be that easy going. No way. You know by the way that Cory is f**ked right? Anthony – yup. Mark – I'm the tie breaker, Cory is f**ked! Anthony – yup. Dane, Adam, Kyra. Mark – here's the deal. There is no way.. this has to be the triple. Put three people up and then ones going home and then play another triple and put three people up again? I don't buy it. This is the triple and I just accidentally won the triple. How f**king cool is that?! I think we keep Esti. Anthony nods – I still say we keep Cory. Mark – if you could do your magic. Mark – why do you want to keep Cory now though. Anthony – because I know they've been plotting and because Cory is a good bet for us to stay safe. They've said little things .. I don't know everything about this game. I haven't seen every episode from every country. They say but this is big brother.. and I'm like yeah but we still have to be loyal.. IDIOTS! Mark – I still think we're pretty good both of us. It was either Dane or Adam. Anthony- I think it was Adam. Mark – either way its being used and Cory's getting it. How close are you with Dane? What do you think Dane and Adam are doing right now? Anthony – I think they have something going on. Mark – Dane messed up a bit with the truth. If anything you're in a better position than me. Anthony – there have been two people that have never lied to me and never been disloyal.. you and Cory. If you go on the block .. if you go to the final two .. I don't care, I am voting you. i don't give a f**k who else is up there. I don't care if people have won more competitions. I don't care about that. Mark – easy buddy. It just makes sense if Esti stays. Anthony – you have to think about your game. There are people that are not thinking about your game. Damien wants you out. Not voting for you. Esti wants you out. Not voting for you. Adam, even though we're PB ..whatever.. he is talking f**king sh*t too. When its just the four of us he is talking sh*t because he was sour about being put on the block. He's not man enough to know what he did wrong. Mark – I knew there were cracks in the foundation long before anyone else knew it. I knew it day two. The other reason Adam went on the block was to test the waters a little bit. I knew he was coming off.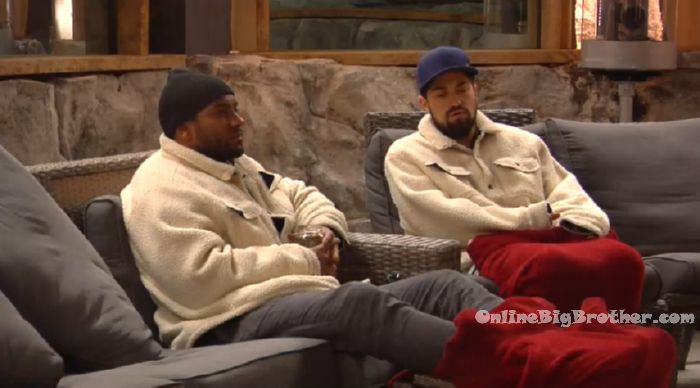 12:40am HOH room. Dane, Mark and Anthony. Anthony – we sat down and all disgusted that Damien had to go. Now.. I don't even care who the secret assassin is. Now that Cory is on the block .. now within a few minute you say that you want to choose for Cory to go out because I feel more threatened by Cory .. right? Dane – I've said that since before man. I didn't want to go against the unit. Anthony – fair. But I want to refresh your memory to something… last week I had to fight day and night to keep you here. Dane – exactly, you did.. not Cory. Anthony – Very true. Cory originally wanted you out because Cory found out that you were a main part of the backdoor right?! Dane agrees. Anthony – and because I have special mojo.. I dingled my dust around and I got you not only taken out of I want to get Dane out but I got you in a position where Cory trusts you more than anyone in this game. Dane – I know that man. Anthony – okay so with that said .. still the very next week you think that Damien should go. Dane – it doesn't matter to me because if feel 100% safe with Damien, Esti .. Anthony – if Cory wins, you're not touching the block. If Damien wins, you're not touching the block. If Damien wins, I am going on the block. Dane – if Damien wins, you're not going on the block. You're (Mark) going on the block. Esti wants anyone but Dane to go. Dane – but she said she wants to cut me at 4 or 3. Anthony – Esti doesn't have the resources to cut you.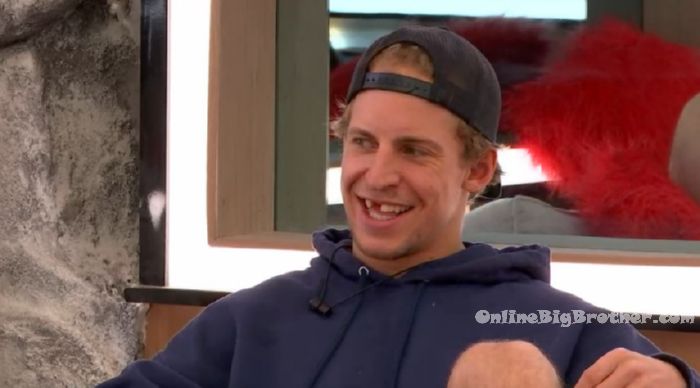 Help support OBB by making your Amazon purchases through our link below. It doesn't cost you anything and we get a percentage of what you buy.
Amazon Canada
Amazon USA