POV Holder:
McCrae
Next POV
Aug 31st
POV Used
YES
POV Ceremony
Sep 2nd
HOH Winner:
GM
Next HOH:
Sept 5th
Original Nominations:
Amanda and McCrae
Current Nominations:
Amanda/Spencer
Last Evicted Houseguest
Aaryn
Have Nots
2:30pm – 3:45pm Elissa is the only house guest awake and laying out in the backyard hammock. All the other house guests are napping. Big Brother wakes up Judd to call him to the diary room. Andy also gets up from his nap and makes a snack. Judd joins him to make a hot dog. Andy asks Judd if he should yell out to Elissa in the hammock and tell her that Ginamarie got Pandora's Box. Judd tells him to. Andy does it and immediately shuts the door. Andy tells Judd that Elissa 90% doesn't believe him but 10% does and will come in to check. Elissa lays there in the hammock for a while and then starts to get up. Andy tells Judd to go hide. Andy hides in the photo booth and Judd hides behind the lounge room door. Elissa comes in and looks around the house for them. She looks in the back and then up in the HOH room. She then finds them in the lounge and they laugh about hiding. They talk about how they don't think Pandora's Box will happen this season. Andy tells Elissa that he is going to put away the dishes because he is tired of looking at them. Gina comes down from the HOH room. Elissa jokes we know you got Pandora's Box. Gina says oh did you know because there were dirty dishes in the sink? Gina and Elissa start cleaning the bathroom. Spencer starts helping Andy do the dishes.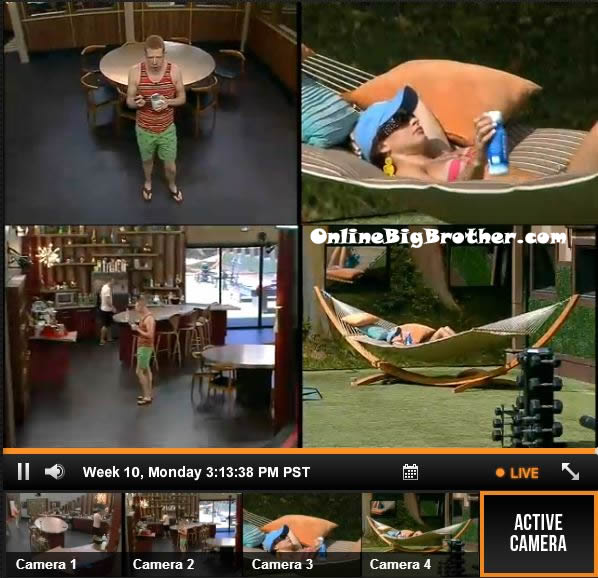 Big Brother 15 Live Feeds: FREE 2 DAY TRIAL
3:50pm – 4pm Spencer says I wonder if Marilyn's mom has watched any of the show and now likes me. Andy asks why does Marilyn's mom… Big Brother cuts the feeds. When they come back – Ginamarie sits at the kitchen counter and tells Andy and Spencer that apparently I want Amanda out because I want McCrae. Gina laughs. Andy and Spencer head outside. Andy tells Spencer that if he gets HOH even if it's a double Eviction he will put up McCrae and Elissa. Evict McCrae. Then in the next HOH of the double eviction they would put up Judd and Elissa. Evict Elissa. They say that then it would the Exterminators as the final four. Andy worries that even though he and Spencer are in Elissa's good graces but not as good as Judd and Gina are so they don't want Elissa to win HOH. Spencer asks if there is ever a situation were Judd and Gina are on the block who would you vote out? Andy says Judd. Spencer says okay good. Gina joins them. Andy tells her he wants her to get a Pandora's Box. Gina says she doesn't think it will happen. Amanda joins them and apologizes to Gina for her scream-fest earlier. She says that she has been so emotional lately because the diary room keeps wanting emotional sessions. Gina says it's okay and apologizes too.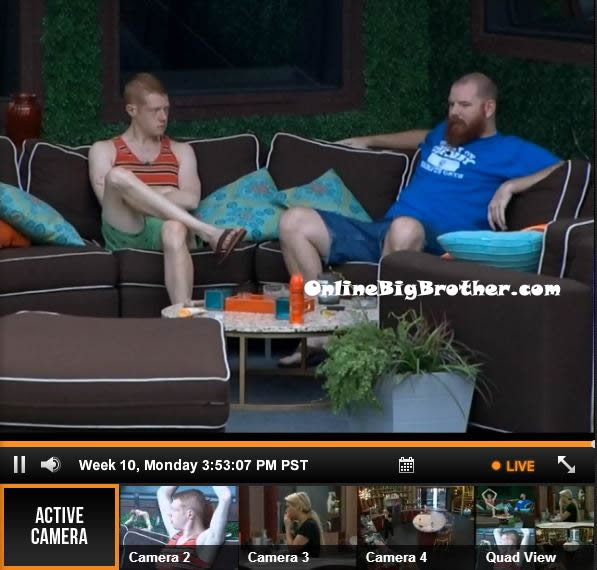 4:10pm Amanda wonders how many days left and they figure 21 days. Amanda comments that's a long time to be separated from your boyfriend or girlfriend without talking to them. Spencer says you will be an emotional wreak when you get out of here. Amanda says I am already an emotional wreak. She says it's weird to have been with someone every day for 2 and a half months and then nothing for 3 months and to have falling in love with someone else. Amanda heads inside.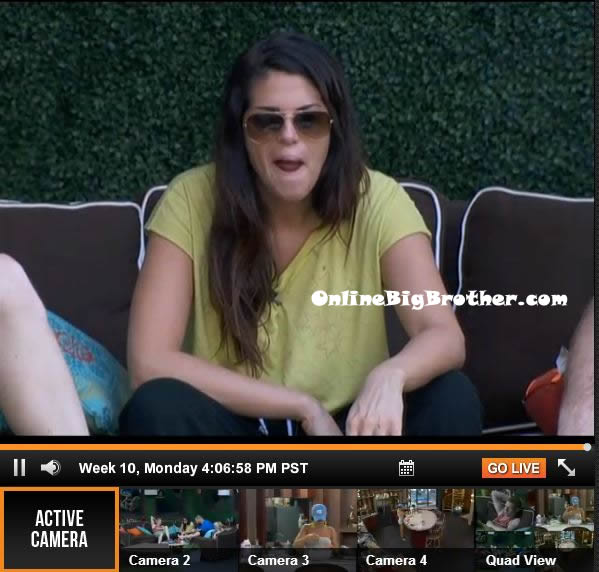 4:30pm – 4:45pm Gina says what am I supposed to feel sorry for her that I am splitting her and McCrae up? Andy says it won't be for long McCrae might be leaving an hour later if it's a double eviction. Gina says we should have a funeral for her just like she wanted me to do with Nick's stuff. They talk about how McCrae and Amanda won't last outside the house because their lifestyles are so different. Andy, Spencer and Gina talk about the past events leading up to this point. Gina says that McCrae got on the pu$$y wagon and that's what hurt him. Spencer says I really want to be the last member of the moving company still here. Gina asks what did Amanda really do but control a 22 year old girl (Aaryn) and a 23 year old boy (McCrae). Spencer says yeah but if she made it to the final 2, she would win. Spencer says we just need to keep McCrae's focus on Elissa and .. Andy says and Elissa's focus on McCrae. Gina says I don't think Judd would protect Elissa over us. Andy says that is why I would put them up together so that there wasn't even the option. Gina says I took the two loudest b***hes out.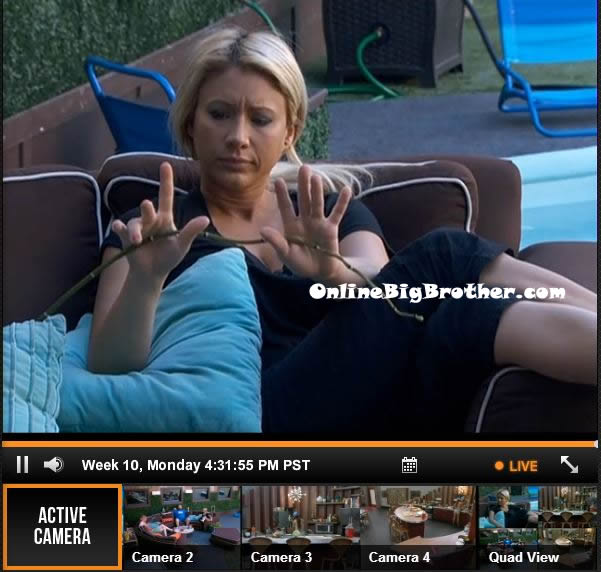 Judd joins Andy, Gina and Spencer in the backyard. They explain how after getting Amanda out if it's a double eviction and someone other than Judd won HOH, they would use him (Judd) as a pawn. Judd says we should rotate pawns, I am scared of going up as a pawn especially during a double eviction. They others comment on how they understand as he went out last time during a double eviction. The conversation turns to talking about Amanda and McCrae and how they won't last outside the house. They talk about revealing their Exterminator's alliance in their goodbye messages to Amanda. Judd talks about wanting a cigarette so bad but says he only has 8 left.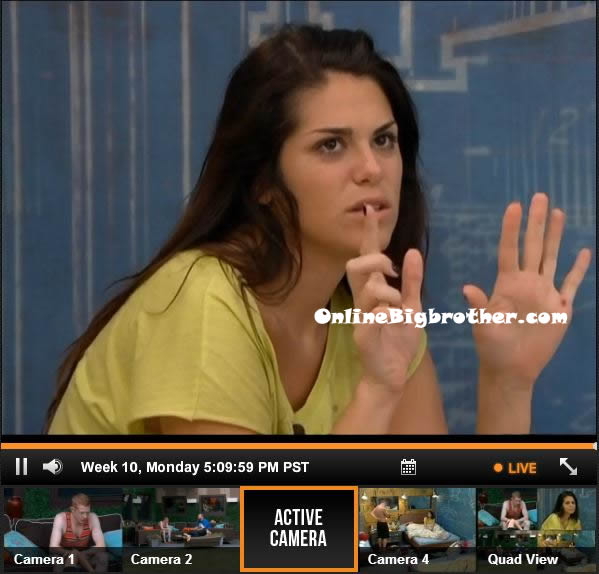 5:10pm – 5:25pm In the bedroom – Amanda tries to convince Judd to vote for her so that they could work together. She says and Ginamarie can't play for HOH. Amanda says people are going to put you up next to Elissa if they win. Judd says I will consider it. I just wish is wasn't against Spencer. Amanda asks why. Judd says because he has the record of being on the block. Amanda asks him to tell her before so she knows if she has a chance or not. Judd says I just don't want to commit to anything yet. Amanda asks Judd you're smart, am I not making sense? Judd says yeah, I just need to talk Spencer. Amanda says you can work with me or you can work against me. Judd says so it will be 3 on 3. Amanda says we could go back to the goof troop. I made a mistake before, I won't do it again. You have a better chance of making it though the double eviction with me. They will try to get you out during a double eviction. Judd says I am a veteran now. I am the only veteran player competing against these newbies. Amanda says let me know soon so I can know too. Amanda says you know I can't win anything, keep me here. From here on out you know it's all about the competitions. Amanda says people associate you with Elissa. Judd says I don't think people thing that. Judd says he will let her know soon and then he leaves. McCrae tells her that she can campaign all she wants but that he isn't going to help her. Amanda says great thanks I have helped you and you won't even help me. McCrae says I can't campaign for you stay because if you leave it will ruin things with Spencer. Amanda says it doesn't matter anyways I am going home.. waiting till Thursday is like waiting to put your dog to sleep. Amanda asks McCrae if he wants to go to Vegas for a week after to spend time together. McCrae says we'll see. Amanda asks do you say that? McCrae says because its a lot of days. Amanda says I just want to go now, I am so uncomfortable here.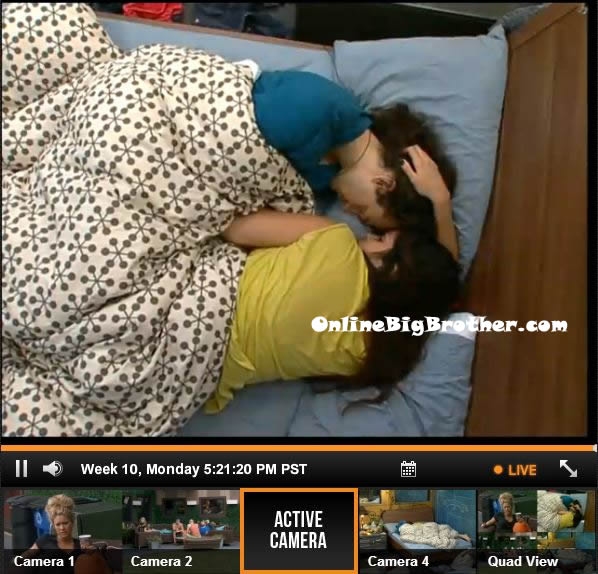 5:30pm – 5:40pm Out on the backyard couch – Gina tells Andy and Spencer that Amanda said she is going to try and walk out with Nick's hat. There is no way she will get out with it, I will murder her! She wouldn't have any chance at taking it anyways because it will be on my wrist with the key. Spencer tells Gina well if she does take it just don't do anything that could get you evicted. Spencer says that's your hat and production will get it back for you. Spencer says season 15 is for the Exterminators. People are tired of seeing the slum bags in bed back there dictating everything.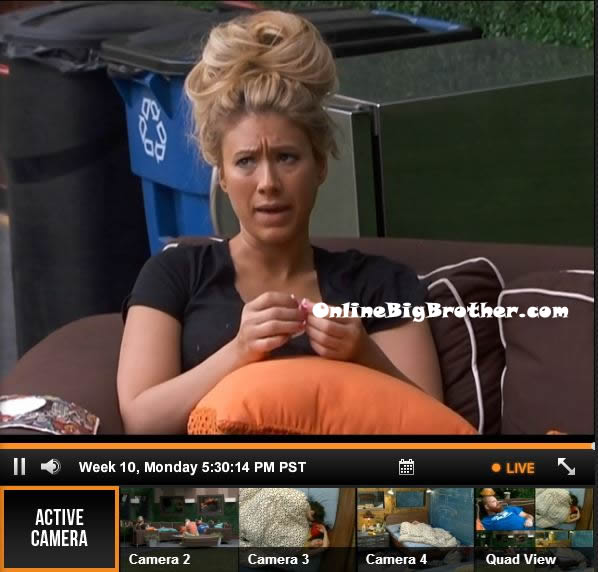 [polldaddy poll=7365431]
Please consider donating. Simon and I work 24/7 all season long to bring you all the live feed updates and spoilers. ANY amount is greatly appreciated, your donations go directly to paying the server and bandwidth fees needed to run this site.
Share it YO!!
Tweet