POV Holder:
AMANDA
Next POV
Aug 31st
POV Used
YES
POV Ceremony
Aug 26th
HOH Winner:
Elissa
Next HOH:
Aug 29th
Original Nominations:
Aaryn and McCrae
Current Nominations:
Aaryn and Andy
Last Evicted Houseguest
David, Nick, Jeremy, Kaitlin, Howard, Candice, Jessie. Helen
Have Nots
1pm – 1:25pm Big Brother ends the HOH lock down. All the house guests leave the HOH room. In the kitchen – Aaryn tells Amanda that there should be a most hated and America's favorite award. Aaryn then says you would get the most hated. Amanda asks do you think people hate me? Andy says I think its polar – there are some that really love you and some that really hate you. Elissa says that she wonders why BB put another camera in the Diary room. Amanda says sometimes they do that. Elissa says she thinks there must be a reason for it. Aaryn leaves the kitchen and sings to herself f**k mom I've been evicted! In the rainbow room Andy is packing. Gina is doing her makeup. Aaryn asks what was your favorite part of last night. Amanda says you and Judd making out. Judd says he was surprised no one made fun of them. Amanda says we did after you left. Aaryn says that Andy said you (Amanda) kept Howard's big black shirt because you wanted to remember his scent. Amanda says no I didn't! Elissa joins them and asks Aaryn if she really made out with Judd. Aaryn says no. Amanda says yes you did and it sounded like this smack smack smack. Andy says yeah we heard it in the rainbow room.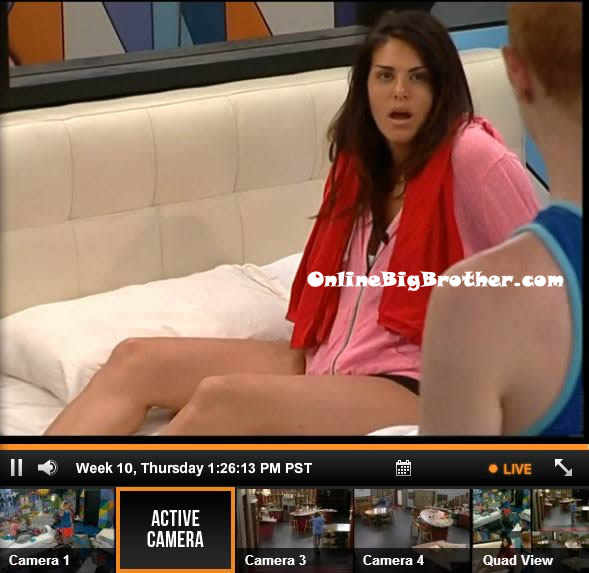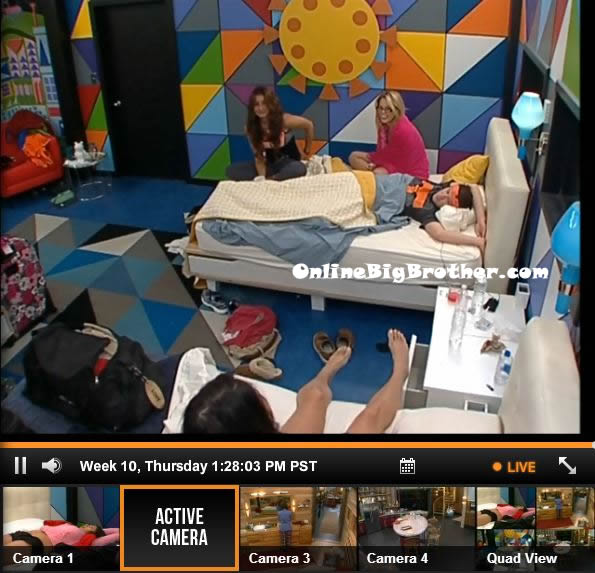 Aaryn leaves the room. She heads into the kitchen. Aaryn says that is one thing I won't miss, captain call out. Andy makes a comment about his speech being about the emancipation proclamation. Aaryn asks what is that? Andy says never mind you wouldn't like it. She asks what is it? Andy says its the speech that Abraham Lincoln gave about freeing the slaves.
Big Brother 15 Live Feeds: FREE 2 DAY TRIAL
1:35pm In the rainbow room – Elissa comment after Amanda leaves that she is being so annoying. She is trying to get Aaryn's jury vote. Aaryn joins them again and tells them that Andy is using the emancipation proclamation in his speech. Judd asks what's that? Aaryn says it's about freeing the slaves. Judd says oh my god. Aaryn talks to Gina. Gina is pissed that Amanda just used Aaryn and then f**ked her in the a$$.
1:45pm – 1:50pm In the other bedroom – Andy says if he gets blindsided he won't want to say goodbye or hug anyone because he will need to run to the back to grab his stuff.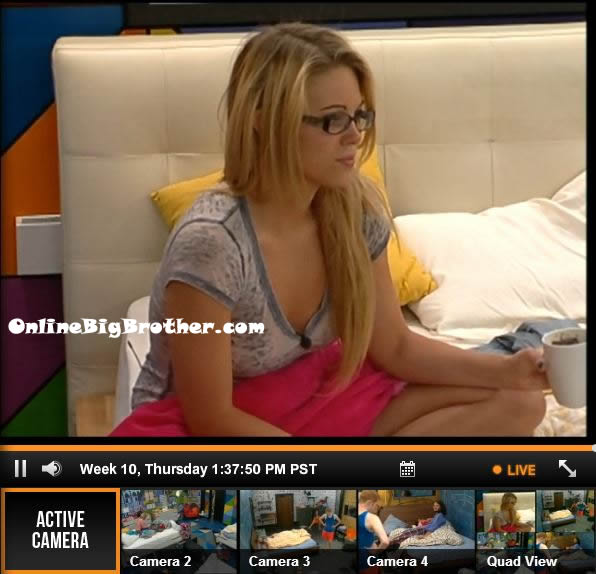 2pm In the rainbow room – Aaryn questions Andy and why he would use the speech about freeing the slaves for his speech when she is on the block. Andy says that is not what you think it is and I didn't even think about that until you quesitoned me about it. I am only really using a small part of it and its really about where I am from. You will see when I say it. Aaryn is still really nervous and says she wishes he would us that while she is on the block. Andy say don't worry about it and leaves the room. Aayrn then talks to Judd about how she has done everything for Amanda and the one time she needs her, she isn't there for her. Aaryn talks about how Amanda and then thought he wasn't very smart. Judd says he knew they thought he was dumb. Aaryn says no not dumb just not as smart at the game as he really is. Aaryn says that they don't want me to got to the final 2 because I got out Helen. And Elissa wants me out to have that under her belt.
2:10pm In the lounge room – Andy and Spencer chat about random things while they eat pizza.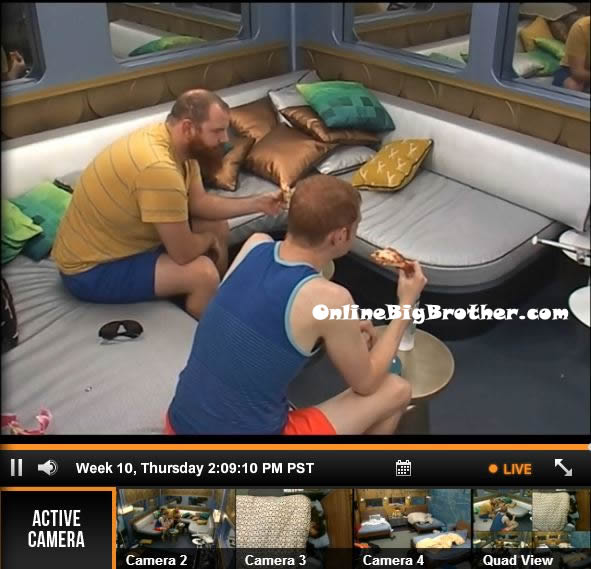 2:40pm All the house guests are lounging around waiting for the live eviction / HOH show tonight. In the living room Elissa shows Ginamarie yoga positions.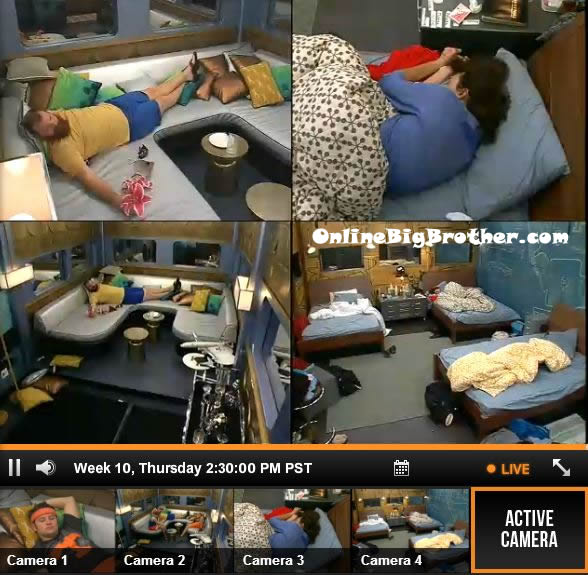 2:45pm Andy jokes if I get voted out, I am not going to jury! Judd and Spencer laugh. They laugh about how it would be funny if people thought he was serious and really did vote him out tonight.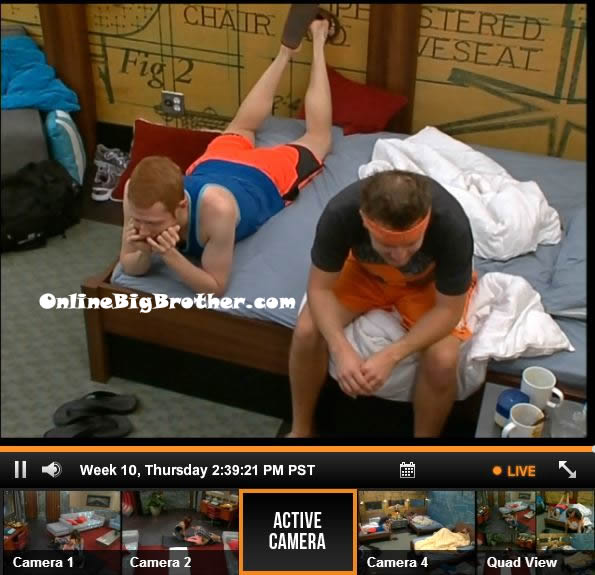 3pm Elissa cuts Andy's hair in the bathroom. Meanwhile in the bedroom the others joke around. Amanda and Aaryn practice her nomination voice. Aaryn jokes that she got f**ked over royally today and isn't voting for any of them in the jury…
3:15pm Big Brother switches the live feeds to the TRIVIA screen for the live show tonight!!
Big Brother 15 Live Feeds: FREE 2 DAY TRIAL