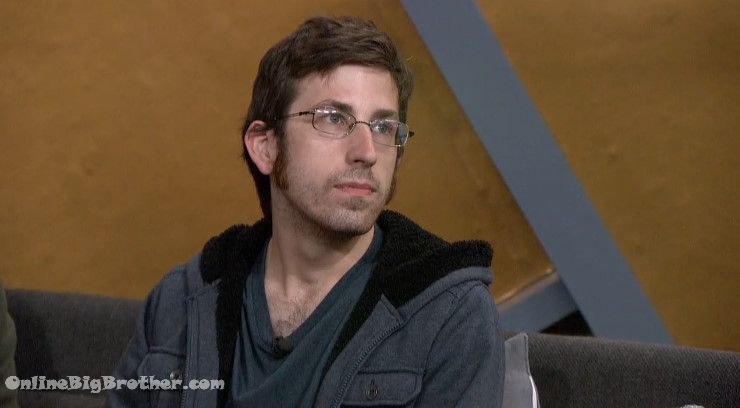 America's Nominations is Scott..
(WOW so our poll was completely wrong this week)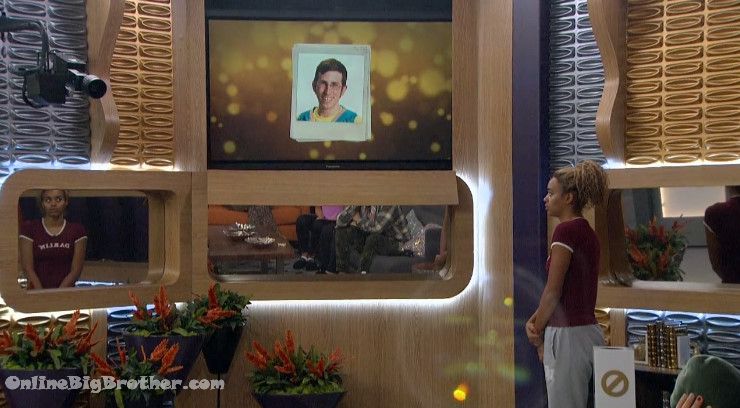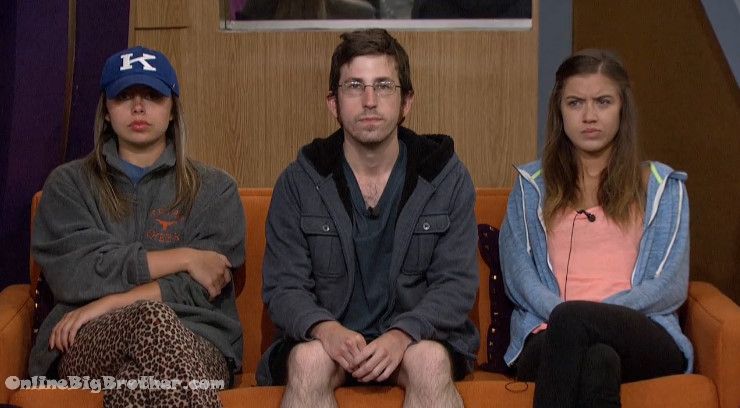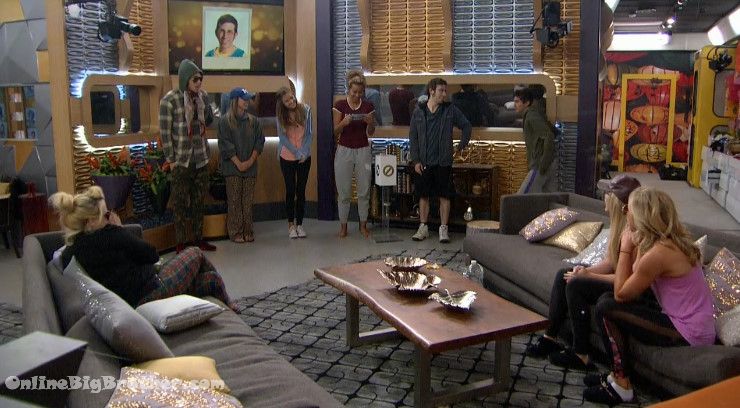 Veto Players
Whitney chooses Justin
Jason
Danielle chooses Morgan
Shelby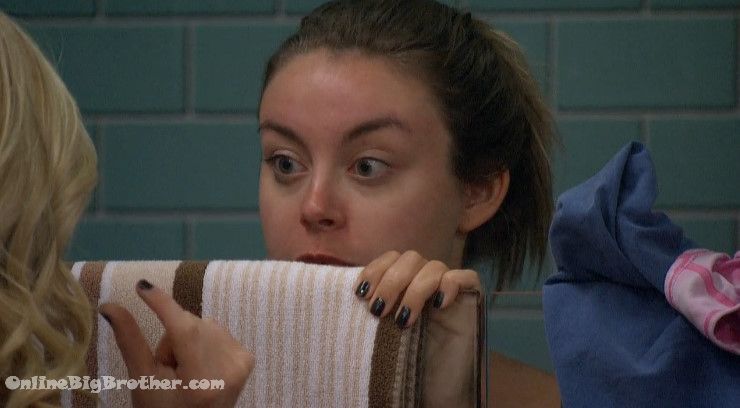 9:45am Morgan and Whitney
Morgan – she just can't have Scott win.. We just have 1 worst case scenario
Morgan – everything is fine as long as they don't pull Scott off.. Jason
Whitney doesn't know what Jason will do
Morgan – it'll be interesting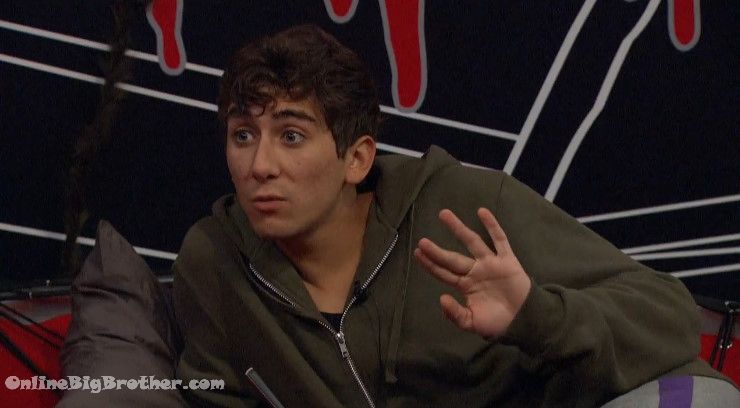 9:54am Have nots Danielle, Kryssie, Justin and Jason
Agreeing to pull Whitney down and put up Morgan.
Jason – this is a ray of sunshine from god.. this is a sign America don't hate us they're helping us and if we don't take the opportunity they will hate us.. (To take Scott out)
Jason is certain America will be voting out Scott.
Jason says if they can't get Morgan out they get Scott out.
Jason – we need to get Whitney wrapped up pull her down and take out one of their smartest players.. Alex can't steer that ship all alone. the cockroaches will scatter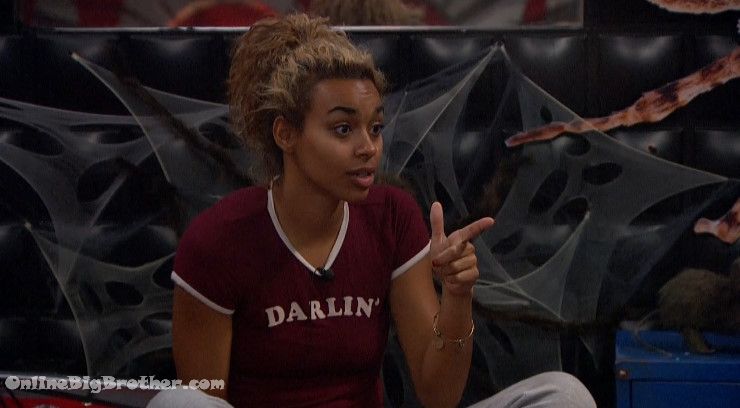 Danielle says they need Whitney or Justin to win the Veto.
Jason will try to win it but if it comes down to Justin and Whitney he'll throw it to them.
Jason says the other side wants to get rid of Whitney because they can't brain wash her 'She doesn't want to be one of their little pets"
(Sounds like Morgan and Scott are targets with Danielle not wanting Scott out but the rest do.)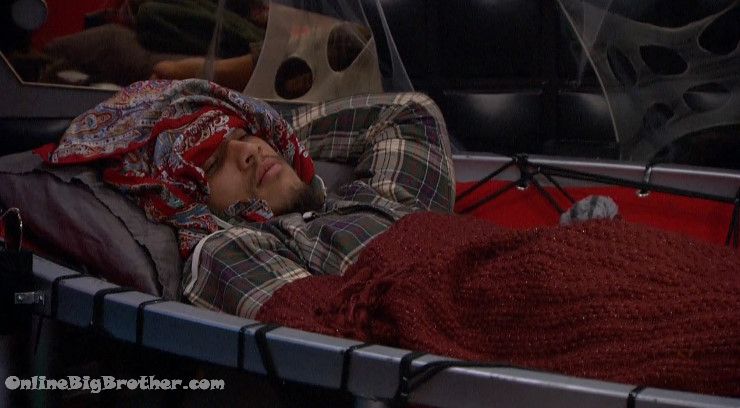 10:02am Have not Justin, Jason and Kryssie
Jason saying Danielle is allied with Scott and Alex he's confirmed it today. this is why she's trying to protect Scott.
Jason says 'the powers to be" want Scott to stay in the game.
Points out how Scott is such a big character in the house.
Kryssie lets out a giant BURP
Jason hopes production isn't trying to convince her it's a bad idea to leave Scott nominated.
Justin – they do that
Jason explains how production can manipulate the players.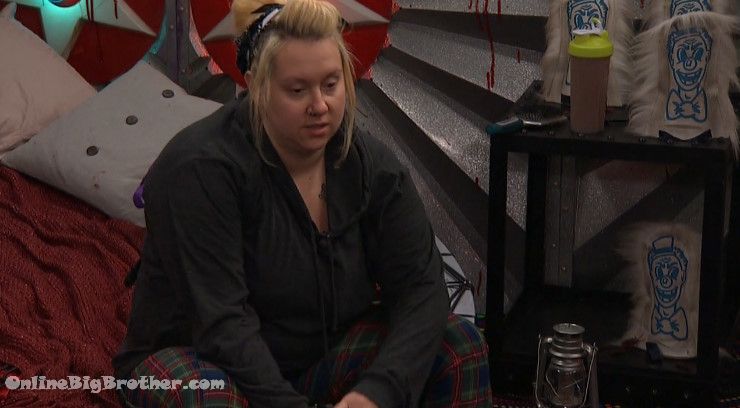 10:10am Jason leaves..
Kryssie says Danielle will stick to the plan because she would rather be with them.
Kryssie says gettign rid of Morgan is just as good for them, "They have both been pieces of sh1t to me in the game"
Kryssie – whatever happens Whitney needs to come down.. I'm kinda pissed I'm not picked to play
Kryssie says they will be locked outside "For a couple hours" they don't know if the comp is inside the house.
10:13am
Scott – it's all good America i'm not mad.. you did me a HUGE favor last week.. If I can get behind that golden door we would all be safe this week
Scott – I got Cocky, what else is new… cocky and confident that things were going our way..
Scott says if Shelby or Whitney win the veto Danielle will put Morgan up, "Alex is safe.. gotta get Alex to the end of this game hopefully she can finish from there"
Watch the BBOTT Live Feeds FREE for 1 WEEK!
Click here for your: FREE Trial!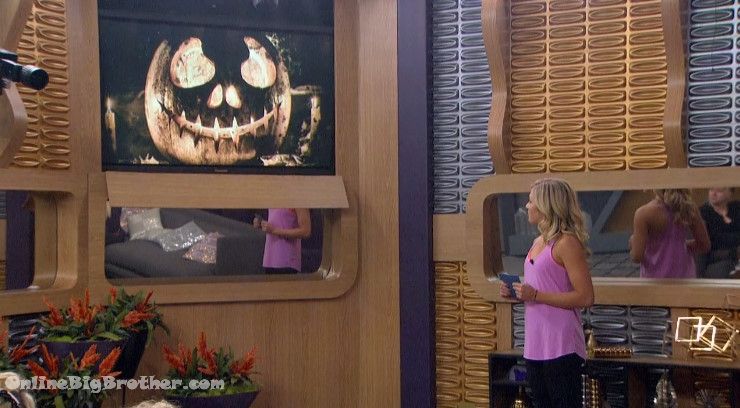 VETO COMP
"The Big Brother house is Haunted"
The houseguests watch a segment explaining to them about a ghost in the house called Clementine. They need to find three objects, A brush, rattle and doll called Abigail
Players not competing wait in the HOH room. Players that are competing wait in the Toga room. Players take turns competing.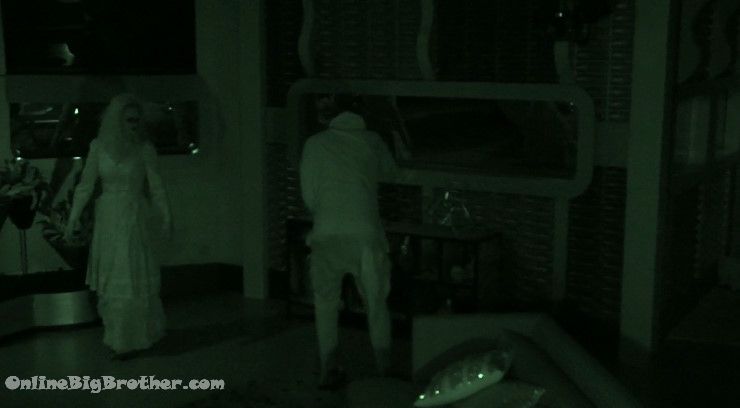 1:34pm Veto Comp underway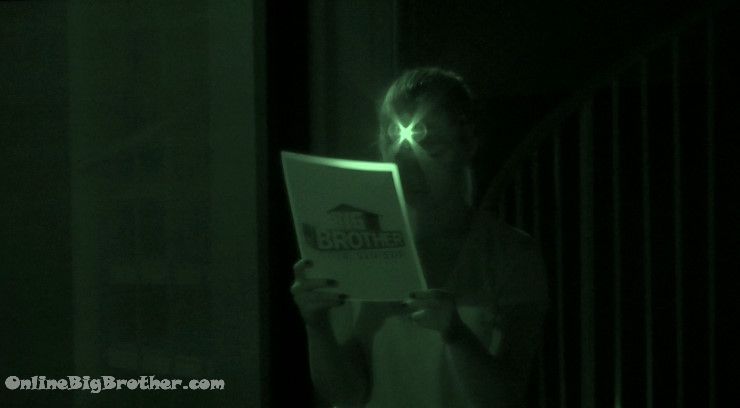 2:19pm
Justin in the lead followed by Scott, Jason and Shelby
Whitney is next up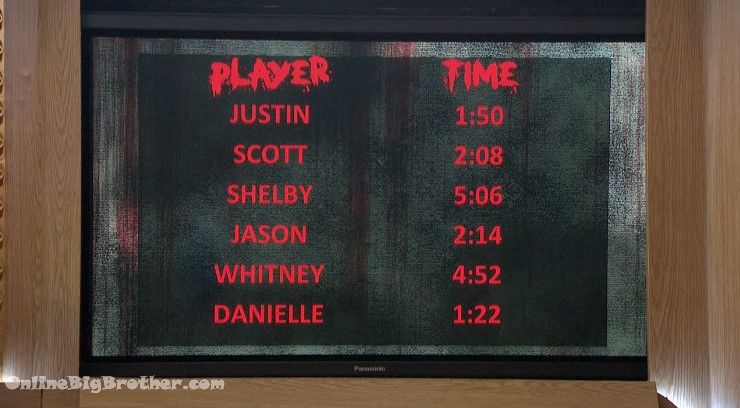 3:05pm Danielle wins the Veto
Justin = 1:50
Scott = 2:08
Shelby = 5:06
Jason = 2:14
Whitney = 4:52
Danielle = 1:22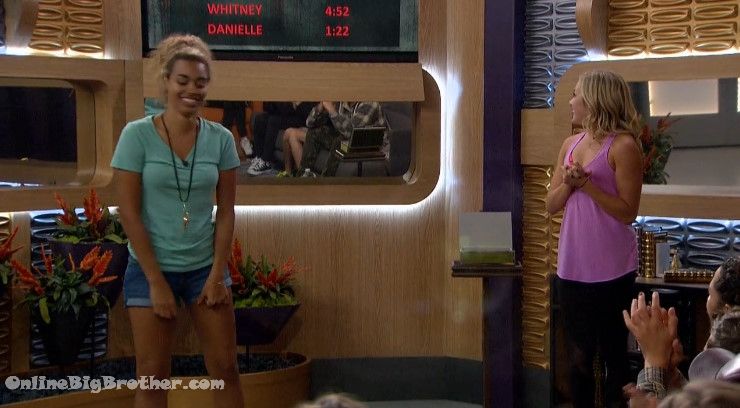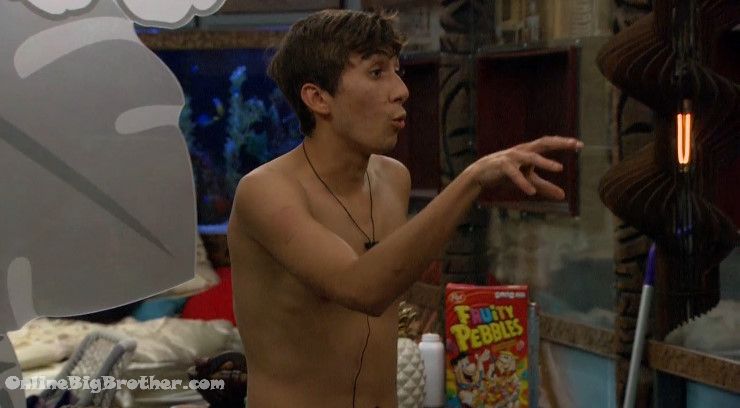 4:25pm HOH Danielle and Jason
Jason trying to talk her into getting SCott out. Suggesting using the veto on Whitney putting up Morgan and voting Scott out.
Jason – Whitney is done with them.. whitney is pissed.. she is now ours..
Jason calls Scott and Alex the king and queen says Danielle is too good of a player to let Scott and Alex pass by. Danielle says Alex never made a deal with her it was just scott.
Jason says the girls are targeting them they want to leave Kryssie because they don't think she's a threat.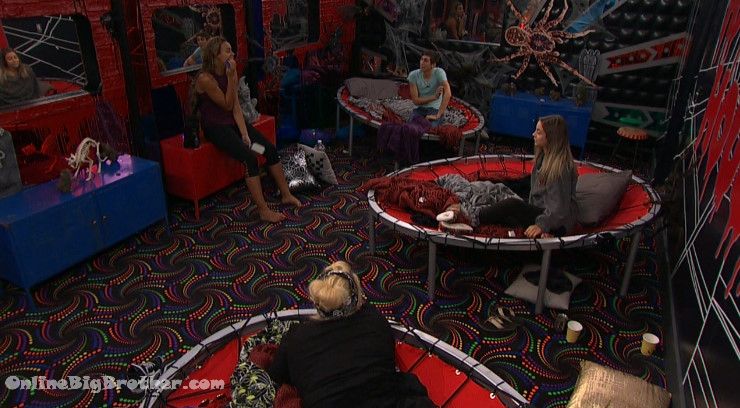 4:53pm Whitney tells Kryssie, Jason and Danielle she'll keep hanging out with the other side and pretend she's dumb.
7:34pm Halloween party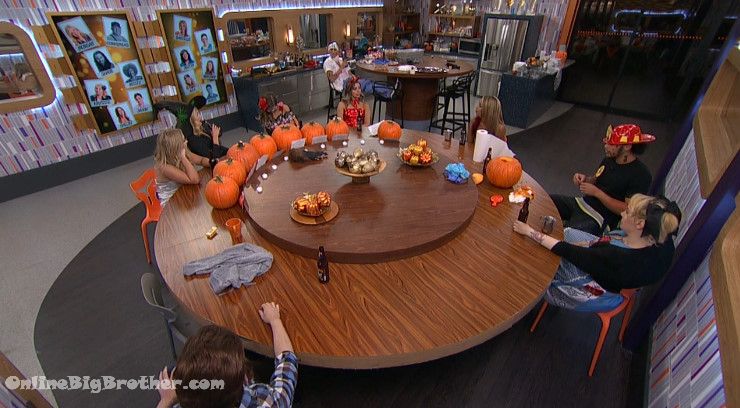 8:44pm Halloween party continues