POV Holder:
McCrae
Next POV
Aug 31st
POV Used
YES
POV Ceremony
Sep 2nd
HOH Winner:
GM
Next HOH:
Sept 5th
Original Nominations:
Amanda and McCrae
Current Nominations:
Amanda/Spencer
Last Evicted Houseguest
Aaryn
Have Nots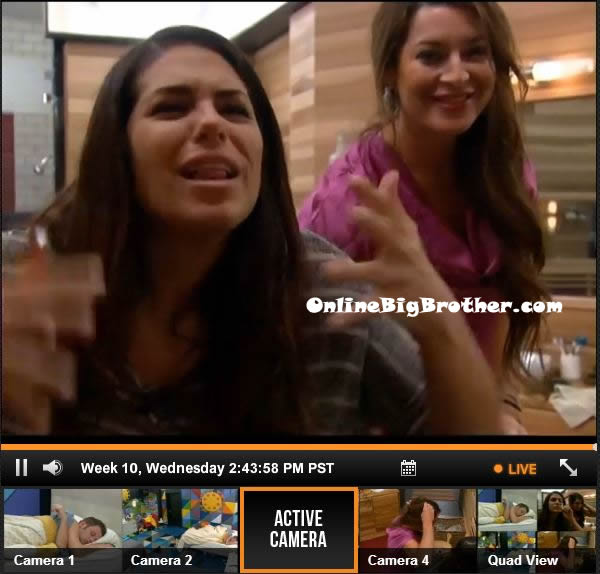 2:40pm – 2:50pm Elissa heads into the rainbow room and tells Judd to wake up. She then leaves and heads into the kitchen. Elissa jokes that all the house guests were up partying all morning even McCrae which is why they're all still sleeping. Amanda calls Elissa to come talk to her in the bathroom. Amanda says that she was basically campaigning to Judd to trying and get his vote making him think that I didn't have the votes. He said that he tried to work with you but that you wouldn't listen to anything he said. She says that Judd said he felt he could work better with Spencer. Amanda says that he thinks he know everything that is happening in this house when he doesn't. Amanda laughs about how amazing and shocking it is going to be when she stays. Amanda says that Gina is going to be blindsided, she's going to malfunction when I stay.
Big Brother 15 Live Feeds FREE TRIAL: FLASHBACK FEATURE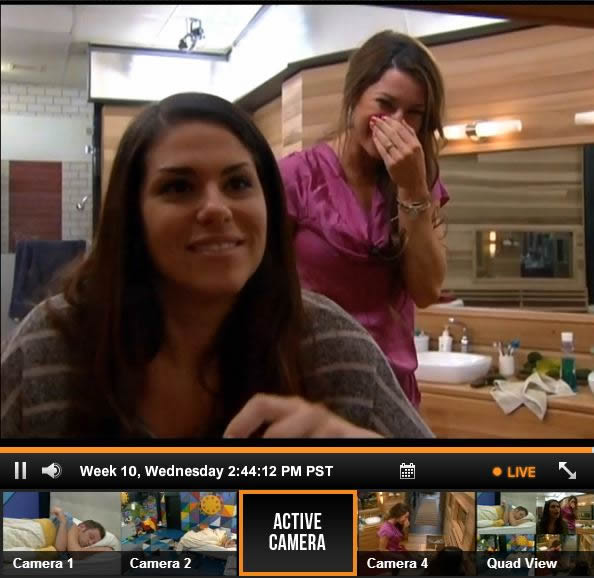 2:50pm – 3pm Amanda says that Ginamarie was in the hammock last night going over all of the dates of things.. Why would you go over all the dates with all of your competitors? Amanda laughs. Elissa says especially since she isn't competing. Well I guess she is in the second one but.. Do you think they will do the days. Amanda says no, unless it was the Before/After competition. Amanda goes to wake up McCrae and tells him she wants to spend time with him because she might not be here tomorrow. She lays down with him and comments on how he stinks so bad. She tells him his arm pits and breath stink. She tells him to give her a kiss but just don't breath. Amanda then goes to make McCrae breakfast. Judd, Spencer and Andy wake up and head to the kitchen.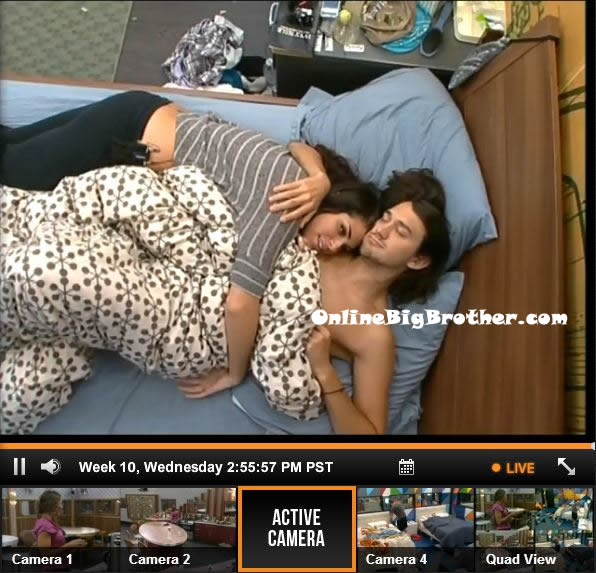 3:15pm Elissa comments that Judd is in a bad mood. She says that he called one of the women in the diary room a bad name. Andy says that when he leaves he jokingly tells person in the diary room to go f**k themselves. Andy says all right I am going back to bed. Elissa asks really? Andy says no I'm joking.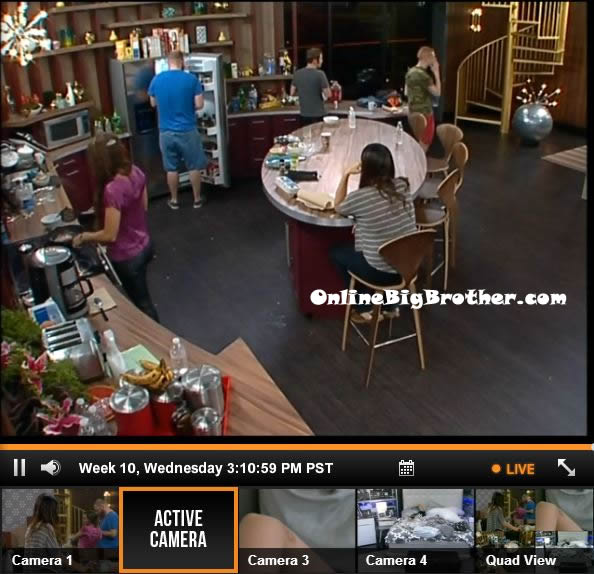 3:30pm Andy asks what do you think they did for Aaryn's birthday in the jury. Amanda says called her a racist. Amanda says that Jessie probably got upset and pissed off because the attention wasn't on her. They laugh about how upset she got for not being picked for the BBQ. Spencer says she is probably like 23, big deal I am 26! Elissa says that Jessie was probably the girl that said she doesn't get along with other girls. Amanda says I normally am but that didn't happen in here did it. Amanda calls Judd that womanizer of the season and then laughs. Judd says no don't call me a womanizer. Judd brings up Jerry calling Memphis a womanizer on BB10. Amanda asks McCrae where he is going. He says to the diary room. He then jokingly says that he wants to see if he can use his Coup d'etat this week.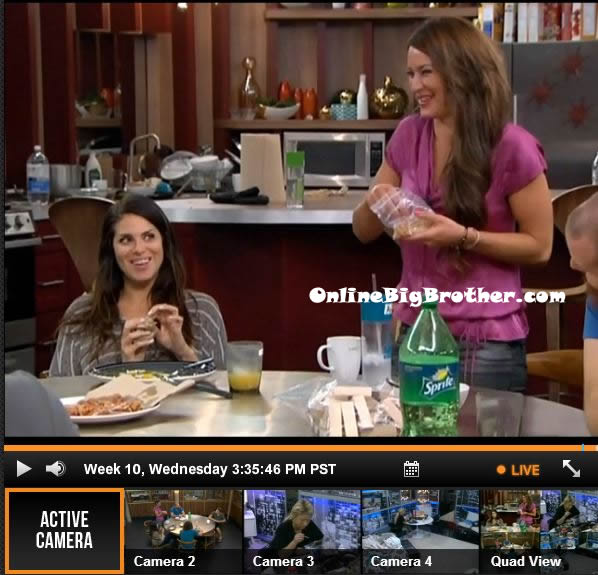 3:40pm – 3:50pm Up in the HOH room – Ginamarie tells Andy that she can't wait for tomorrow to happen so that she can see Amanda's face when she is blindsided. Andy agrees and says he wants this day over. Gina says if I could punch myself in the face to knock myself out I would just so that tomorrow would come faster. Gina says that people that can act like that towards each other and then be that close of friends.. there is something mentally wrong with them. Gina says this will go down in big brother history. Even bigger than getting out Elissa. And we are the ones that are doing it. Spencer joins. Andy says I really hope tomorrow is a double, I want to get them out of here. Spencer says I was really pissed off at Amanda this morning, I almost said something. She woke him up said she might go home tomorrow and then started laughing. He says that she then was yelling in the hall while I was sleeping. They talk about how happy and confident Amanda is acting. Judd joins them.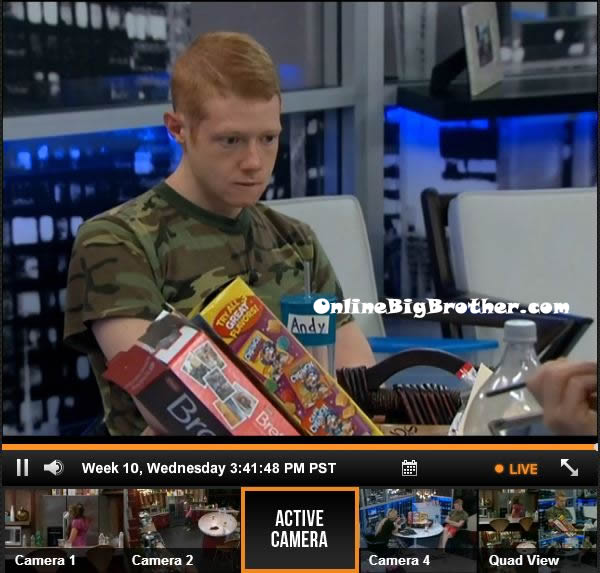 Big Brother 15 Live Feeds: FREE 2 DAY TRIAL
3:50pm – 4:15pm In the bedroom – Andy talks to McCrae about how he has never been so scared about a vote. McCrae agrees and says that he still hasn't told Gina he is voting to keep Amanda. Andy says I think she already knows you will. Andy heads back up to the HOH room. Andy tells them how McCrae trusts me way more than Elissa. Spencer says that tomorrow is going to be the greatest day. Andy worried and wonders if he is edited to be like Kathy from BB12. Judd calls Andy the Wil from last season. Andy says it's getting to the point where I don't even want to be around Elissa. The other agree. Judd tells them that he told Elissa if he won the HOH during the Double Eviction to meet him in the cockpit. He laughs and says he will ask her who he should put up and then put her up. Andy tells them that they need to go to Elissa right before the veto and tell her that McCrae just told them he is voting out Amanda. They say yeah. McCrae tells Elissa that the best part about the double is that you really don't have to worry about anything with us all together. Andy joins them. McCrae, Amanda, Andy and Elissa laugh about how great tomorrow is going to be. Amanda says it will be the most glorious day of my life. Amanda says f**king cockroaches! Amanda says oh my god this is the biggest vote since Nick. They talk about it being a double eviction for sure. They says that last time the got clues like Gina being told she needed to practice the backyard comp and how they HOH lock down was earlier than usual. Amanda says that Ginamarie is going to freak out, she is going to die! Like she is going to malfunction. Elissa asks Amanda about bleaching her a$$hole the other day. Amanda says she used lemon juice, Hydrogen Peroxide and honey. She says it didn't work though.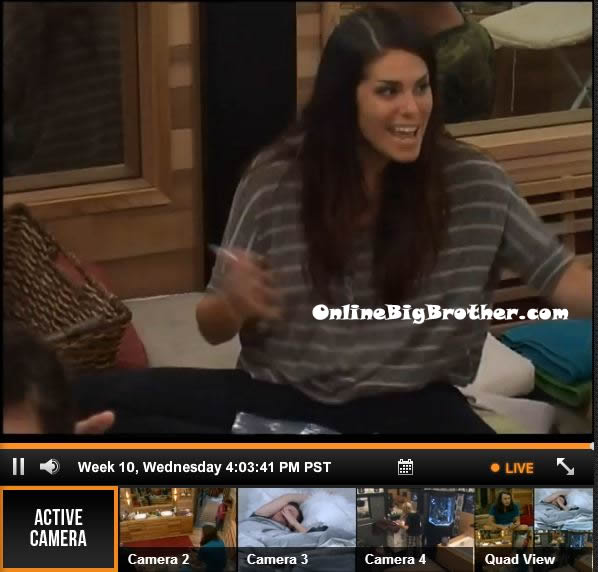 Please consider donating. Simon and I work 24/7 all season long to bring you all the live feed updates and spoilers. ANY amount is greatly appreciated, your donations go directly to paying the server and bandwidth fees needed to run this site.
[polldaddy poll=7365431]
Use the Big Brother Live Feeds to FLASHBACK to SEE what they can't show you on TV:
BB15 N!p Sl!ps / N*des
Share it YO!!
Tweet