HOH: Xavier
SAFE: Christian, Alyssa and Sarah Beth
HAVENOTS: Claire, Kyland, Tiffany
WILDCARD Competition Winner: Tiffany
Nominations: Brent & Britini
Power of Veto Players: Xavier, Brit, Brent, DF, Whitney, Christian
Power of Veto: Christian
Power of Veto Ceremony: Veto Not used The original nominations are locked.
Big Brother 23 Houseguest Rankings – – RANK THE HOUSEGUESTS –
View the previous day ranks on the – Ranking Grid
Big Brother Live Feeds / Paramount + Try it FREE!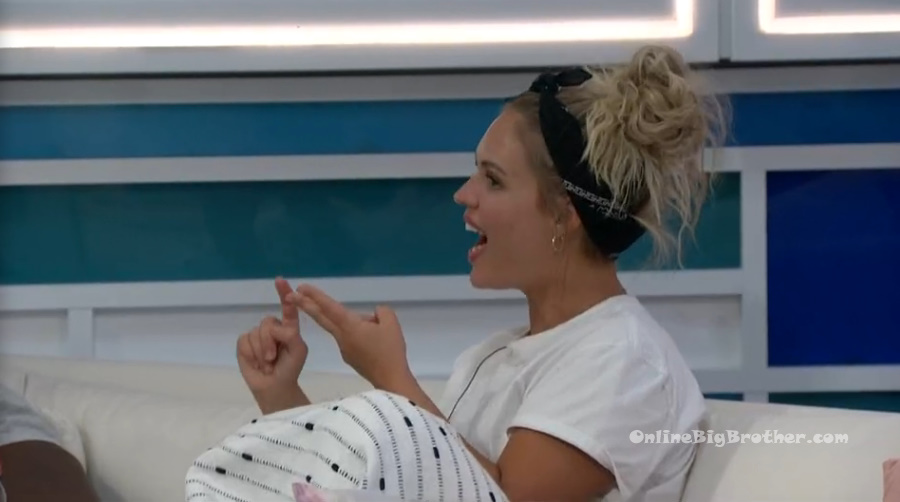 12:10am Living room couch. Xavier and Whitney.
Whitney – I could see Ky (hooking up with someone in the house) but I'm not sure who. Xavier points to Whitney. Whitney – No, he's not my type. Xavier – what the f**k is everyone's type? Whitney – I like to joke that he is really cute because he is very handsome but he's not my type. Xavier – okay wait so in order for you to sleep with someone they have to be your type? Whitney – yeah, I don't just mess around with people. Xavier – you're not just messing around to mess around but we're living in this house together .. you're getting to know him. He's not a bad guy. Whitney – no he's a great guy. I just don't see him like that. Xavier – would you like… Whitney – are you saying the B word (bl*wjob)? Xavier – yeah. Whitney – no way in hell! NO way in hell! Imagining those shorts no longer on that body and what would lay underneath it .. I don't want to say this in a rude way but its repulsing to me. Yeah, no thank you.

12:19am HOH room – Xavier and Alyssa.
Alyssa – we're just kissing.. its not like.. Xavier – yeah, true. Do you feel like he is starting to fall or catch feelings hard. Alyssa shakes her head – no. I want it to continue being.. Xavier – do you like him more than that? Alyssa shakes her head to say no – I mean I've only known him for 3 weeks. Xavier – yeah true, but three weeks here is a lot of condensed time. Its way different than three weeks in the outside world. Alyssa – the age bothers me. Xavier – that he's younger? Alyssa nods her head to say yes. Xavier – but its only like two years. Alyssa – but he acts younger. He still lives with his parents. I am VERY independent. Xavier – I get that. Alyssa – I am just having fun. Xavier – yeah. Which is good. That's what I'm doing with Whitney. Do I see it working out … MmMheh. Alyssa – I don't know, we're going to be here for awhile. Xavier – I can tell you confidently it ain't going no where. Alyssa – Really? Not even for fun? I feel like she would do things for fun. Xavier – I feel like she would but I don't want… Alyssa – like we have a crush on each other but that's it. Xavier – I don't want to even possibly lead her on and two I do know that she is always concerned about what she is doing on the show because she doesn't want any.. that's what she's told me. That she doesn't want to be out here looking.. Alyssa gives Xavier a look – She is very very open about her s*xual life. Xavier – true but being open about your s*xual life and doing things physically are two different things. Alyssa – okay.. Big Brother switches the feeds. Xavier – I think she would be willing to do a little bit more. Alyssa – here is my thing I feel a little big guilty. Xavier – why? Alyssa – because of my ex. Xavier – your ex? Alyssa – yeah we broke up in February and then we've still hung out here and there. Big Brother switches the feeds again.
12:35am Bathroom – Whitney, Brent, Kyland.
Brent – Christian made some remark. He goes do you want to know why the girls think we're dumb? He says because we sent 3 guys home in the first 3 weeks. And I was like WHOA.. There have only been two guys that went home so far.. Kyland – what did he say after that? Brent – nothing. Whitney – oh sh*t! Brent – he basically just gave it away. Whitney – I'm right here you know that right!? Brent – Like he is obviously lying to my face.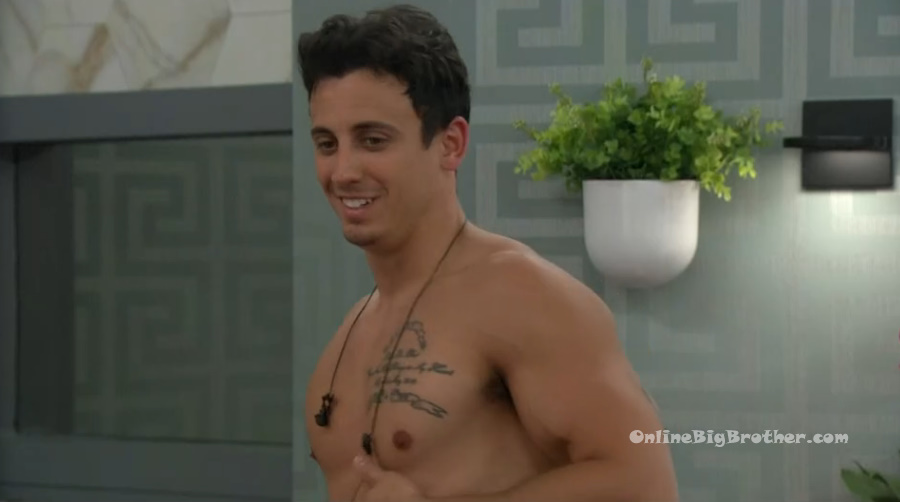 Bathroom. Christian, Hannah and Claire.
Christian – you heard about my f**k up? Hannah – How? Christian – when we're cleaning the bathroom he said these girls must think we're so f**king stupid. Like three guys clean the bathroom we're so dumb. And I f**king said like a dumba$$ .. yeah they probably think they have all the power because the first 3 weeks a guy went home. Hannah – that's okay. Christian – I just .. I feel like a F**king idiot.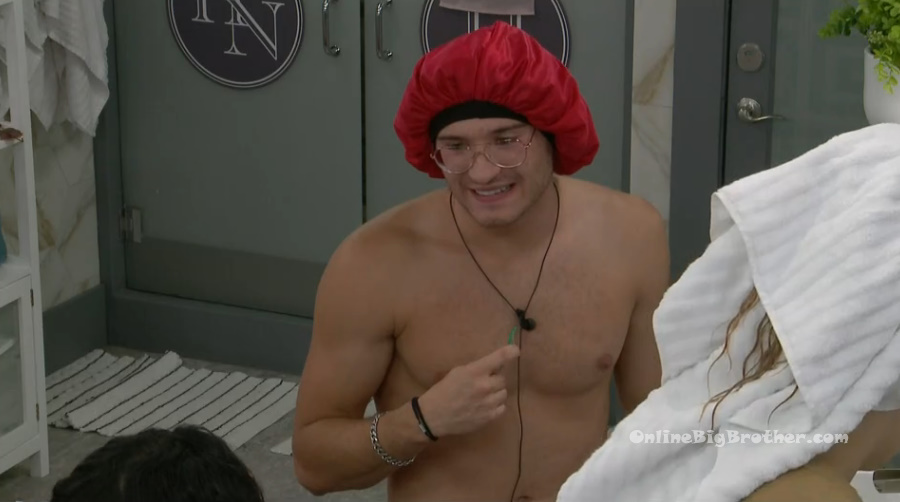 1:40am The house guests are getting ready for bed.
2:33 pm Thursday Updates will resume at 5 pm for the live show and the chaos after.
If you like these spoilers and read this blog regularly please consider a donation to keep the madness going. We accept donations via paypal How to support OBB