Quick Big Brother Spoilers
Head of Household: Monte
Nominees:
POV Players:
POV Winner:
Veto Ceremony:
Havenots: Turner & Jasmine
Lock your ranks in before midnight
Festie Besties:
Turner & Jasmine
Joe & Monte & Terrance
Daniel & Kyle
Brittany & Michael
Alyssa & Indy
Nicole & Taylor
Situation
Monte is going to nominate Indy and Alyssa, Alyssa is the target. If Veto is played Taylor and Nicole go up, Nicole is the target.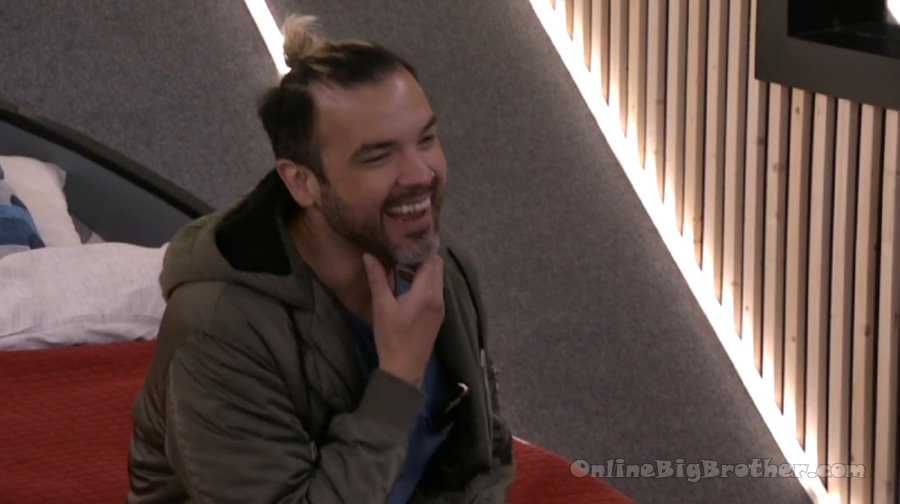 10:52 am Daniel and Monte
Daniel – I'm not mad about what happened.. Everyone is freaking out.. the way I voted ended up on the right side.
Daniel – I understand it has a game move thank god I was on the right side. Uluitmelty whoever goes home it would have been heartbreaking.
Daniel – I'm boys with Turner. I want to be here as long as I can ..
Daniel saying Ameerah leaving wasn't bad for his game "She came in second place in every competition"
Daniel – I'm not saying there's a girl's alliance but they are definitely sticking together.
Daniel claims he just got close to Ameerah last week.
Monte – I got the heads up that the waves were going there the day of.
Monte says Po's Pack was a name but there wasn't much action behind it.
Monte – I'm trying to figure out who is the main target for this week. I think we've had conversations on who that person is for both of us being Taylor. I think I've talked to Nicole and she's talked about how ideally for her she wouldn't want to be put up initially right the whole situation with having to compromise her values on a veto. All that sort of stuff. Which I completely understand. She's fine with a backdoor strategy.. which I'm fine to. This is the cat that has nine lives.
feeds cut.. when we're back.
Monte – Jasmine, and turner that is an option. jasmine has a bum ankle. if they were to go up as pawns I don't know how capable she would be to win veto for herself. I want people who are at least capable. For me that's a hard one to put up
Monte says the other options are Kyle/Daniel or Alyssa/Indy.
Monte is worried indy will freak out if she's on the block but he'll be fine "I'll just lock my door"
Monte – they haven't been on the block before, they haven't played in the veto before. There's some justifications to put them up.
Daniel – I think it's obviously a biased opinion putting two tall males up there.. If they do win veto I think they would keep us up there just to level the numbers
Monte – Yup
Daniel – I think me and Kyle are decent with everyone. The idea of two 6 foot 3 men.. why would a girl use the veto?
Daniel – With Indy and Alyssa I'm decent.
Daniel says Indy "bosses" him around. 'She told Nicole in the golf room. 'GO tell them they should all go to bed'. Nicole came and told us. You can tell her my mom lives in Ontario California not in the BB house.
Daniel says he's seen Indy talk about people the wrong way he's seen her "rub" people the wrong way.
Daniel – she'll talk hardcore sh1t (About Taylor)
Daniel says Alyssa is easy to hang out with and is liked by everyone. He's sure Indy will be evicted if Alyssa and Indy stay on the block.
Monte – I think the same thing they Align. I don't want to see you or Kyle go home
Monte – I'm thinking that is the ideal option putting up Indy and Alyssa
Monte – I don't know what I'll say to Indy to make her calm.. you have any suggestions?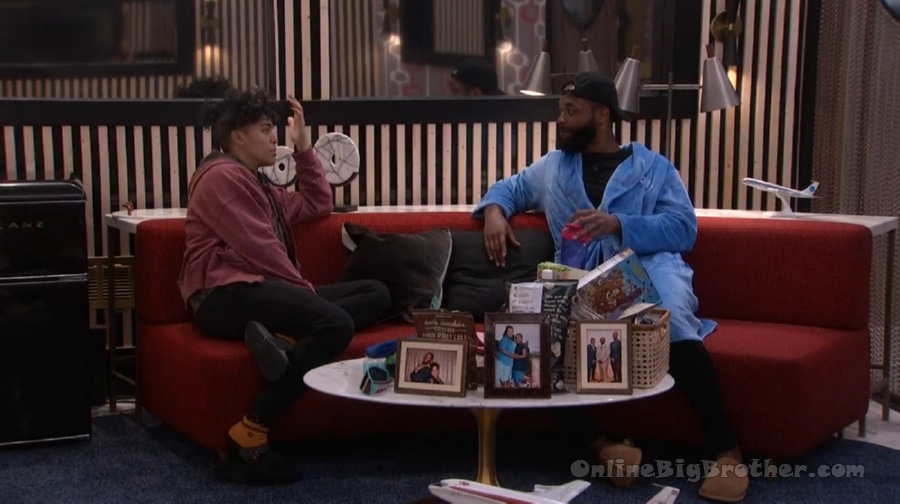 11:15 am Nicole and Monte
Nicole – HI… I'm so tired..
Monte – what are you thinking
Nicole – I want to make sure you and I are ok as far as trust is concerned. I know whatever happened yesterday had to be done for you to advance your game. Going forward I want to be able to work with you to further that for both of us to be able to move forward. (LOL WTF)
Nicole – I haven't spoken to Taylor at all that is because we are not friends in this game. We are partners.
Nicole – there was a lot of things Ameerah doing.. I mean some of her behaviours were a little excessive.
Nicole says when she went into the Po's Pack she didn't have much else going on.
Nicole – I got your back.. I fully believe that I could've saved you then.. if she was in power I don't know if I would be able to save you now because now she has been vocal to me that you are one of her targets.. Taylor (WTF)
Monte explains how he told Daniel he doesn't want to put Kyle and Daniel to go up as pawns. He adds that risking losing Kyle wouldn't be good for the remnants of Po's Pack.
Nicole – Terrance staying in this game is HUGE in my books and now that he's teamed up with you and joe he's protected.
Nicole – I woke up this morning happy with the conversations I had last night that is where I'm at. I would be beneficial to your game. I know that.. all I can say is let me prove to you that you can trust me. Whatever happened to Ameerah was Ameerah's doing to herself and not my influence.
Nicole says Ameerah was the puppet master of everything that went on, "Kuddos to her I fell for it"
Nicole – she did get cocky
Monte – that last week Terrance what parlaying he was talking to everybody..
Nicole – I know I'm the mom of the house and I get motherly but like.. I just don't see any gain in speaking that way. (Ameerah'sagressive way of talking to people)
Monte says early in the game he had a conversation with Ameerah where they talked about having a strong black women and a strong black man make it to the final 2. That conversation got back to him.
Monte – I'm not a priority in the hierarchy of her relationships.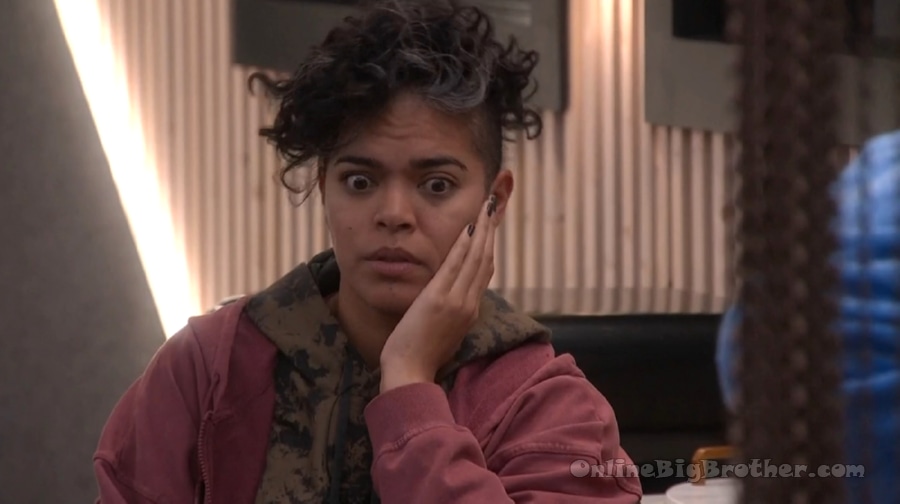 Monte – The plan could be Indy and Alyssa get put up right, I think Daniel is fine with that because he doesn't want to get put up with Kyle and I don't want either of them up. For some odd reason if you and Taylor win the veto through some miraculous event and the veto is not use and Alyssa and Indy are still on the block what are your thoughts on that? I want to get some perspective.
Nicole – who would come after you
Monte – I can tell Indy has a little crush on me so I don't think she would. I don't think Alyssa would but at the same time I have no confirmation
Nicole says the decision between Alyssa and INdy comes down to Alyssa she has an alliance with but doesn't trust and has loose lips. Indy who she has a spiritual conneciton with but they don't talk on a game level plus Indy doesn't trust Nicole.
Monte says his preference this week is to backdoor Taylor, "I know she's after me" (this is a lie)
Nicole – Honestly you guys made the right choice (with getting out Ameerah) and just excited to play this game going forward
They hug.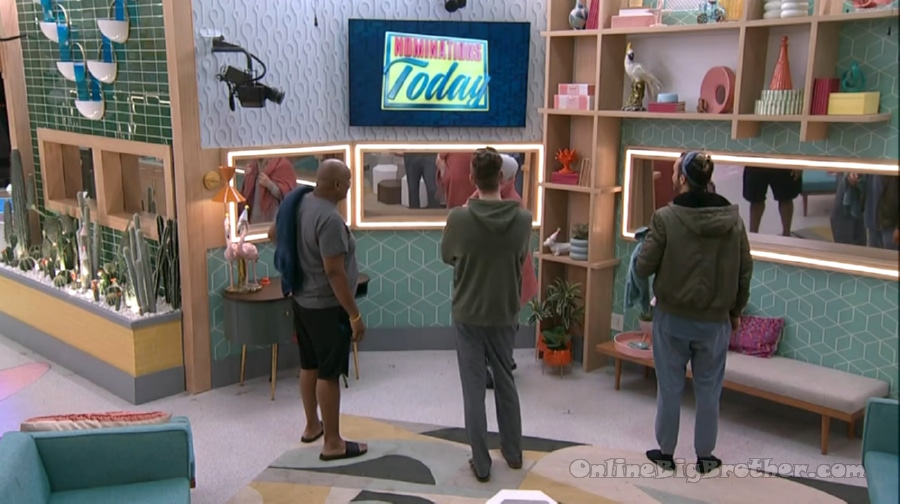 11:24 am Nominations today

11:41 am Alyssa and Monte
Monte – it's not going to be an easy week
Monte goes through his reasons to not put Nicole and Taylor up. Nicole doesn't want to throw the veto, Taylor might win the veto
Alyssa understands his Logic.
Alyssa – I can see who your real target is this week I respect you and trust you I want to salvage what we have even though our trust was never broken. I want to be able to work together what's left of whatever
Monte – Po's Posse
Alyssa – whatever people are saying Po's Pals like what? (HAHAH)
Monte says if she and Indy are on the block he thinks she has the votes to stay
Feeds block
When we're back Monte is telling her Michael and Brittney are not good options Micahel has been up already 3 times, it's his birthday this week and they shouldn't depend on him to win every veto. Monte says jasmine and Turner aren't fair because Jasmine isn't 100% with her ankle. "And they're both have nots this week"
Taylor and Nicole are his backdoor option.
Monte – for me of course I don't want Kyle on the block worst case I don't know where votes will lie. I think he would be safe.
monte says again if Alyssa and indy are on the block at the end of the week Worst case scnario he's at least good that Alyssa will stay.
Alyssa – I understand I can see the logic. You don't have a lot of options.
11:50 am Indy and MOnte
Monte says the word in the house is that Taylor is wanting to backdoor him. So he wants to get her before she gets him (A lie)
Monte goes through the pairs giving the reasons why he doesn't want to pick Kyle/Daniel, Jasmine/Turner, Nicole/Taylor, Brittany/Michael
Monte added that he wants to keep Kyle in the game as a shield. "That leaves you and Alyssa. I don't think either of you have been on the block You've played in a veto and have shown yourself a strong veto player"
Indy – I understand… I know you have to do what you have to do but I would never do that to you. Even if I know you and JOE are the strongest. you guys are my people. Alyssa is my fest bestie it's a different thing.. it's a different position. I would never do that to you but that's my heart.. you are my person. I understand everything you brought up I respect.. I wouldn't take the risk losing you. You and Joe are the people I want at the end..
Monte – the majority of the house is saying that this might be the best option for me. I don't want to go and have any surprises. If I put you guys up I make it very clear you are not my targets.
Indy mentions how Monte and Joe never told her they were voting Ameerah out. On a personal level knowing that would have let her say goodbye to Ameerah "Properly" and help her gather up her stuff.

They hug it out. "I love you bye"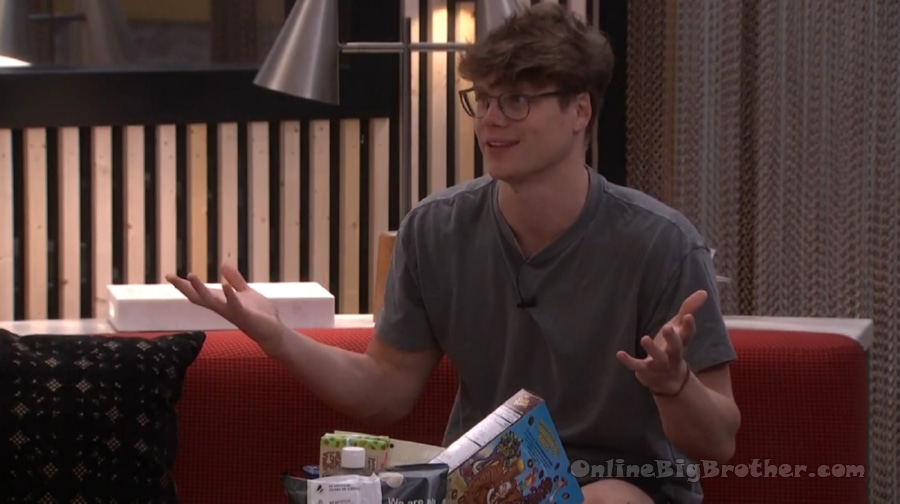 12:06 pm Kyle and MOnte
Monte – you know the deal. Indy and Alyssa. Alyssa took it pretty well. Indy is playing the emotional card saying I would never do that to you
Kyle – there are two threats competition wise and that is daniel and Nicole. The second biggest threat to our alliance is the social threat where they can point out we have four remaining members of the OASIS we have Michael and Brittany and then we have Taylor.. I'm just thinking easy week we get someone out.. 7 Is a big alliance in Big Brother. The number 7 is going to feel pretty anxious pretty soon they the remaining six who is going to have the influence over maybe Taylor or Michael or a Brittany or a turner? Bring them over and flip it.. be like you are on the bottom of that 7 come over to our side.
motne – that's a good point
Kyle – Nicole and daniel will not be able to recruit Taylor, they can't recruit Michael and Brittnay they are not threatening that aspect.
Kyle – Jasmine same thing.. Indy the same thing. The only one I'm thinking long-term that has that social influence that could .. she's a super fan she knows the game. she knows there are 7 people.. and it's Alyssa.. that's what I have been running thorugh. Indy is the easy option but she possesses no threat competition-wise or socially
Monte – 100% it would make a lot more sense to get Alyssa out.
Monte – Nicole to me is more of a comp beast than we think she is.
Monte – she is the one that is strong-arming meetings
Monte points out that Alyssa is still head over heels with Kyle and she called what she had with kyle a showmance
they laugh
Kyle -that is what I am worried about
Monte says when there's pillow talk between Kyle and Nicole he's certain it only goes one way
kyle – yeah I'm not getting drunk spilling the beans and ruining everyone's game.
Monte – we gotta see how this week plays out and how they act throughout the week if Alyssa is presenting herself as more of a target and more of a threat by coming in here when we're having conversations and trying to eavesdrop or by organizing the other side of the house and she seems to be the ring leader of it than we got to get her a$$ out.
Monte – Nicole will strong-arm meetings and use Ameerah tactics to control meetings.
Kyle – my day ones are you and Michael.
Monte – even Joe saud that she (Alyssa) was talking to him 'yeah I didn't know about this alliance Ameerah was part of and I'm really pissed we got to figure out who in it'
Kyle – NOOOOOOOOO
Monte – Joe is sitting here thinking WOW I would have believed you
Kyle says the turning point of their Po's Pack was when he walked into Monte talking to Ameerah and Nicole in the storage room. They wouldn't listen to Monte reasons about getting the pooch out.
Kyle – they were forcing it down our throats that wasn't an alliance that was a dictatorship you need to chill
Monte – we were taking orders..now we're putting out orders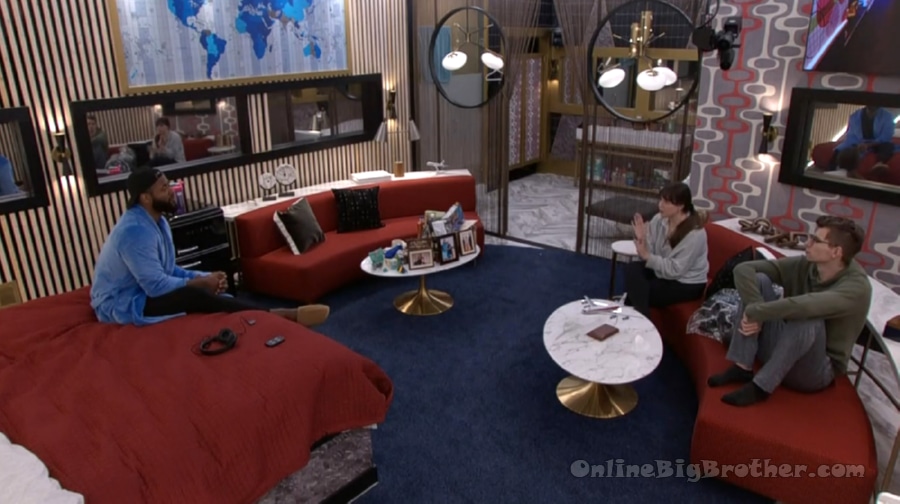 12:20 pm Monte, Michael and Brittany
Monte – we'll need to meet and decide on Alyssa or Nicole.
Monte says Daniel is a lower priority. He points out that Nicole has hidden competition skills, "He has the ability to strong-arm meetings and she may be the glue between Daniel and the rest of the girls"
Brittany says when Ameerah left "the last directive she told the girls was don't tell Nicole anything it goes straight to Daniel"
Britt – Nicole is a strong personly she is stepping right into the Ameerah roll
Michael – I don't want Taylor to go up this week I don't want her to feel like we're using her. that's my fear of her flipping.
Michael – personally I feel that daniel is the biggest threat on the other side of the house. I feel like the odds of Taylor going to the other side with Daniel there is much much lower.
britt – that is very true
Monte – if Nicole or Alyssa is out it weakens her case with wanting to work with this girl's alliance.
Britt – what makes the girl's side cliquish is their numbers.
Monte says if Alyssa and Indy stay on the block they have to get rid of Alyssa. She is way more of a threat over Indy. Even though Indy rubs people the wrong way.
Monte – Alyssa or Nicole either one of them I would feel good about going this week
Monte shares the story about Alyssa lying about being in the Po's Pack even though she was one of the original members, "that's how good she it. And she is very likable"
Monte – we have to see how they move this week if anyone is causing any disturbances to our alliances.. If Alyssa comes in here and breaks up our conversations that might be enough reason to get them out of here. (Yikes)
Monte recognizes that the information Alyssa leaked to Kyle is the reason they formed the leftovers in the first place.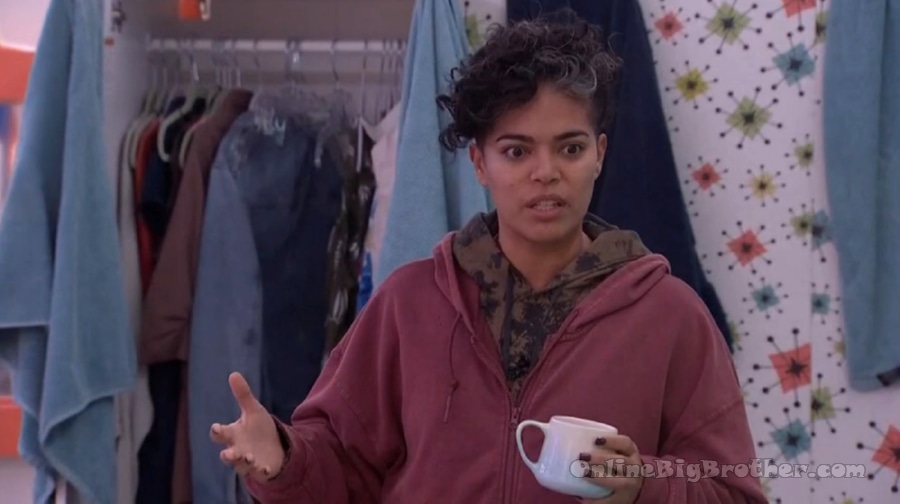 12:19 pm Nicole, Indy, Alyssa and Jasmine
Nicole is confirming that there was no girl's alliance. She had a long talk with Monte and was clear that there wasn't. Indy and jasmine both confirm there was no girl's alliance.
Nicole says she was closest to Ameerah out of all the women in the house
Nicole – knowing that Ameerah went home like that scare me. If Is it up there next to Taylor it is possible I go home instead of her
jasmone – why though
Nicole – why would Ameerah get sent home? If I'm so good and cool with everybody .. Ameerah was all good and cool with everybody. I place second in the HOH competition yesterday I should have won but I didn't. Now … f*** what if I get picked for the veto? I don't know what she's offering them.
Nicole – I don't know what she is saying bout you or me
Jasmine – she can't say nothing about me she don't know me (She is Taylor)
Jasmine – I don't talk to her so she can't say shit about me
Nicole – that's what I'm saying.
Jasmine – She should be the last person with her name in my mouth I'm sorry I'm trying I'm really trying here but she should be the last person with my name in her mouth.
Nicole – heres my thing going forward I am still protecting this right here.
Indy – If Monte puts us up me and Alyssa and you play for the veto and you get the veto you going to take us off.
Nicole – no. the plan is for me not to win the veto.
Jasmine – wait ..
Nicole – If I get picked for the veto I'll have to throw it. I'm going to have to.
Nicole – I need to lose the veto so one of yo can win it and they can replace them with me (LOL she's full-on cracked I love it)
Jasmine – are you okay with losing
Nicole laughs and jokes around with them.
Nicole leaves.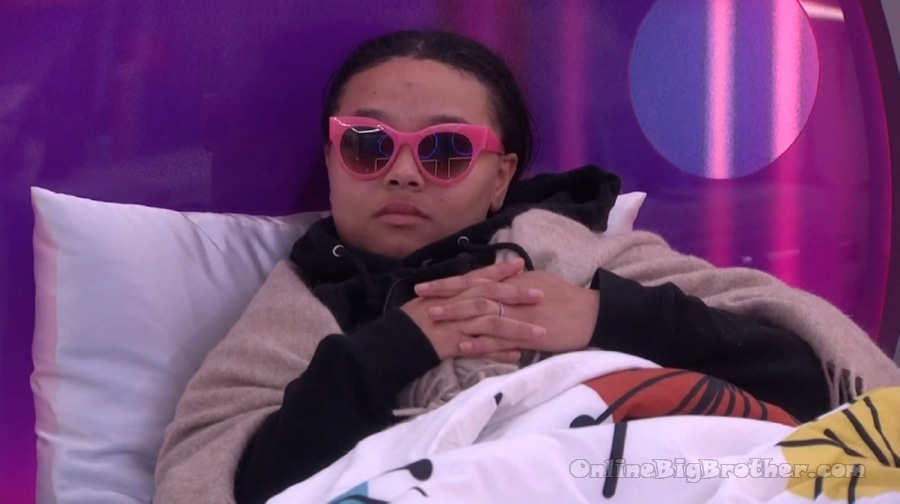 12:30 pm the girl's side.
ALyssa – she's lying.
Jasmine – when we get out of here I'm going to tell her you should take a communication class about body language because you suck (LOL)
Alyssa says when Monte asked her to throw the HOH so they can get Taylor out she said "I will never do that.. she's lying"
jasmine – I don't trust her I'm sorry. I'm done with her she is this whole reason all this sh1t came to be. She went to Terrance and told Terrance everything Terrance wanted to ask people which made everything BLOW up. I don't trust her I'm sorry If I get eth opportunity to get her outta this f***ing house bet your bottom dollar she's next.
Alyssa – I don't like her I don't trust her and I want nothing to do with her
Alyssa – We have to get off this block there's no other option we can't trust that they will we can only trust us.. I'm going to f***ing do it Whatever this competition is I hope they don't f***ing play F**** them
Alyssa – I feel stupid but at least we're not the backdoor option
Indy laughs
Alyssa – could be worse.
jasmine to indy – I hate to be a burden.. that fried rice (slop) you were talking about ..
Alyssa – fry up some slop
jasmine – I'll go out there I at least want to see it done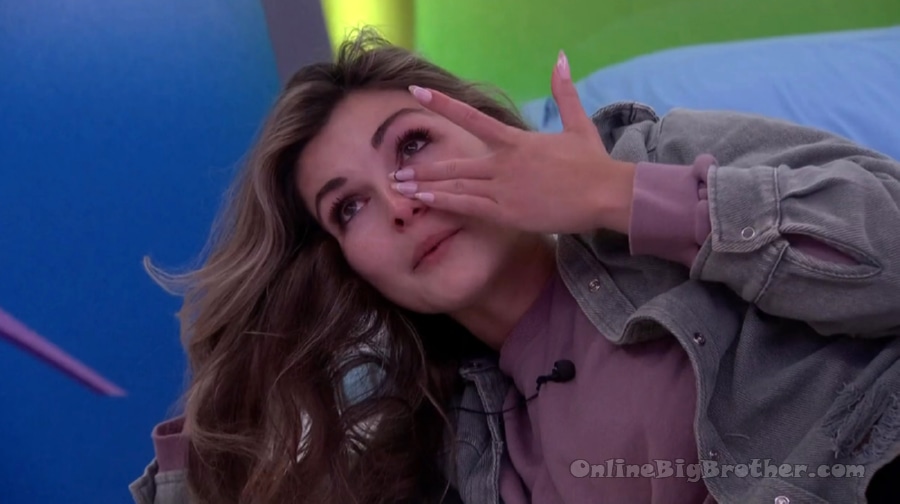 12:45 pm Alyssa and Kyle
Alyssa cries she's going up but isn't the target.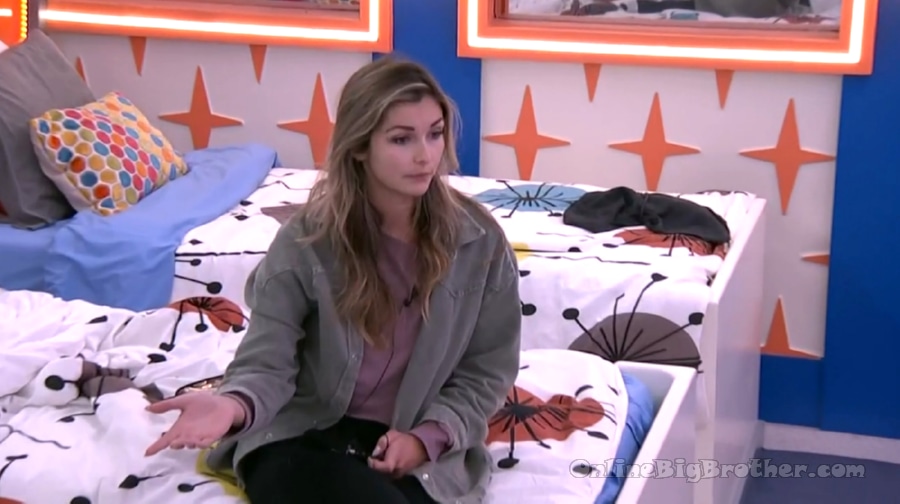 1:05 pm Alyssa and Jasmine
Alyssa is telling her about hte Pos pack
Alyssa – I never had talked to Monte. (During Po's Pack glory days)
Alyssa – I never talked game with Kyle I just assumed he had my back based on what we discussed. Me and Turner never talk game.
Jasmine says she has Alyssa back.
Jasmine – if it comes down to it I'm not voting you out.. I love Indy to death I want her to stay in this game but if it comes down to that I'm not voting you out. That's not going to happen. I don't give a shit what the house says I'm not doing it.
Jasmine – if you end up staying who do you go with
Alyssa – Kyle and Daniel
Jasmine – cause they're stronger.. Might be good to be in their group for the intel
Alyssa – I want Taylor, Nicole and Daniel out. I guess I don't trust Monte now. I never talked game with Monte I just assumed ..
jasmine – you can't assume in this gam that you are safe
Alyssa – NOPE and I feel like I made a huge mistake and am the worst player
1:20 pm
Body Building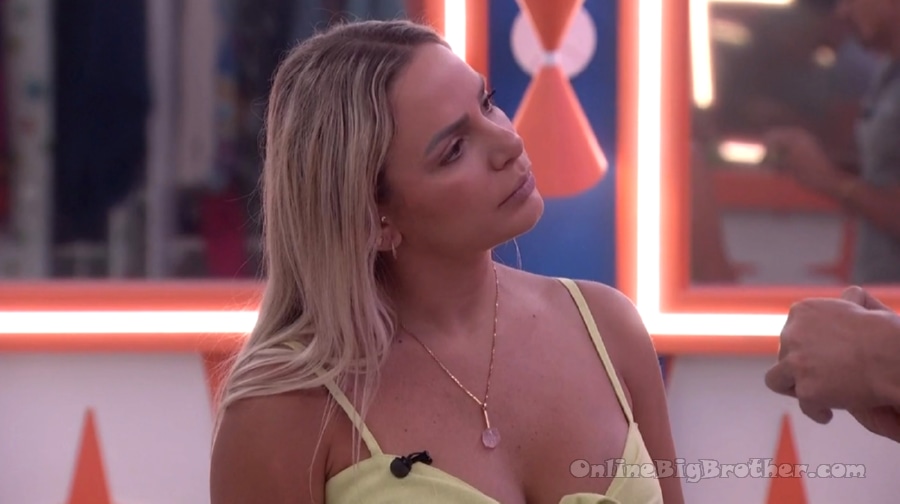 1:35 pm Indy and Joe
Indy says she's going up, "I would never have done that to you guys.. NEVER "
Joe – I will do everything I can to make you stay.. if you go up don't give up
Indy – I understand i'm not the strongest like Kyle or knowing the game that Nicole is doing
Joe says Indy has the cleanest heart and that is the most important to me.
Indy – I was cheering for him yesterday
Indy – If it's me and Alyssa on the bloc I won't be fighting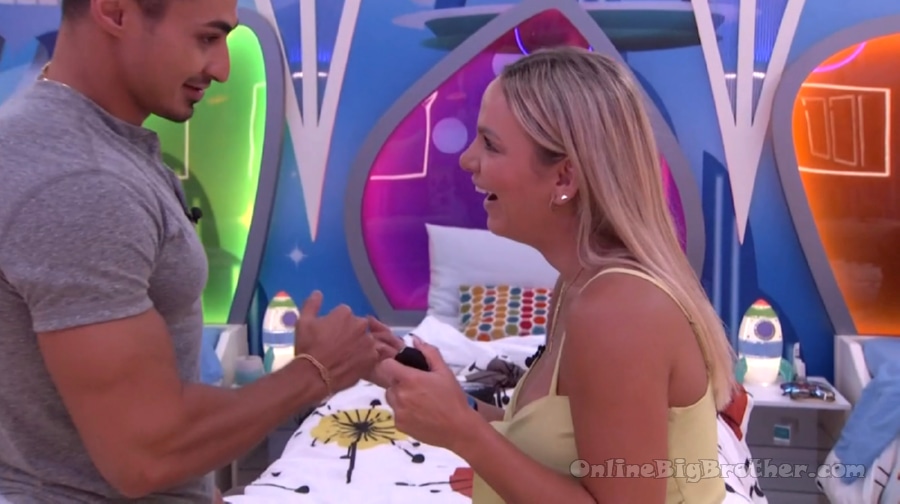 Indy – whatever he wants I respect.. and I hope he gives me a beer after putting me on the block..
Joe- Keep this energy and give me you finger you won't go anywhere (They lock pinkies)
indy – just tell that f***er you will give her a beer a full one
Joe – you and me both.
2:04 pm
Daniel and Nicole
Daniel – for some reason Alyssa is pissed at me
Nicole – she's not
Nicole says she's trying to make the girls understand that they're on Ameerah's side
Daniel – I was crushing on her.. yeah. I would loved to have her around a little it more
Nicole says the guys are trying to figure out if Daniel knew about Po's Pack
Nicole says Taylor and Monte are horrible liars.
Daniel – absolutley terrible
Nicole – Like do they not know? Ohh I guess they don't know..
Daniel – I'm an actor.. so I like..
Nicole – for me like.. Hello that's what I did for a living
Daniel – I lie for a livign too
Nicole – Right
Daniel – I portray the most iconic man of all time (LOL)
Nicole- I got a glimpse of the real Monte this morning which was very nice. He's now letting his Gaurd down so i baited him a little bit and I don't think he relizes that he took the bait in regards to Ameerah so now I'm going kinda play that card and do what he wants because he's HOH.
Daniel – a best case he does put up Alyssa and Indy you guys get picked for Veto you win it.
Daniel tells her that Terrance has been lying to them.
Nicole – he told me everything last night. he told me he lied to you because he didn't want us caught in the crossfire
Daniel – I don't believe that for one minute he's securing the vote he's playing the game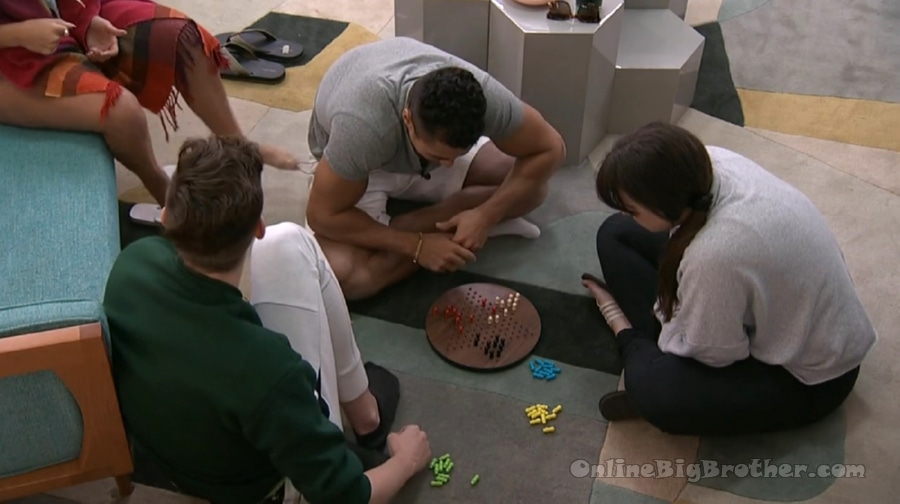 2:40 pm Chinese checkers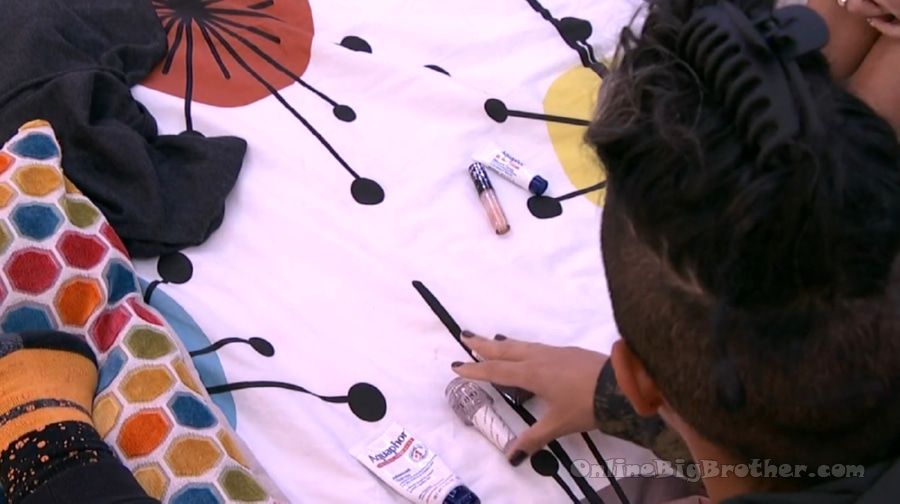 2:44 pm Indy and Nicole
Nicole is explaining if they want to take out a pair they don't want they should nominate Terrance, Monte, and Joe. This means they have 3 people in the veto fighting it. once Veto is played they can put up their real target.
Indy – that is what they are doing to me right now. To get someone out they are putting me up
Nicole – correct so we're going to put them up to get someone out.
Nicole – you are not going home this week
Indy I don't know.. I hate when my bed is messy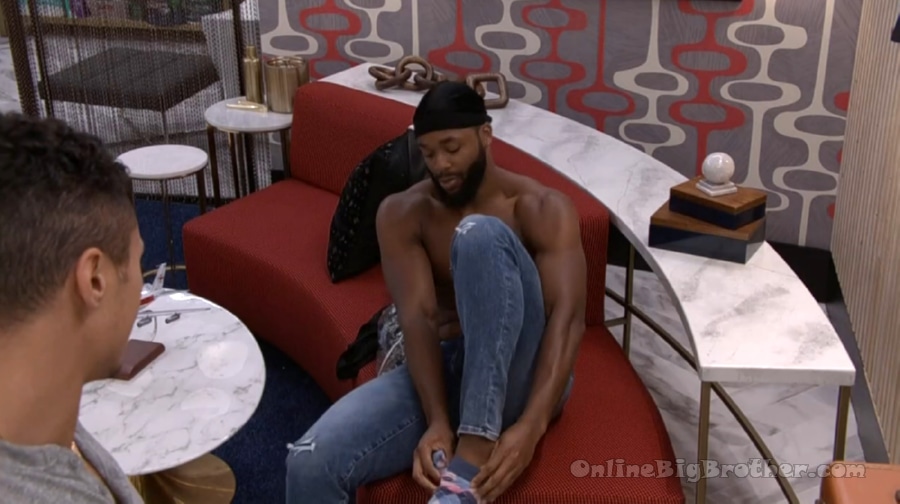 3:00 pm Monte and Joe
Joe – who is going up?
Monte – Alyssa and Indy are going up. I caught Alyssa in a very obvious situation. where she told me something that I only told Daniel and Nicole.
3:10 pm Pound puppies
4:30 pm No feeds..