| | | | |
| --- | --- | --- | --- |
| POV: | Kaycee | Next POV: | Aug 25th |
| POV Used | ? | POV Ceremony | Aug 27th |
| HOH: | ANGELA | Next HOH: | Aug 30th |
| Noms: | Fes & Haleigh | Have Not | ? |
Big Brother Spoilers Fes' goose is cooked.. Now all we need is Scottie to win the battle back.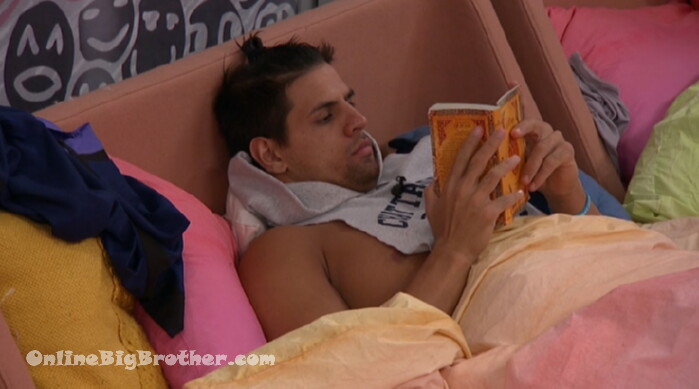 12:18am Fes alone reading his religious book.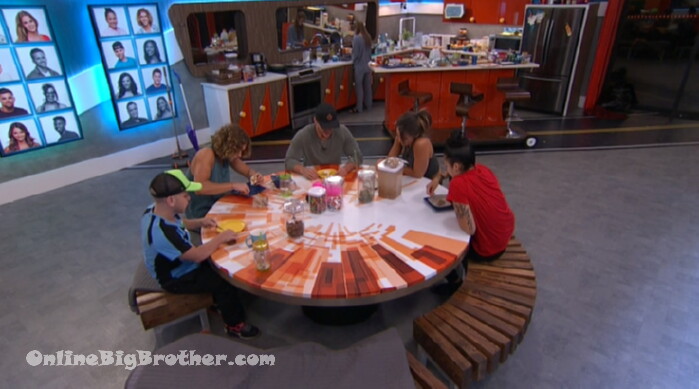 12:24am The HIVE is kaput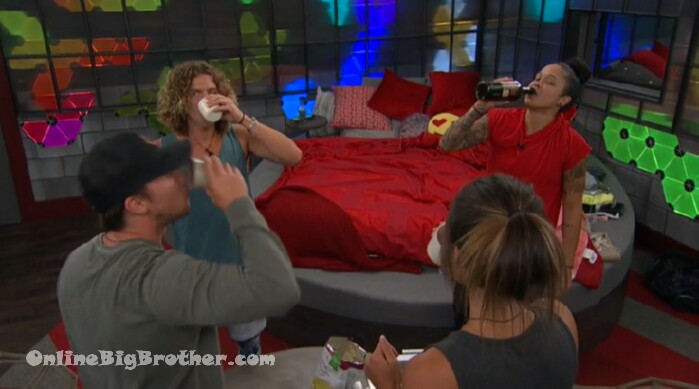 12:35am Level 6 celebrates..
They joke that Kaitlyn is probably tweeting that she knows who is going to win because of her spirits.
Tyler and BRett say they were up in the HOH for 6 and a half hours. they were the only ones on POP TV.
BRett – we weren't wearing shirts.. gave them a show.. gave the people what they wanted..
TYler and BRett leave to get food.. KAycee and Angela think they are good in all angles.
A – this week could not have work out better.
Angela points out that this couldn't have workout out better.. you both play the same sport, you're a female beating the male..
A – he'll never be able to live that down.. he lost to a girl in his own sport.. I love us.. we're the best
K – WE are.. since day f*ing one..
KAycee – oh my gosh with one point..
Kaycee points out that they must be the most successful Big Brother alliance in history.
Angela laughs that Fes goes home the week after his HOH after telling us all we're safe, "I can't wait until Fes walks into the jury house"
Kaycee points out that the entire jury is the other side
Angela – they hate me..
Kaycee we are going to be final; 4 I can feel it I am so confident it'll be us in final 4
Angela – shows what loyalty does..
KAycee – we keep our mouth shut..
Angela – I don't think other ever was an alliance where someone doesn't flip or freak out or something
Kaycee – we were solid
(Psttt.. not all level 6 made it)
They agree it's sad that HAleigh is all alone.
Angela – she knows she's next..
Angela says haleigh put herself in this spot so you can't be too sad.
Anela – did you ever think Tyler has the pwoer app.. whenever he talks about veto..
Kaycee – I feel he would have told us
Angela – sometimes it's better not knowing..
Brett and Tyler are back.. they start chit chatting about weather or not their parents are watching the live feeds.
Brett says his mom probably isn't but his dad might be.
Brett mentions how his aunt told his mom about the show because apparently she had watched it before." it's all lying cheating and f*ing.. they do everything on that show.. my mom was like please don't do that on television"
They start talking about 40 year old virgin and the feeds flip
Level 6 celebration #BB20 pic.twitter.com/y7LabPFKdB

— OnlineBigBrother.com (@bigbspoilers) August 26, 2018
12:35am Fes tells JC he's not going to even campaign, "They're going to send me homw" . JC tells him he has Sam and his vote who else could he get? JC tells him that the two girsl Angela and KAycee have Tyler on their side.
JC says Tyler, Angela and Kaycee have a top 3 deal.  JC points out there might be a battle back.
Fes says if ROCKS hadn't given Tyler the answer on OTEV POV Tyler would have gone home that week and during Fes HOH either Angela or Kaycee would have gone.
FEs – I wouldn't' have sent Scottie home because Scottie wouldn't have flipped. I wouldn't have been as sketch out with Scottie yet..
JC – it's a game not the end of the world
JC says that he was recommending  to FEs at the time to put Brett and Kaycee up
Fes – woulda coulda shoulda
JC – Rockstar really fucked it up.. 1 think affects the whole game.
JC thinks he's the target next week, "I made it top 7 or top 6"
FEs – I wish I would have won that veto.. I wanted to win a veto while on the block that would have been a good feeling.
JC thinks if the game keeps going this way it'll be Tyler and Angela final 2.
Fes asks him who he would put up if he won HO next week, "I'm probably going home"
JC doesn't know who he would put up but he would try and break up the alliance in the house
FEs – where do you think Brett fits in all that
JC – I think they just like him … that's why they've been giving him their votes.
FEs – I'm not mad at the game I'm mad at the comp.. I should have won that comp .. I should have scored 40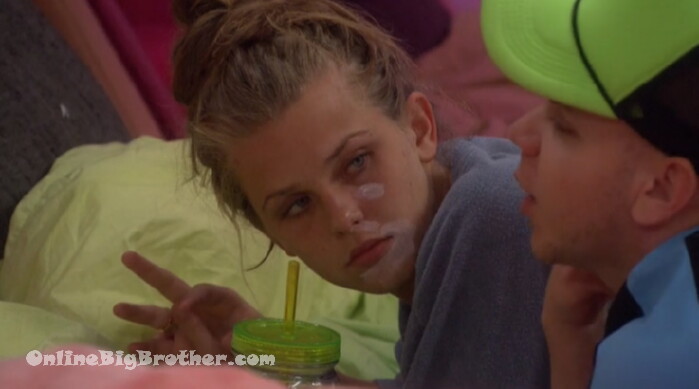 Halegh joins them
Fes is blaming their predicament on Rockstar again saying if she hadn't given Tyler the POV he would have never sent Scottie home.
Fes says he's ready to go home now he doesn't want to go to jury, "I don't want to sit in jury for 20 days'
H – think of it as a vacation.. STOP we don't know you are leaving
FEs – one of us is.. I would rather be the one that goes anyways
H – don't say that ever again
JC – you never really know what will happen
FES brings up his veto performance – I don't drop balls I DON'T Drop balls..
JC tells Haleigh if she makes top 2 he'll campaign for her in the jury house.
Haleigh – all four of them are working together you me and Sam are the odd man out
Haleigh asks if Tyler is going to sleep in the HOH all week. JC thinks he will says he told him that after he's done being a have not he's moving in up there.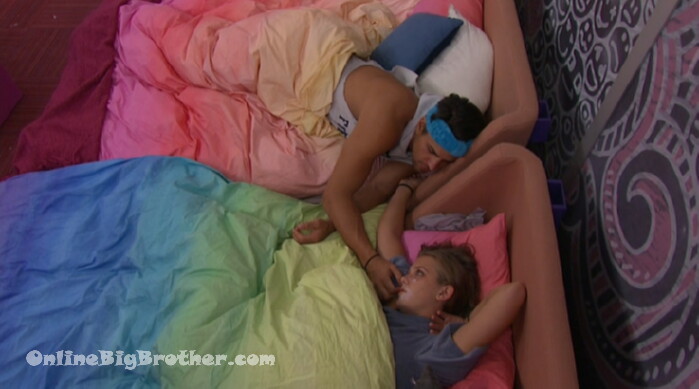 1:15am FEs and Haleigh 
FEs – I just want to continue the fun after this.
Fes says he hopes it's him that goes this week so she's stuck in here with all this Bullsh1t
H – Fes.. if you leave I'm coming right after you.. Just like Scottie said they'll take you out because they want to isolate me
H – I won't survive in this game long without you
Fes – I should not have gotten Scottie out.. I just thought he was getting so close to you he would pull you away from me and attack me
H – you being serious
Fes –  I thought he was going to put me up because he was getting close to you and further away from me
H – What..
Fes – I told you that
H – you told me you didn't want him around because he was flippy votes and being sketchy
fes – yeah that too but also the closer he got to you the further from me .. that should be a red flag..
H – you thought he was going to take me away from you that's what you just said
Fes – no take yo out.. Calm down haleigh we're on the block
H – don't remind me
Fes – I threw the veto so that you would stay
H – shut up.. don't say that..
H – I can't believe Kaycee did that good
Fes – I can't believe I did that bad..
Haleigh says she's never bitten her nails this bad before. The last time she would was in high school
Fes – I can't believe she beat me..
H – once I saw the comp I was like Fes already won.. before I started playing.
Haleigh – lets go to bed
FEs – maybe we'll wake up and not be on the block
H – if you go and I stay and Cody hosts the next veto I'm flirting with him
1:49 Level 6 + JC
Joking around..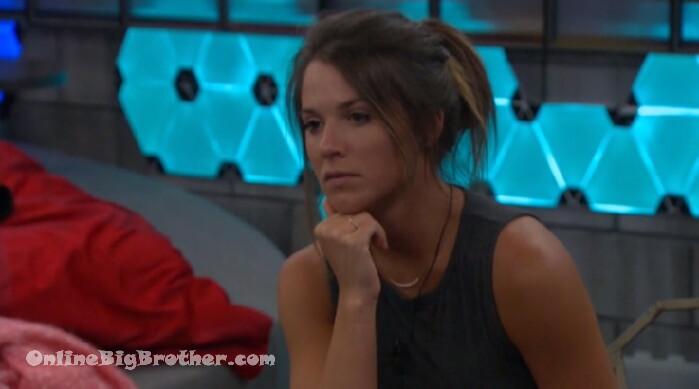 2:02am Brett and Angela
They're watching Sam in the kitchen on the HOH Spy camera.
Brett says Sam was telling him that she quit smoking she gave production all of her cigarettes. she was on the patch but if gave her nightmares.
Brett – she was pissing me off during the HOH comp..
Angela – fes is the one person that has pissed KAycee off from day one.. She's like he's f*ing in considerate..
Brett agrees that Fes is.
Angela says Fes is probably going home but she doesn't want to be too confident.
Brett says unless there's a twist they have 3 solid votes.
Angela mentions how Fes leaving over Haleigh is so much better for them because Fes and JC and Sam whereas halegih has nobody.
Brett – I still think Haleigh's objective is Sam goes and Sam's is Haleigh goes
Angela – bring sup her conversation this morning with Haleigh and how well it went.
Brett says he's in the Sam boat as Kaycee he's had it with FES' arrogance.
Angela mentions that Fes took out his own teammate
Brett says If SCottie finds out she took out Fes that might be a jury vote for her.
Angela – I'm not sold on the battle back
Brett thinks they shouldn't play the game anticipating twists.
Angela says she can't wait to work out ."I feel disgusting with myself"
Brett also feels rotund saying he's been eating a lot of cookies.
They're curious if Fes will start campaigning tomorrow..
A – do you think he'll throw Haleigh under the bus
Brett – he'll pull Halegih in and over KAycee ad final 3.. just like him and baylegih did with JC.. And Scottie..
A – they tried to pitch something to me and Tyler.. we're sitting there like OK..
Brett – We won't target you if you don't target us
Angela mentions that Fes told her "I'm in power right now and I'm coming to you "
Angela – are you joking.. you are at the bottom of the power totem poll
Angela explains that Fes and Haleigh coming to her and Tyler to make a deal for the next week when only Haleigh can play in the HOH is a losing proposition.
Brett – I'm just going to keep the fans happy with me GBM (NICE)
Brett stresses how he's the most hated person in the Jury house.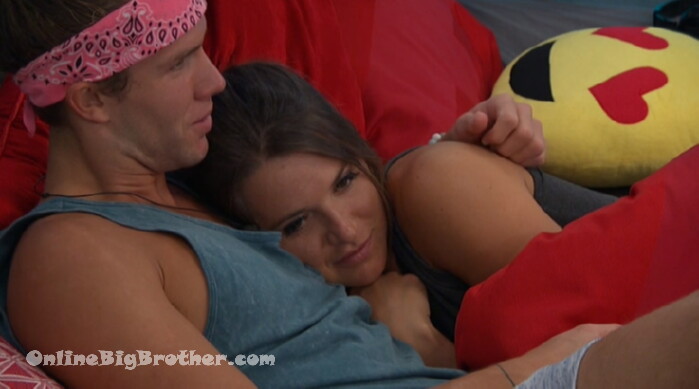 2:41am Tyler and Angela
Snuggling.. Tyler says he's been talking to BRett today trying to reassure him that he's not an outsider.
Tyler brings up that Brett said JC is trying to get close to him.
Tyler – he was asking me if we are in a showmace.
Tyler points out it's not the worst thing that Sam votes Haleigh out because then if Haleigh stumbles into a HOH win she might put Sam up.
Tyler – did you tell JC that FEs through his name out..
Angela – no
Tyler doesn't think it's worth it anymore
Angela – all it'll do is have FEs hate me more
Tyler wishes KAycee had spent a night up here before today because he thinks it'll be weird if he's up here.
Tyler – you and me are similar you just don't see my savage side too much
Tyler – you want to go on a date when the show's over..
Angela – mmmhmmm
Tyler – where do you want to go..
Angela – hilton head
Tyler – Hawaii
Angela – ok.. you can learn how to surf..
Tyler – can you surf
Angela – no
Tyler says he's thinking about never learning how to surf and just having people always assume.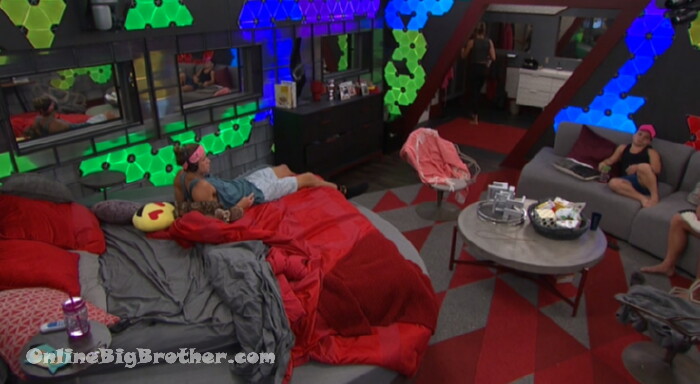 3:13am Brett, JC, Angela and Tyler
JC bring sup about a hour ago going up to Sam and saying she is "Low energy". Sam kinda went off on him telling him about all the cleaning she's done, Making all the beds, cleaning the floors, POV comps, etc etc..
JC – I was like Okay..
JC – after that I told her you still seem like low energy
Brett – she refuses to eat anything else people cook
Brett – ever time I make the group food. She gets bad and won't eat it
JC – we're mostly like city people and we do take care of the stuff we put in our bodies (ugh not all rural folks are like this)
JC – She cooks with 3 pounds of butter.. she's self conscious about it
Brett – why would she not eat the food that I make if it is healthy.. I don't even make healthy food all the time.
Brett – I literally thinks she gets mad when like any of us cook because that's like her thing
Angela – she got mad at me once because I was cooking chicken.. she said somethings
They bring up Sam snapping on them when it comes to cooking. Brett mentions how he asked her something about the apples and she snapped. After he asked her why and her reply was "I thought you were trying to one up my apple pie"
BRett =- no.. what? you can take credit for it.
Tyler – it's crazy how much she over thinks
Brett – if she can't take credit in cooking she wants no part in it
BRett mentions how he never see Sam eat and will not touch it if he cooks it. Brings up his fish tacos
Angela – she makes a point to not eat it
Brett – she makes a point to let everyone know she is not having any
JC – do you think she's bi polar .. I do question her behavior and I do have a good relationship with her
Angela – it's erratic for sure
JC wants to make it clear she likes Sam but he does question what she's doing
JC – either hes has a problem or she is extremely smart
Brett – she decided to quit smoking on national television
JC – even when she was smoking she was going through all this
Brett questions if quiting smoking while on the Big Brother show may not be a good idea.. "there's chemical changes that occur when you quit"
JC says the only reason Sam is still in the game is because they've been targeting other people.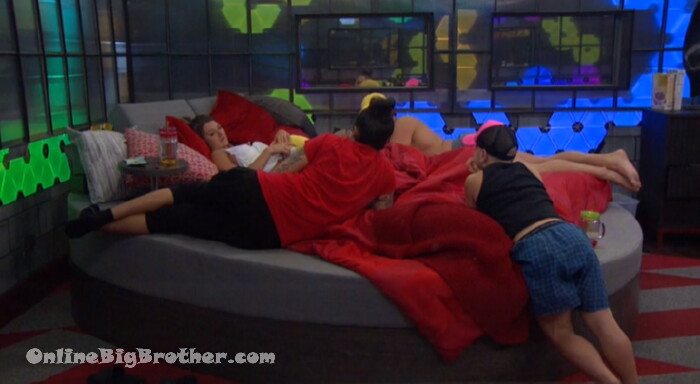 3:50am Level 6 + JC
Brett says during the first week in the house they were sitting in the geometry room with kaitlyn and Bayleigh. Kaitlyn was going on about having a prediction a HIT.
Brett – "I know who you are supposed to be with"
Brett – I know in the house who you are paired up with based on their.. I don't know what the f* she was saying
Brett – she was like one person here is really fun and it would really awesome and good for you but then there is someone that is a little bit more work but your soulmate.
Brett – I was like ok who tells me about the fun one.. and she goes BRETT
Brett – she was like SO, would you be with me ..
Brett – I was like I don't know.. like maybe.. I don't know.. what the f* am I supposed to say right now.. I was thinking COOL I'll listen to one of Kaitlyn's crazy stories then she turns around.. BRETT.. I was like What the f*
Brett – the funny thing is she was trying to play matchmaker she was trying to put Bayleigh with Fes and Bayleigh was all about it at first
Angela – really
Brett – oph yeah that's who she was first week.. that was like who he was really with
Angeal – fes..
BRett – she (Kailtyn) was like yeah that's your (Bayleighs) Soulmate (Fes)
Talking about Swaggy and bayligh had sex in the HOH room. Brett says Bayleigh told him they were laughing about it. Kaitlyn gave them the room. Kaycee doesn't think they did bang.
Brett mentions how Sam made up the name "BLOCKSTAR"
they laugh
Brett – BLOCKSTAR get on the block
Brett thought for sure Rockstar was going to take a swing at him after his speech when Winston was evicted.
They go over ROCKSTAR brain cracking after BRett's speech
Brett – one thing that is good I can tell someone is going to take a swing at me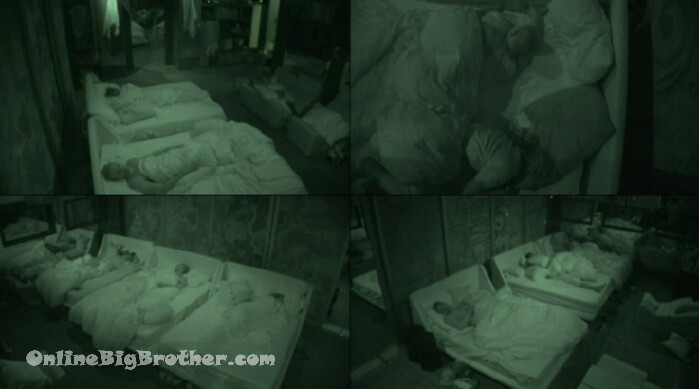 7:23am ZZzzzzz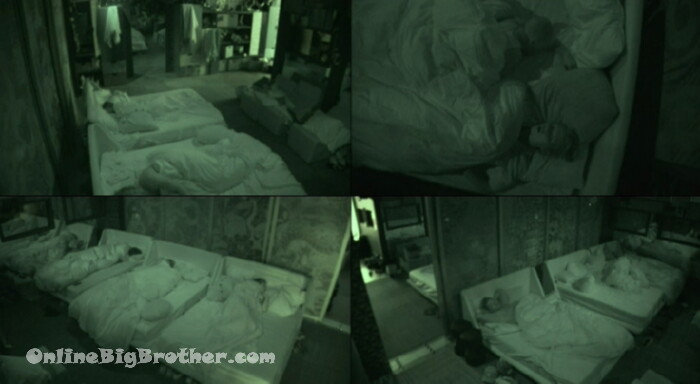 9:22am Zzzzzzzz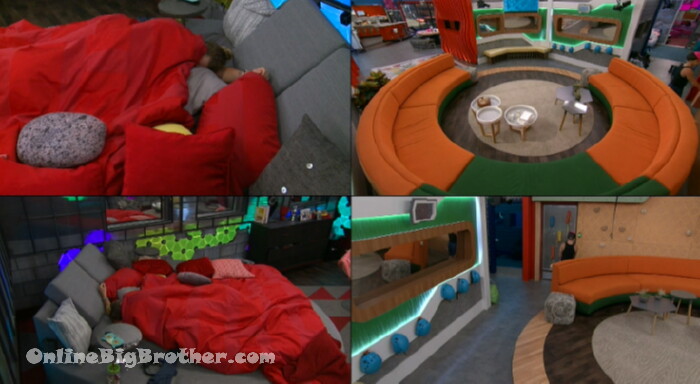 10:40am Lights are on but everyone is sleeping for the most part.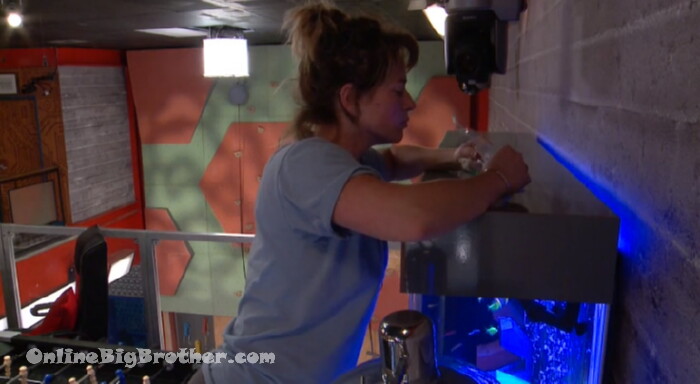 10:45am Sam's up feeding the fish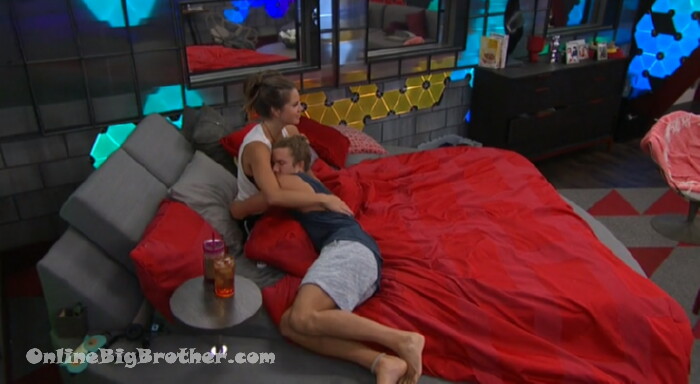 11:00am Tyler and Angela
Tyler brings her some ice water..
Tyler – you're perfect..
Angela – no
Tyler- yes you are
Angela – my hair is crazy
Tyler – whats the plan today
Angela – nothing
T – it's nice outside.
Angela looking at Sam threw the spy cam .. I wonder what she does in the kitchen for hours..
Angels says sometimes she see Sam moving thing around the kitchen 1 inch at a time.
T – she always has to have something to do
T – Sh'es doing something right she's still here
A – I know
A – the jury house would be miserable right now.. that is literally my hell..
T – they are not happy..
A – I think Brett is hated more than you
T – they want to see Tyler, Angela and Brett for sure.. who would they guess it's going to be
Angela – Sam .. with ROCKS gone I'm sure she's saying she has no one..
T – what did rocks call you
A – entitled.. pretentious, Bitch.. I could go on
T – you sent out all her friends..
A – Blockstar
T – She said she said it when ROckstar was walking from the orange part of the couch to the green part of the couch .. BLOCKSTAR
T – Rocktsar, she doesn't even know you .. I hate people like that
A – I had 2 conversations
T – you have a biog heart with all kinds of emotions.. I see it .. I see those emotions sometimes..
T – you can't resist a good cuddle sesh only people with hearts do that.
11:45am Haleigh and Tyler
H- a week in here isn't like a real life week
T – there's not sense in time
H – fes feels like it's his fault we're in this situation (he was blaming Rockstar last night posted above)
H – in this game he's never had someone come after him.. this week he was so confident.
Haleigh says she picked Sam to play in Veto because she thought she could beat her.
Tyler says he would have done the same thing
Tyler says he didn't want to tell FEs or Haliegh who the target was "It wasn't my place"
Haleigh says she understand.. says if she knew she wasn't the target she would have picked Brett or Tyler (wounded bird)
T – If Fes goes this week I don't want you to feel like you are alone..
H – I know we're all friends but I am at the point where I don't have anyone else..
T – we're at the point where you have to keep people around you think you can beat.
If you enjoy the content please consider a donation.
Rank the houseguests!
Easiest way to Rank the house guests use link below