| | | | |
| --- | --- | --- | --- |
| POV: | Kaycee | Next POV: | Aug 25th |
| POV Used | ? | POV Ceremony | Aug 27th |
| HOH: | ANGELA | Next HOH: | Aug 30th |
| Noms: | Fes & Haleigh | Have Not | ? |
A real easy way to support the site if you are an amazon shopper is to make your purchases through our link. You pay the exact same thing but we get a small % commission. It doesn't cost you anything and helps us out.
Amazon Canada
Amazon USA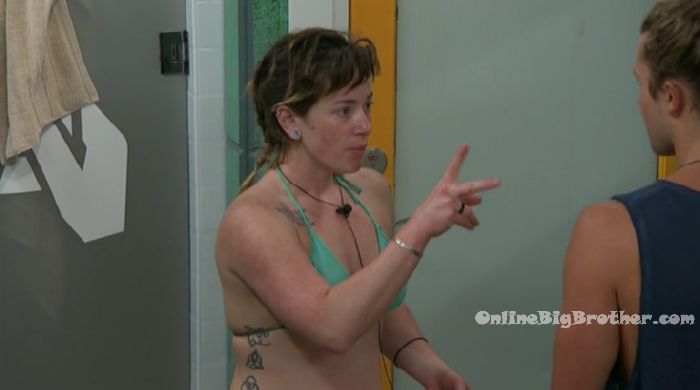 12:13pm Bathroom. Sam and Tyler. Sam – she scared the hell out of me in the very beginning. I was really intimidated by her, just like Brett and Winston. But once I got to know her, just like you said its not what it seamed. And I really love Angela so I'm not worried in the least. IF anything I thought I was going to go up as a pawn. Which is scary but I would have done it. Tyler – That's what Haleigh and Fes wanted. Sam – I felt good, I was like I would be okay with that. But now that we get smaller and smaller we're fast approaching the five, so I am afraid that people are going to get nastier and nastier … and I am ready for it. Obviously I'm not going to participate .. if that means I have to leave then by god you better partner up with Angela and win or I am going to slap the sh*t out of you when I see you next.. I am serious. I think that if I had to leave she would do for you what I would do for you. I think she would for sure. Tyler – don't say that because you're going to be here and you're going to win HOH. We've all been together since the beginning but you and I have been together, together since the beginning. Sam – the term universal pawn came up and I was like that's me. Tyler – no you're not. You've never been a pawn. You've never sat on the block past the first week. Tyler tells Sam that if anyone asks if she has a final 2 for her to say it was with Scottie or Rockstar.

12:15pm – 1:40pm Haleigh and Angela suntanning.. Meanwhile Fes and JC are finally awake and in the kitchen eating.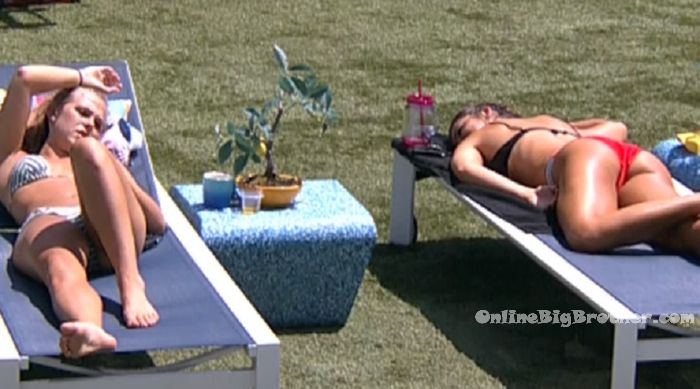 1:55pm Backyard. Angela – I doubt there would be double eviction. Tyler – I doubt it too. I went through it in my head and if there is no double eviction and no battle back then we are perfectly timed out. But if there is a double eviction then there will be a battle back. Angela – I just hope nothing happens this week. Tyler – I know.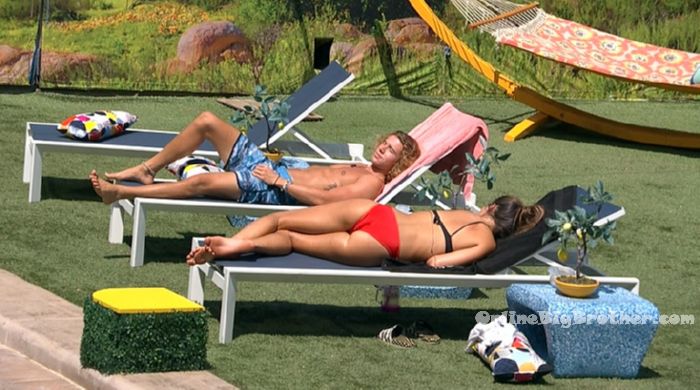 2:45pm Fes running laps back and forth in the backyard.
3:35pm Its a lazy Sunday with the house guests laying around. After Fes finishes running he gets in the pool and then back to bed. Kaycee, Angela and Brett run laps in the yard.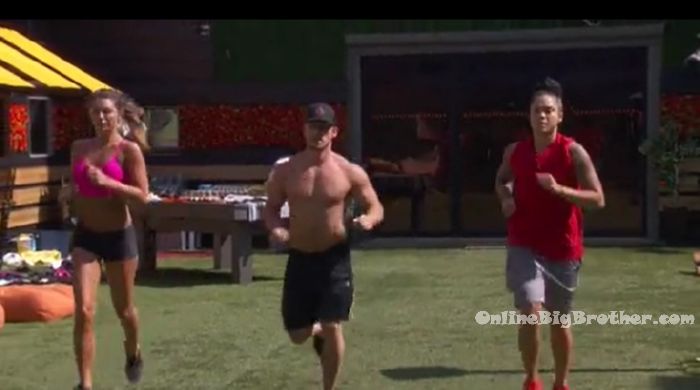 3:45pm Backyard Couches. Kaycee and Haleigh. Kaycee – how are you doing? Haliegh – I'm okay, I'm surviving. Kaycee – have you talked to Fessie? Haleigh – yeah he is doing better. He is sad. He feels defeated. He feels like he has played this game so loyal and open and he doesn't know what he did wrong. Kaycee – yeah, I'm sure its hard. Haleigh – yeah it sucks for him. It sucks for me too. Have you talked to him? Kaycee – no, just giving him some time. He was really close to winning. He would have pulled himself off and it would have been a whole different ball game. Haleigh – yeah I would hope there would be a bigger target next to me. Kaycee – has he talk to you about what he was going to do? Haleigh – no, he wanted to talk you about the veto and pretty much try to figure out what to do. I just hate it because he is such a competitor and I know it kills him.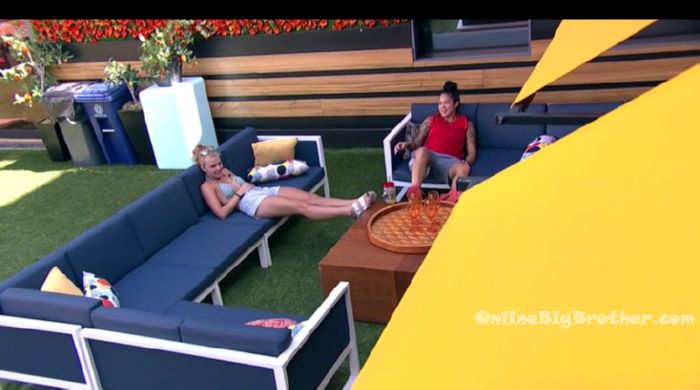 4:30pm Fes and Tyler in the kitchen. Meanwhile Kaycee and Haleigh laying out suntanning.
5:50pm
Kitchen. Brett and JC talking about how Brett doesn't like a girl with armpit hair. Brett – its not like if she has a 5 o'clock shadow I'll be like peace!
Without your support this website wouldn't be possible. Please consider making a donation. Any amount is greatly appreciated. All donations go directly to paying the considerable costs associated with running this site.
Rank the houseguests!
Easiest way to Rank the house guests use link below