POV Holder:
Peter
Next POV
April 13th
POV Used
?
POV Ceremony
April 8th
HOH Winner:
JILLIAN
Next HOH:
April 11th
Original Nominations:
ALEC & PETER
Current Nominations:
?
Last Evicted Houseguest
GARY
Have Nots
No havenots this week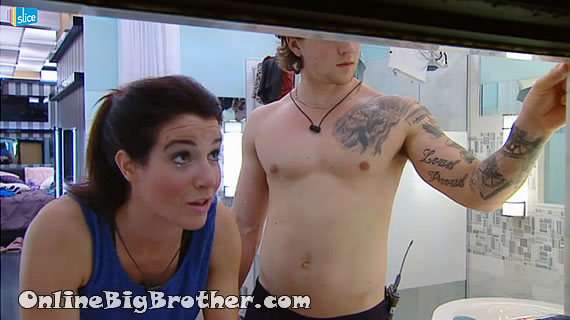 11:36pm HOh Emmett and Jillian
Emmett: "Aren't we going to bed"
Jillian: "No i'm going to the Diary room.. we're the only two that haven't been called into teh Diary room"
Jillian asks him if he thinks they are on to anything
Emmett brings up the theory that maybe Tom will come back as the HOH because the Monkey was given to him as the HOH. Emmett extrapolates that maybe on Thursday they have one set of eviction and a second HOH where Tom is playing for it.
Emmett: "This fuc*** up our Beast Coast Alliance.. I think Tom will understand we lost our best BUD I had to find someone.. now I've teamed up with Andrew"
Jillian: "I feel like Tom is watching our reactions"
Emmett: "I think we're the only ones happy about Tom.. "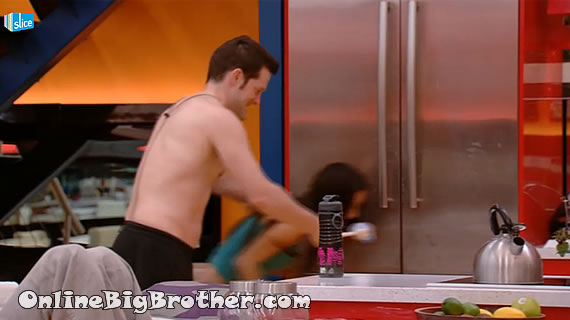 11:46pm Kitchen everyone but Emmett and Jillian
Talla is acting scared "Can someone sleep with me.. I'm really scared"
Peter: "He's not a serial killer"
Topaz: "He's not going to come into the house with a chain saw"
Andrew: "Thats me"
Peter jokes that there is a basement in the house and Tom is living down there.. "Everyone from Kat to Suzette are in the basement and they had a competition to come back in the house and Tom won"
Jillian comes back from her Diary Room Session, Tells them the DR made her feel like nothing is going to happen.
Jillian starts freaking out says she heard a dog outside. Talla screams, Jillian charges outside looking for this dog who she suspects is names Tom.
Andrew: "You people are F*** in the head"
Talla to Jillian: "Don't go by yourself"
Peter: "He's not going to kill you"
Talla: 'I'm too scared to go out there by myself"
Emmett pokes his head out from the HOH room says , "Talla you scream one more time i'm throwing you in the pool"
Andrew starts chasing Talla around trying to brush her teeth with a pot scrubber
Talla's Tom impersonation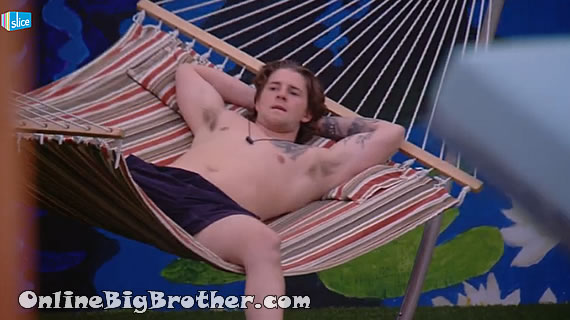 12:20AM Hammock Andrew and Emmett More speculation about Tom. Emmett mentions that maybe Tom comes back and is given a power for a week. Andrew thinks at the most Tom comes back like Jessie did for a couple hours to cause chaos. Andrew believe this is only a production trick to get them talking about something in the Diary Room.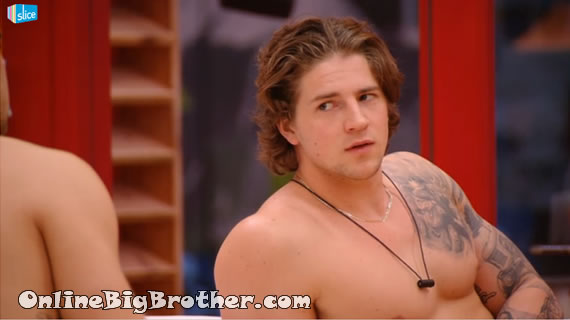 12:17pm Kitchen Peter, Alec, Emmett, and Jillian
Emmett tells Alec that he looked "worried as F***"
Alec: 'Why would it concern you i was worried even if i was worried"
Alec: 'You think I'm going to jump for joy if we're working together and Jillian wins the HOH"
Jillian: "That is why I stayed up there from the looks on your face"
Emmett: "You know that Topaz was going to put me up.. Don't say she wasn't that's bullshit.. You wanted Topaz to put us up to keep the blood off your hands"
Alec: 'So what are you saying you thought I was after you"
Emmett: 'What I am saying is this is Big Brother Watch your Back.. I'm just saying.. You were acting weird.. pete hadn't changed.. but whatever"
Emmett: "You were getting aggressive"
Alec: "Aggressive!"
Jillian: "You said there would be us three against them if I put Peter up"
Alec: "No I said If I went home you would have Topaz and Peter after you that is true.. I never once said we were coming after you"
Jillian: 'You said If peter wne home you would come after us"
Alec: 'That is true.. that would have meant you turned on use "
Emmett:" You don't understand how this works.. I can see why you guys want to keep me.. I'm a bigger threat than both of you.. if someone is coming after you they will take me out first.. before Tom was gone"
Alec: "We kept you with us because we trusted you"
Emmett: "Sketchy things started happening.. the break up with Topaz"
Jillian: "The break up really had us thinking"
Emmett: "you are close with Topaz..Very close right.. "
Alec: "Yup"
Emmett: "You are essentially playing as one"
Jillian: 'So what are you saying that we should put Topaz up and out of the house becuase she's coming after us"
Alec: "Yes"
Emmett calls Peter out on saying that Topaz trusts them, "You said
Alec: "Talla and Andrew and we've been working with you guys since day 3."
Emmett: "They have never been sketchy with me"
Alec: "What the F*** when have I been sketchy"
Emmett brings up how sketchy Alec is and brings up even Peter agrees that the whole remance thing was strange.
JillIan asks him if he was ever taking Topaz to final 3. Alec swears he wasn't going to keep Topaz, Alec asks them to please if anything "Sketchy" comes out just come up to him and talk. Emmett bites back says they live in a house and see each other for 16 hours out of the day its pretty easy to see when people are acting sketchy. .
AAlec says Talla was targeting Emmett and Jillian next week.. Emmett gets up and leaves.
Emmett comes back
Alec: "Honestly I am even worried Topaz is going to come after me"
Emmett: "Alec F*** off She is not coming after you you think i'm stupid"
Alec: "If you can point out to me one time when I lied to you then send me home"
Emmett: "All i know is Peter is coming off the block and we are not 7 anymore we are 8" (He's thinking about Tom coming back)
Peter and Alec want them to vote out Topaz. They propose if Topaz leaves Alec will be indebted to them the following week.
Emmett: "This is Big Brother people don't got to do anything"
Alec: "I will throw the HOH competition"
Topaz joins them..
(Video is uploading.. It's Long so will take some time to complete)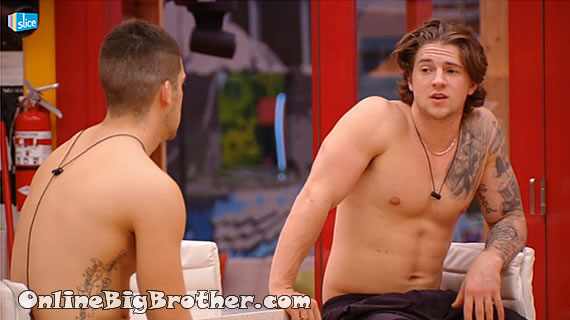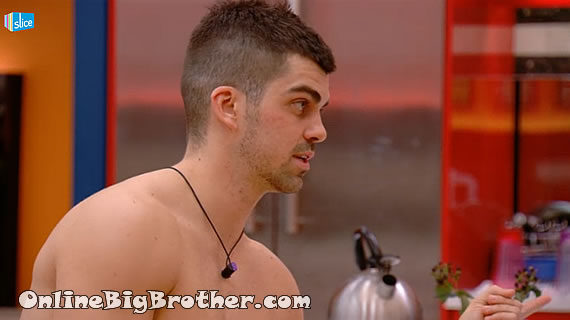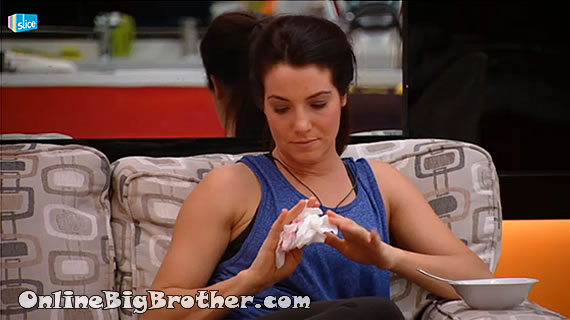 12:58AM Peter and Jillian
Peter tell Jillian if she keeps Alec he'll talk game with her every day.. Peter: "The Game has reached a critical point in the house… we have 2 people in the house that do not deserve to be in the game"
Peter says there was never a final 3 with Topaz, Alec and Peter. He swears there was no final 4 with talla, Topaz, Alec and Peter.
Jillian tells him the only 2 things that are certain is Peter is taking himself off the block and Topaz is going up they can talk about who goes home later.

(Video is uploading.. It's Long so will take some time to complete)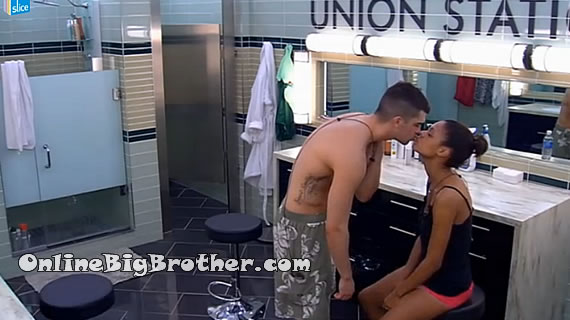 1:00am BAthroom Alec tells Topaz he doesn't know what is going to happen they'll have to wait and see tomorrow. Alec is trying his best to get Topaz out I wonder if she suspects this.
1:08am Jillian and Emmett HOH
The rest of the house is sleeping.
Emmett and Jillian Still talking about what is going on with the TOM picture and the clues.. Jillian jokes "There is a power of video in this house and we're going to find it" Emmett asks her what did Peter talk to her about. Jillian just groans.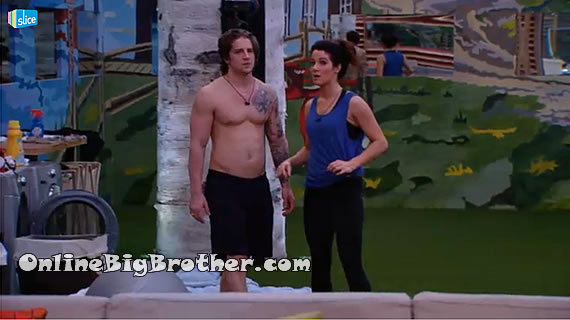 1:25AM Jillian and Emmett looking throughout the house for the power.. Jillian hears a sound "Ohh someone is in my room" (LOL the screen capture shows her surprise)
They head up into the HOH room. Jillian has become pretty scatterbrained about this. "Should we stay up Big Brother.. move the camera if we should stay up" (She thinks that the Camera is pointing up that maybe they should stay up? )
Emmett: "If Tom does come into game he doesn't like Alec or Peter.. I hate how Alec thinks we are stupid" Jillian: "A lot of people think we are stupid.. I ask peter questions to make him think we are stupid.."
Emmett lays out the only positive he sees about Keeping Alec or Topaz is if Topaz is gone Talla will do less jumping around. Jillian: "And Alec said he would throw HOH" Emmett: "Than we have no enemies in the house" Jillian: "Taht's why I want you to chill out"
Emmett: "I'm not made.. you haven;t seen me mad"
Jillian: "Don't scare me"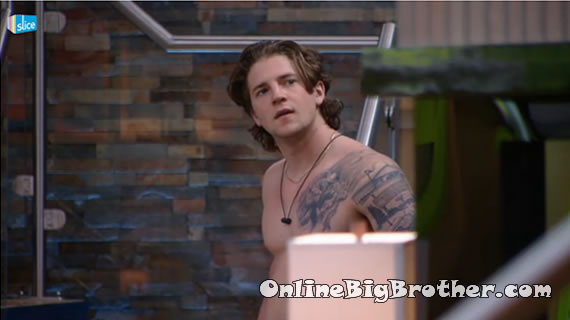 1:49AM After searching the house for the 30th time Emmett and Jillian head to bed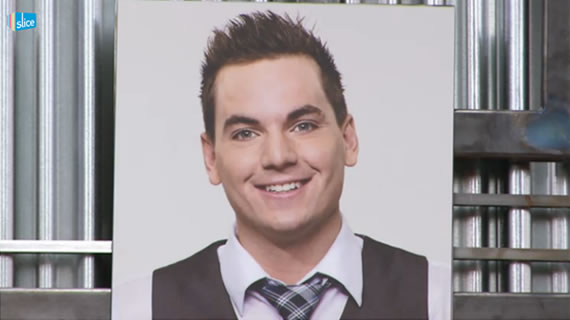 2:01AM Camera zooms in on Tom's picture
Stay connected and interact with other Big Brother Fans on our Facebook page.
And Follow: @BigBspoilers and @Dawgsbigbrother on twitter