POV Holder:
HEATHER
Next POV
April 26th
POV Used
Yes
POV Ceremony
April 28th
HOH Winner:
Jon
Next HOH:
May 1st
Original Nominations:
Heather and Sabrina
Current Nominations:
Sabrina and Adel
Have Nots
None
2:45pm Sabrina in the HOH room listening to music and taking out her retainer..
3pm
Jon convinces Adel to go get his bathing suit on and go in the hot tub in the rain. Adel says Sarbina is like a little puppy dog in heat chasing me around the house! Adel goes out to the hot tub room and turns right back around and says there's no way he can go out there. It's like ice cold drops that burnt my skin!! Adel says I'm so bloated I feel like a little penguin!! Adel screams NACHOOOOO! BURRITO loves me! She wants to make love to me! Sabrina says oh my god!! Adel says don't lie you little perv*rt! Sabrina yells if those thoughts are in your head ..that's what you want!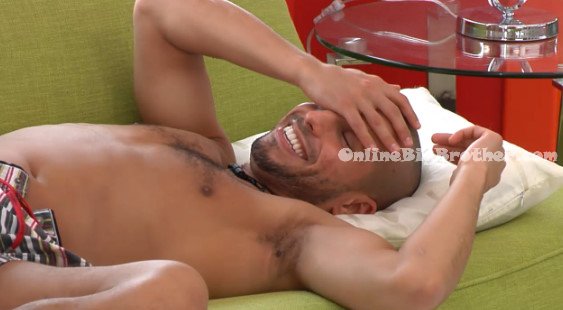 3:25pm – 3:45pm In the kitchen – Neda, Sabrina, Heather and Jon are talking. Jon says the more I think about it I really don't think Arlie would be invited back for all-stars. He played a flashy game! Neda says he played a copy cat game. I don't think people would respect the fact that.. Sabrina says who do you think would make all-stars. Jon says maybe no one. Sabrina says I feel like he had such a well thought out plan and he followed through with it. Neda says but it didn't work! Jon says at all ..he helped everyone else's game but his.. well he f**Ked the first five and then after that he was f**ed! Neda, Sabrina and Heather all agree. Jon says well for us it was great. Neda says I wonder if he had stuck with the first five.. he would have gone longer? .. Jon tells Neda again that she had an amazing body last night. Neda asks what?! Heather says in his dream. Jon says you should definitely get that boob job! Neda says well you already agreed to pay for it if you win. Neda, Jon, Heather and Adel sit down at the table to eat. Adel says he doesn't understand why they didn't put Jon in the HOH for 36 hours. Jon says if they did I would have self-evicted.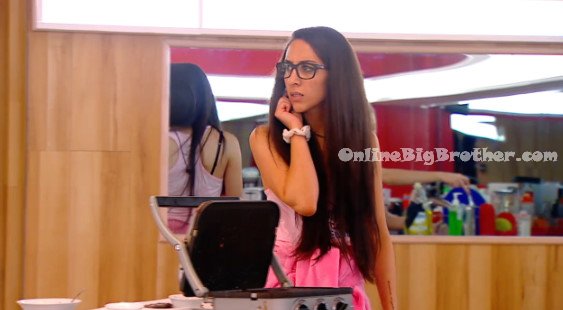 4pm The house guests continue to sit around the kitchen table telling real life stories. Jon and Adel talk about when they punched out their friends. Adel's story was about him wanting to meet Snooki.
4:30pm – 4:45pm Adel comes into the main bedroom and asks where big Jon is. Sabrina says in the HOH. Adel says no I was just in there. Adel asks if she is okay. Sabrina says no. Adel asks what? What's wrong? I'm open ears. Sabrina smiles and asks if he took drugs .. "You don't care about me!" Adel leaves and heads back downstairs. Neda lays on the couch with he head hanging over the edge. Adel asks what are you doing? Neda says I want a head rush! Adel asks have you ever do that thing where you choke yourself out? Neda says NOOO!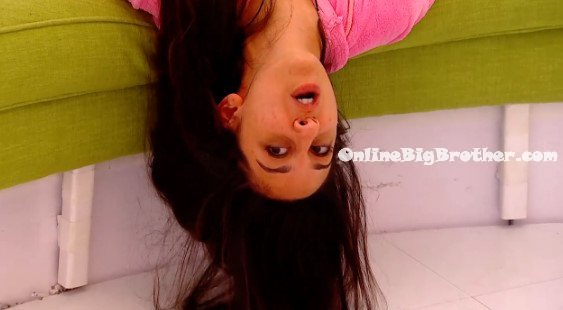 5:10pm In the HOH room – Jon asks Sabrina what's wrong. Sabrina says that she is just down because she might be going and her dream might be ending. Jon says I think you have a better chance of staying. Jon apologies to Sabrina for being mean to her down stairs. I don't ever mean to be mean to you.. just tell me when I am. Sabrina tells Jon that she would rather lose to Neda or him. Sabrina tells Jon that I will lose against you and Neda. The only person I have a 50/50 chance at winning against is Heather. You have a 50/50 chance of winning against Neda.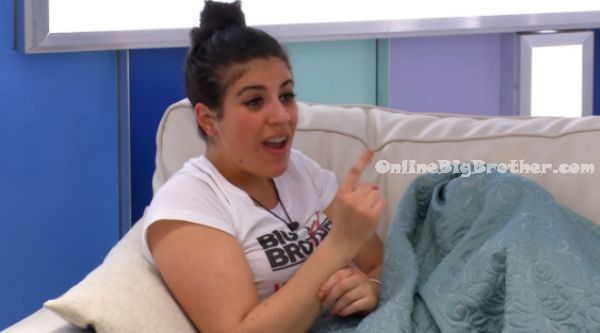 Adel says I AM A LITTLE TEA POT HERE IS MY SPOUT @bigbspoilers #BBCAN2 https://t.co/usD2QoV3T5 pic.twitter.com/AUo9DQLI7J

— Dawg (@DawgsBigBrother) April 29, 2014

5:30pm – 6:30pmHeather, Neda and Jon are in the backyard studying the events of the house. Meanwhile up in the HOH room – Adel is taking a bath. Adel finishes his bath and heads to the bedroom. Sabrina asks him if he wants to hang out with her. He says not in here its too hot. Come out side with me. Sabrina says no they're talking out there they wanted me to not be out there. Adel says well come down stairs. Sabrina and Adel head down to the living room. Sabrina asks him if he wants to throw the baby head around. Adel says no, no, I can't. Adel heads to the diary room to ask a question. He comes out and they head out into the backyard. Adel comments that he just took the longest bath in cold water that made his d**k shrivel into his body. Adel says I am ready to tea bag every camera that looks at me! Heather asks is that even possible?! Adel says I need a booster chair! Adel is walking around the hammock. He says he can't stop or he'll fall asleep. Adel says I'm a little tea pot here is my spout! (He grabs his junk) Jon says I want to have s*x so bad. Adel says go rub one out! Jon says I can't any more. Neda asks you gonna wait 10 days. Jon says yeah. He says on his 24 hour lock down he did it 6 times.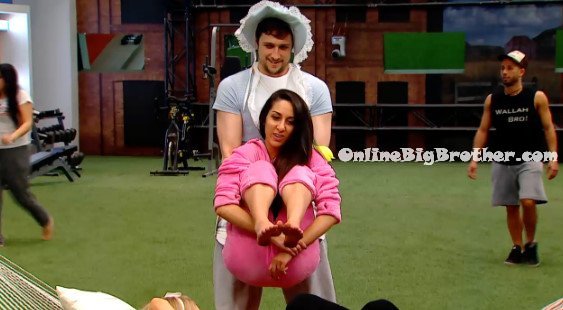 6:30pm Adel caught sleeping by big brother
[polldaddy poll=8001357]
HELP keep the spoilers coming.. Show your support by making a donation. ANY amount is greatly appreciated! Simon and I work 24/7 all season long to keep you updated on everything that happens inside the Big Brother house. Your donations go directly to paying the fees required to run this site.
Stay connected and interact with other Big Brother Fans on our Facebook page.
And Follow: @BigBspoilers and @Dawgsbigbrother on Twitter for the most up to date spoilers.