POV Holder:
HEATHER
Next POV
April 26th
POV Used
Yes
POV Ceremony
April 28th
HOH Winner:
Jon
Next HOH:
May 1st
Original Nominations:
Heather and Sabrina
Current Nominations:
Sabrina and Adel
Have Nots
None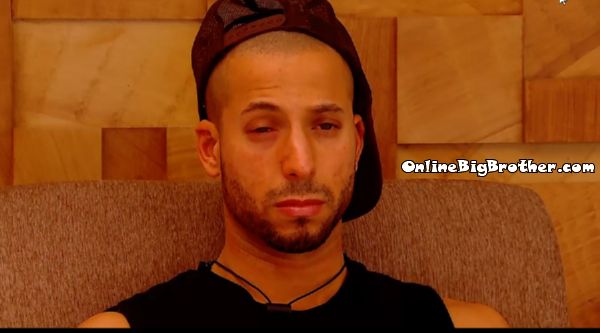 6:30pm Room near the secret door
Adel almost falls asleep.. Big Brother rings him to wake up.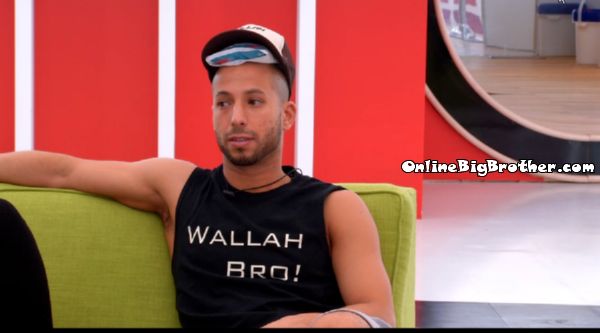 Adel has put an ice bag under his hat to help him stay awake. They start playing a game where they each say one attribute they like about the people left in the house. Adel has difficulty making sense. Neda asks him if the cold back is helping. Adel – "I think so that or makes me more nuts"
What Adel thinks of the other houseguests
Adel likes HEather's teeth, a$$ and whole face
Adel to Neda – "I like your hairy body keeps me warm at night" (Neda laughs says keeps you warm in the winter"
Adel says he likes NEda's look
Adel says he likes Jon's one big tooth. "It's so beautiful.. I just want to suck on that thing"
Adel likes Sabrina's crazyness.. "Ya you're a wacko"
What Neda thinks of the other houseguests
Neda says she likes Heather's lips, Sabrina's eyebrows and Adel's nose.
Jon can make people laugh at any situation.
Sabrina is bubbly.
Heather is really sweet, likes her butt and her lips
Neda – "Adel is the fuckest weirdest hilarious person she's ever met ever."
What Jon thinks of the other houseguests
He likes Neda's eyes and forehead.
Adel is funny
Jon says Heather is a good actress
Jon points at Sabrina "You've been a thorn in my side" he changes it says Sabrina is very kind hearted
What Sabrina thinks of the other houseguests
Sabrina says Neda is smart and Wise, "It's the same thing in a way" (nope)
Sabrina says she likes Neda's Smile, Heather's a$$
What Heather thinks of the other houseguests
Heather says she likes the big Heart Jon has. She loves a lot of things about Sabrina , "How forgiving you are.. I like the forgiving apart of your personality"
Heather loves Sabrina's Hair JOn's eyes, Neda's body and Adel's smile
Adel says when he finally falls asleep after 36 hours he doesn't want Sabrina taking advantage of him.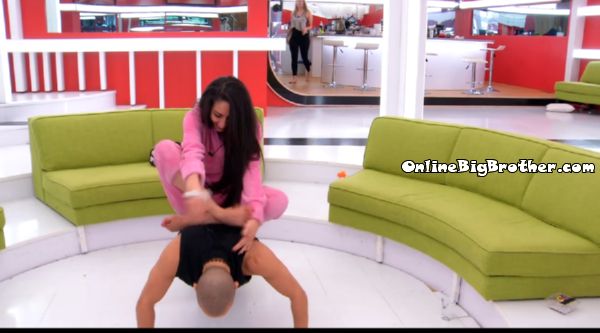 7:26pm
Adel tries a pushup with Neda on his back. she pees on him "It's just a drop"
Jon finally gets into the Head of Household room. He's been joking around that they are setting up Pandora's box. He comes out after searching it, "Theres no Pandora"
JOn heads outside to check out the hot tub room it's locked, "Hey guys Pandora is outside the door is locked"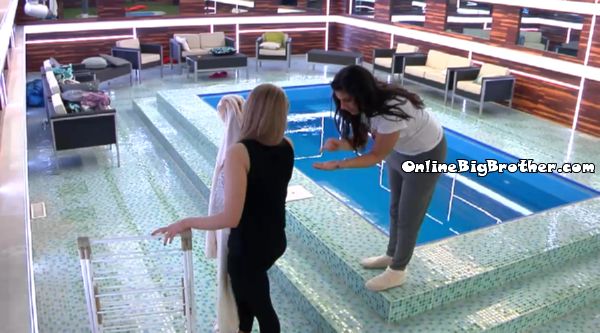 7:44pm Poolside Heather and Sabrina
Sabrina figures out it's the laundry soap that is causing her rash.
7:49pm living room Neda, Adel and Jon
Neda talking about the problems that "Persia" (Iran) is facing with the divide between the youth and the religious government. Brings up the protests and how the government shoots down the protester.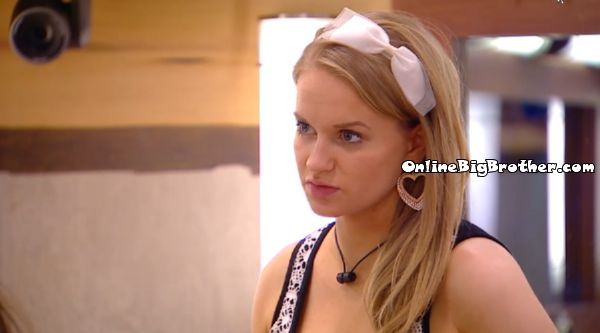 7:48pm Heather and Sabrina Bathroom
Heather says her and Neda are still undecided.. "I'm trying to figure out what is best for the coming weeks"
Sabrina – "There's only 1 week left'
Heather – "It's like before" (Meaning they are still undecided)
Sabrina – "Will you guys let me know tomorrow… cause it's my last day tomorrow"
Heather – Ya":
[polldaddy poll=8001357]