POV Holder:
Ashleigh
Next POV
May 20th
POV Used
Yes
POV Ceremony
May 17th
HOH Winner
Sarah
Next HOH
May 20th
Nominations:
Zach and Ashleigh Pili
Have Nots
Brittnee and Zach
POV Players
Everyone participates
(For the most part there is very little going on)
7:32pm HOH Chit chat
8:02pm Godfrey and Ashleigh preparing some salmon
Godfrey tells her she's very skilled in the kitchen. Godfrey jokes that Ashleigh and Graig would have made a good showmance. Ashleigh says her dad would have found a way in here. Brittnee says Bruno is probably the most disliked player, 'After hearing what he said"
8:38pm Sarah and Brittnee
Brittnee says it's weird how people act when they are going.. "He is pretty busted I'm going to miss him.. If he goes"
Sarah says mission accomplished getting Zach out but it breaks her heart seeing him go.
9:20pm Kitchen Zach and Brittnee teasing around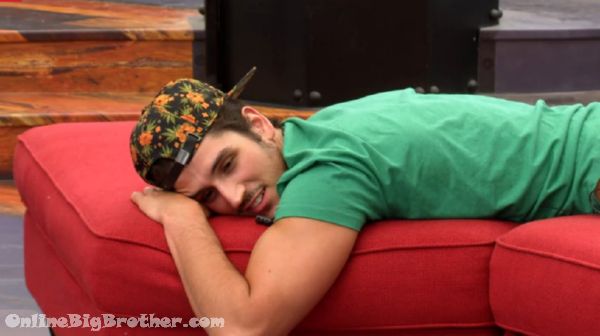 Zach's done..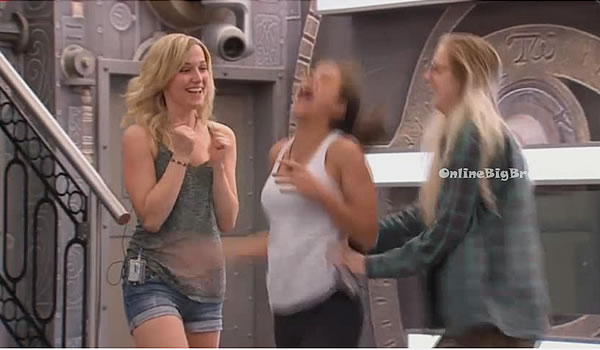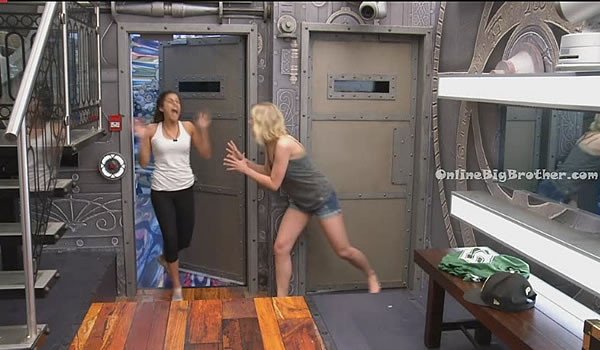 9:54pm They are planning to scare Pili when she comes out of the Diary Room. They plan and pull off a "Double Scare"
Ashleigh is the first Followed by Sarah moments after.. AShleigh then gets called into the Diary room Pili says sh'es going to scare her back. Asheligh says it won't work she'll expect it.
Pili gets a double scare 2/2 #BBCAN3 @DawgsBigBrother @PilarNemerBBCAN pic.twitter.com/UrdyWwmaqe

— OnlineBigBrother.com (@bigbspoilers) May 20, 2015
Pili gets a double scare 1/2 #BBCAN3 @DawgsBigBrother pic.twitter.com/GmsjNIYbir

— OnlineBigBrother.com (@bigbspoilers) May 20, 2015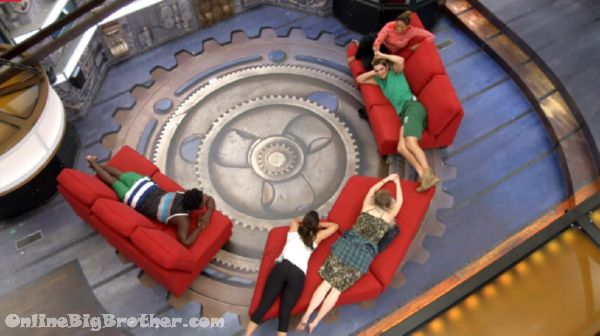 10:16pm Nothing much going on…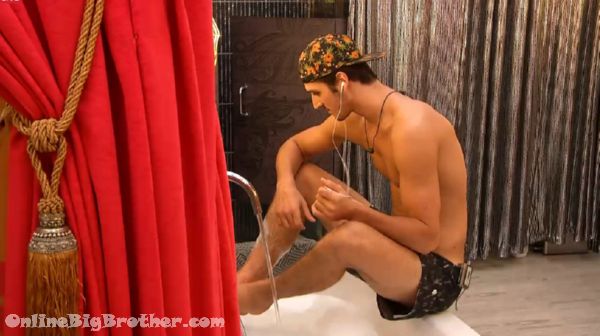 10:48pm Zach takes his last bath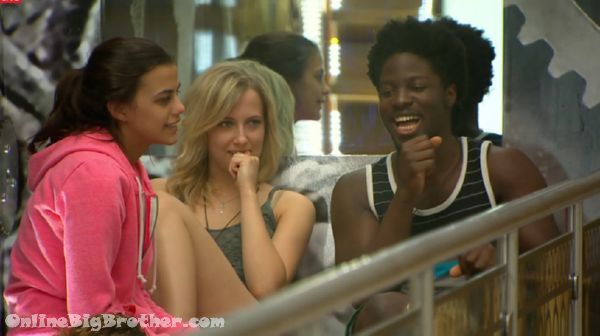 11:01pm Godfrey tells the girls a little about themselves.

Godfrey – "A girl that doesn't think just does stuff.. You're a very humble girl Mother Teresa in the flesh .. you don't like to stress.. you don't like to share your knowledge unless your asked"
Pili – what I like to share my knowledge
Godfrey – share some right now
pili – What would you like me to share
Godfrey – Share your knowledge
pili – How
Godfrey – see you don't like to share your knowledge your a humble girl
Godfrey – Ashleigh is the rarest of all diamonds… You don't like to be too intimidating, You keep a low profile. You don't like to make up your hair only on special occasions.. you're on of those girls that doesn't want to outshine anyone.. You burp a lot .. you don't want to be too lady like too classy
Godfrey "And brittnee all I gotta say to you is Girl That booty.. you know yourself well you have found yourself.. moved out as a young lady soon to become a women.,. You went to a foreign country on your own.. "
Midnight talking about the supernatural and some confusion about coconuts.
12:10AM HOH Godfrey and Sarah talking about Brittnee having a lot of jury votes.
12:53am Pili learns that a Pickle is a Cucumber
Pili – Thanks guys you guys are feeding my brain right now
12:57am Zach and Ashleigh
Ash says if she wins HOH she'll put up Sarah and Brittnee.
Zach says the advantage of getting rid of B first is she might be able to beat Sarah in the final 2. Zach says nobody is going to take Brittnee to the end.
(They cut the feeds on this conversation.. Then switch the cam so som of it's been missed)
Zach gives her strategies in how to move forward after he goes.
Zach – If you don't win this HOH you could go home
Zach thinks Godfrey is loyal to Brittnee and Sarah
Zach tells her she won't beat Sarah/Britt hey will never take Ashleigh. She has to take those two out. He warns her that Sarah will try to fill her head but she can't believe them Ashleigh will win ASgainst Pili and Godfrey.
1:22am The Goblins
They both notice Brittnee is stressed, "She knows her and Sarah are going up if she doesn't win"
Ash says they need to get out Sarah first because Godfrey won't take Brittnee to the end.
1:49Am Zach tells AShleigh about the newport alliance.
Ashleigh says the reason why her hair is fried is because she has naturally curly hair and straightens it.
3 Weeks after BBCAN3 is over BB17 starts! we'll be covering the feeds round the clock get your CBS All Access early and re-watch the past 16 seasons of the show.
[polldaddy poll=8865390]