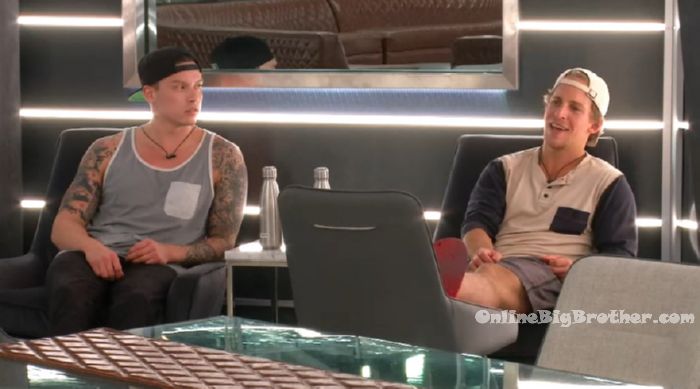 11:05pm Dane and Damien.
Damien – it might be Mark and Esti though. (Nominations) Dane – yup. I wouldn't understand how Mark would escape this. Damien – he's snakey. Dane – how the hell do they come up with games like that? Damien – right?! Dane – are they still talking? Damien – yeah what the f**k are they talking about? Esti… I'll kill you. Dane – she's probably sewering me. Dane – yeah. Save her own bacon somehow. I don't know what she could sewer me about but.. Damien – right.. because I haven't said Anthony's name once. Dane – me either. Damien – I told Adam today that if I won, I wouldn't put him up. So hopefully he remembers that. And I meant it because you know who I would put up .. because I am pretty pissed off about that sh*t. Dane – yeah I know.. so many people are pissing me off right now. I can't believe he won another comp.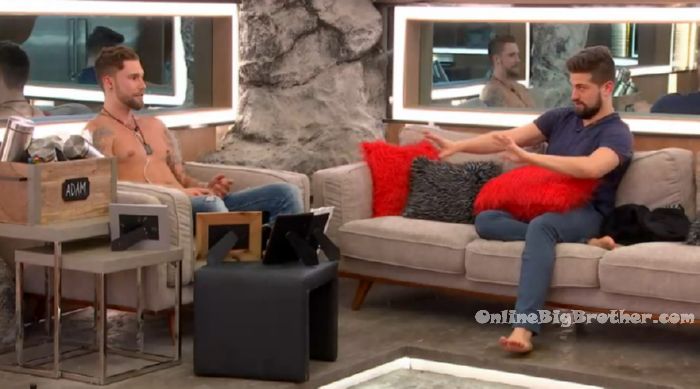 11:08pm – 11:37pm HOH room. Mark and Adam.
Mark – here is what I'm thinking. So we had an agreement we weren't going to put up the boys right? Adam – we also had an agreement before your HOH you weren't going to put me up. Mark – right and then we sat down over here and said from now on no more. Adam – I thought that was the agreement we always had. Mark – right, then we all sat down and agreed .. okay fine. Now you're looking for a way out because you want to look good on both ends. Keep to your agreement but then you also what to look good in front of the house. Adam – yeah. I don't give a sh*t honestly at this point its us. Mark – that's what I'm trying to say. Lets say you put up me and Damien or Esti.. it doesn't matter. The idea is that you save me with the two / two tie or whatever and no one goes rogue.. everything is hunky dory but then you basically just bought yourself two days because when you vote me as the savior everyone is going to look at you like what?!!? What the F**K! So he puts him up .. says he's the target and then.. Adam – right, it reverts back. Mark – not only that.. Adam – so I can do what I told you to do and say that there's a backdoor plan. We'll say that there's a backdoor plan to get you out .. because I don't want you to take yourself off the block.. and then one of us wins and then that doesn't happen. Mark – and then if Damien wins.. Adam – I could put up Kyra.. Mark – but even that looks weird but it doesn't matter. So what I propose is you put up Esti and Damien. Adam – I'd love to just say these are the boys… but we can't like Anthony said because if someone wins they would automatically put two boys up. Adam and Mark talk about what he will say to Damien and Esti. Adam – I am not putting up Kyra because she has my back more than anyone in the game right now .. which everyone sees. I want one of you guys to pull yourself down ,, there is a backdoor plan. Mark – then wink … its like you're saying me without saying it. Anthony joins them. They tell him about putting up Esti and Damien with the others thinking Mark is the backdoor plan. Adam – but then we win the veto and don't use it and no one comes down. I don't give a f**k because we're going to the final 4.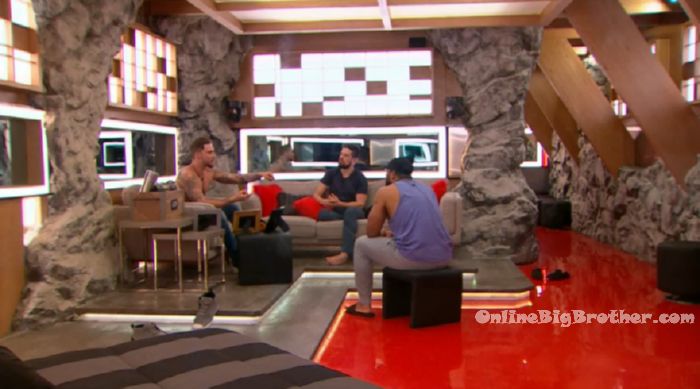 Help support OBB by making your Amazon purchases through our link below. It doesn't cost you anything and we get a percentage of what you buy.
Amazon Canada
Amazon USA