POV Holder:
Gary
Next POV
April 20th
POV Used
Yes
POV Ceremony
April 22nd
HOH Winner:
Emmett
Next HOH:
April 25th
Original Nominations:
Gary and Andrew
Current Nominations:
Andrew & Talla
Last Evicted Houseguest
Peter
Have Nots
Gary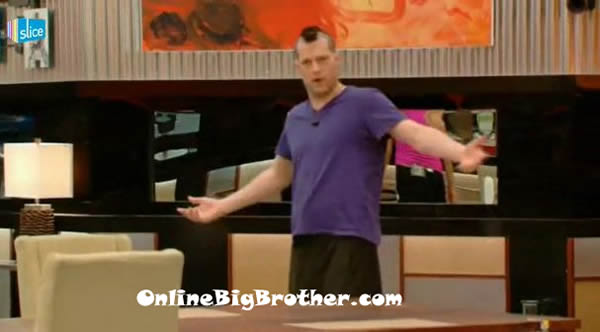 8pm Andrew tells Gary that he will play him in a game of chess. Gary says okay. Andrew says I haven't even beat Jillian. I never played when I grew up. Jilian comes into the kitchen and says oh thanks, you haven't even beat me. Andrew says I am the sh!ttest one! Andrew says I should have .. I had her on the umm.. Jillian says on the block! Andrew says OH SHUT UP! Jillian laughs and says you said you had her on the block. Andrew says I did not say that! I am on the block. Gary says as long as you know that! Andrew says oh I know. Jillian asks is Andrew mad at me .. he just told me to shut up in a serious way. He's never been serious to me before!


8:15pm – 9:05pm Andrew, Emmett and Jillian head out to the yard to workout. Andrew comments that he still can't get over this sh!t! Emmett asks what Gary being back. Andrew says it's ridiculous! Andrew says obviously it's like a rewind and if it goes the way it should go then its just a matter of Gary instead of Lalla that's all. Andrew says oh Talla, I wonder if she is going to do any campaigning? Andrew says that he can't believe Talla hit the button for this.. the hair cut. And the fact that she went for the money too. I should have let her have the hair cut. I bet she lied about that. Andrew comments that its weird that the guy that didn't mind getting the hair cut got it and the young girl got her clothes cut up. Big Brother tells him to stop talking about production. Gary says yeah motherfu*ker … Andrew says sorry motherfu*ker! Gary says what now B!TCH! WHAT NOW B!TCH! Andrew comments I am going to snap! Gary asks Andrew WHAT? WHAT ARE YOU LOOKING AT? Andrew says I wasn't looking at you.. get over yourself. Andrew comments to Emmett what's it like having that back in the house? Andrew says I can't decide if I want you to get me out or not! You've got two options vote me out so I am at peace or keep me in so I can get rid of that! I would go for the latter. Andrew says there are times when I like Gary and there are times when I do not… this is one of those times I do not! They continue working out. Talla comes out to lay on the hammock.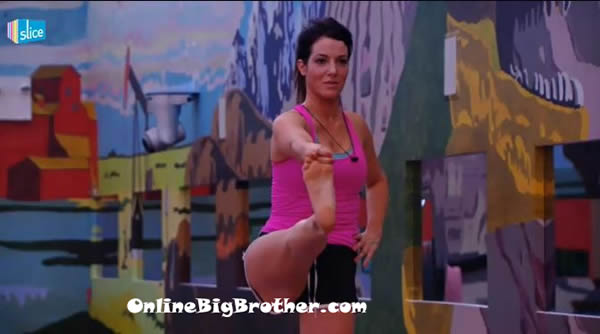 9:20pm Andrew tells Jillian that Emmett has changed. Have you noticed that? He isn't the smartest guy. You don't tell someone that you are going to backstab them. Jillian asks what he isn't supposed to tell you? Andrew says but what am I supposed to do go work with Gary?! Andrew says I am still just really pissed off! JIllian says that she is still working on Emmett for Andrew. You are best for my game to keep you in here. Andrew says I am good for his game too .. I don't see why he doesn't see that. He wants to take Gary doesn't he. Jillian says yeah.. well he hasn't told me that but I'm guessing. Andrew says I don't know what he is thinking.

9:35pm Emmett, Andrew and Talla are out in the hot tub talking about when Dan came into the house and how drunk Talla was that she passed out. They make fun of her and how Gary dumped water on her and she chased Dan. The conversation turns to talking about past seasons. Andrew and Emmett start asking Talla math questions. Talla says that her mathness isn't that good. Talla asks 20 times 50 .. is that the same thing as 50 times 20? Andrew says that questions makes all the difference. They all head inside. Talla tells Emmett that it's not a good idea to tell Andrew that he is leaving. She says that he told Jillian that if we learned anything from Dan it was not to backstab me, he should be careful about what he is saying. Emmett goes up to the HOH and talks to Gary about what Talla just said to him. Emmett says that Talla just doesn't want Andrew to campaign against her. Gary says whatever it doesn't matter any ways because her a$$ is going home next week.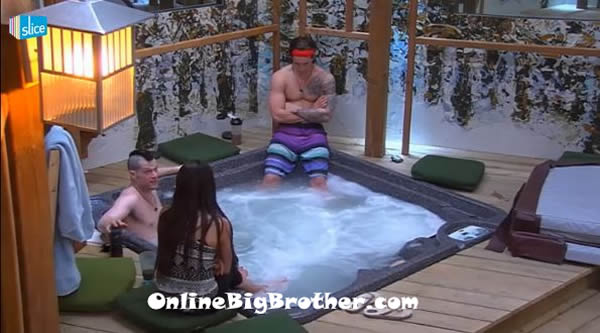 9:50pm – 10pm Andrew and Jillian are out in the backyard talking. Jillian tells Andrew that Emmett joked a a few times about putting me up. I didn't know if he was serious. And I was like do it. Andrew says its not very smart to tell me that you are voting me out. Jillian says I think he would be too stupid to .. I mean to smart to .. I think he's doing it .. but he is just letting you know he is the man. Andrew says that they made the HOH this way because they knew Gary was coming back. Andrew tells Jillian not to tell Emmett I am getting paranoid. Andrew says Gary is going to take Talla. Andrew talks about how he should go to Gary to get him to vote for me and you do too.. then its me, you and Gary in the final 3. That's better for you any ways.. We then win the final HOH and vote out Gary.
10:15pm Gary and Emmett are playing chess in the HOH room. Andrew is showering. Talla is in the hot tub by herself. Talla tells Henry the moose that the reason she isn't campaigning is because Andrew is a bigger threat than she is .. and Andrew knows that.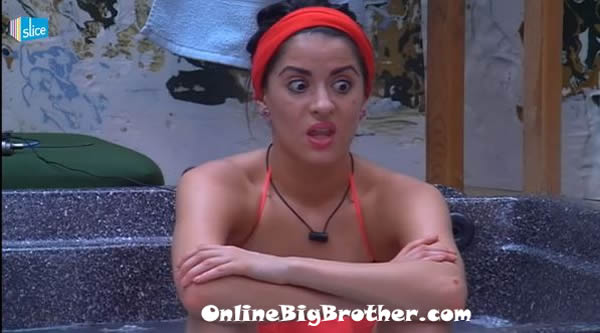 10:20pm – 10:30pm Gary tells Emmett why did I make my final 3 alliance with you motherfu*kers, I am going to be sitting in the corning while you guys are kissing, hugging and eating. Emmett laughs. Gary says I will be alone all day .. I will be in my room all day .. what is the point in coming out to watch you guys eat, kiss and hug.

10:55pm Andrew and Emmett sit down at the kitchen table to eat their dinner. Gary is also sitting at the table talking about all the food he wishes he could eat.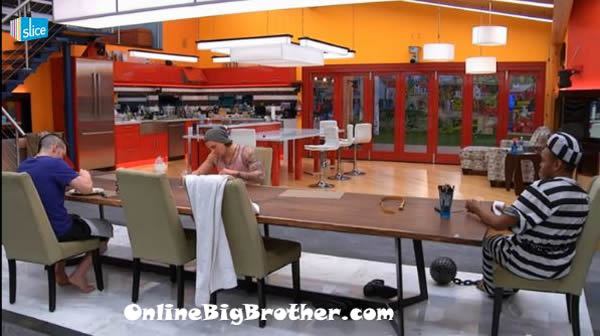 11pm – 11:20pm Gary heads into the bedroom. Emmett is in the diary room. Andrew and Jillian are in the kitchen alone. Andrew complains about how messy Emmett and Gary are. Andrew says even though Gary can't eat food he still manages to make a mess in the kitchen. Andrew tells Jillian I am tempted to just tell Emmett to vote my a$$ out! Andrew continues to rant. Andrew talks to Jillian about her siblings. Jillian says I don't think Emmett even knows my siblings names. Andrew says that's because he is going on his looks where as I have a personality. Andrew gets called to the diary room but they won't let him in. Then 5 minutes later they call him back in.
11:30pm Jillian and Talla whisper in the kitchen about Andrew. Andrew joins them and they talk about tasks they've been given. Jillian says she hasn't gotten one yet and wants one. Andrew says yeah you and Emmett haven't had one. Imagine Emmett telling us hey guys lets do something fun. Andrew leaves and Emmett joins them Jillian tells Emmett he can't act like Andrew is leaving .. he is already threatening to turn this house upside down! Jillian tells Emmett how Andrew thinks Emmett is going on a power trip. Emmett says power trip? how am I possibly on a power trip? Emmett and Jillian head outside. Andrew comes out and says goodnight.
11:45pm – 11:55pm Out in the hot tub room: Jillian and Emmett are game talking. Emmett tells Jillian we should have thrown you up, I think it would have worked .. Talla would have voted to keep you. Jillian tells Emmett that Andrew is threatening to go tell Gary everything. Emmett asks tell Gary what, I have already kind of broken it to him. Emmett says that he tested Andrew to see if he would keep his word or if money meant more to him. Jillian says that she would take the money too. Emmett says it was just the way he said it. Emmett asks what is he going to tell Gary.. that you and Andrew have a final two deal? Good, that will look better for you because it will look like we aren't as close as we are. Emmett says that's fine, I don't give a sh!t what he does. Jillian says he said you had a final two with Gary .. Emmett says yeah but I am not taking him though. Jillian and Emmett head inside. Up in the HOH room Jillian tells Emmett that someone told her to back door Emmett and send him home. Emmett asks who? Who told you that? Jillian says umm I don't remember.. who was on the block. Emmett says Peter and Andrew. Jillian says they were joking around telling me to back door you. Emmett asks again who said that? Jillian says I don't know I dont remember. (Emmett wants to knwo because he knows it was Andrew who said it. If he knows Andrew turned his back on him he will more reason to evict him.) Emmett looks at the chess board and says that's not checkmate. Emmett then runs down to tell Gary that he didn't checkmate Andrew.

Stay connected and interact with other Big Brother Fans on our Facebook page.
And Follow: @BigBspoilers and @Dawgsbigbrother on twitter
Midnight Emmett and Jillian HOH Room
Emmett's thinking about throwing some of the chess games against Gary because it's not looking good that he's beating everyone in the house. Jillian doesn't see why he should nobody else in the house knew how to play chess it's just a game he knows.
Talla and Andrew are sleeping. Gary is off camera sleeping.
Emmett is thinking that maybe Wednesday he'll tell Andrew. Jillian: "Andrew is making some sense"
Emmett: "WHy are we taking a guy to the final 3 that will beat us both"
Jillian: "I know Andrew will take us to final 3"
Emmett: "So will Gary so will Talla"
Jillian: "Talla will not"
Emmett instructs her work Talla and Gary so they take them to final 3. He wants her to be careful with what she tells Talla because she might go to Gary with that information.
Emmett points out how Andrew is getting mad now that he's on the block when before he always said he would accept
Emmett: "If Gary wins HOH.. I'm screwed.. still I would rather compete against Talla and Gary than Andrew in"
Jillian: "Ya I know.. and I gotta listen"
Jillian tells him she is going to vote for Andrew to stay and he has to choose
Emmett: "Do that.. it means you vote Talla to leave and I'll keep her and bring her in.. Talla will take me to the final"
Emmett: "Ohh sh1t Talla only needs one more vote in the Jury if she makes it, Andrew, AJ and Topaz… all she needs is one more"
Jillian: "Tell Gary that"
12:26AM all you hear his smacking lips and the milkmance start milkmanceing
(Video uploading)
[polldaddy poll=7054334]