| | | | |
| --- | --- | --- | --- |
| HOH Part 1 | Paul | HOH Part 2 | Nicole |
| HOH Part 3 | ? | Final HOH Winner: | ? |
Watch the last week of the feeds for FREE! 1 Week Free Trial!
Around 10am houseguests wake up and begin gettign ready for their day. For the most part they slept and practiced their speeches.. I'm not transcribing 6 hours of speech prep.. you can get the idea of what they plan on saying here.. https://www.onlinebigbrother.com/all-i-had-in-this-game-was-my-lyltyof-my-partner-victor/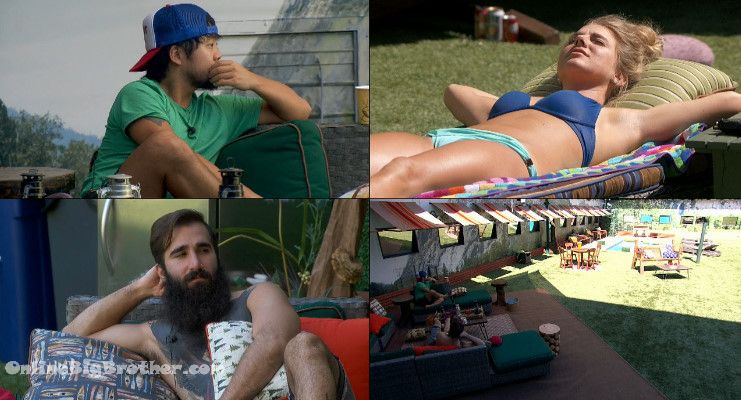 11:00am Backyard enjoying the backyard…
Talking about the inconsistencies with Natalie's stories
Nicole – she told me she dances on tables and makes out with a lot of people when she drinks..
Nicole was originally worried that Natalie would have tried to make out with Corey in the Jury. "This was early"
Paul – a few times she said blackout drunk..
Nicole – she says she kisses a lot..
Paul says Natalie might just be a rowdy drunk
Nicole says that is why Natalie wouldn't drink on the show because if she did and ended up kissing someone she's stuck with them in the house the next day
James says Natalie was in a showmance with him and that would have made it extra awkward.
Paul – we're not on the The Bachelorette
Paul – if you are a girl and you don't mind banging dudes…
Paul jokes that they would win the game..
James suggests that Natalie is bi polar he was goign to mention is to her.
Paul – you would have gotten your nuts ripped off hommie ..
James thinks that Natalie maybe had a twin..
they laugh..
James- I would rather have 10 dudes pissed off at me than 1 women pissed off at me..
Nicole talks about how Victor was when Jozea when in the house she didn't like him. Paul says Victor's social game when Jozea was around was trash.
Nicole says her and Victor had a secret thing early in the season
Paul – he didn't like me in the beginning..
Nic – he got mad about some stuff.. He always gave me information and I never gave him any.. I just kept my mouth shut..
Nicole- Vic told me straight up he's going after COrey
James- and me.. He's going to clip me after Corey.. He told Paulie ..
Paul – Stupid..
Nic – Paulie was like OK Vic's gotta go..
Paul – don't say you're clipping someone's teammate..
Nic – he was so confident..
THey agree Victor changed when he came back. Paul says he was acting like himself not a "Cocky fit douchebag"
Nic – I was happy when he came back.. Between him and Bronte those were the best 2 options
Paul – are you still close to Frankie
Nicole says she's got his cell phone number.
Paul wants to meet Frankie, "Does he live in New York still"
Nic – he lives NY his sister lives here
Paul – his sister use to live by me..
Nicole says Frankie, Derrick and Cody are all super close "You'll get to meet him.. Frankie is a very unique person"
Paul says he's a fan of Frankie doesn't understand why nobody likes him
Nicole cant understand either.
Paul brings up when he mentioned to the house he liked Frankie everyone looked at him "Like YOU like Frankie?"
Paul – Michelle shit on me, Corey shit on me
Nic – Corey loves Ariana
Paul says Michelle told him all the fans hate Frankie.
Nicole – I'm not getting into it..
Nicole to James "You said right now Caleb is on Survivor:
James – yup
Nic – so it's already filmed and he's back home
Jame s- yup
Paul – wait so he's been on it twice now
JAme s- yup
Talking about going Amazing race and survivor with Victor or Corey
Paul – Victor is the easiest person to get a rise out of
Paul – that's one person I knew I could under their skin is Victor
Nicole – I tried not to ..
Paul – he liked you you just had to be nice to him
Nic – he would get mad at me about stuff… I had to try sometimes I'm just mad..
Paul – I feel bad for Victor's future kids.. He is not going to be a cool dad..
Nicole says Victor will be super strict
Paul – my kids are going to be disciplined as f***k .. my kids best believe we are going to talk a lot..
James- I want to get on survivor man
Paul – you have a good shot wouldn't be hard for you to get on
James – I'm a really good swimmer dude..
Paul – you're tough you would be better at surviving.. I don't have many survival skills..
James – I would make a bow.. I would go huntin
Paul says he doesn't have it in him to kill an animal. "Useless I would die.. But something like Amazing race I would do well.. "
James says 2 people on Amazing race were on his season, "Jackie and Jeff"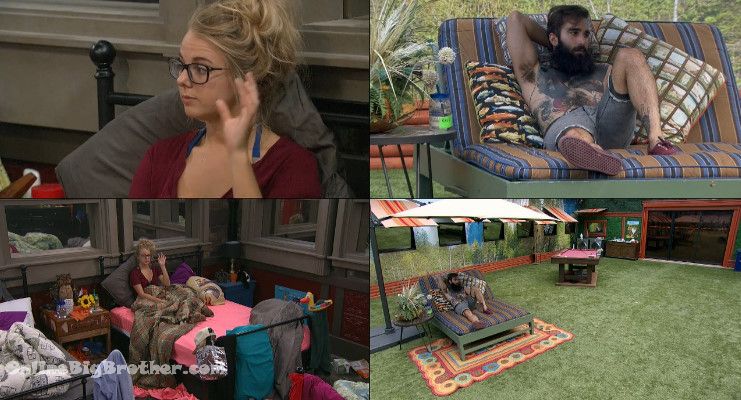 1:09pm Nicole practicing her final 2 speech, Paul practicing his

3:19pm Practicing her speech again…
"I knew it was going to be a difficult road"
"Can't believe i'm sitting here final 2 dream come true"
"I've been watching this show since I've been 8 years old"
"When I got a callback this season my heart couldn't have been happier"
"I knew I would have a target on my back i didn't know it was goign to be so big"
"Day 1 called a snake, Day 2 trapped on a island fighting for my life, potentially going home after 28 hours of being in this house.. "
"Also I had to convince 2 strangers that I should be the first HOH, I wanted them to hand it to me without me being too eager.. "
"I didn't want the first HOH but I had to protect the returners."
"Day 3 I had to nominate people.. I didn't know anybody.. To keep blood off my hands I had to convince someone to volunteer to go up as the pawn.. I made that happen.. "
"Day 1 2 and 3… pretty quick start had to play strategicallyyyyyyyyyyyyyyyyyyyyyyyyyyy"
"Welcome into the Big Brother house as brutally as I could have been.. it was blessing in disguise"
"This season I was going to play Big Brother and not have Big Brother play me"
"Things went according to plan until day 58, I made a rid n'die alliance day 1 and we made it to day 92 together.. that'w something I'm very proud of"
"Day 58 my game started to crumble a tiny bit I realized I wasn't in the loop for once and the person I wanted to go home wasn't happening.. Zakiyah was leaving and that made me upset"
"after Paulie left I realized that my strategy of talking wasn't goign to work I needed to win competitions"
"it was 5 vs 2 I need to figure out how to get us out of this terrible situation"
Nicole says her strongest move in the game was convincing Natalie to put 2 of her own Allies up on the block. (JAmes GUT had alot to do with this)
Nicole says she had a couple hours to convince Michelle the Co-HOH that week to put up one of her allies..
"I got called out the most… I had to get myself outta a lot of situations I didn't even know why I was in.. I had to fight tooth and nail to get here"
"Didn't take naps was never not stressed" (ZOMG)
"James started a fight the day Vcitor went home.. "
"JAmes started a fight with Paul for no reason his objective was to make me not trust Paul.. "
"James slipped up and said if it was up to Natalie Corey would have been leaving" (The week Victor and Corey were on the block)
"Who were the next 2 evicted.. Michelle and Natalie.. "
4:00pm Nicole sleeping, Paul sleeping, James sleeping.
4:24pm house guests get a commercial for the Fall version of Big Brother..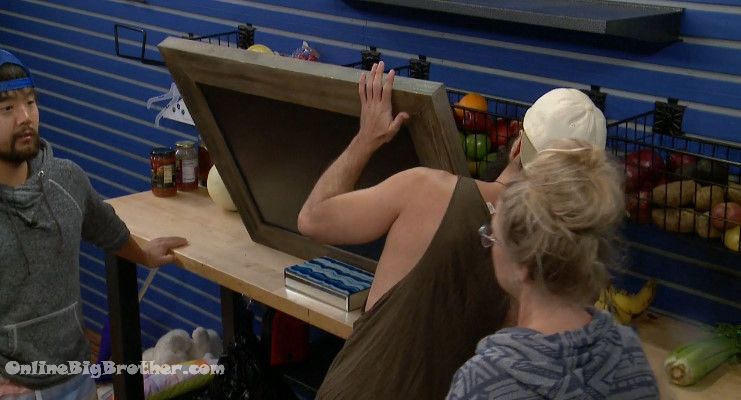 They are given supplies in the storage room so they can leave behind a message..
JAmes is asking Big Brother if he can be on the new season.. (LOL)

5pm – 6:20pm
The final 3 write messages on the board. Paul obviously writes his "Friendship Tips". Nicole writes her "Daily Reminders". James writes "Captain Camos pointers". Paul – 1 don't be a snitch, 2 don't be a b***h. James writes if a fight doesn't involve you, walk away. Paul – don't be a baby … aka Big Meech.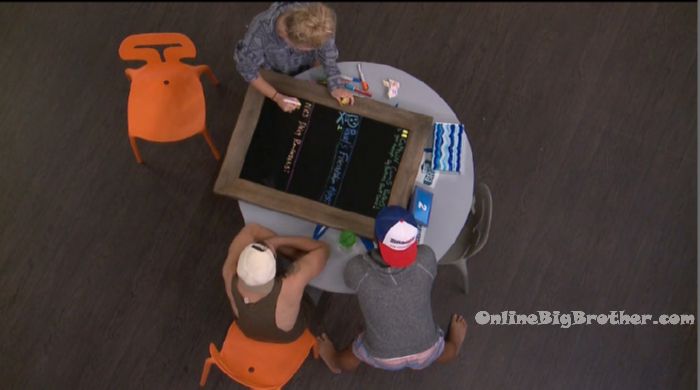 6:35pm – 7:15pm James and Paul head outside to play pool. Nicole takes a nap.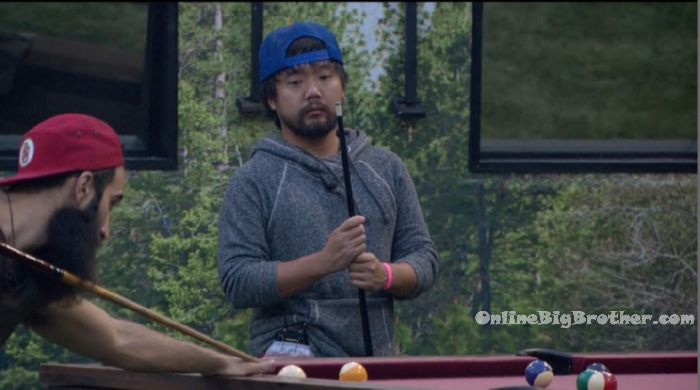 7:30pm – 8pm James and Paul end their pool game. James gets into the hot tub. Paul gets Nicole to pluck his eyebrows. James joins them. They talk about how they only have 48 hours left. They wonder if the fall season will be shorter. Paul thinks it will be half the house guests and half the time.
James and Nicole draw more pictures on the board.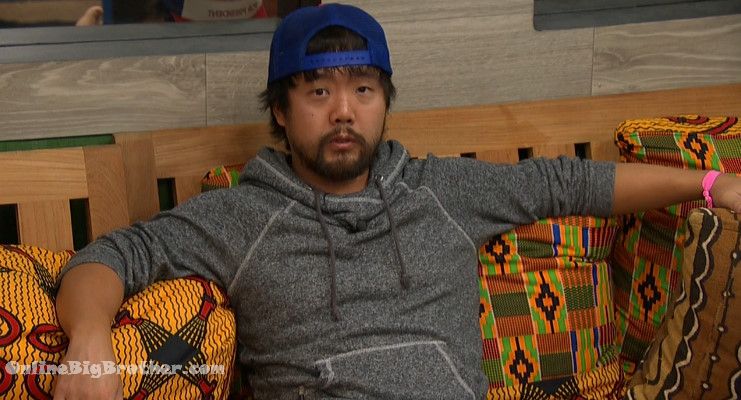 8:20pm James alone in the safari room
James- what's up live feeders…
James – well America… look slike your boy botched it up.. I'm pretty sure Nicole and Paul will take each other to final 2
James- my downfall this summer is I didn't get any blood on my hands, They are going to use that to take each other to final 2 I think.
JAmes- and ujmm… so if that's the case.. Bailey and brenda I'm really sorry I failed you guys again
James – it really sucks.. I should have won those 2 comps I should have won that first comp
James- should have done a lot of things different.
James regrets keeping Nicole thinks taking Corey would have been his better play because Corey and him could make it to the end together.
James – I tried my best I got to final 3 it just wasn't in the cards this season I geuss. Got a day left.. After today someone will get crowned and it'll probably be Paul or Nicole. I just don't know where my vote is going to go.
James – Paul promised me a final 2 .. Nicole I've always been loyal to her pretty much the entire game..
Jam es- I have no blood on my hands and I feel that a lot of JUry members would vote for me..
James – should have called more people out, Shoulda got more blood on my hands.. Played a clean game this season up until the end.. I got sloppy..
James says a lot of the game is luck and Strategy and his luck finally ran out, "Final 3 it's HUGE"
James thanks friends and family for their support.
James- really bummed I might have came in third place.. i was really close.
James wishes Paul would just be straight up to him Like Nicole is.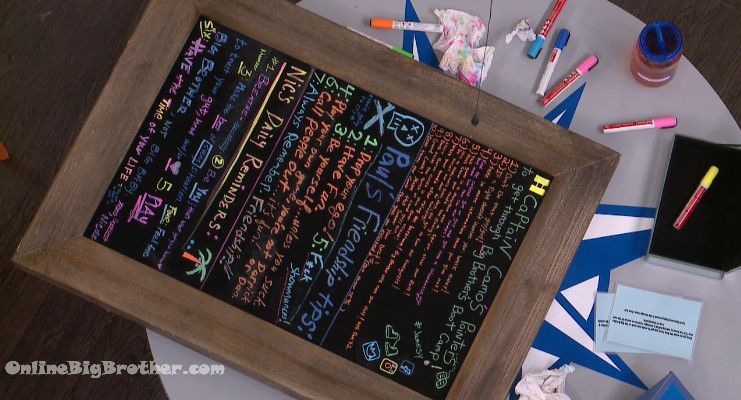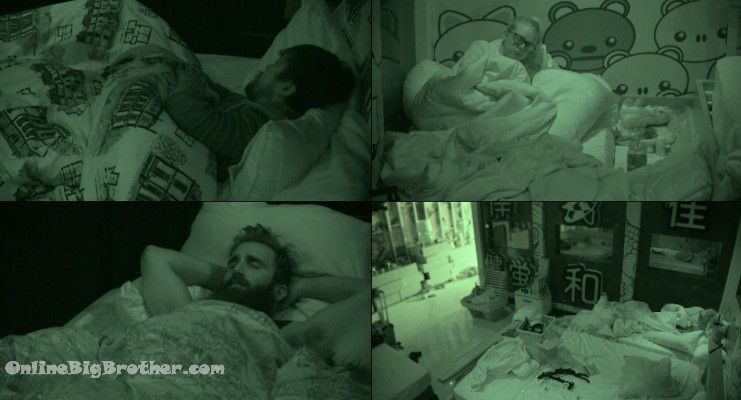 10:26pm James and Paul sleeping Nicole eating popcorn .
7am They're all still sleeping..
[polldaddy poll=9517035]