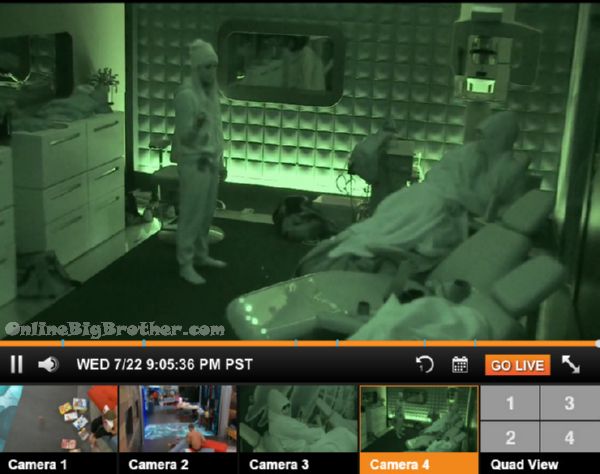 9:05pm Audrey and Vanessa in Audrey's lair
Vanessa – Is there a particular reason you ignored me yesterday
Audrey says she's on a lot of medication she's forgetting things if she ignored her she's sorry.
Audrey – I keep forgetting my medications.. Avgand028*(&^*&
Vanessa – Ativan
Vanessa starts talking about her ex husband taking it.. Feeds switch.
9:11pm Clay and Jackie bathroom
Clay saying he cannot believe that Audrey is trying to spin it that it's Shelli betraying Audrey.
Jackie says that's all Audrey has
9:19pm Audrey's musical
Shelli put a knife in my back… is this real.. is this real… someone please tell me how this is my life.. Vanessa and James atop telling me lies is this real.. is this real.
Link to the animated Gif
[envira-gallery id="123357″]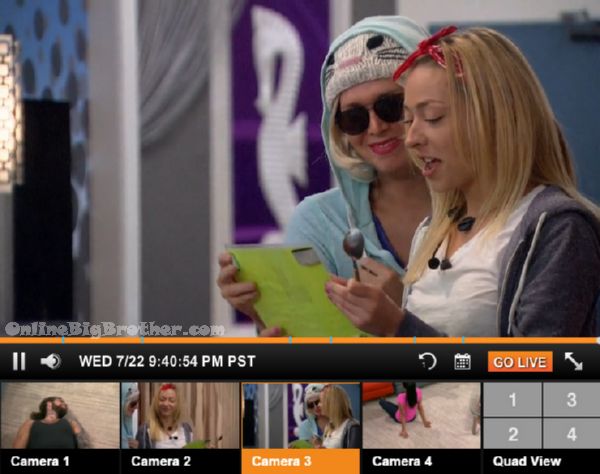 9:40pm Liz and Audrey
Audrey comes out of the Storage room with a card in her hand.
Are you ready for a BB TAkeover..
Audrey wearing a blonde wig says she's Liz sister, calls her up to read the card. "Houseguests.. it is your responsibility to.. break it down..Joking, to put the appropriate items in the fridge and freezer..
Audrey goes back into the lair and slaps on the sheets.
9:56pm – 10:30pm listing off their cars Chit chat in the living room
Vanessa has a 2011 white Jeep wrangler (Her real car is a Bentley ~180K car)
JohnnyMac has a 2013 ford escape white
Jackie has a 2004 Mercedes e500 "It's paid off I want to run it into the ground" (2016 model is 55K)
Jason has a Chevy Cobalt 05. It's the model that had 4000 recalls
Meg doesn't have a car
JAmes says he's got Tahoe, he's got factory audio but it's good because it's Bose
Steve – there's stuff they make that isn't very good.. they try to trick you with them.. They do things with Harmonics to make it sound different than other speakers.. you think it's better because it's different
James says he likes it
Steve doesn't have a car
Julia has a jetta named "Scott"
Austin says a Honda CRV silver and it's almost dead.
Clay has a Dodge Ram 07
Shelli has a Kia sorento before that she had a mustang she totalled, "I called myself Mustang Shelli"
Becky has a Honda civic 2012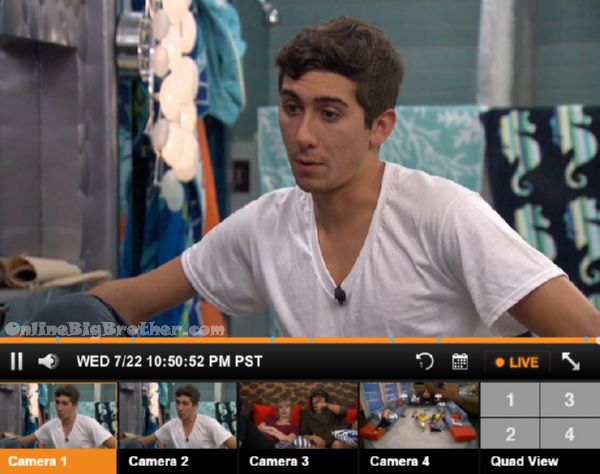 10:43pm Austin and JAson BAthroom
Austin is giving Jason his talk about how Jason's POV Ceremony speech really hit a chord with him
Austin says he is a major Big brother Fan as well, season 6 thru 15 he live feeded.
Austin starts to explain why he didn't watch Season feeds cut..
When they come back Austin is telling him there's 2 twins but that's all he knows
Jason says Austin has chemistry with the other one
Austin – I want to get to Jury with her..
Austin acts like he didn't know Jason knew. Austin says Jeff was the one that filled him in the the twins "When he told me I was dying laughing.. "
Austin says she's told him nothing he doesn't think she can reveal it.
Austin asks him who the next target is now that Audrey goes, "She's the next mystery"
Austin tells him his girlfriend situation is not real he doesn't want people think he's doing that because he's not.
Jason says the house would rather both twins stay in the game over the possibility of a jury member coming back in.
On their way out of the bath room they tell each other they won't need to worry about each other if they win HOH.
11:10pm – 11:30pm Vanessa, Austin, Shelli, Becky and Clay
Vanessa telling Shelli she does not have to worry about the public thinking this is the ultimate betrayal.
Vanessa – she's just trying to hurt you right now
Vaenss swears people will know the truth outside the house and if they don't she'll make it her mission to inform them.
Shelli says Vanessa won't stop talking game to her she's not looking for human comfort she'll looking for information.
Vanessa – She can't even stay now with all the exceptions that have been made
Shelli admits Audrey had her thinking that maybe she is sending the wrong person home
Clay – Today
Shelli – ya
Vanessa tells her to be very careful what she tells Audrey she might be very vindictive. She adds there's people out there that will want to drag your game down the tubes on their way out.
11:36pm Clay, Becky and Meg. He fills them in on Audrey trying to make Shell feel like this is the betrayal of the season.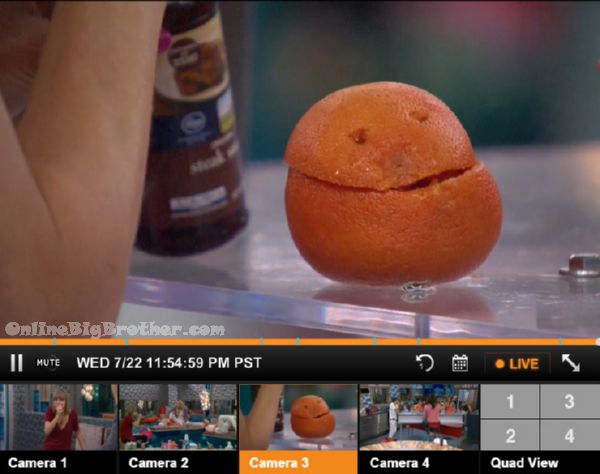 11:52pm Julia and JOHNNYMAC
He's saying how scared he is about going into the have nots. He's not sure what to expect from Audrey but he's really tired.
Jula brings up Audrye coming out of no where and doing a "BBtakeover" Johnnymac says she handled it well. Meg joins them they agree Audrey was being very sketchy when she did the whole BBtakeover thing (LOL wait until you see her musical)
While this happens Becky is making a face with a grapefruit.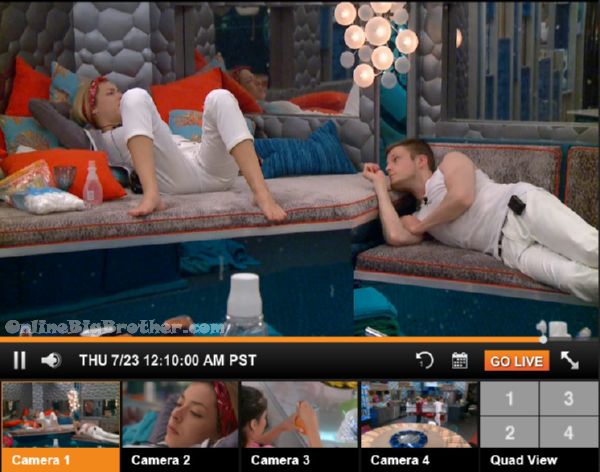 Johnymac describes the HAve nots room like being with a dead person that might attack you. Julia mentions it must me nice that the light are always off. Meg leaves. JohnnyMac and Julia start talking about Family. Julia's dad is 61 had major heart problems. He was a candidate for a heart transplant but the heart was in a body that spent a lot of time in prison. Julia wants her father to be a grandfather but she's not ready to have kids for another 10 years.
Live Feed subscription gives you CBS All Access thousands of archived shows. Live Shows like Big Brother, all the Big Brother Seasons, and 24/7 coverage of what is happening inside the Big Brother House. Plus there's flashback that lets you go back to any second of the feeds and rewatch what happened. Simon and Dawg will index the season just watch the parts worth watching. All this for $5.99 a month try it out 1 week free. Support our efforts and get your feeds via a link on this site. Live feed subscription Sign up
[polldaddy poll=8983592]
Share it YO!!
Tweet