Head of Household Winner – Nicole
Have nots –
Nominations – Chirstmas and Memphis
Power of Veto holder –
Power of Veto Ceremony –
Live feeds —-> Grab your Live feeds here. Try it free.
Rank the houseguests —-> Big Brother 22 Ranking
Spoilers – Memphis and Christmas are going to be nominated. Memphis is her target.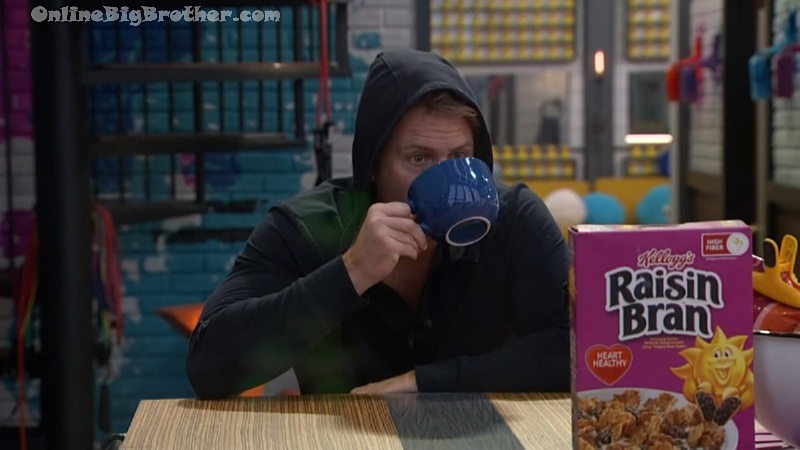 9:51 am Memphis is up drinking coffee..
10:30 am still getting ready for the day.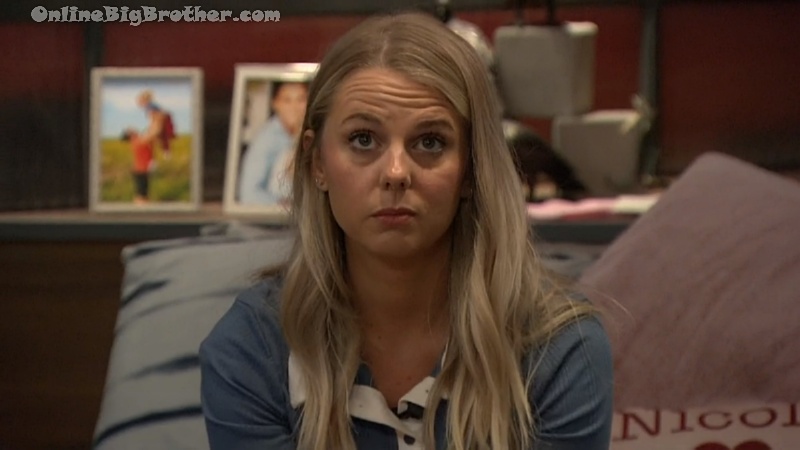 11:20 am Nicole alone in the HOH
I technically donated my wine to the house because it's only three glasses me, Cody and Enzo will have a glass. So I am donating to the house. Number two I already want to cry because I have to put two people on the block. I thought I would be really good at this like YEAH let's get it done. No I feel like I want to cry and I feel bad.. I didn't get enough sleep. I'm really good at this game I'm really good but I'm not good I guess.. People.. UGH.. I'm good at surviving.. ugh I have no idea. I'm a mess right now. I didn't get enough sleep I want to cry. I don't want to talk to people and tell them they may be going on the block. The thing is he put me on the block first so If I put him up that makes sense. Christmas literally tried to get me out of here right so that makes sense So I shouldn't feel so bad.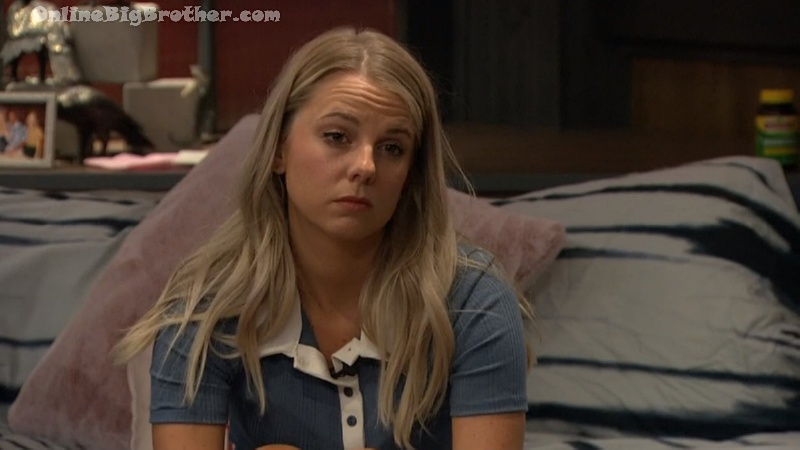 11:30 am Memphis and Nicole
Memphis offers a deal. "If you can keep me off the block this week I would be completely content and ok and loyal to telling you lets make a final 3 deal which that means if I win the veto next week I'm taking you and if you win the veto you're taking me Now.. with you keeping me off the block this week I'll vote whatever way you want me to vote.. aaaand.. that's basically it.. you see how that works
Nicole – yeah
Memphis – if I win the veto I'm not going to use it this week. If I'm off the block I'll vote any way you want me to vote If I win veto next week I'm taking you and you will do the same with me.. the only reason I can position this to you is because I have no other deals does that make sense
Nicole – yeah totally
Memphis – otherwise I wouldn't be sitting here telling you that
Nicol e- yeah you're loyal
Nicole says the pairs are Cody/Enzo and Memphis/Christmas she's on her own.
Memphis says if he had won't he HOH this week Christmas would have been his target because she tried to flip the house on them. "that was against the committee basically between me and her what you say is a friendship"
Nicole — that good you can keep them separate
Memphis – we're not where to be friends
Memphis laughs
Nicole says she's going to talk to the house right now she's only talked to Memphis. She will continue to talk to the rest of the house and make her decision. Goes on about being up in the air.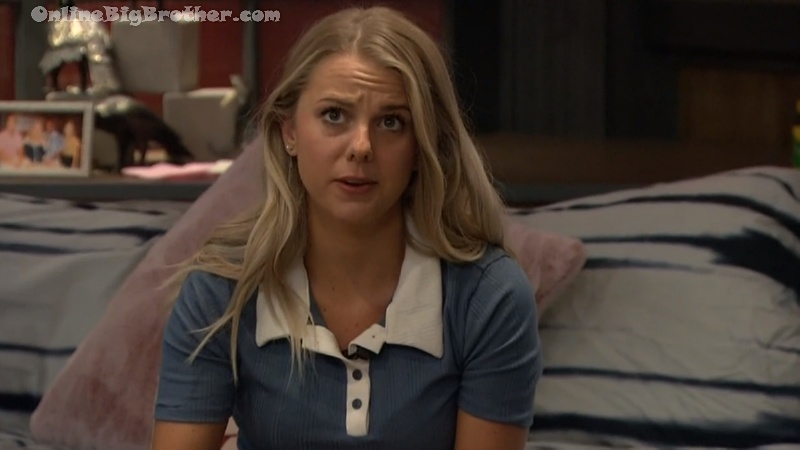 Feeds cut when we're back Memphis is leaving after he's gone.
Nicole – Oh my god.. that not a good proposal. You want me to keep you off the block you got to guarantee me final 2 and you need to do a lot more than that buddy.. (LOL what more can he do?)
Nicole – and I know you have two final 3's already. You are lying right to me. You have a final 3 with every single person in this house but me. I just happened to win HOH.
Nicole – I didn't tell him at all what I was doing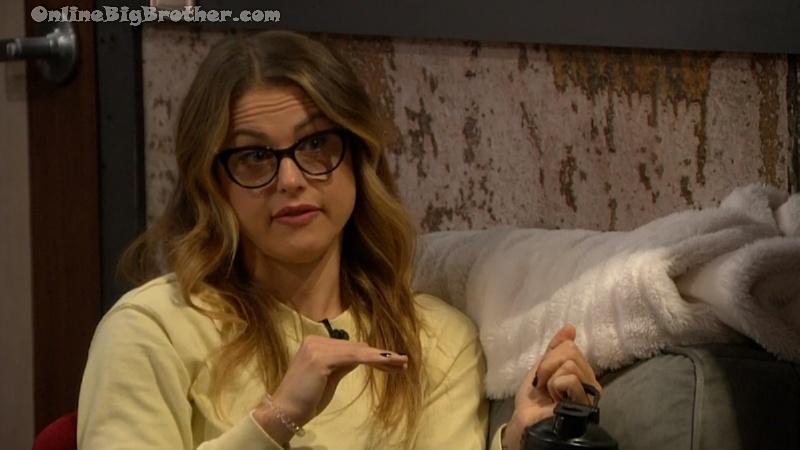 11:55 am Nicole and Christmas
Nicole – this move is very very very very important I can't play in the next HOH which is terrible so what's going to give me the best chance to make it to final 3 and I will say I don't want you to leave this week.
Nicole – I will do everything to make sure you don't leave this week.
Nicole explains in order for the person to go she wants' she's going to have to "Do somethings"
Nicole – I don't want to keep people I can't be as far as the guys.. there's a couple of really good guys and so..
Christmas – like look at everybody's stats.. the hierarchy .. this is just facts. it's COdy, Memphis, Me, Enzo, you
Nicole – yup exactly I know
Nicole is wanting to get someone out that has good stats.
Feeds cut.. when we're back they are going on about having to make hard choices this game.
Nicole – I just think that for me I can't sit next to someone whose had it in .. not necessarily easy but less rocky of a journey.
Nicole – I don't want you to go home what I'm doing is trying to ensure my target doesn't go home with there's only 4 people that are eligible to be nominated this is a more strategic puzzle.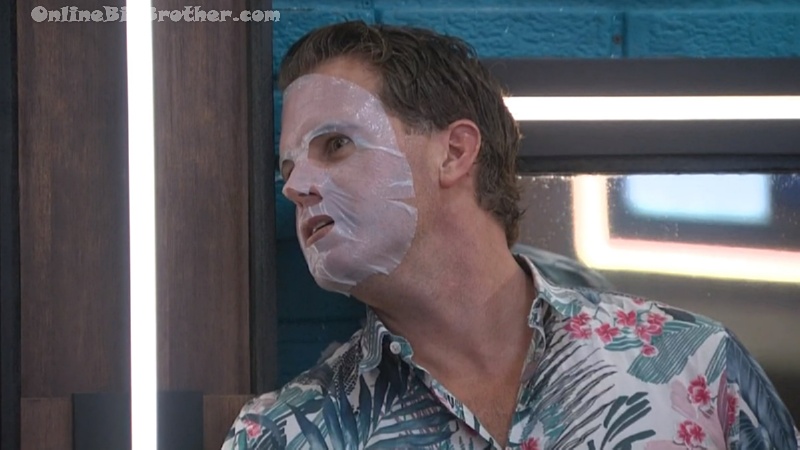 12:07 pm Memphis in his Hannibal Lecter voice – "where is buffalo bill"
Cody – what does that do?
Memphis – hydrates the face
Cody – that's f***ing terrifying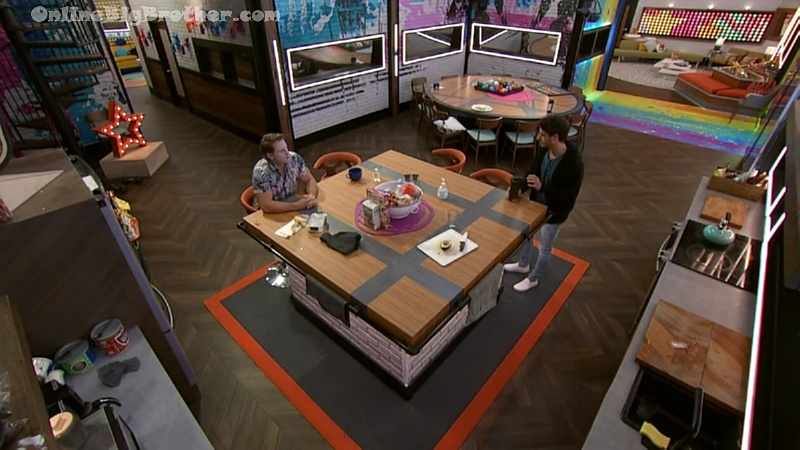 12:15 pm
Cody – it's 12:15 and I've officially hit the wall.. great time..
They're bored.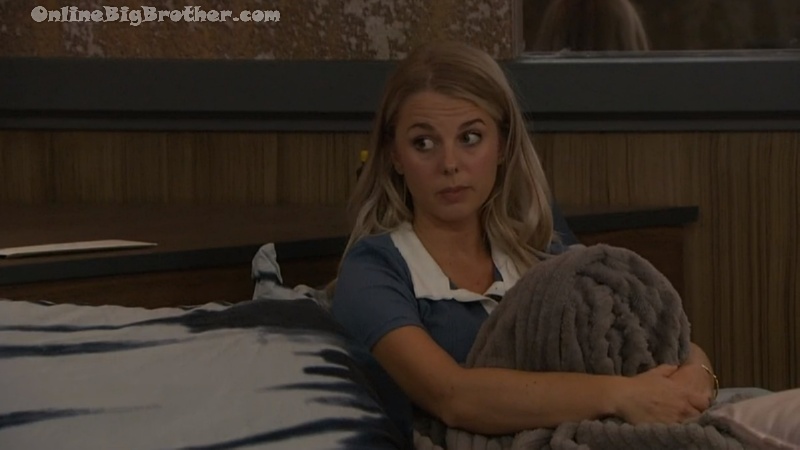 12:43 pm Nicole and Christmas
Nicole – this game is cutthroat it's very cut-throat it's like fricken hunger games except for we don't…. we just vote each other out
Christmas – kill
Nicole -yup. You have to be real careful what you say. That's why I don't talk to anyone
Christmas apologizes for the triple Flip attempts
Nicole – that's ok you are fogiven.. are you talking about the triple?
Christmas – yeah
Nicole – yeah.. no … I'm totally fine. I'm past that I don't want you going anywhere that's the truth even though you did that doesn't affect me anymore..
Christmas – Tyler was still campaigning for you to go.
Nicole- when me and Dani were up ohh really..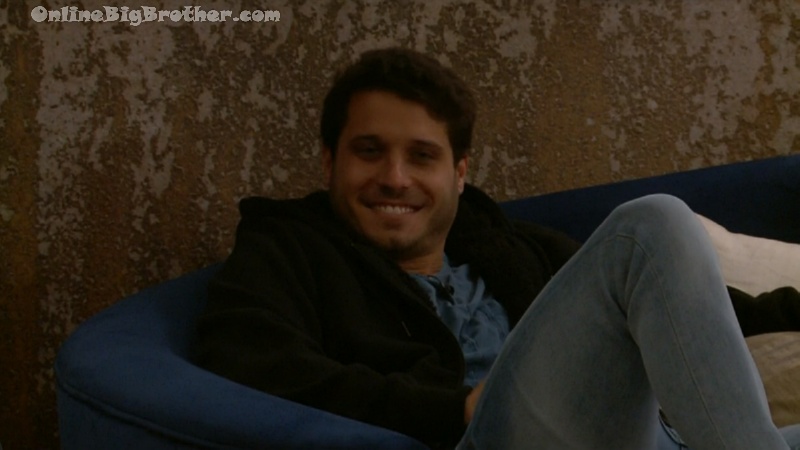 12:49 pm Nicole and Cody
Nicole says she pretty much told Christmas she's going up but not going home.
Nicole brings up the points Christmas made about Cody and Enzo being popular in the jury house and about Cody's competition wins.
Cody – I'm not sending Memphis home I'm now sending her home.. just kidding..
Nicole says Christmas not once offered a deal. "NOTHING.. NADDA NADDA nothing.. I do want Memphis to go"
Nicole says Memphis deal "Sucks" explains his deal.. and pretty much everything I typed up above.
Cody – I mean it's not a bad deal
Nicole – I need a final 2
Cody – ohh sh1t so you were looking for a final 2?
Nicole – he has a final 3 with everyone.. everyone in the house he has a final 3 deal.. he's lying to my face and he's not offering anything.. no you are going to on the block.. He's like if I am on the block I'll take that as a no if I don't it's a deal..
Nicole asks who's key should be pulled first,.
Cody – Christmas she knows she's going up
Cody – here's my deal final 2 DONE..
Nicole – ok
They tease and giggle …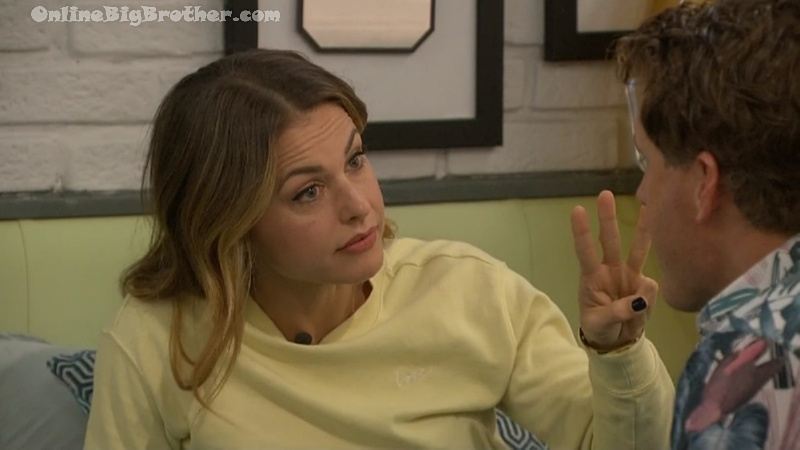 12:51 pm Memphis and Christmas
Comparing notes. Christmas talking about how she tried to downplay their relationship by telling Nicole Memphis reminds her of her military buddies.
Christmas – that was a really important influential time in my life.
Christmas – her thing is she can't play in the HOH next week and then the veto is what it's all about
Memphis – that's key
Christmas – what if you .. I feel like I have some leverage against her I have some marks against me in the jury and I'm not as good as Cody and you at comps
Christmas – what if you thin of some deal to offer her next week if you win that veto you keep her
Memphis – that's not a bad idea.. at this point it's whoever wins the veto.
Christmas – we can't be on the block together it needs to be you and Enzo
Memphis brings up the POV
Christmas – we need to set ourselves up for minimal damage
Memphis – yeah alright
Christmas – does that make sense. so with that if you and I are up there that means three people can win the F***ing veto and keep noms the same if you and Enzo are up there that means that three people can win the veto and change it same with me and Enzo (But if Enzo and Memphis are on the block and one wins veto sweet Christmas goes up)
Christmas – as long as Memphis is up there with me or you I think it'll be you we have to get Enzo up there you need to make a deal to get rid of Enzo..
Christmas – find some dirt about Enzo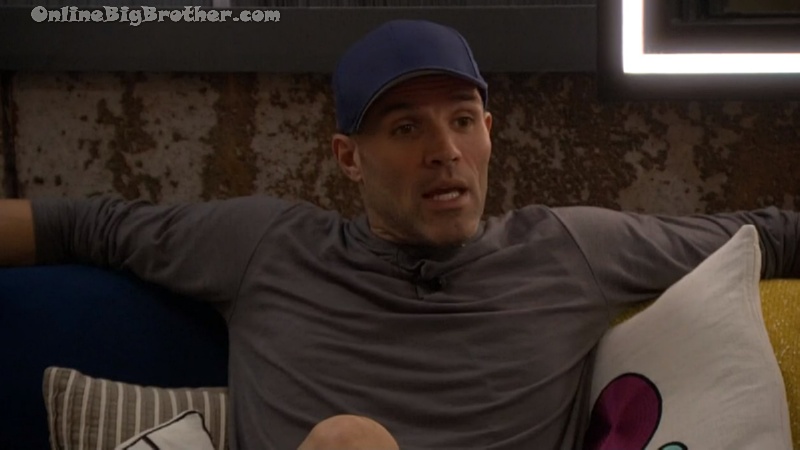 1:12 pm Nicole, Enzo, and Cody
Nicole is filling them in on her conversations with Christmas and Memphis says Christmas trying to protect Memphis. says Memphis is more or less saying that Nciole is the worst player in the game so she's the person he wants to go to the end with.
Nicole says nothing is changing they're going up still.
Nicole brings up that Christmas was trying to gett Cody because he's won the most comps
Enzo – they're ruthless..
Nicole says they both offered her final 3.
They all go on about their final 3. Nicole says she's got her two people.
Enzo – the third place gets 10 g's.. (that's what you get)
Nicole says the nominations will be at five. "they said normal time"
Cody leaves..
Enzo – Yeah Memphis was getting nervous. cause Christmas was up here.. I was like YO I dunno.
Nicole thinks Memphis isn't sure he's going up. HE offered her a deal if he goes up deal off.
Enzo – get outa here yo..
Nicole – this is the easiest HOH I've ever had.
Enzo – if I had won this HOH it would have been tough for me because they think I'm tight with them.. once we win this POV and the HOH we're in a good spot to make it to final 3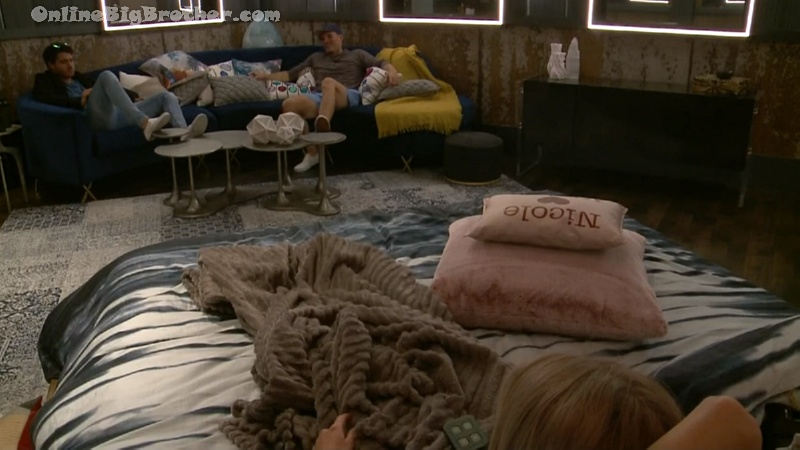 1:36 pm Enzo, Nicole, and Cody
Enzo – it's going to be so much better with one of them gone this week yo. god I want to win this POV so bad YO
1:41 pm Nicole – is it that bad that I just wanted him to say he's proud of me.. IT IS… UGH…
Cody – it's not.
Enzo – I wanted my kids to say I'm awesome and thy didn't they're 10 and 7
Christmas joins them.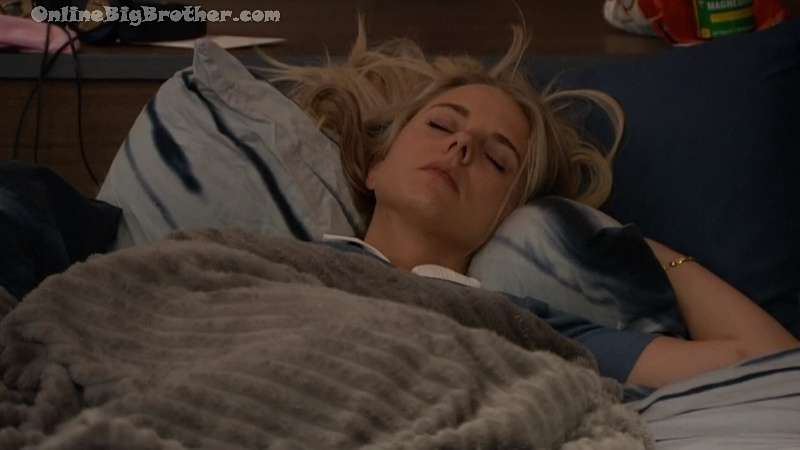 2:26 pm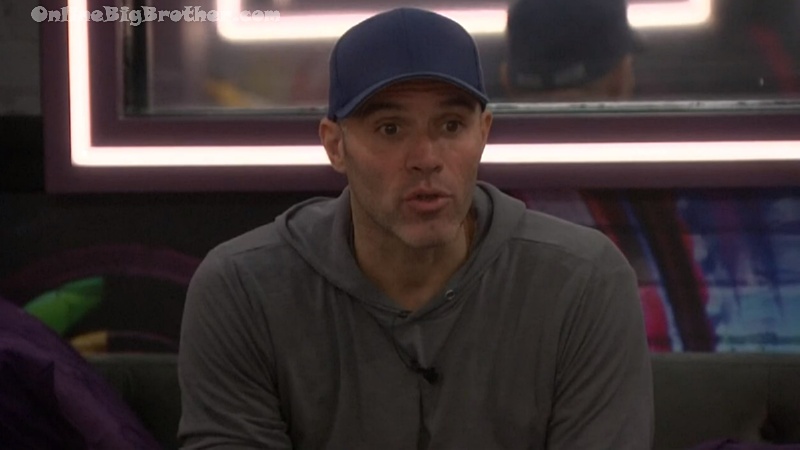 3:44 pm Cody and Enzo
Agreeing that Memphis and Christmas will cut them before Nicole
Cody – because they thin we're too likable.
Enzo says if they win POV keep them on the block. and they'll take the other one out next week.
Enzo – I want to play veto today.. right after noms. I don't know what it is YO .. I hope it's one you have to figure out a little bit because your life s on the line..
3:57 pm
Camera pans around in the photo room.