Head of Household Winner – Nicole
Have nots –
Nominations – Chirstmas and Memphis
Power of Veto holder –
Power of Veto Ceremony –
Live feeds —-> Grab your Live feeds here. Try it free.
Rank the houseguests —-> Big Brother 22 Ranking
As HOH Nicole Nominated – Memphis and Christmas with Memphis as her target.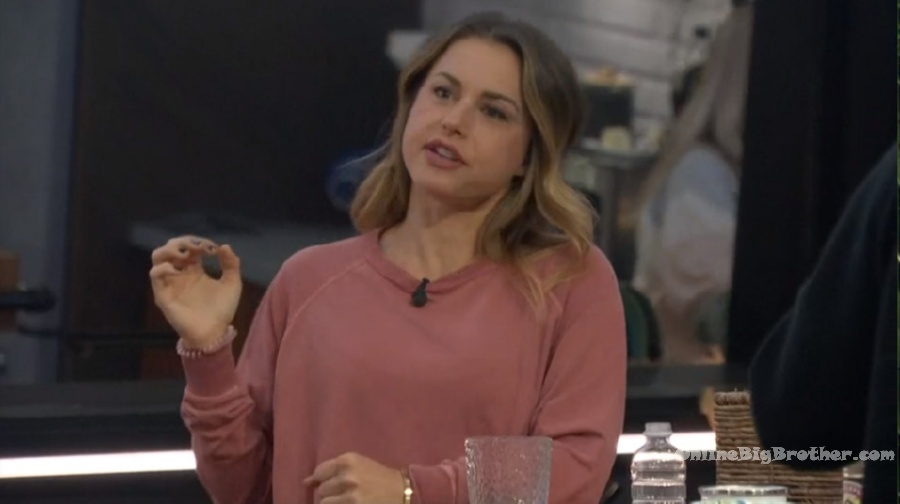 5:28pm The live feeds return from the nomination ceremony.
Bedroom. Christmas and Mempis.
Memphis – If you win the veto, she puts up Enzo. Christmas – I don't want her to vote you out. Memphis – yeah. Christmas – because Cody would vote for Enzo. So we have to make a deal. We have to start laying the framework for a deal. Memphis – yeah. Christmas – you have to start planting those seeds. We can always start that now.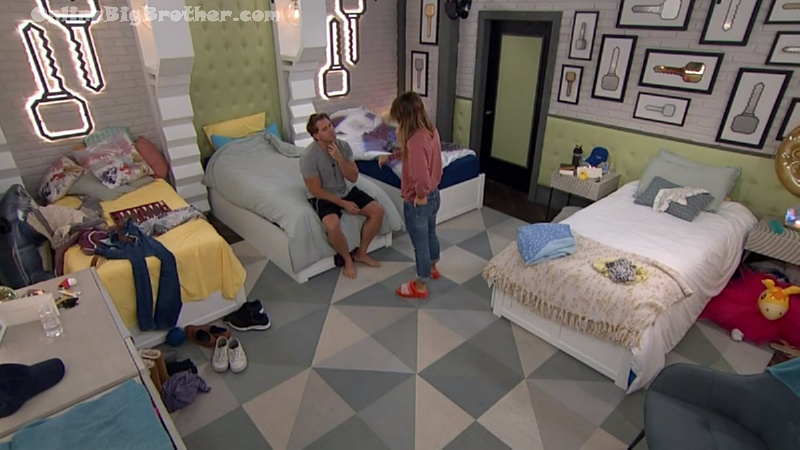 Bedroom. Memphis and Cody.
Memphis – Christmas is so funny dude! Cody – what did she say? Memphis – I don't know .. she has no idea what is going on.. Which is whatever. She is just like we're on the block together so we need to get someone else up and get them out of here. And in my mind I am whatever okay!? Cody – laughs. I feel like a lot of it is directed towards me. Memphis – she just assumes so much stuff which I get because she doesn't know sh*t. Cody – yeah that is usually what happens when you're out of the loop. Memphis – at this point we built something awesome and at this point I am going to play and we're going to ride.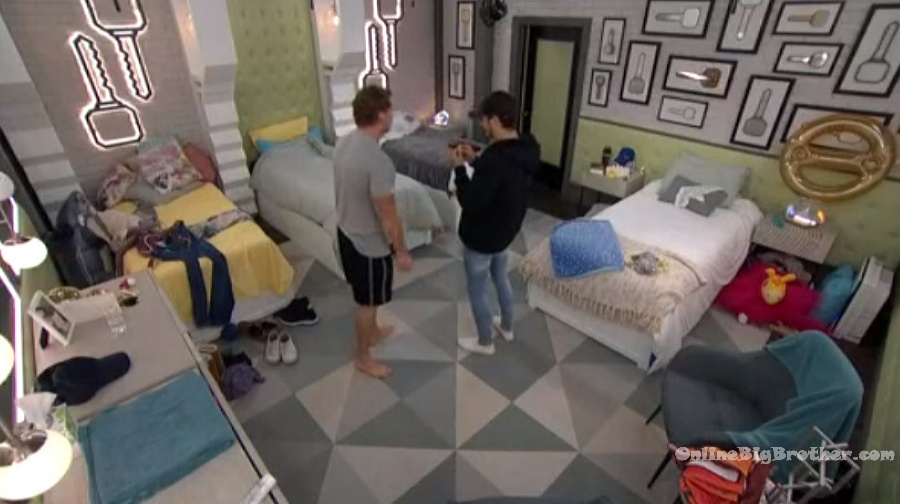 Kitchen. Cody and Nicole.
Nicole – she (Christmas) looked so mad. I'm like why do you look so mad? Cody – because its 100% .. she is mad because I'm not on the block. Like you know it is .. she already grabbed Enzo and was like we need to win veto and get Cody up and send Cody out. Nicole – she already did that? Oh my god that is hilarious!
6:15pm – 6:45pm HOH room. Enzo and Nicole.
Enzo – Its f**king ridiculous. I want them both out. Nicole – I don't care which one of them goes to be honest. Enzo – it all depends on if one of them wins .. then the other one goes .. that's it. I told Cody too .. he's had it with Christmas. He is like I am ready to get him out. Nicole – yeah I know .. I am afraid he is going to flip on me. Enzo – I think Memphis is the head of the snake. Nicole – I think he keeps her going. She told me today that she finds comfort in him. I think if he goes she will be a little more frazzled. Enzo – I am more scared of him than her. I feel like he has been good at every comp he has been in. He's just a beast. She is very emotional and that's what killed her in that comp.. she lost concentration. We just have to win and keep it the same. Nicole says that she just wants to chill. I was playing backgammon with Memphis and Christmas was there just staring at us.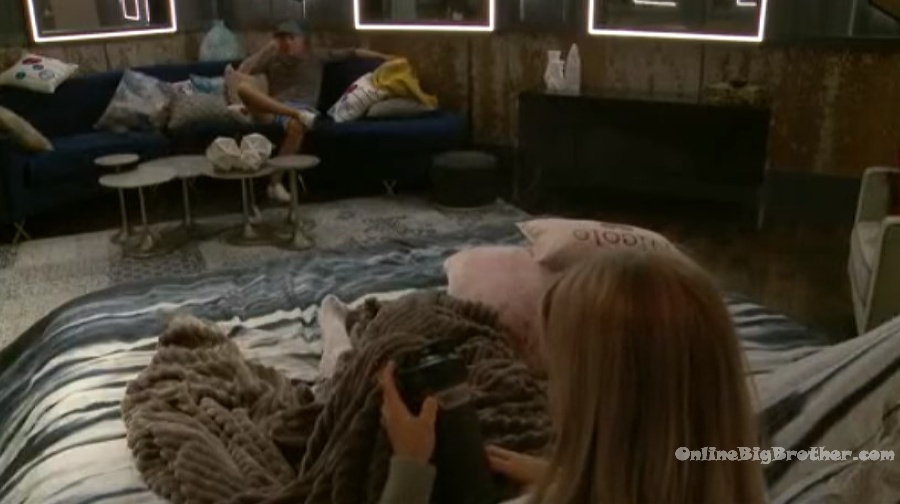 7:30pm – 8:10pm HOH room. Enzo and Christmas.
Enzo – there are only two more POV's and one more HOH and then the finale one. Christmas – did you guys get to have a good talk. Who? Yeah, we were just shooting the sh*t. I am pretty sure I'll be the one on the block if one of you guys win the POV. F**king crazy POV man! Christmas – I know. Nicole joins them. Christmas leaves. Enzo – my target is him (Memphis). That's it. If we can take out Tyler, we can take out him. We can take out Christmas next week when it is all three of us. That is it. Nicole – he just doesn't want to get taken out by her which I understand. Enzo – but why is he.. I was like Cody ..you're going to win the POV this week. I feel like he is the smartest player in the house. Nicole – yeah he is. Enzo – I was like you're going to win that POV bro! That's it! Stop .. because she is talking about you. I should never have said anything to him. Nicole – me too. I shouldn't have told him. Enzo – but he would have been upset if I didn't tell him. Nicole – he (Cody) mentioned that if she (Christmas) is on the block she should go. I was like no, not if he (Memphis) is on the block. Memphis is smart, he can win mental competitions. He knows I saved him this week.. He (Cody) could blindside me and get rid of Christmas .. and I would be pissed. You guys have a much better chance at beating her than him. If it was a tie I would break it. Enzo – all we need to tell him is that we did what he wanted on his HOH and got rid of Ty.. Tyler was the better player. Same thing this week Memphis is the better player. Nicole – Memphis said that if he is sitting on the block at the end of the week .. he knows he will be the one going. Enzo – he is very in tune with this game.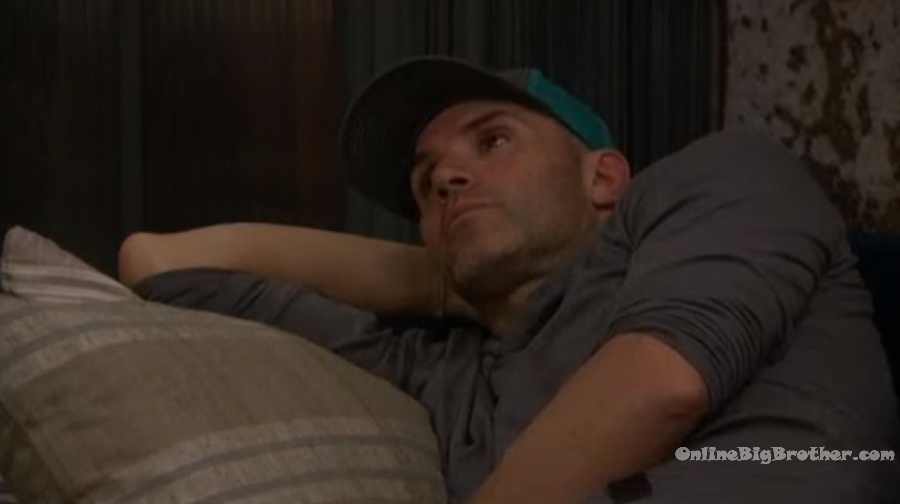 8:15pm – 8:45pm The house guests eat dinner and then clean up.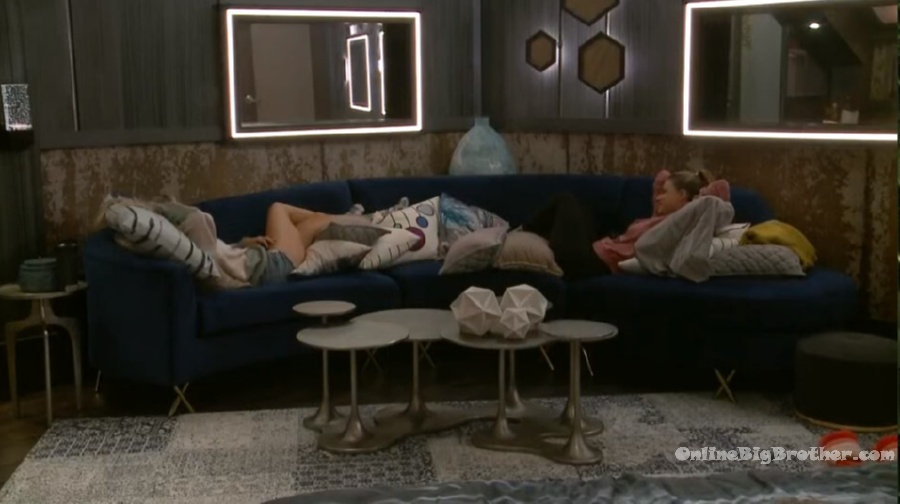 9:10pm – 9:33pm HOH room. Nicole and Christmas.
They're doing foot wraps. Christmas – I want to let my brain turn off tonight .. but tomorrow I do want to talk to you before the veto.. like I want to be really transparent about where I stand. Nicole – okay that sounds good. Memphis and Cody join them. Cody spas it up with a face mask that has a goatee.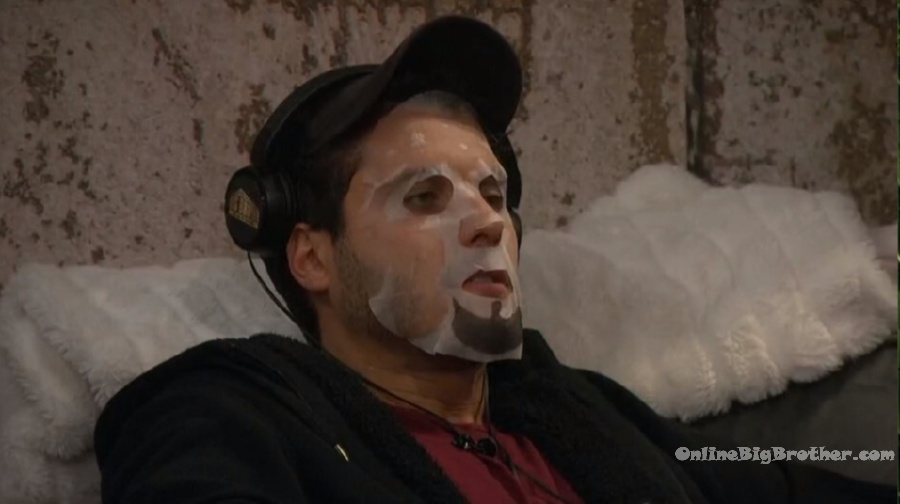 9:50pm HOH room. Cody and Enzo.
Christmas leaves the HOH room. Cody to Enzo – Memphis was getting all bent out of shape down stairs .. he was like what is she (Christmas) doing upstairs? Lets break it up! (Nicole and Christmas spa time) Enzo – he knows he's the target Yo. He is smart. Cody – he thinks she is throwing him under the bus trying to strike deals. Enzo – meanwhile he is throwing you under the bus trying to back door you. Cody – I don't think that .. like he didn't say that. Enzo – he didn't directly say it to me. Christmas said it to me. Cody – and then Christmas said it to Nicole. Enzo – because he is using her to do his dirty work. Cody – No I think Christmas has her own head and goes.. but I think he is smart and would want to go the end with who he thinks he can beat. I think any person minus Christmas going to the end .. every single person in the jury could go wow and it could go to me, you, Nicole or Memphis. If any four of us are in the jury against each other it could go anyway. If Christmas is there, it is going to whoever she is sitting next to. That's what I think will happen in this season. Nicole thinks just comp wins but I think that is misguided. I don't think Memphis is going to think just comp wins because Memphis is who came up with the committee. So he has a whole other thing. Enzo – that would be big if he is in the final two. I like the guy but he is too dangerous to have in this house yo! He has so many arguments on why he could win this. Cody – yeah. Enzo – I am not beat yo! Cody – he can win the comps. Enzo – he is mentally good too. Cody – that is why we need to be f**king on tomorrow bro! We need to be ready to go! Enzo – I want to win this one bro because I want to get back to winning because that final four is very important yo! I don't want to leave it in Christmas's hands because who knows what the f**k she is going to do. Cody – no we need to win that HOH. It can't go any other way but you or me. Enzo – that is what I am saying. Cody – are you f**King locked in? Are you ready to go tomorrow? Enzo – yeah bro! I want to win tomorrow Yo! I just hope its a good comp.. not something complex. Yo he has only won one Veto Memphis. Cody – we're in there bro! Were ready to go! We're locked. He ain't better than you. Enzo – oh hell no. I want to win and I'll show my cards to them. I don't care. Cody – na, we're there bro. Its final five.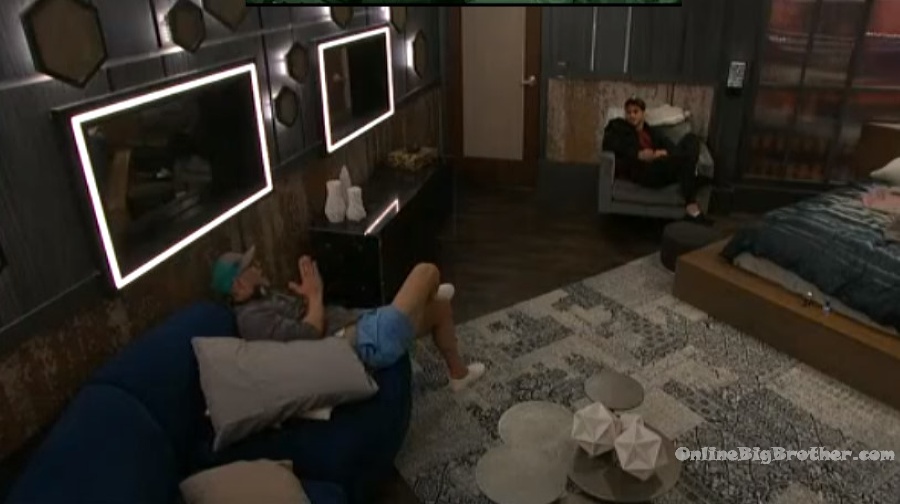 10:05pm – 11:20pm HOH room. Nicole, Cody and Enzo.
Nicole – what are you thinking this week? Are you still good with getting Memphis out? Cody – I am all good with getting Memphis out. Enzo – he is the better player yo! Cody – oh yeah big time! Over her .. he is the gamer plus good at comps. She is not a gamer. Nicole – he told me .. that he feels like .. the reason he was trying to strike a deal with me is because if he is sitting up there at the end of the week he is like the new Tyler. Cody – oh yeah he said that to me last week. Nicole – he said that there would be no way for us to pass this up.. so that's why he wants to stay off the block because he knows its do or die for him. Cody – yeah, I told him I would vote her out over him. I said man you're good no matter what even if you stay on the block. And then I'll tell him on Thursday… YO.. Nicole – don't tell him. Enzo – the votes are going to tell him. Cody – you want him to get blindsided? Nicole – why do you always want to tell people? I don't want to blindside people but at the same time I don't want to give them time to like .. divulge all our information to someone else. Cody – you think people aren't ready to say sh*t? Nicole – I don't get the whole I am going to tell people. Enzo – to calm the jury. Nicole – yeah go ahead and tell him. Cody – na, if we're not going to tell him then we're not going to tell him. Actually I kind of did tell Tyler. Nicole – yeah because he came to me all desperate.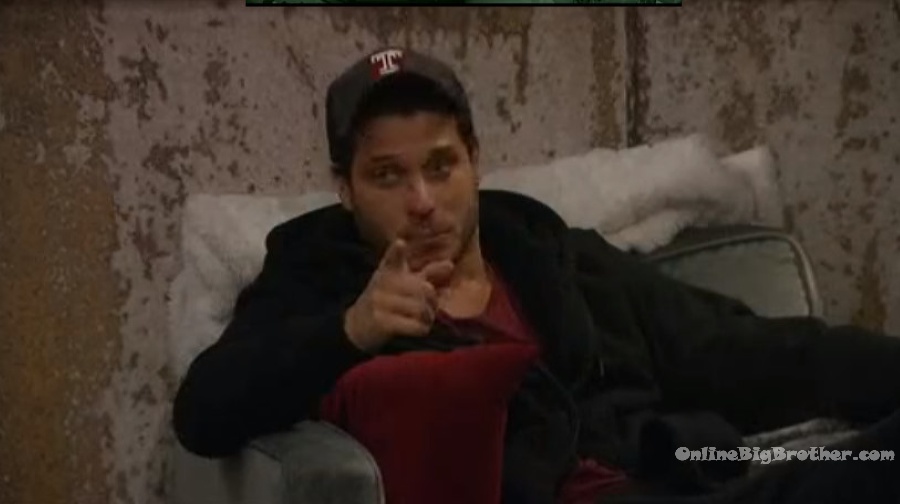 11:50pm Enzo looking at the photos from the photo room.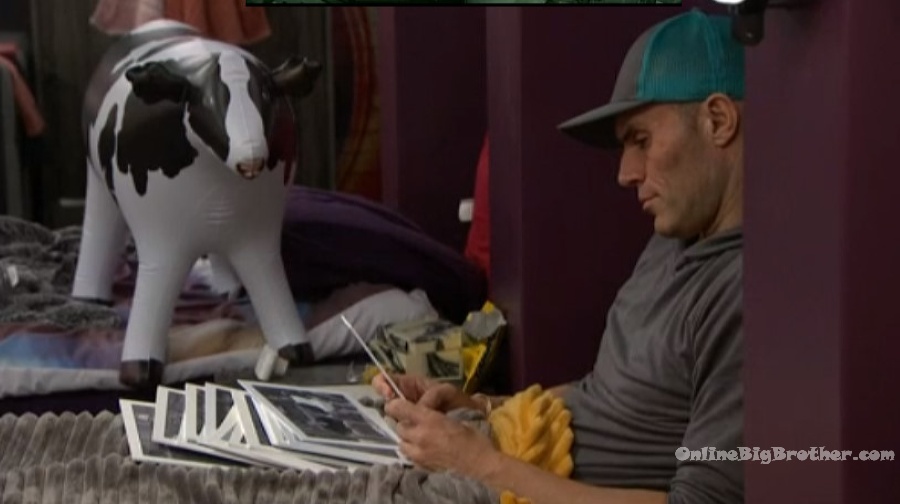 12:10am All the house guests are sleeping..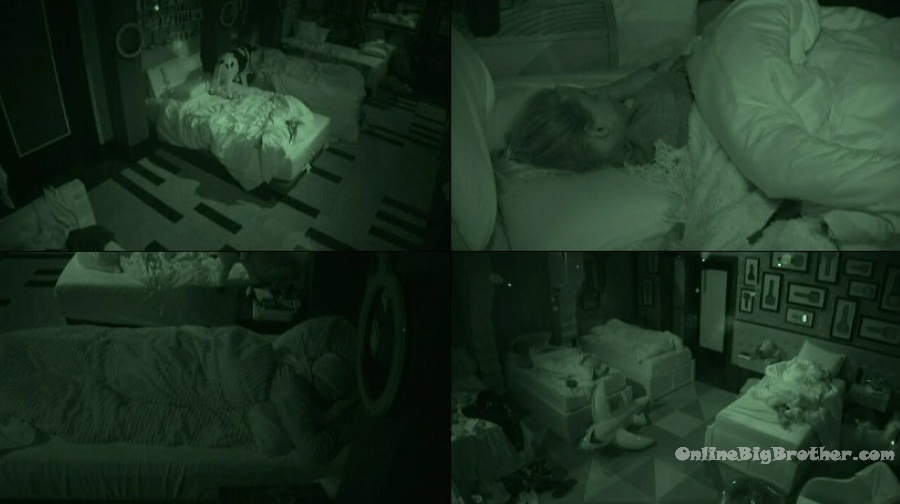 7:25 am Sleeping YO
Show your support by making a donation.
If you're enjoying our live feed updates this season, please consider donating.
Any amount is greatly appreciated! Your donations go directly to paying the fees required to run this site.