Head of Household Winner – Nicole
Have nots –
Nominations –
Power of Veto holder –
Power of Veto Ceremony –
Live feeds —-> Grab your Live feeds here. Try it free.
Rank the houseguests —-> Big Brother 22 Ranking
Spoilers – Christmas and Memphis are going to be nominated.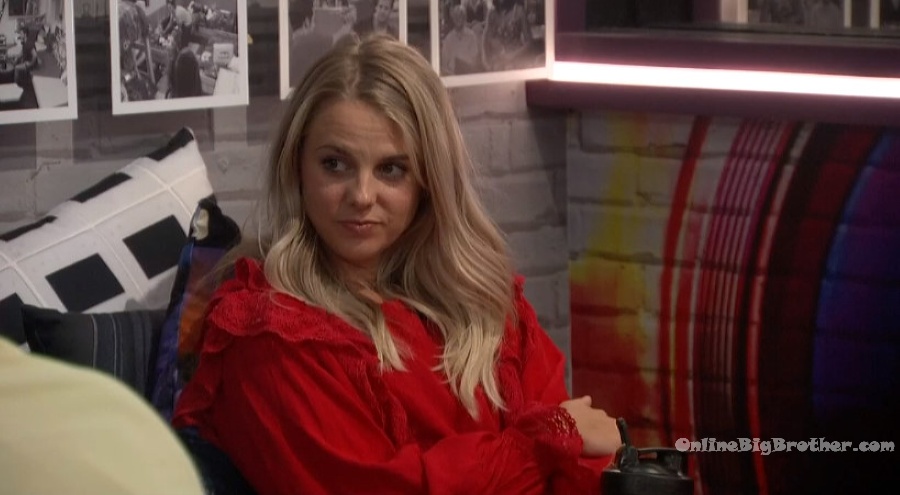 9:07pm The live feeds return from being blocked for the HOH competition.
Bedroom. Nicole, Christmas, Cody
Christmas and Cody are playing backgammon. Nicole – I really wanted to beat you. (Cody) Christmas – you beat him today in the comp. Nicole – he didn't play. I've never beat you in a comp. Christmas – well you beat three others so that's all you needed to do. Today you are a winner and me because I stayed in the house. Nicole – I want to see my family, Victor and the pups! I hope Vic took a picture of the pups and sent it in.. but I know that is pretty far fetched. Christmas – I can really not wait for all your updates! Like I really don't know if I am even getting married! Enzo joins them. Enzo – they have to wait till the episode ends over here till you get your room. Nicole – I waited 10 weeks for this. I watched everyone else open and read their letters. Over and over again.. some times three times.. which is awesome but.. Christmas – you're going to cry. Nicole – I don't think I will ..I don't cry with stuff like that. Some times I black out and don't cry. I will probably cry later. Enzo – I cry listening to music because I get thinking. Tomorrow is 19 days YO! Nicole – Oh Wow!
Kitchen. Cody is working out. Nicole joins him and tell him that a committee member has won every single HOH except for Enzo. Memphis – and the fact that we made it to seven people. That is crazy! What the F**k! Nicole – and we took out our own too. Its not like someone took out our own. Cody – that's what is crazy we took out our own and we won 6 of 7 HOHs. Memphis joins them. Memphis – I kept saying in there that the committee died when Dani walked out the door. Cody – I said something similar .. they asked me about the committee and I said the committee is dead! When we targeted our own. Its great that we can talk about this and laugh about it. It shows that the right group of people got together when it could have gone any other way.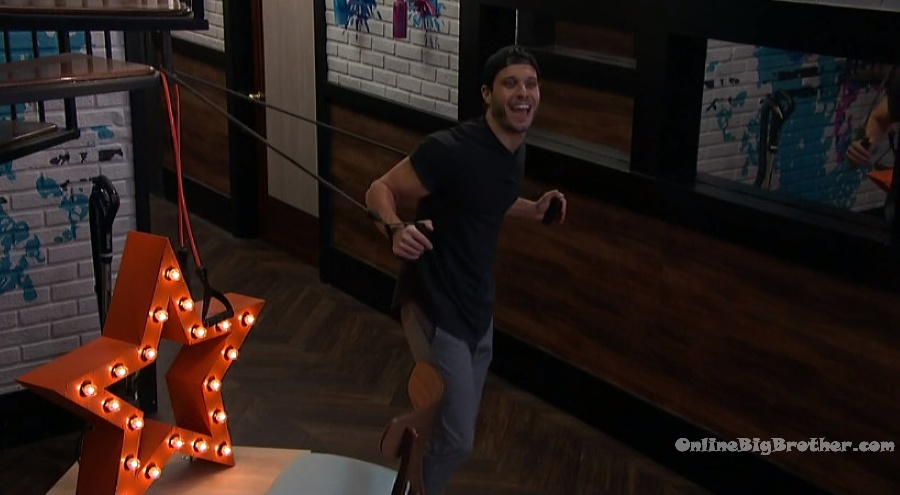 11:05pm The house guests are waiting around for Nicole to get her HOH room. Bathroom. Nicole and Cody.
Nicole – came through when you needed me right? Cody – one million percent! Big Time! Bigger than any big time! I mean you guys both have. You both have been so f**king big! Nicole – he just says that to make us feel better. Cody – who? Me? She (Christmas) was in the lead.. you know I was going up. Nicole – I know.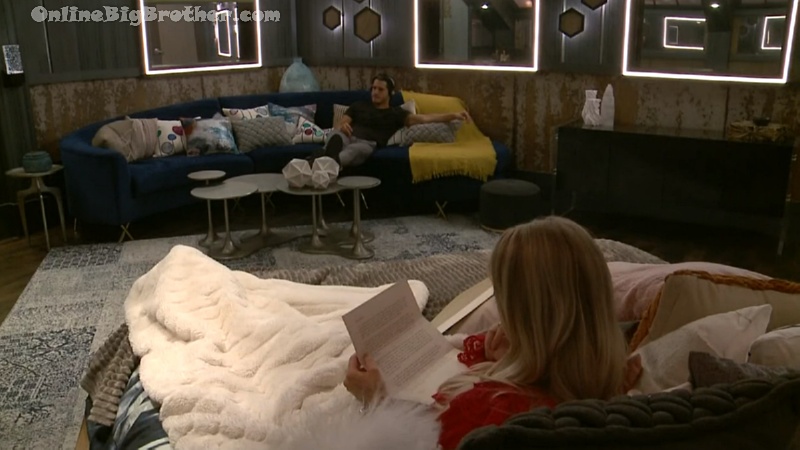 12:20 am Nicole reading her HOH letter Cody chilling to the HOH music..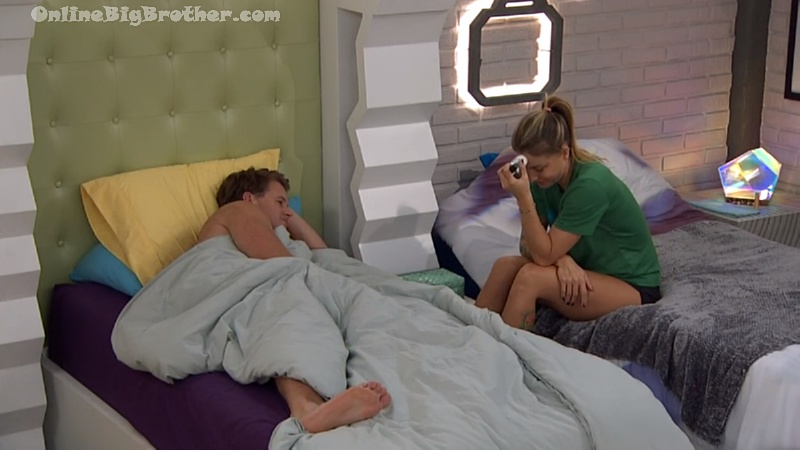 12:40 am Christmas and Memphis
Memphis – we're still in a good spot as long as we're not both on the block
Christmas – I don't know what you said but I think so
He repeats
Christmas – yeah
Memphis – it's all about the f**ing veto
Christmas – you don't want a split vote because then she's the tiebreaker
Christmas – I'm going to talk to Enzo Tomorrow. It's going to be a play by ear thing if we have to throw it to Enzo. To you or to me ..
She adds they have to make sure Cody and Nicole are out of the POV before they can start throwing it.
Christmas is talking about some scenario where Enzo uses the veto on one of them and Cody goes up by default
Christmas says just one ball bounced out of her basket during the HOH, "Just one little ball and I had one left"
Christmas – hardest failure of my life.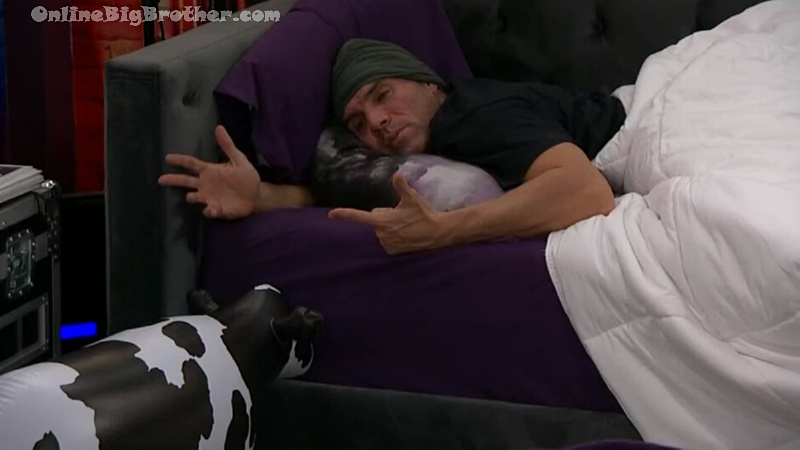 12:53 am Memphis is sleeping, Enzo is studying days.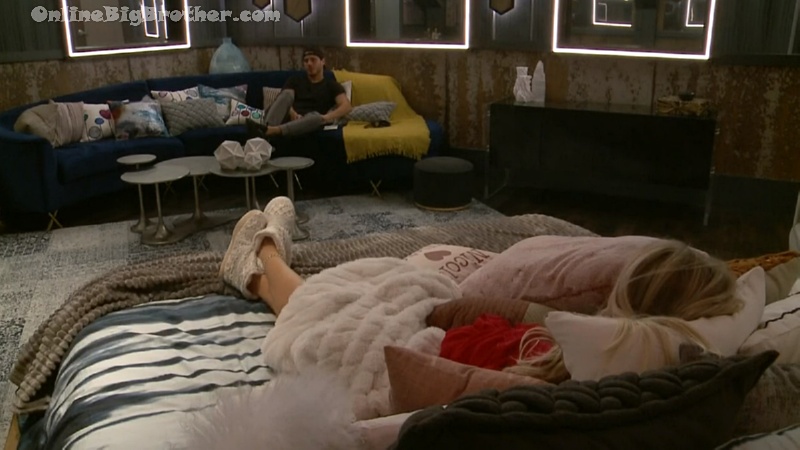 1:30 am Cody and Nicole
Talking about the BB comics competition. Nicole is explaining what it was like on Big Brother 18.
Nicole asks if Memphis or Christmas win veto and Enzo goes up will he freak out?
Cody – I don't know we'll just bring him in a room and have a conversation us three
Nicole – I'll say I'm sorry I gotta put one of you up which one wants to go
Cody laughs..
Nicole – no seriously I will have to
Cody – I know but it doesn't matter
Nicole – I'll try and get him to volunteer
Cody – she's putting you up bro she doesn't know you like she knows me. Sorry
Nicole – if it happens it happens..
Nicole says she wants the vote to be 1:1 so she can be the one sending Memphis or Christmas out.
Nicole – I can stand up and be like get out of here
Cody – if the noms stay the same we can split it
Nicole laughs "Don't do that"
Nicole talks about them being final two and how Cody is probably destroying her in his goodbye messages.
Cody – that backfired on Paul on 19.. I won't do that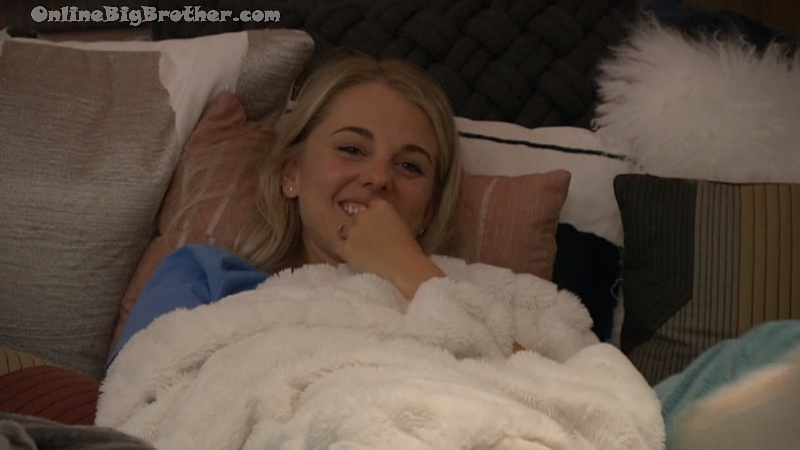 2:23 am Nicole, Cody, and Enzo
Enzo – I would have been so upset if Memphis had won… so upset.
Enzo – that would have been his fourth HOH .. c'mon with that sh1t yo. Look I like Memphis he's funny he's a good kids he's a little sometimes rough around the edges but he means well.. If he would have won again his fourth f***ing HOH I would have been ahhhh YO F** that
Nicole sighs "he's gotta go so he can't win anything more"
Enzo – He's the target YO f** that get him out yo
Enzo jokes that he wants to use the veto so that Christmas and Memphis come to him saying "use it on us so we can backdoor cody.. ohh ok"
Nicole laughs "then they'll have to convince me to put him up" (umm you have to put cody up)
Cody – what do you mean you won't have a choice.. he would use the veto and I would go up.
Enzo – there would be two votes they would still he he ..
they all laugh ..
Nicole – they can't backdoor him
Cody – you know what I will use the veto but I vote to keep him
Enzo – look I'm waiting for them to say that to me if I win that I can see them doing that. They think they are running the season or he thinks he's running the season I'm just like YO enough YO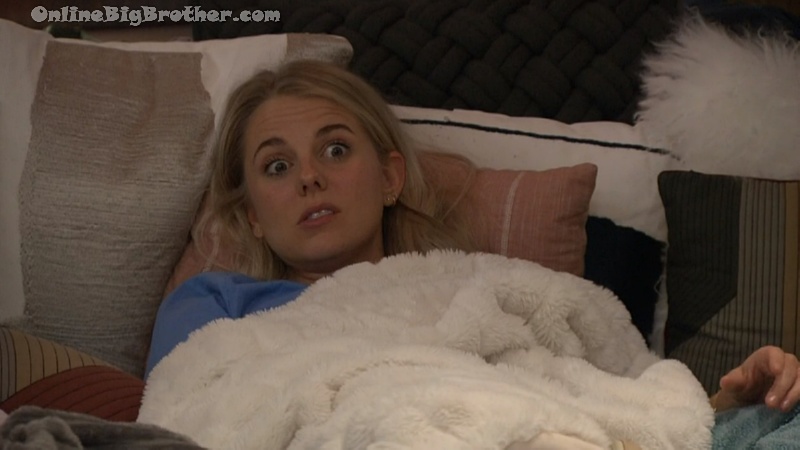 Cody starts complaining about always wearing a hat.
Enzo – you think they are going to get us up early tomorrow
Cody – yeah I'm about to HIT it are you sleepy
Nicole – yeah
Nicole says they can spend all week in the HOH she doesn't care.
Enzo – how many times do you think Christmas is going to come up here tomorrow?
Nicole – once I put her up she won't come up at all
Cody – she's going to be hiding in the key room with Memphis but Memphis is going to still come out and hang out that's what I think is going to pull her out
Nicole – I'm going to hide up here all week I don't care
Cody says he's going to be up there "This f*ing area is more comfy to hang out in and I don't even need to talk"
Enzo – can you imagine if.. when we win the POV and keep the noms the same then them two campaigning.. I'm like ohh shit
Cody – just remember what I've done in this game.. that is what Christmas is going to say
Nicole – like try to flip the vote and get me out.. Yeah I remember
Enzo – what will be Memphis' campaign..
Nicole – he's going to say he wants to take you two to the final three or something and Christmas will tell you the same thing
Cody – yeah
Nicole – they are going to talk crap on me..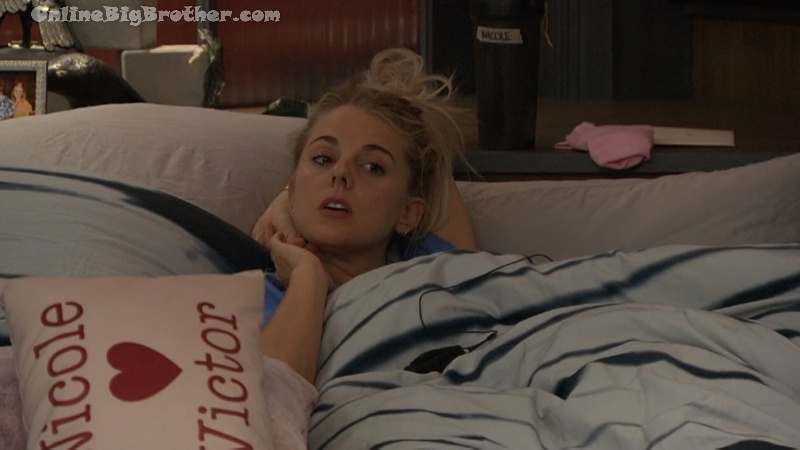 3:37 am Coins, Enzo and Cody
Nicole is chit-chatting about Big Brother 18 and the week her and Corey were on the block.

4:00 am Sleeping
9:30 am houseguests waking up
Show your support by making a donation.
If you're enjoying our live feed updates this season, please consider donating.
Any amount is greatly appreciated! Your donations go directly to paying the fees required to run this site.