Quick Big Brother Spoilers
Head of Household: Matt
Nominees: Cirie & Felicia
POV Players: Everyone
POV Winner: JAG
Veto Ceremony:
Havenots: No more havenots
Lock your ranks in before midnight
The Situation: Felicia is Matts target however Jag and Bowie may want Cirie out instead.
4:30pm The live feeds return. The house guests played some search and find prize comp for 5K. Jag helped Matt win the 5K.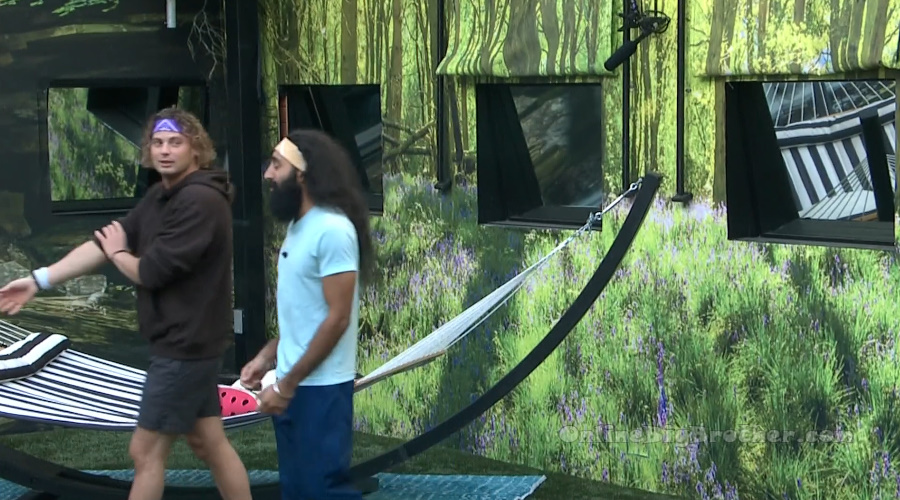 Jag – Hey we both won 5K now. Matt – thanks BRO! Jag – yeah I got you! Matt – even I was boosting you too. Jag – I was like I am going to give all five of mine to my boy! Matt – they're going to be like do you see what just happened there? Jag – Who cares! I am like I am give all five of mine to my boy Matt. And the next time I went I was like lets run it back.. all four to Matt!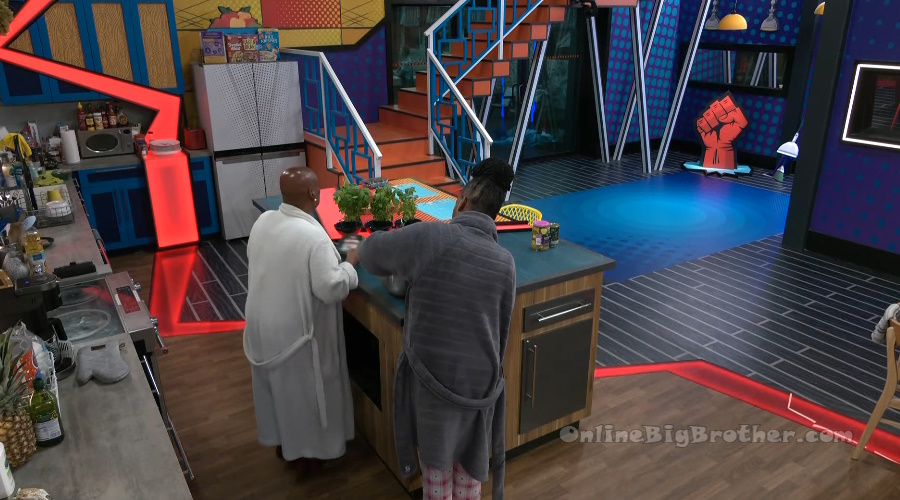 4:30pm Kitchen – Cirie and Felicia.
Cirie – one of us might be leaving on Thursday. I'm a talk to Jag and be like now Jag.. him and Matt.. You guys said that we were a final four and now you have the ability to do it. And now you are going to show us who you are! I know you want to win the money but you still got to show us who you are because we still got to give you a jury vote. Cirie – MMMmmHHHmmm.. and do you want to lose two of them. Felicia – because you straight lied and played them. While you're messing around Bowie Jane might land in one of them two seats. And I will say that because they don't think we have the ability to while you're playing around. Matt you see Bowie Jane took second while you were f**king around. And one you might get your feelings really hurt when she sneaks up on your a$$ and ends up in that final seat. Cirie – that would be amazing! Felicia – girl! Cirie – AH HA! Light weight that's what they're probably going to do with each other. Felicia – now they're outside happy. Cirie – yeah now Matt got 5k, Jag got 5K! Felicia – Cameron got a European trip. Cirie – Bowie Jane got zero.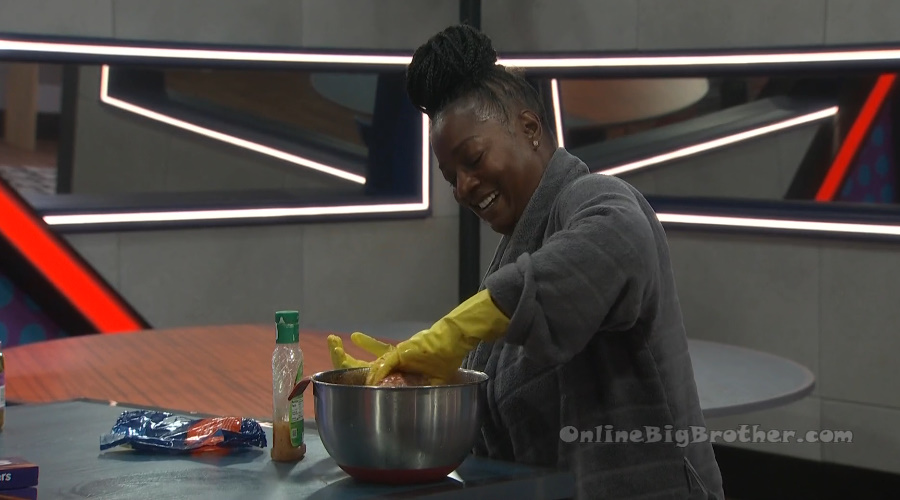 4:32pm – 5pm Backyard – Jag and Bowie playing pool
Jag – I wonder what they're going to pitch now. Like if they're going to turn on each other. Bowie – Felicia already said I want to chat with you later to see who you want to evict. So I think she assumes you aren't going to use it. Jag – are you mad at me? Bowie – I'm not. I just thought we were a three. Jag – we are. Bowie – I was like hang on a sec. Its not the money. I am not pissed seriously. Jag – Bowie we are a three. I don't want you to think that we're not a three. Bowie – it was just a little concerning. Jag – No, I don't want you to think that we're not a three because of that. I have my personal reasons why.. Bowie – its actually a good reason. Jag – I really do feel like I owed him in terms of that because truly he could have taken the money from me and he didn't .. he got a punishment instead so it was the least I could do to pay him back. Bowie – I think its good. Jag – I don't want you to think its anything else. Bowie – no I don't think its anything else.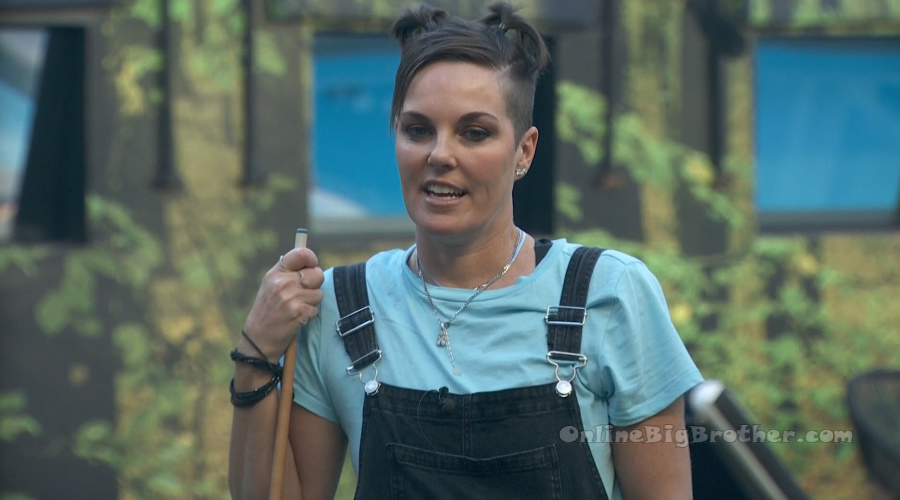 5:15pm – 5:57pm They're grilling again for dinner. They talk dressing up for Halloween. Cirie – with hair like that you should be the lion from the Wizard of Oz. Jag to Matt – you should be the scarecrow. And you (Bowie) should be the tin man. They wonder if BB will give them costumes. Matt – if not we can make our own.
6:05pm – 6:20pm Kitchen – Jag and Bowie.
Jag – we want Cirie gone right? Bowie – Don't you think? Jag – I think so, I just want to make sure we're on the same page about that like for sure before we start talking to Matt about it. Bowie – Well we don't know what she plays like because she's thrown ever comp. Jag – she did well today. Bowie – She won this game .. this tv show called The Mole. Jag – she played The Mole!? (No, she played & won Traitors) Bowie – that's what Cory told me. Jag – and she won? They have hella comps. Bowie – and survivor as well. Jag – we will talk because she did really well today .. emphasize that to Matt because ultimately the thing is that its going to be me and you playing in the next HOH against one other person. And you and me have to win. Bowie – yeah. Jag – we have to win if we want the three of us there. Bowie – yup. Otherwise we're screwed. Jag – and the player that we think we can beat is who we should go against not only for us but for Matt as well. Ultimately Mama Fe did well in obviously Snot a Winner and Humiligram. But Cirie maybe has held back and today she sort of started to show that. Me, you and her were pretty much the same. I was ahead by one. I looked over and I was like damn. Bowie – and maybe he (Matt) has to two with (Cirie) .. I don't know. Jag – they've been really tight this whole time. Jag – that's fine if he does but you can't have a two and a three.. like you have to pick one. For you its the three and for him I think it is as well. Bowie – and the thing is he (Matt) gets to keep his jury vote because he can say that he didn't know it was going to happen.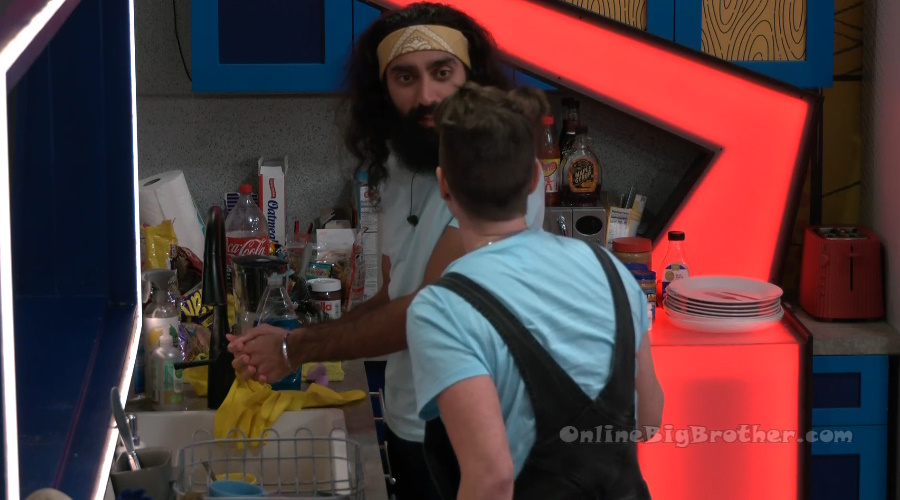 6:30pm – 7:40pm HOH room – Jag and Matt.
Jag – it worked out.. its honestly best case scenario because then they won't be pitching as much. Matt – yeah it worked out because if I won they would have been pitching to both. And then they can't pitch to us at all because I'm HOH and you have veto. They can't make that work at all. Jag – exactly. Matt – thanks for the "Trick or Treat" (5K). Jag – Yeah I got you! It was the least I could do to pay you back for buddy ball. Now we're even. You let me hold onto the 5K and I gave you this one. I feel bad for Bowie. Matt – I know. Jag – because you put all your candy into might right? Matt – yeah but then after I put some in.. I put two in hers.. and two in Cirie's. The only person that I didn't give any to was Felicia. Jag – Yeah I think she (Bowie) feels some type a way because I gave all my candy to you and never took anything from you. And then when it came to taking I took from everyone but you. Matt – you could tell her because you gave me 5k. Jag – I did. At this point it doesn't even matter if we're good with them or not. Matt – it doesn't. Jag – the only thing that matters is winning the competitions.. so the HOH and the veto. We have to win the HOH first.. either I do or Bowie does. But hopefully I do. SO I have to win the HOH and then one of us have to win the veto. Matt – I know. I have to win the veto. Jag – or Bowie. I talked to her and she is locked in. She isn't going to evict you. The only thing that matters is we beat the Mamas… this week and next week. Matt – yeah. Jag – what can either of them offer. Matt – they can't offer anything. Jag – I don't care about either of them. What I am thinking about is who is going to be easier to beat next week twice.. an HOH and a veto. Part of me thinks .. part of me wants Felicia gone this week. I feel like she has said a lot of things but another part of me thinks.. Felicia joins them and the conversation ends. Jag mentions that he wants to hear what everyone has to say. Jag – I am not dead set on using it or not using. Felicia – I trust you guys. I have always been the team.. the three .. the four. Jag – we will chat again. Felicia leaves. Matt – its funny she pitched us as a two. Jag – we gave her nothing.. we didn't even say you're good this week. So Felicia has had a lot more opportunities to win and she hasn't. And because Felicia has been on the block so much every times she was in a veto she played at 100%. SO we know what Felicia's 100% looks like. Cirie is going to have two opportunities to win next week and we don't know her full potential. Low key I think Cirie is 100% if bigger competitor. Matt – at the end of the day we need to get both the Mama's gone because they'll win it with a bitter jury. I've had to win, you've had to win… everyone else has had to win. She (Cirie) hasn't had to win. She out gamed the whole game. Its a game you win by winning.. and she said f**k it. I will play Big Brother socially and show you how to win by never having win a comp. And not because she is not good.. but intentionally not winning competitions. It might be better to keep Mama Fe and evict Cirie. Matt – here is how I think about it.. you make the decision because you have to compete against them in the HOH comp next week. Jag – if its a mix I feel better against Felicia than Cirie. We could just do 2 – 0 .. Cirie is evicted. That is that. The question is do we tell Cirie. Or just not. Do me and you sit down with Cirie and tell her. Matt – we can't tell her. We have to wait till veto is used / not used. Let them do the talking.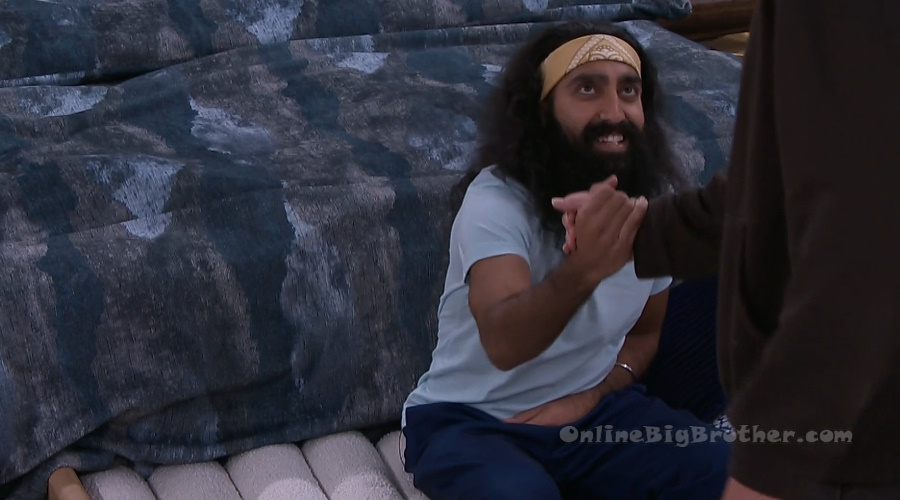 Backyard – Cirie and Felicia.
Felicia – I got to get these boys to say what they're doing. Cirie – you should have asked them in the hot tub. Felicia – Wasn't Bowie there. Cirie – for a hot minute but then she left.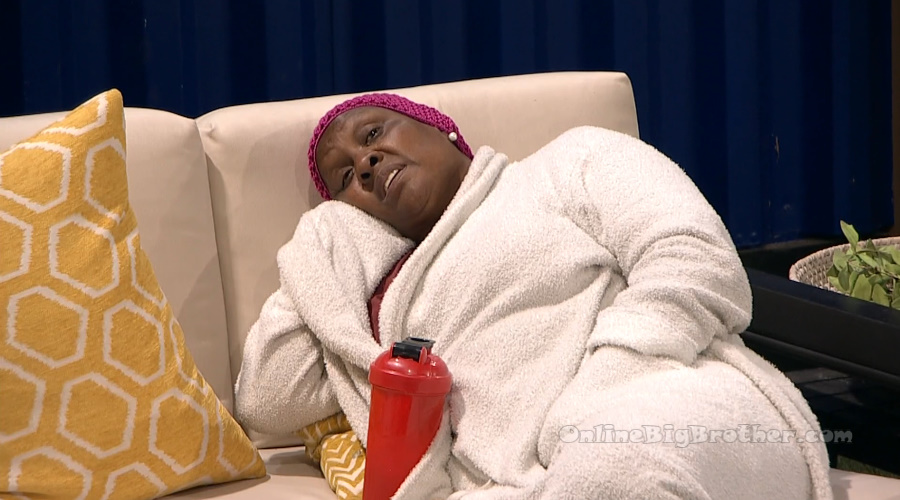 7:42pm – 8:50pm HOH room – Bowie joins Matt and Jag.
Jag fills Bowie in on the conversation Matt and Jag had about how it would be better to evict Cirie. Jag – if Cirie goes this week.. then next week we COOK Felicia! Bowie – its risky letting Cirie get to far (you're just thinking this now?). Also she's been in every single alliance but no one ever talks about that. She really has her finger in a lot of pies. Jag – also that little stunt that she pulled last week where she told Blue she was the target. You care about jury management so much.. why don't you manage them in person. We'll send you there this week. Bowie – and she was definitely planning to put you two up. Jag – next person on the Mafia's hit list.. Mama Cirie. Also Mama Felicia makes the best food. You can't cook as well as Mama Fe can. Keep her in, keep our bellies full.. we're fueled up ready to go. Bowie – I think its smart that Cirie has gotten so fare in Survivor 5 times or whatever and that she won The Traitor. Isn't that about .. you have to lie and stuff. Matt – she was one of the traitors and no one guessed that it was her. Bowie – and she promises everyone her vote.. everyone. Jag – I would never put you (Jag) up. I would never put you (Bowie) up. I would never put you (Matt) up. And she can confidently say that because she will never win. Matt – she was one week shy. Jag – we caught onto your silly little game. Bowie – so how will we handle this if this is where we're going. Jag – we tell them both that they're good and then we text book blindside Cirie's a$$ because its what she deserves. She cooked Reilly! She made Reilly think she had her the whole time. Matt – she (Reilly) said f**k Jared. F**k Cory and America. Jag – Cirie probably threw Jared, Cory and America under the bus. She is that good. That is why she won traitors because she is good at lying. Matt – we have to keep them calm. I don't want awkward for all of us in the house. Jag – we just lie. It doesn't matter if we're good with Felicia or not. We just have to win the competition. She doesn't know but we are her mustard seeds. Matt – we are the three mustard seeds. The conversation turns to talking about how some of the other house guests were selfish / greedy with alcohol / food.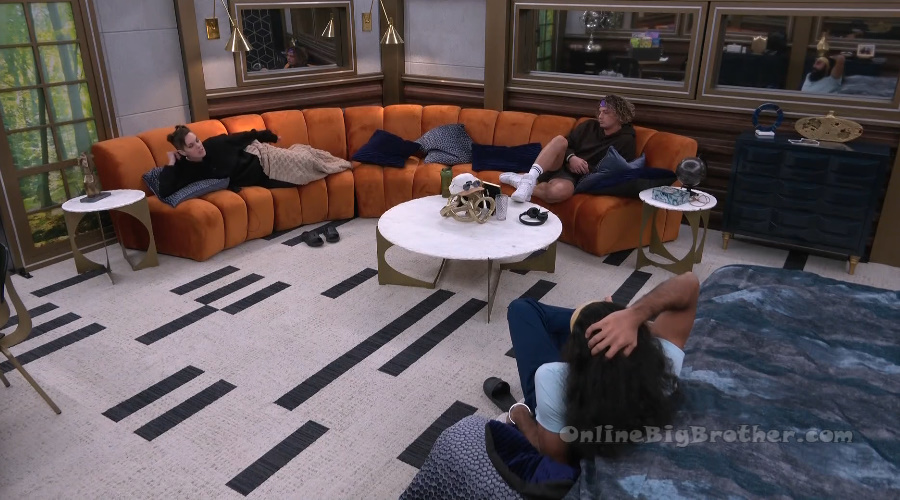 8:50pm Kitchen – Cirie and Felicia.
Cirie – I feel like we're at clown college and we about to graduate. Look around. I look around some times and I am like what the f**k am I doing here!? There are pictures of other strangers (Memory wall). I used to see them every day.
9:25pm The HGs are hanging out in the kitchen.
9:45pm Quad cam on Cirie reading the bible…..
10pm Bedroom – Jag and Bowie talk about studying the room to be prepared for the final comps of the season.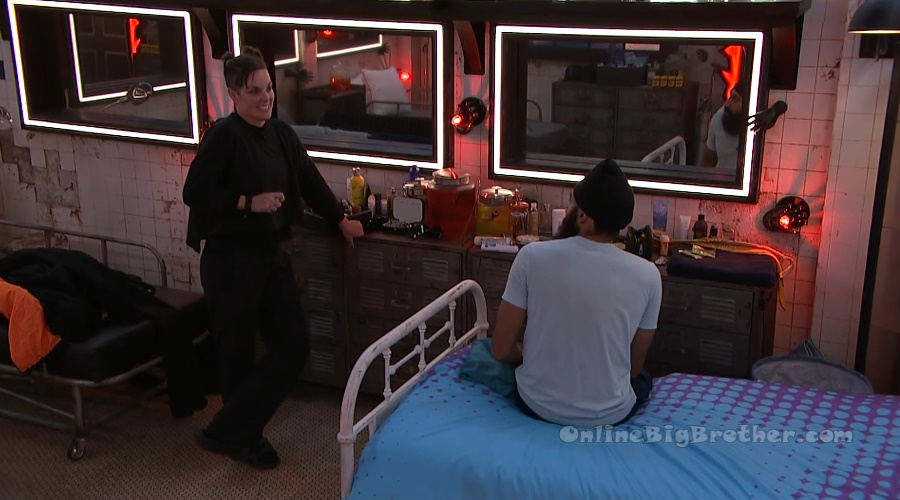 10:42pm Bedroom – Cirie and Felicia.
The whole time Felicia is going off, Cirie is under her pillow only saying MMmmmmHHHMmmm, MmmmHHmmm, MMmhmmm..
Felicia – they are chilling like they are one big happy family. They played our a$$es last week. But I am going to have a conversation with them and remind them we helped you guys carry out your plan because you told us that we could trust you because we were in a final 4. And ya'll played our a$$es! Is that really how you treat people? We're five people left in the house and you need our jury vote because you don't know who gonna land in them final two chairs because Bowie Jane's a$$ is still here. And you take it for granted that you're going to beat her, she might shock your a$$ and end up in one of them chairs while you playing. Because she's shown she can compete with you. So keep messing around and she get the opportunity to sneak up on your a$$. And I am going to tell them, if she end up in one of them chairs she just might get my vote because ya'll were stupid enough to carry her all the way to the damn end when she ain't really done sh*t in the game till the last month. And if you okay with sitting next to that… OKAY! I'm going to be like that is just as bad as having America sitting up there. While you guys think you're carrying her to the end and she is your sure win, don't kid yourself because I am going to get over there just like Cameron said and use my persuasiveness and I know it sounds stupid but look what Bowie Jane was able to do … she chased power the whole damn game, never made a decision on her own, you never knew what she was thinking because she never had an opinion on sh*t … and we let her a$$ ride all the way to the end. Nobody ever thought about putting her a$$ on the block.. because you were always looking for the BIG targets and you let her roll her a$$ all the way to the end. Don't kid yourself thinking Bowie Jane might not win that money. You might get your damn feelings hurt.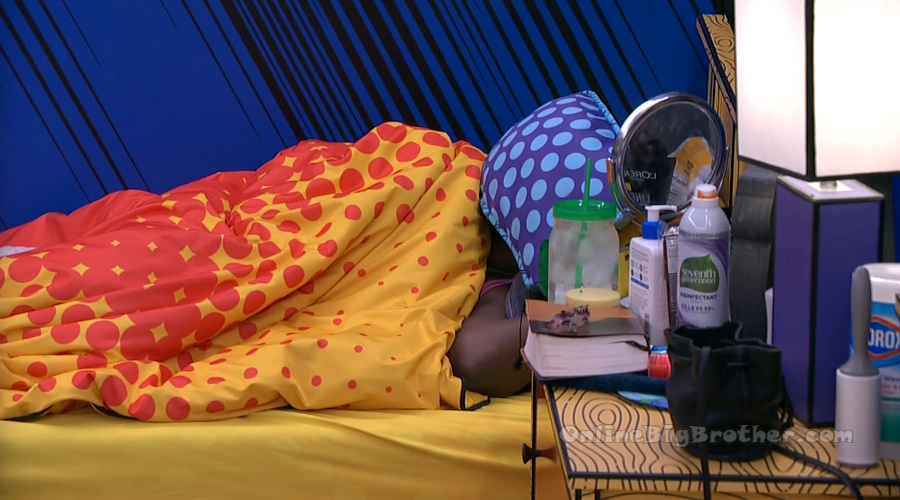 11pm – 12am HOH room – Jag, Bowie and Matt talking about veto comp. Jag – we literally cannot let her win the HOH or the veto. There are three spots that we are trying to get and if she wins either HOH or Veto she will claim one of those spots so at this point we cannot let her win because we are fighting for all three of us to make it. Bowie – yeah. Jag – that's all it is. Bowie – so we basically can't lose any other competition. Jag – the only one we could lose and still make it is part one of the three part HOH because if you lose it you still have part to and three to make it. They start studying again and talking about past events of the season.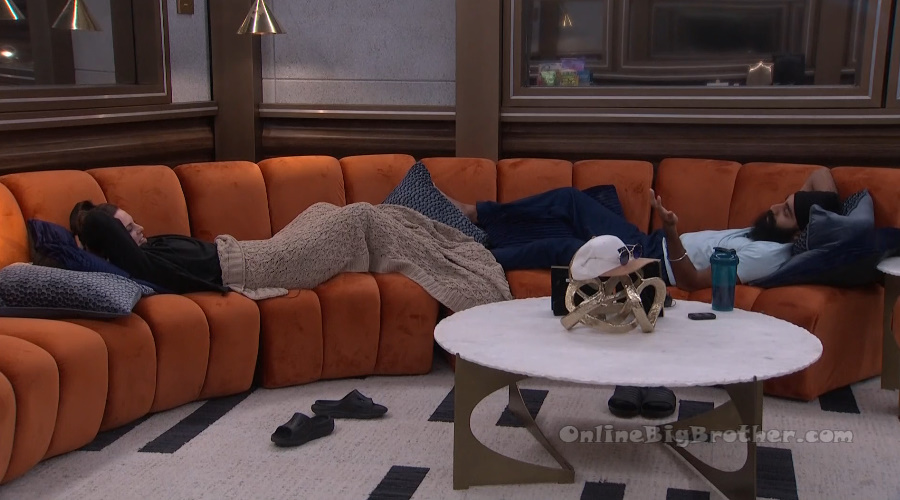 7:30 am zzzzzzz
What to leave a TIP? Any amount is greatly appreciated!
Tips go directly to pay the site costs associated with running this site.
Thank you in advance!